The Green Snack Co is revolutionizing snacking in India! Their quinoa puffs and kale crisps are a great way to encourage the kids (and yourself) to snack on healthy foods. I was happy to try their products last week and am very eager to share my review of The Green Snack Co with you.
A major part of my kids' evening is made up of sports. Depending upon the season, their activities range from swimming to badminton to cricket. And that is followed by plenty of free play as well. Like all moms, I constantly worry about giving them adequate nutrition. They have their milk+something routine but usually drop in after a couple of hours of activity to replenish themselves.
On rainy evenings and very hot afternoons, indoor activities are also always accompanied by constant munching on snacks. It is very easy, at such times, to keep them away from chips and other deep fried snacks etc. I found a very good alternative with 'The Green Snack Co'! I will be reviewing 2 of their products today – Quinoa Puffs which the kids devoured and Kale Crisps which I enjoyed with Daddy to further our own health goals. They are great for moms like me who are forever trying to watch what they eat, like my friend Udita mentions on her blog about these healthy munchies.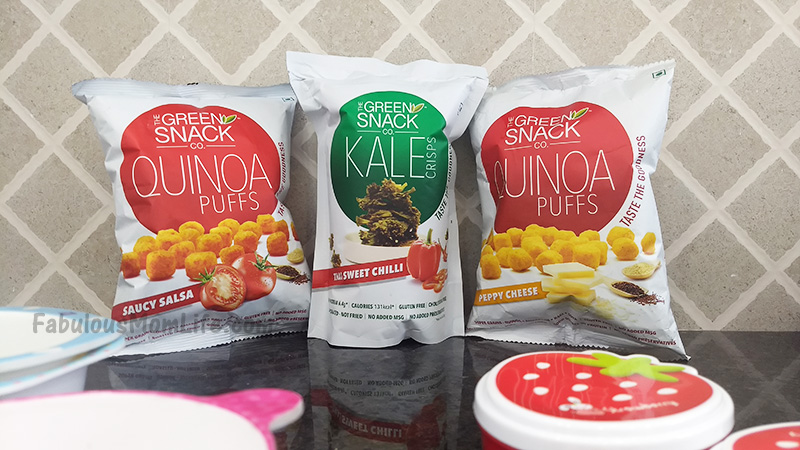 The Green Snack Co Quinoa Puffs
My kids are fond of most types of puffs available in the market. For some reason, even I prefer them more than potato chips. Now if you were to find puffs made of every ingredient you secretly wished you could make your children consume, you would jump with joy which is what I did.
The Green Snack Co Quinoa Puffs contain 6 Super grains
Quinoa
Amaranth
Ragi
Soy
Rice and
Maize!
Along with tasting delicious, they are a source of proteins, minerals and fibre. Learn more about them here.
Taste Test
The kids themselves declared that they were going to eat the puffs when the packages first arrived. And they loved the taste!
We sampled 'Saucy Salsa' and 'Peppy Cheese' flavours. The very cheesy 'Peppy Cheese' had more takers but once it was gone, the tomato based 'Saucy Salsa' also did not last long.
The Green Snack Co Kale Crisps
If you wish to join the Kale craze, there is no better than flavored Kale chips. The bitter kale tastes great when turned into crispy chips and flavored with sauces. In fact, kale chips are said to be one the healthiest snacking options ever!
The kids tasted it because I asked them to, but it was a taste too strong for their taste buds spoiled with strong sweet and savoury snacks. We retained it for ourselves.
A part of our health goals is to have lighter dinners and often have salads and vegetable raitas for dinner. The yogurt based raita also makes for a great dip for nacho chips and we often combine the two. And this is what we did with the kale crisps too. We paired it with different healthy dips like salsa, raita etc.
The crisps taste really good on their own if you like to munch on a little bittersweet taste (only the after taste is bitter). But you can always pair it with a salsa if you don't like the taste too much but still want the health benefits of it.
What Could Be Better
Nothing really. The products are made with the best of ingredients and are a very good alternative to the empty calorie laden snacks available to us in India. The two things that could be made better are the price and the packaging for kale chips. The price, at INR 80 and INR 200 for the Quinoa puffs and kale chips is totally justified when you see what goes into the making. And yet, when compared to the INR 20 price of the maize puffs, parents are bound to give in to the lesser priced product now and then.
Also, the packaging which is very beautiful and keeps the products completely fresh, could not prevent the kale crisps from being crushed inside. The crisps look really beautiful when whole and I would like to serve them looking like that. That said, the crushed crisps tasted as good!
Where to Shop
You can shop for all of The Green Snack Co products online at Amazon.in and BigBasket.com
They can also be found offline at Nature's Basket, HyperCity, FoodHall etc. You can learn more about the products and get a list of all the places you can find them at, on their website.