My little Peppa Pig fan had a fun and fabulous Peppa Pig themed birthday party. With the classic Peppa house and sky backdrop and Peppa themed games and activities, it was a memorable affair. If you have a Peppa and George fan in your house. you will surely love some of these Peppa Pig birthday party ideas.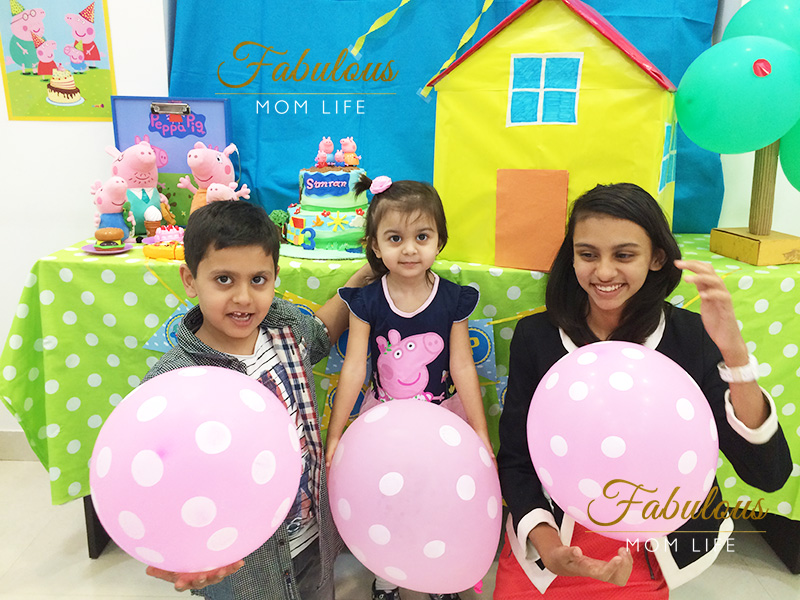 Peppa Pig Invitations
A little DIY turned these lovely invitations from Pretty Ur Party into Peppa Pig houses!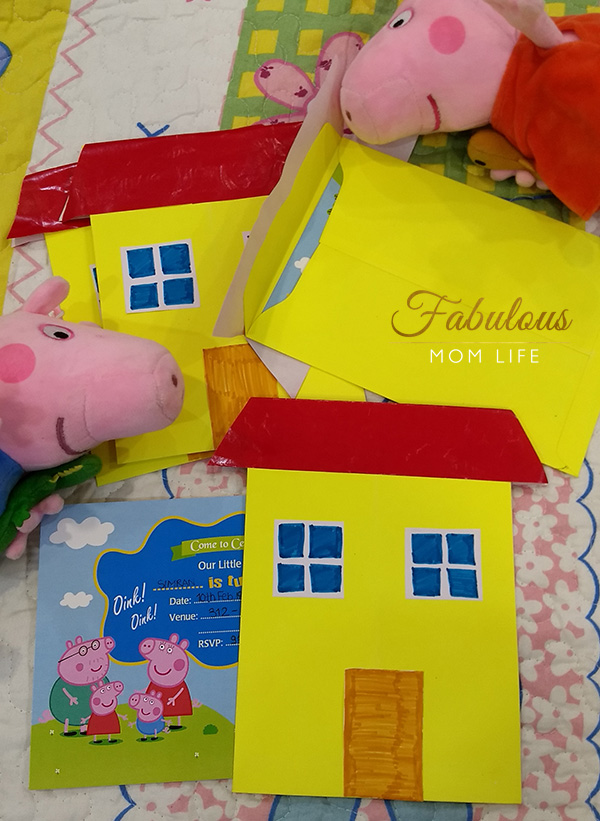 You can find these ready to use invitations on their website (link in resources). They originally come with blue envelopes that match the invites. But I requested them to send me yellow envelopes instead. This their team gladly agreed to, as they are forever happy to customize and assist you in throwing the most creative birthday parties ever.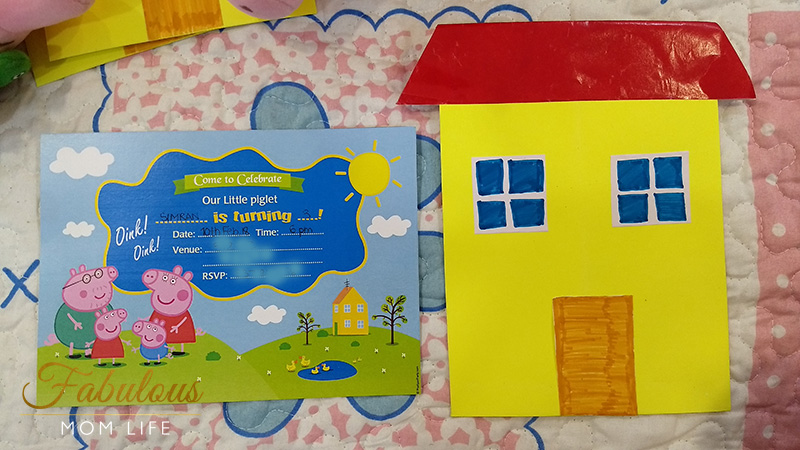 With a little cut-and-paste of red paper for the roof and white paper for the doors and windows, followed by some coloring in, we were able to make our invitations looks like Peppa Pig houses!
Peppa Pig Decor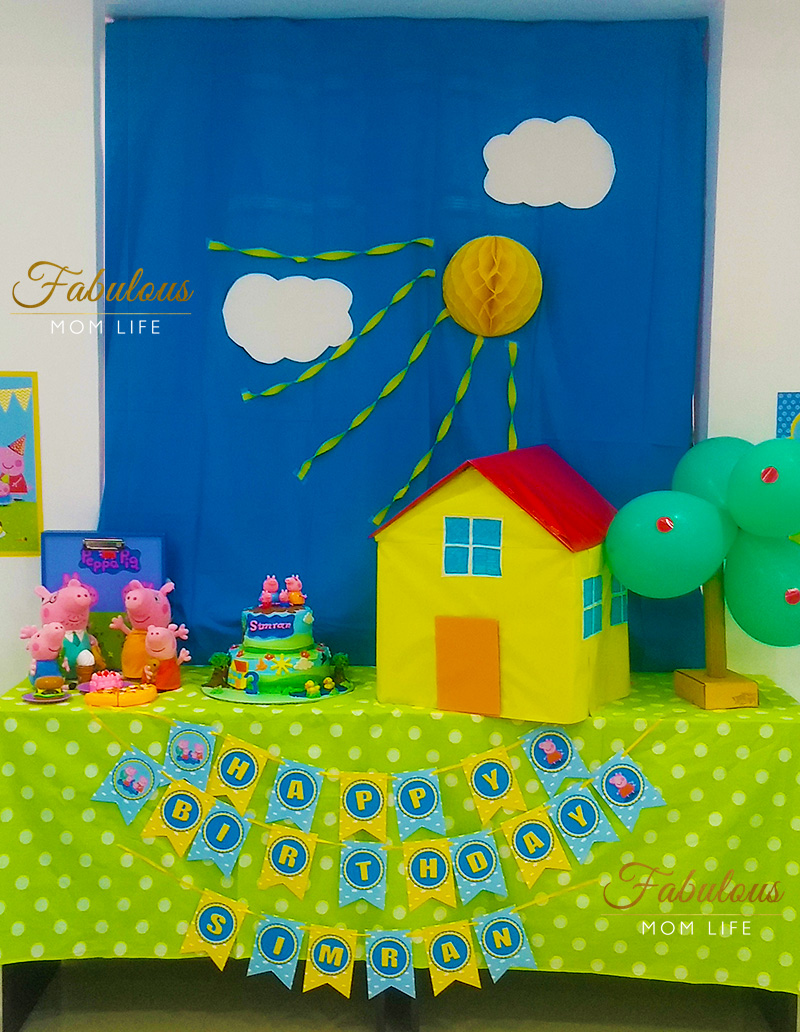 Red and blue tablecloths (which were actually bedsheets) were used to create the main backdrop. You will find all details of how I created the backdrop and decorated with Peppa Pig themed party supplies and character cutouts from Pretty Ur Party in this post on Peppa Pig Birthday Party Decor.
You can also find my instructions to make an easy DIY Peppa Pig Cardboard House using an old box.
Peppa Pig Cake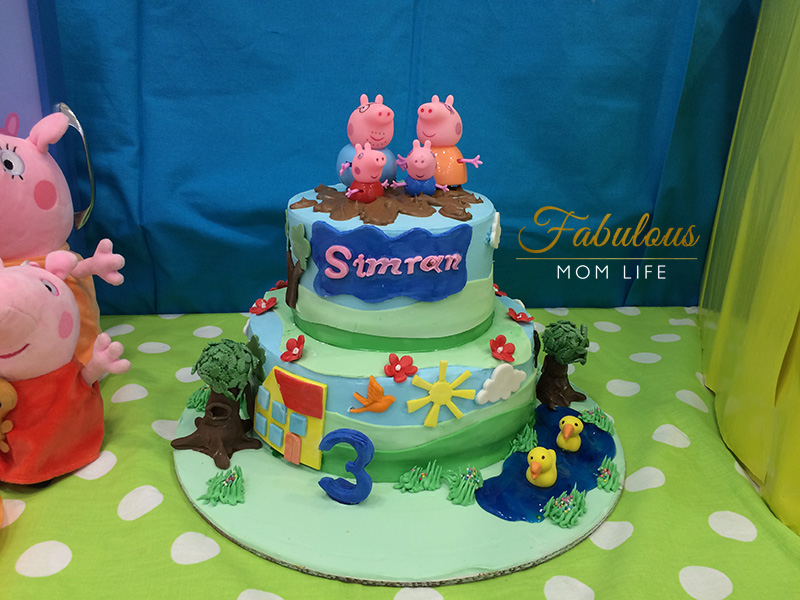 The cake had several scenes from Peppa Pig! From the house, greenery and blue skies to the duck pond, every beloved detail from the cartoon series was present. And of course, I used a set of PVC Peppa Pig family figures (sources at the end) to create a cake topper of the Pig family doing what they love to do most – jumping up and down in muddy puddles!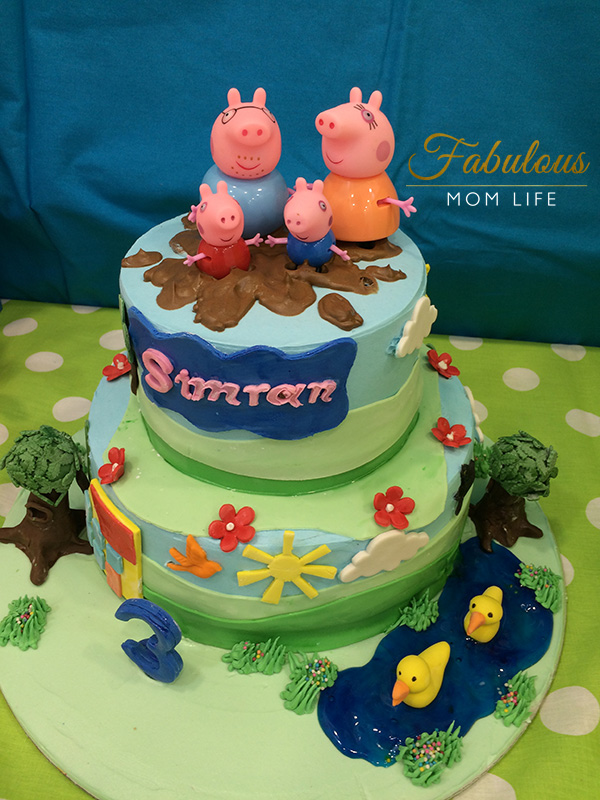 Peppa Pig Party Games and Activities
We had a total of 4 activities for the party – 3 games and a treasure hunt.
Duck Pond
Grandpa Pig's Garden
Musical Muddy Puddles
Treasure Hunt
Each of the games and activities was based on different episodes and details from the Peppa Pig TV show. You can find in this post all the details of the Peppa Pig party games. And click here for details of our step by step clues for the easy, toddler-friendly treasure hunt.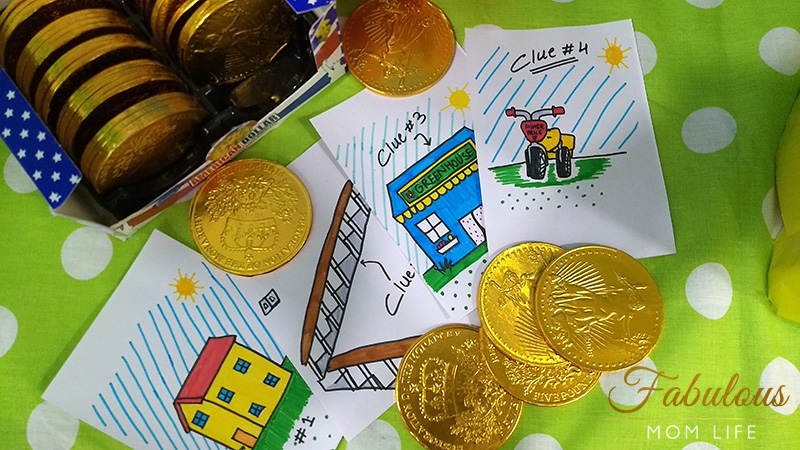 Peppa Pig Party Food
The food at our Peppa Pig party was mainly Indian party favorites keeping in mind the guests' tastes. Other than 'muddy puddle cupcakes' and 'Dinosaur Sandwiches', the food wasn't themed.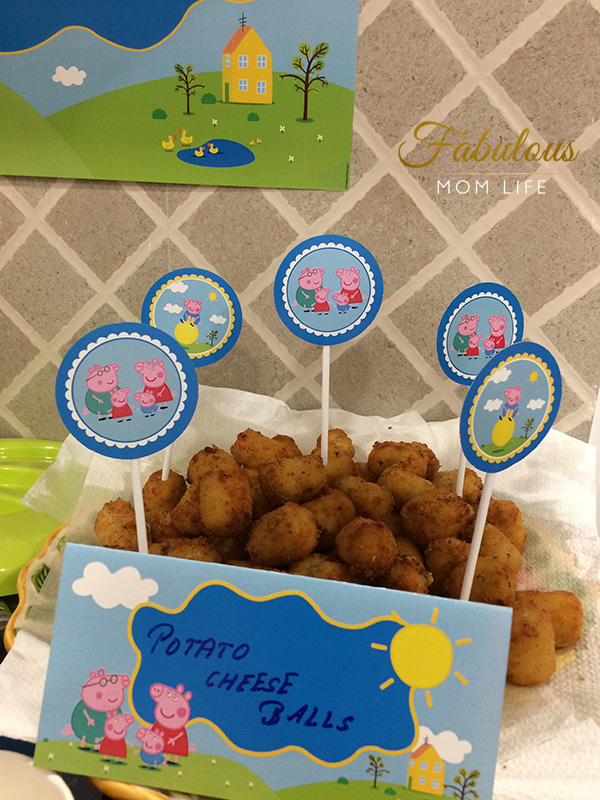 Pav Bhaji
Pulao
Fryums Snacks
Potato Cheese Balls
Pina Colada (mocktail made with Pineapple juice and Vanilla ice cream)
Muddy Puddle Cupcakes (cupcakes with a blob of chocolate icing on top)
Dinosaur Sandwiches (Jam sandwiches cut in Dinosaur shape)
Cake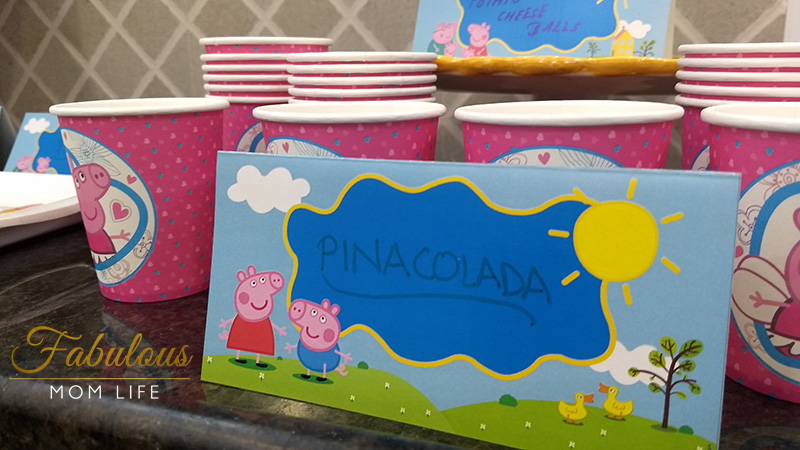 I missed taking pictures of most of the food items as I got busy with the games and activities while my kitchen helper did the last minute preparations. Although the food wasn't themed, Peppa Pig themed buffet labels, paper plates and glasses from Pretty Ur Party helped thread everything in our theme 🙂
Peppa Pig Party Favors for Kids and Grown Ups
As always, I continue to have favors for grown ups also. My parents, in-laws, my siblings and some friends of ours come down and I like to hand them something to take back from the party.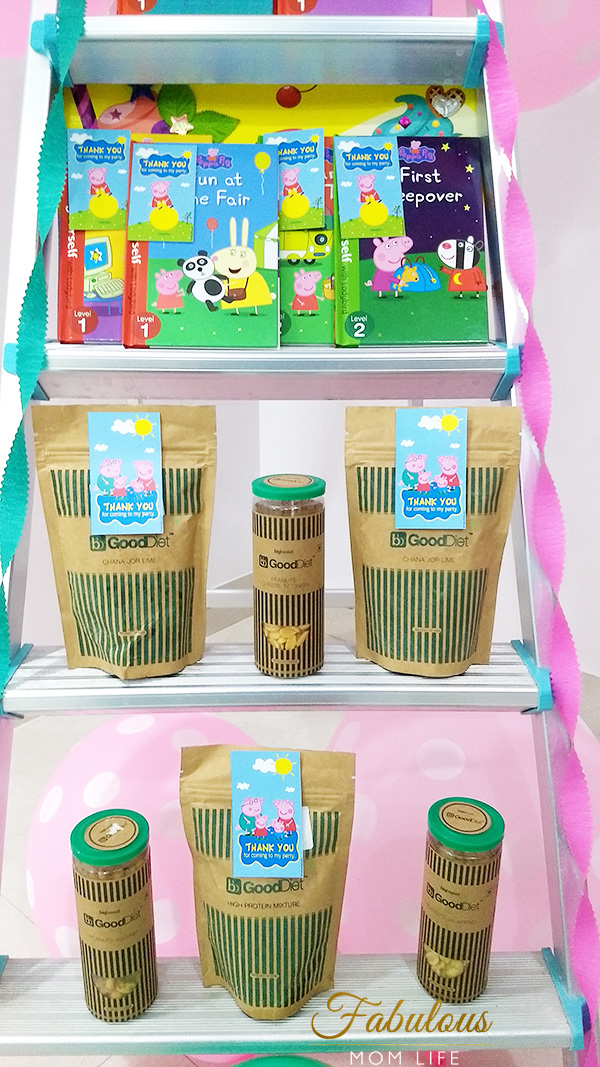 Kids received Peppa Pig books depending upon their reading levels. Older girls – friend of Big Sis – who had come in to 'help' received Drawing pads and Sketch pens.
Adults at the party received these snacks from 'Good Diet'. Big Basket has recently launched these non-friend, roasted mixes and snacks that I am loving. Birthday parties are great occasions to share a new find with family and friends. All the men got the flavored peanuts and the women got an assortment of the roasted snacks.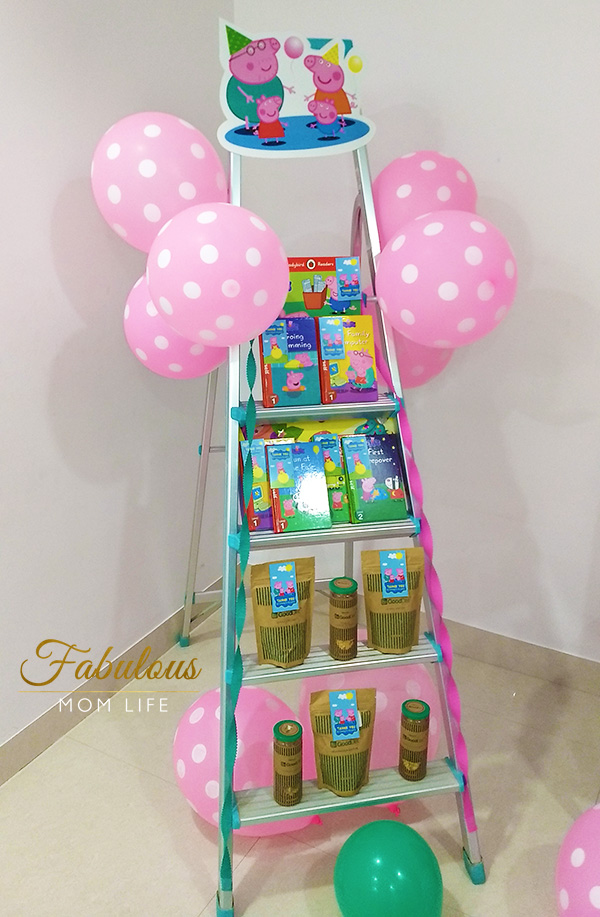 All the return gifts were arranged on my step ladder lending the 'station' a pretty look!
Birthday Present
The birthday girl received a lot of Peppa themed goodies – a Peppa Pig Bag (she will start nursery school later this year), toys and games galore and a bicycle just like Peppa has :). But a couple of weeks before the party, she received an early gift – the stuffed Peppa Pig toy family.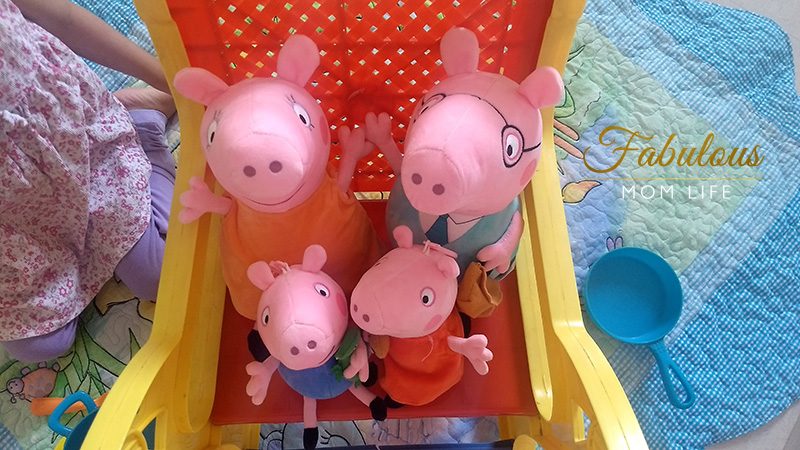 It featured in our decorations too and has become a part of our everyday lives lol!
Here's Some Stuff We Found Online
Invitations
Peppa Pig Themed Invitations – Pretty Ur Party
Party Games
Rubber Ducks for the Duck Pond Game
Cake Toppers
Favors/Return Gifts
Peppa Books
GoodDiet Snacks – Big Basket
Gifts
Peppa Pig Plush Family
Peppa Pig Nursery School Bag
Peppa Pig Dress