When Mommy's flaunting designer watches and bags on social media, the kids cannot be lagging far behind! Actually, with the kind of shopaholic and kids style conscious mom that they have, my kid's wardrobe can anytime rival mine lol. And I am sharing with fellow shopaholic moms my new favorite online shopping destination – Stylemylo. Style My LO is exactly what the name suggests! You are going to find every designer kids wear of your dream in one place on this website. Here's my recent purchase and my shopping experience 🙂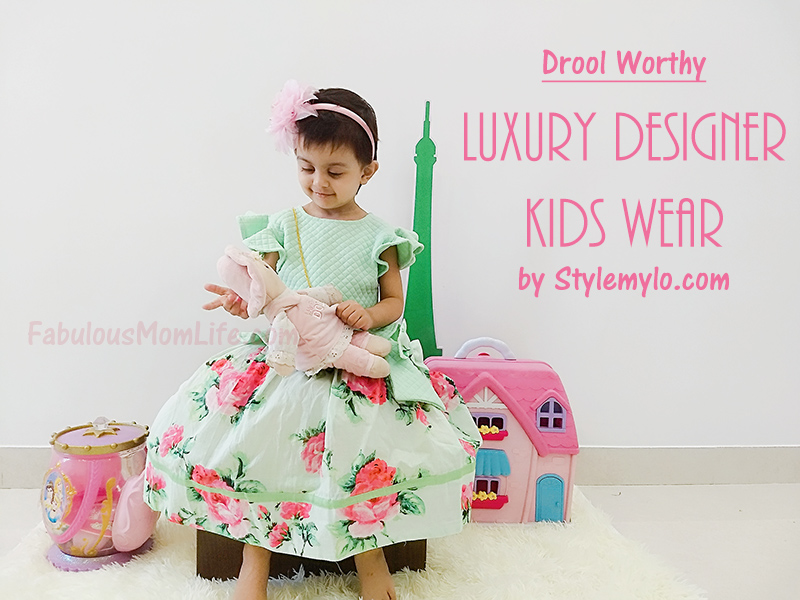 Designer Kids Wear Brands in India under One Roof
Every Diwali or a family wedding or the kids birthdays, I used to search my usual kids shopping sites for something more luxurious and premium. Sadly, with all the lovely collections they have, it is not always possible to find variety in premium kids wear. Or even sizes sometimes! Also, with my crazy shopping abilities, I can tell the difference between a real designer brand and a 'created' one that sells stuff of Aliexpress by adding their own labels. Don't get me wrong – I love Aliexpress and shop there a lot. But if I want to shop from Aliexpress, I will shop directly. I refuse to buy 4x priced Aliexpress designs under a supposedly 'designer' Indian label. I appreciate originality, fresh color combinations, styles and intricate embroidery that India is famous for!
So, I kept hunting and hunting until I found something in the right color and sizes. But this year is different! I found almost 40 kids designer labels under one roof at Stylemylo.com! And no missing sizes or styles. You can find their entire collections up for ordering online. I could easily spot my favorites Fayon Kids, Nee & Oink among many, many more private labels catering exclusively to designer kids wear. I found some new loves in Varsha, Lil Angels and Mi Dulce An'ya and you will soon see why!
Coordinated Sibling Dresses
Me and my love for coordinating my kids outfits has driven everyone crazy! With 6 or more websites and apps opened simultaneously, I browse to match and coordinate colors and styles. The most difficult part is to coordinate my son's outfit with that of his sisters. But I think I am not the only coordinating-crazy mommy out there. Because kids wear designers are coming with outfits for siblings! And Stylemylo has a devoted section for sibling dresses. Now that is why I mentioned the brands above – they are coming up coordinated designer outfits for siblings!
And not just brothers and sisters, they have coordinated dresses for sisters only or brothers only! A great idea when you don't always want them to exactly match! They also carry Mommy & Me outfits 🙂
Designer Ethnic Wear for Boys and Girls
Kids designer labels have taken ethnic wear to new heights! I love how they combine traditional Indian weaves and embroidery with more modern silhouettes and motifs. Kids look so cute in traditional designs with a modern twist. I especially love the cartoon print Nehru jackets for boys and peplum lehenga tops with lehenga for girls.
And of course, if you would like to keep it strictly traditional, you will find a plethora of exquisitely detailed sherwanis, lehengas, kurtis, anarkalis and kurta pyjamas.
My Shopping Experience at Stylemylo.com
It was pure bliss shopping at Stylemylo. I was already blown over by their vast collection of designer kids wear in India. It was really a tough job selecting from the gorgeous designs they have and I finally decided to get my youngest something from their luxurious line of western wear.
The ordering process was hassle free. Stylemylo accepts all major online and offline forms of payment. Within a few days, I received the lovely dress wrapped in layers of tissue. And how it looks is up for you to see 🙂
If you are looking for some premium stuff for the kids this season, do check them out! I promise you will be in designer kids wear heaven. And if you have more than one child, you simply cannot afford to miss their sibling dresses collection that I mentioned above. And they ship worldwide!