The luxurious shopping expo at the Pinwheel Project was an excuse for a quick getaway for Mommy and Daddy last weekend! Obviously, the immediate concern after booking the tickets was 'what do I wear'? The kids did a quick vote after I paraded before them and we all decided (except Daddy) that I need new shoes…lol. As I have mentioned before, Myntra is my favorite for fashion shopping and I quickly put together my outfits with some new additions, especially a new pair of shoes.
Choosing Clothes for Monsoon
Monsoon in my favorite city Mumbai, is a humid affair! There was no way I was going to opt for any outfit that required lowers of any kind. Mumbai without kids is a chance to do all the wandering about that is not always possible. And all that walking would have surely given me a bad rash with jeans.
I chose two breezy dresses instead. The super comfy, casual black and white striped, cold-shoulder dress from Max Fashion and the bold and statement-making orange dress from 109 F.
Shoes, Shoes!
Well, you need to walk around on a vacation (and at the airport) but you cannot wear sneakers to an event! especially when you are going to attend a celebrity panel discussion. With the likes of Amrita Raichand and Nisha Jamwal going to be there, I needed a dressy look and nothing better than shoes to dress up or dress down! So our tiny carry-on bag was half-filled with my new heels from Myntra's Dressberry label. I love the laser cut design and comfortable block heels.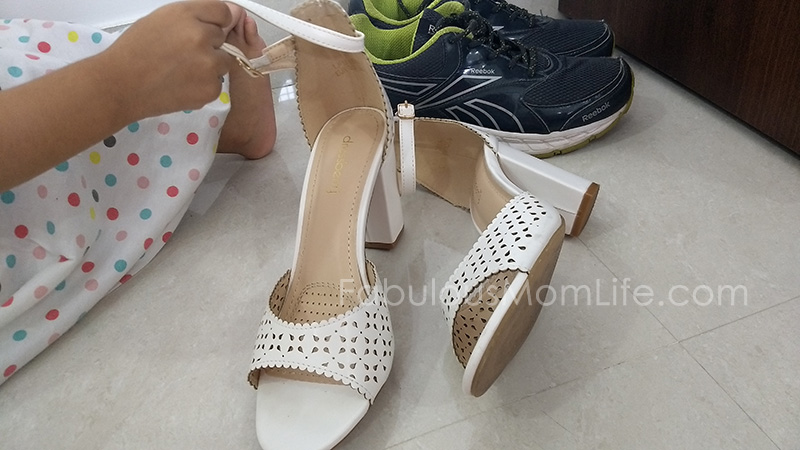 And of course, my favorite pair of Reebok shoes is versatile enough to keep me looking sporty, chic when walking around.
And here are the two different looks I sported through most part of the weekend.
Bright and Bold in Orange
Since Daddy dearest was frightened away by the swarm of moms entering the exhibition venue, he chose not to accompany me. As a result, I do not have very decent pics of myself in there. If I am able to get some from the organizers' official photographer, I will share them later. But right now, you will get an idea of my outfit from these.
The Pinwheel project exhibition was super huge and super crowded. I had to do quite a bit of walking in there too! The block heels were a good choice IMO. I will post some of my favorite vendors there in a post very soon. For now, here's another shot with the 'Mummy ka Magic' yummy mummy – Amrita Raichand.
These yummy mummies gave me a lot of inspiring insights into many aspects of parenting. I will be posting them one by one on the blog.
Black is for Monsoon Casuals
Once the event was over, it was time for my date with Daddy! From art galleries and SoBo streets to Chic restaurants and the airport, my smart casual outfit took me everywhere 🙂
I am fully and unabashedly into the cold-shoulder craze! And this dress went well with the unpretentious M&S wallet when walking to the restaurant as well as my Guess Tote during the flight. Always pays to have staples in your closet!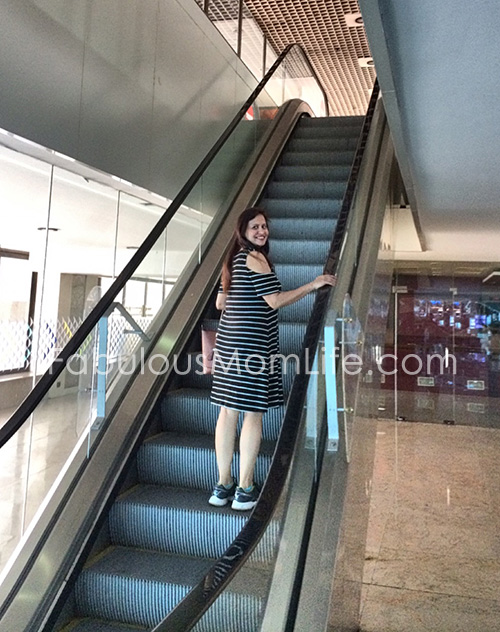 It is almost like a sacred ritual for me to visit the Tata's Art Collection at the CSMVS (Price of Wales Museum) on every visit to Mumbai and pay homage to my favorite painting – Peeping in the Well. I can stare at it for hours! (Ok…half an hour for sure!).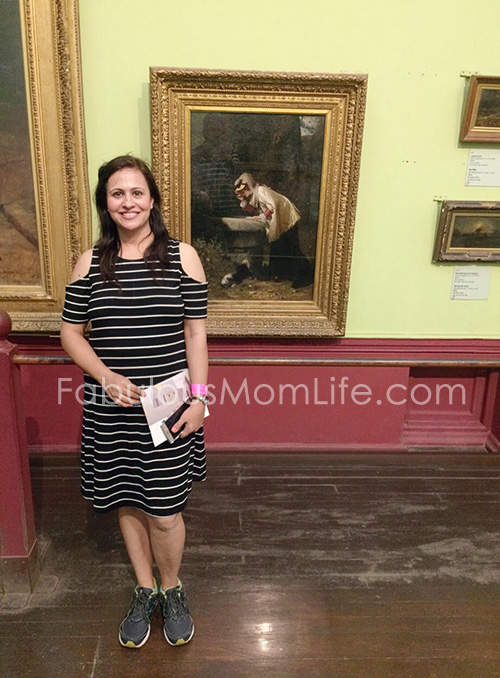 Despite my sweaty face and windblown hair, I was still feeling cool in this dress. A superb choice for the humid weather, if I may compliment myself!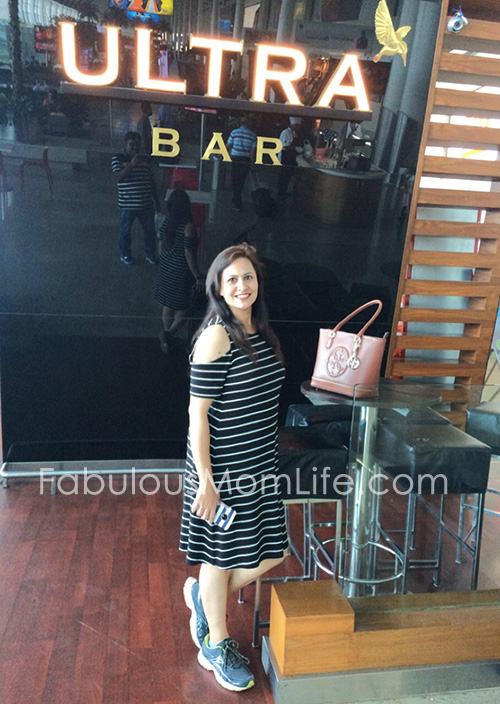 And finally, at the airport. If you follow me on social media, you must have read the supposedly funny remark by Fabulous Daddy on this shot. But coming back to the trip, it was a much needed sweet and short break for both of us – and was made perfect by the choice of these super comfy, yet groovy outfits. There is nothing worse than fumbling with your outfit or feeling under confident in what you are wearing.
And of course, I am forever grateful to whoever invented online shopping!