Whether your kids enjoy spending their summers splashing in the pool or you are planning to hit the beach, sunscreen is a must for the delicate baby skin. If you have never really bothered to find out how exactly you should be applying sunscreen to babies and kids, here are some tips to keep in mind.
1. Choose the Right Sunscreen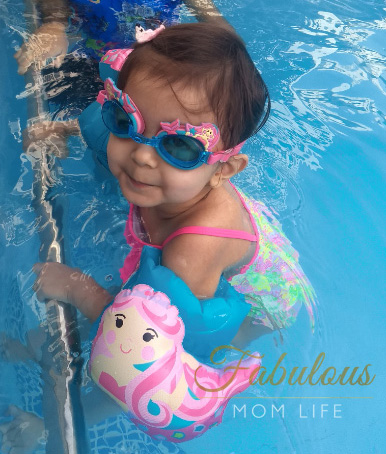 Look for a baby safe sunscreen that is free of harmful substances like chemical filters, Oxybenzone, alcohol, perfume etc. The sunscreen should have a sun protection factor (SPF) of at least 30 for Kids and at least 50 for babies. It should offer protection from both UV-A and UV-B rays of the sun.
If you plan to use it at the beach or pool while swimming or having water fun, make sure to look for one that is water resistant in addition to the above criteria.
2. How to Apply
Depending upon the type of sunscreen, you need to apply the sunscreen to the entire exposed parts of your baby's body. A lotion type sunscreen will need to be spread like a lotion. A spray-on can be sprayed directly on the skin (avoid nose and mouth).
A mineral based sunscreen needs to be applied like foundation – in little dots – and then spread all over the skin.
3. When and How Often to Apply
Apply sunscreen on your child half an hour before going outdoors. Don't wait to reach the pool or the beach and then start applying.
A sunscreen that you only need to apply once a day and will protect you the whole day sounds nice, but does not exist! Do not fall for such advertisements. How often you need to apply sunscreen depends on your child's skin type and type of activities in a day. As a general rule of thumb, repeat it every two hours or more if your child is sweaty, has swum or has exercised. When drying with a towel, you can actually rub off half of the cream! So re-apply every time you dry your child after he or she comes out of the water.
4. How Thickly to Apply
Do not apply sunscreen in too thin a layer or it will not be effective. Apply sunscreen liberally. A child requires at least 2 tablespoons of sunscreen to cover entire body. An adult requires about 7 tablespoons roughly. A baby would require about one teaspoon.
If using mineral based sunscreen, do not let the whitish cast make you under-apply. Apply in small dots, rub well, but make sure to apply generously.
5. Set An Example
Finally, children copy everything. So make sure that you give a good example of slathering yourself with sunscreen. Do not be too frugal yourself, because you want to set good example! And then you have one thing less to worry about while the kids wander outside all day.
Another thing that helps is showing them episodes of their favorite shows which feature sunscreens. My little one started asking for her sunscreen after watching Caillou and Peppa Pig apply sunscreen before going to the swimming pool or when at the beach.