The sun is shining brightly and the school is out! What better time to go and play outside and get some much needed Vitamin D! And when the heat turns high, how about chilling in the swimming pool? My kids like nothing better than spending hours in the pool. But just like I am going to remember each one of these lovely summertime memories, the skin remembers every single sunbeam right from our birth. That is why it is important that you rub your child well with the right sunscreen! And our new friend this summer is the Mineral Based Baby Sunscreen by The Moms Co – the perfect companion for water splash fun. Read on to know all about it.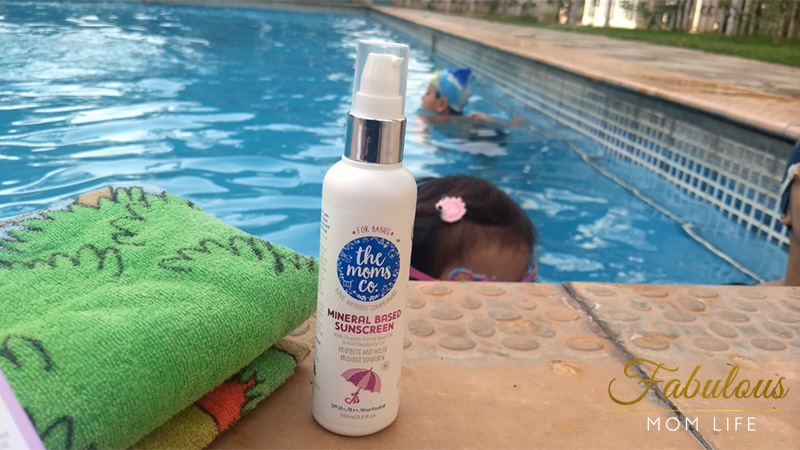 Summer Safety
The fun of summer vacations is always in danger from the dreaded heat and harsh sun rays. Whether playing sports, doing outdoor activities at summer camps or having fun in the swimming pool – certain safety precautions are always to be taken. Our constant companions to keep the kids cool during summers are: Water, Caps, baby safe talc free powder, sunglasses, swim goggles, floaties and a very good, baby safe sunscreen.
Choosing the Right Sunscreen for Your Baby
Children's skins are much more sensitive than our skin. The self-protecting effect of the skin is not yet sufficiently developed to protect them against UV radiation, causing the skin to burn quickly. According to studies, children who regularly get sunburn have a greater risk of skin cancer later in life. That is why their skin requires a sunscreen with extra good protection.  Read more about it in my post on sunscreen application tips for kids. Use a sunscreen with AT LEAST protection factor (SPF) 30.
As a general caution, you should keep newborn babies out of the sun as much as possible, except for the early morning sun. Up to about 6 months old, it is a wise idea to not go in harsh sunlight with your baby at all. The delicate baby skin is still very vulnerable. That said, if you really must, choose something very protective, like the product I am about to review, which is suitable from Ages 0 and up. Use a sunscreen with AT LEAST protection factor (SPF) 50.
Review: The Moms Co Baby Sunscreen
The Moms Co Baby Sunscreen is a mineral based formula that excels every other baby sunscreen in India. After carefully comparing with the alternatives and trying it on my water-happy children, here are some things I liked most about The Moms Co Baby Sunscreen.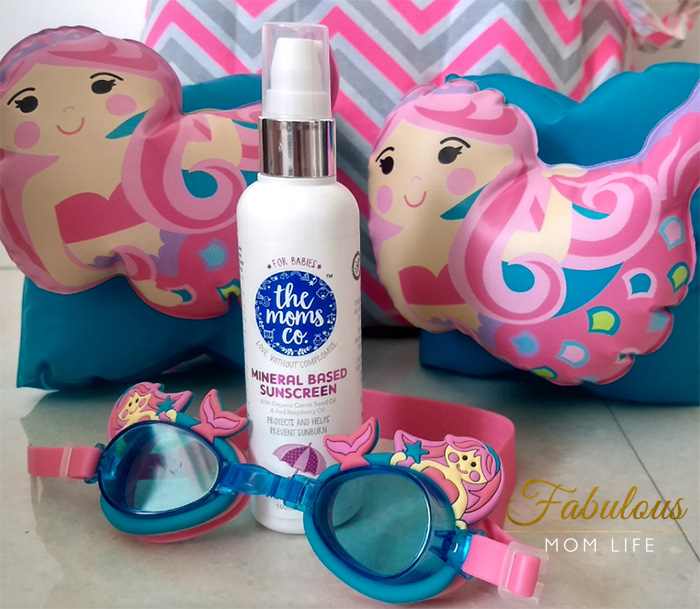 1. Natural Mineral Based
Toxin-Free combination of Titanium Dioxide, Zinc Oxide and powerful oils like Carrot and Raspberry Seed Oil that protect delicate baby skin from harmful UV-A & UV-B rays.
2. Water Resistant
Water-proof is a Myth. But Water resistant? Yes, this sunscreen is water resistant! The Moms Co Natural, Mineral Based Baby Sunscreen sits on top of the skin. This means that your sunscreen does not end up directly in the water and stays better on the skin and you are protected even inside the water. Now, this is a big plus for me as all other lotion-type sunscreens are washed out immediately in water. Check out my video below to see how well this sunscreen sits on your skin even in water.
3. SPF 50
The Moms Co Baby Sunscreen has a very strong protection factor. It completes my above mentioned criteria for kids and baby sunscreens. It has a Sun Protection Factor of 50.
4. UVB and UVA Protection
The minerals in the sunscreen prevent the harmful effects of both UV-B and UV-A rays. This is an important factor to be considered when choosing a sunscreen for your baby.
5. Toxin Free
It is of utmost importance that your baby's sunscreen be free of chemical filters and ingredients such as Oxybenzone, Alcohol and Perfume. The Moms Co Natural Baby Sunscreen does not use any of these harmful ingredients and is rich in natural and organic components that help protect and soothe.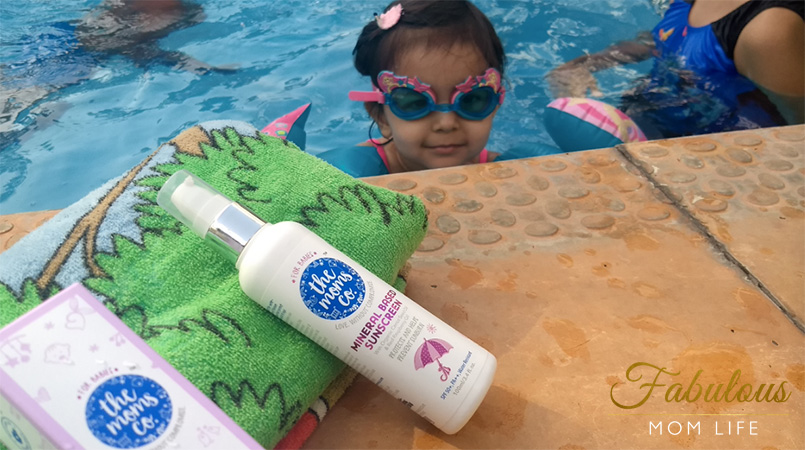 Making a safe choice for something as important as your baby's sun protection, is very important. I loved that The Moms Co sunscreen has taken the right steps to bringing for our children a mineral based and water resistant sunscreen that is enriched with natural goodness. Like all their products, this baby sunscreen is:
✓ Safe For: Baby from 0 months
✓ Made with Natural and USDA-Certified Organic Actives.
✓ Clinically tested to be Tear-Free, Hypoallergenic, Mild and Gentle
✓ Certified Toxin Free and Made Safe by Safe Cosmetics Australia
✓ Australia Allergy Certified
How to Apply
If you have read my
tips on applying sunscreen to babies and kids
, you must now know that different sunscreens have a different method of application. The water resistant, mineral based baby sunscreen from The Moms Co needs to be applied like you would apply your makeup foundation. Apply small dots and then massage to spread. I have shown it in this video.
Mineral based sunscreen sits over the skin to protect it even in water. You can therefore, see a whitish cast on your skin after applying the cream. But do not let the whitish cast let you under-apply the sunscreen! Use sunscreen liberally and slather it on for real protection. Re-apply after 2 hours or after coming out of water.
All Products Available at:
Until April 30th, use code
LATA
to get a 10% off, above all existing discounts when you shop directly from The Moms Co website for products worth over INR 500!