Pampers Baby Dry pants enjoyed maximum popularity with Indian mothers. Mainly because of the lack of a suitable alternative. Mothers of newborn and older babies easily figured out that Pampers were much better than Huggies and Mamy Poko – the other 2 pant style diapers available. But this changed when Pampers launched another product in the Indian market. So how does the expensive Pampers Premium Pants compare to the popular Pampers Baby Dry diapers? Let's find out.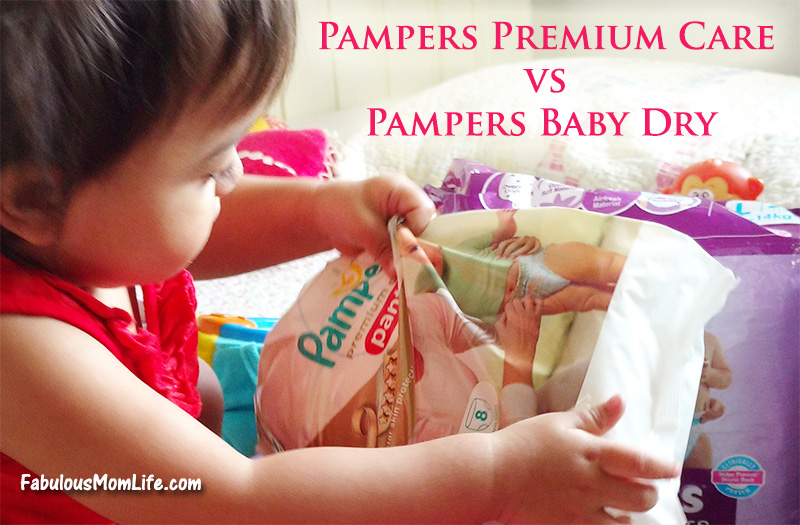 Dryness
This is the first and foremost factor of importance. Pampers Premium can give Pampers Baby Dry a run for it's money based on this factor alone.
Softness/Comfort
Again, Pampers Premium feels much more soft and makes Pampers Baby Dry look pretty ordinary. Parents of newborns would love the feel of the premium range for their baby. My baby was not a wee baby when the premium care range was launched and I still loved it. Babies of all ages are precious and parents want nothing but the best for them 🙂
Fit
Both diapers, coming from the same brand, are excellent in fit. There have been absolutely no leakages in either.
Price
This is the only factor where Pampers Premium takes a beating (but not really). Pampers Premium is priced at INR 1199 (XL – pack of 46) or INR 26/diaper as opposed to Pampers Baby Dry pants at INR 799 (XL – pack of 48) or INR 16.50/diaper.
Verdict
Based on the above, it is a simple inference that Pampers Premium Care Diaper Pants are immensely better than Pampers Baby Dry Diaper Pants. The only objection to the higher price has also been taken care of. Thanks to the competitive economy we live in, some factors completely nullify this price difference.
The absorbency of Pampers Premium Care Diaper Pants is so much better that you actually use only half the number of diapers than if you were using Baby Dry. So, they actually save you money.
Sales and Discounts at Amazon.in (where I shop them from) render the price difference much less. The effective prices right now are INR 838 for Premium vs INR 759 for Baby Dry. That works out to INR 18/diaper vs INR 15.5/diaper. The effective prices and the percentage of discount keeps fluctuating but the difference is hardly an inconvenience considering the benefits.
Have I Switched?
You bet! Even when the price difference was much higher, I had realized that Pampers Premium Care worked double the number of hours. It is the only way to keep growing babies dry all night. I cloth diaper during the day time and use disposable diapers during nights and when going out. Pampers Premium has long back, replaced Pampers Baby Dry as my choice of pant style baby diapers.