That I am cloth diapering mom is no news to you. I have already spoken about my love for cloth diapering and featured reviews and info on cloth diapers available in India in my previous posts. It is so heartening to see the cloth diapering community grow leaps and bounds in India. No longer do I have to order them from cross the globe. We now have several homegrown brands making the cutest cloth diapers in India! I am happy to share with all you diapering moms out there, my Superbottoms Cloth Diapers review.
Bum Couture by Superbottoms Cloth Diapers
Of course, I will tell you how these diapers performed. But first, let's get a little superficial and admit that the best thing about cloth diapers are their looks! Now, Superbottoms is a 100% desi brand whose cute prints you will fall in love with. When I opened my package (they send all their fluff in lovely brown paper packages tied up with string – don't tell me you did not sing that!), the first thing that came to my mind was 'Bum Couture'!
Lol, and you will have to agree. Aren't they pretty enough for babies to walk the ramp in their diapers? As it is, our babies and toddlers have a wardrobe better than us. No reason why their most important piece of clothing – their diapers – be unsightly.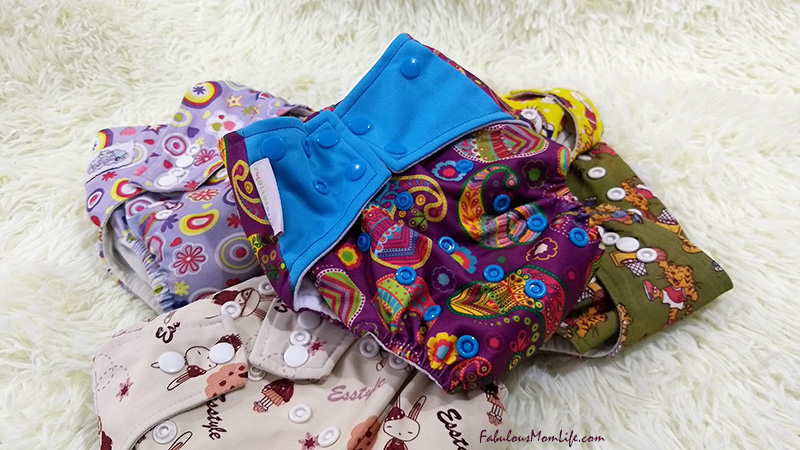 This particular print called 'Utsav' features a very festive, ethnic, paisley print design in vibrant colors that are oh! so Indian. It was 'Love at first sight' for me. But wait till you see the rest of their prints on their website. From color blocks to doodles and Ikat to nursery rhyme prints, they are couture indeed for our babies. The designs 'Gully Cricket', 'baby Talk' and 'Mitti' are also my favorites. They are also available on Amazon India. Do check them out!
Superbottoms Cloth Diapers Review
Now that I am done gushing over the cute prints, let me share how the diapers worked for me. I was sent the 'Superbottoms Plus' cloth diaper which comes with one attached and one extra attachable insert. I have been using them every alternate day for quite some days now to test them in all conditions. Here are my observations.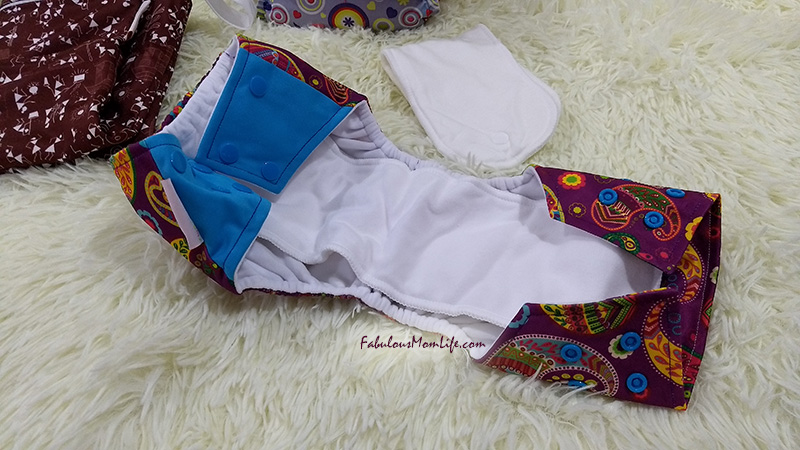 * Always pre-wash cloth diapers before using them or you will not be able to judge their absorbency. With the first few washes (I'll say 5 to 6), their absorbency increases.
What I Loved
Completely leak proof
Breathable fabric
Tougher built than all my previous cloth diapers – sure to last from newborn to toddler stages
Inserts (soakers) can be fastened with buttons. This ensures that they do not move and stay secure in one place.
Inserts do not bunch up
Inserts are very absorbent. Using both inserts together can last most of the night. Adding another insert in the pocket makes them last all night.
No rashes
Fasten it correctly and there will never be any marks around the thighs.
Avoid fastening it too tight out of the fear of leakage. The elastic around the crotch is perfectly made to ensure no leakage. No need to pull it closer still and making the baby uncomfortable. Snug, not tight is the keyword here.
Dries quickly – even the insert. Although, not as quick as those with separate inserts (read more below)
With only one inset, the diapers do a fabulous job and do not look bulky at all.
Once again, their inserts are absorbent without being bulky.
AIO (All in One) diapers are quicker and easier to use because you do not have to load inserts in them.
AIO vs Pocket Diapers
There are no complains with the performance of the looks of the AIO diaper that I was sent. But my Superbottoms Cloth Diapers review will be incomplete if I do not tell you that my diaper stash mainly consists of pocket diapers. The thing is that I have always preferred pocket diapers. The ones in which the soaker inserts are inserted inside the pockets and a dry-feel fabric is the only thing that touches the baby's skin. And the good news is that for those who prefer them, like me – Superbottoms has those too! Their pocket diapers are also available in all those cute prints.
If whatever I explained about the pocket diaper design made no sense to you, click the product link above and check out their easy video on how pocket diapers work. Although their AIO soakers are also made with a suede dry-feel fabric so the baby bottom does not feel wet, I would still love for the baby bum not touching the wet insert directly. When choosing between AIO and Pockets, do keep in mind that pocket diapers can make the inserts move a little at times while Superbottoms' AIO fasteners ensure that the insert stays in one place.
Also, AIOs can prolong the drying time also. Since the insert is already attached, it takes longer for the diaper to dry. If it was a pocket insert, I could dry the pocket cover and use it with other dry inserts. This is especially a concern during the oncoming monsoon season when you keep running out of dry diapers.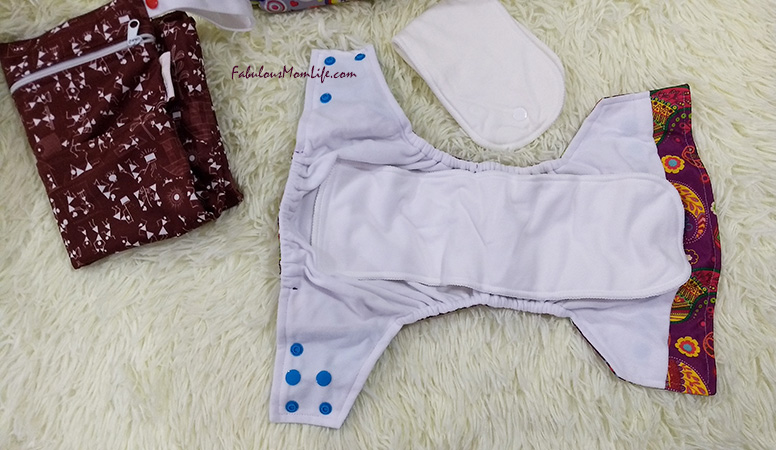 There are different styles of cloth diapers and I just happen to prefer the pocket ones. This design, in no way interferes with the absorbency or performance in any way. In fact, like I mentioned earlier, AIO's are actually quicker to use. When you need a diaper quickly (mommies will know the types of emergencies we have – the main one being able to hold an active baby still, to put on the diaper), you do not have to first fill in the inserts. The diaper is ready to use.
So, depending upon what you decide to choose, Superbottoms has both choices for you, including cover diapers if you those are more up your alley.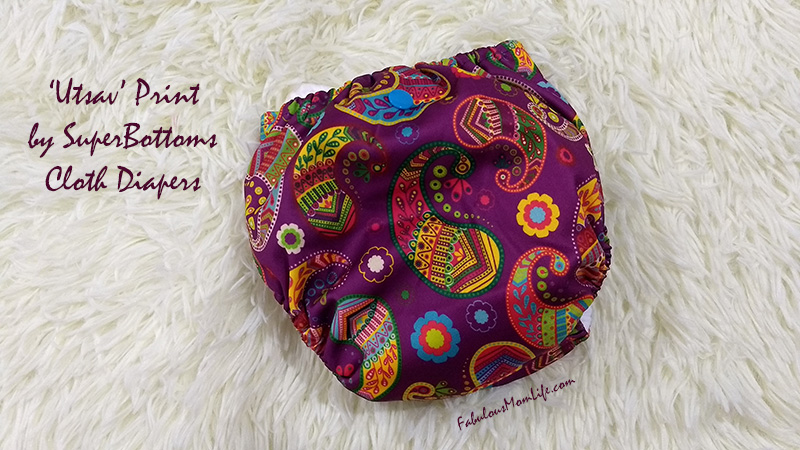 Superbottoms Wet Bag Review
Having a hardy and durable wet bag is as important for CD moms as having a good stash of cloth diapers themselves. The entire concept of cloth diapering is that you don't throw them away but reuse them instead. So, when you are on the go and need to change the diapers, you will need a bag to carry the used diapers back home. For this, your diaper bag needs another essential – a wet bag.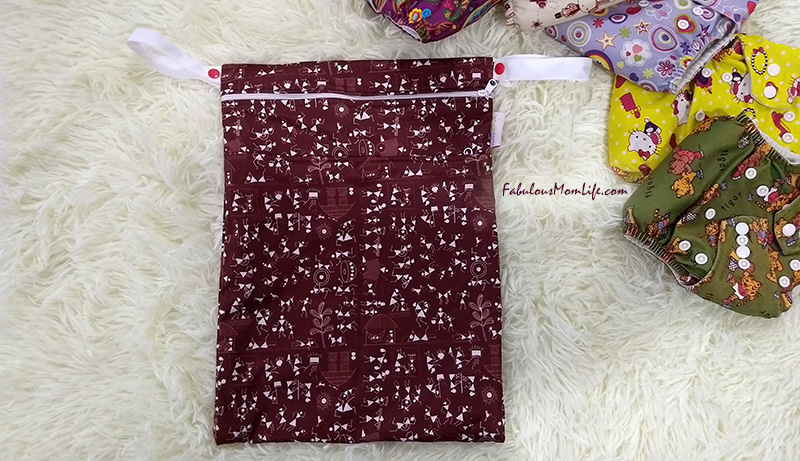 My diaper bag used to contain 2 to 3 diaper bags so far, but trust me – you will not need many when you use Superbottoms wet diaper bag or 'Superbags' as they are called. This one is the best in my collection so far and I love how hardy it is. Here are the main features that make me recommend them to all moms!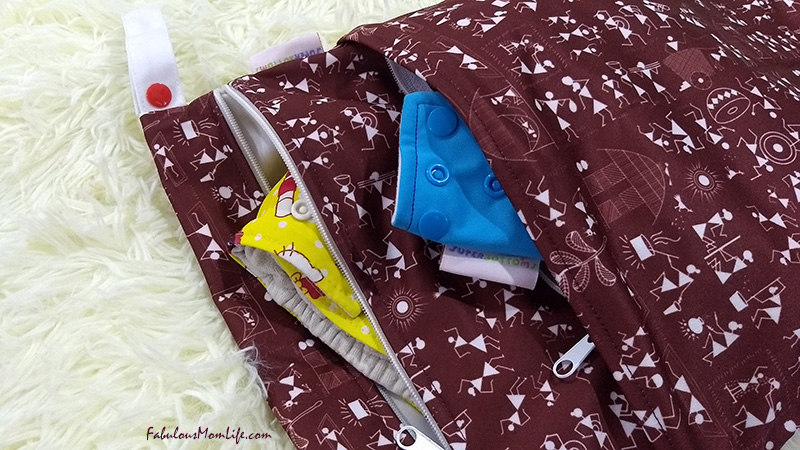 What I Loved:
Very spacious – much more than any previous wet bag I owned – can hold 12 to 15 diapers in one go!
Completely waterproof – none of my existing ones are as good as this one – you can carry home a wet swimsuit in this!
Two zipper compartments
Handy loops that can be fastened close to hang them for drying from any rod/rope/drying rack.
Cute designs that you can match with your favorite Superbottoms cloth diaper! Featured here is the 'Warli' print.
Super quick dry
Final Thoughts
I have truly not come across a better quality of cloth diapers in India than Superbottoms. I am extremely happy by their choice of prints. I love Indian startups who glorify our desi culture through their creative designs and Superbottoms does exactly that.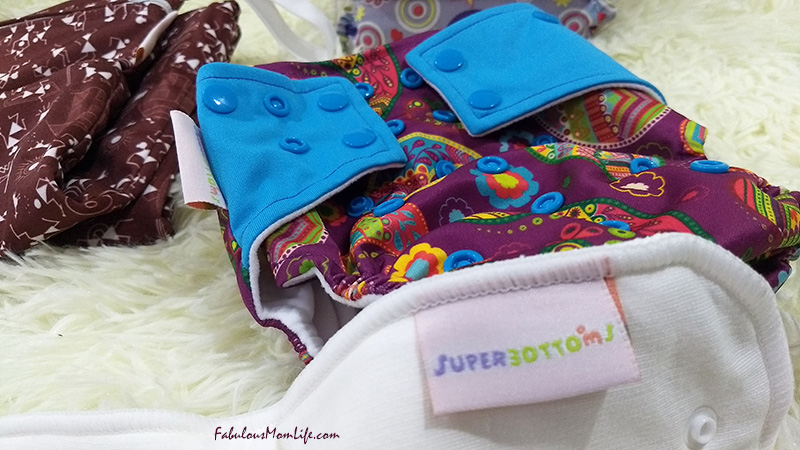 Not just their diapers, their wet bag is also the best one I have had so far – and I had 4 already! They bring the best of the cloth diapering experience home to Indian moms and I am glad to have had the chance to experience them. Check them out at their website and social media handles below and be prepared to fall in love with the cute prints!
Website: https://superbottoms.com
Social Media – Facebook, Twitter, Instagram
New Moms, leave the guesswork out and check out their detailed YouTube videos for instructions on using cloth diapers.
Pin it for later use!