A smart step that is of huge help to new moms has been taken by an innovative startup – NapNap. Their Lullaby Sleeping Mat is a gentle vibrating mat designed to make babies sleep for much longer and peacefully. This gives the tired new mommies a chance to rest themselves. I teamed up with Fabulous Mom Sumithra, who has just had a baby, to review this mat for you. Read along for my NapNap Mat review, unboxing, features and Sumithra's experience with it.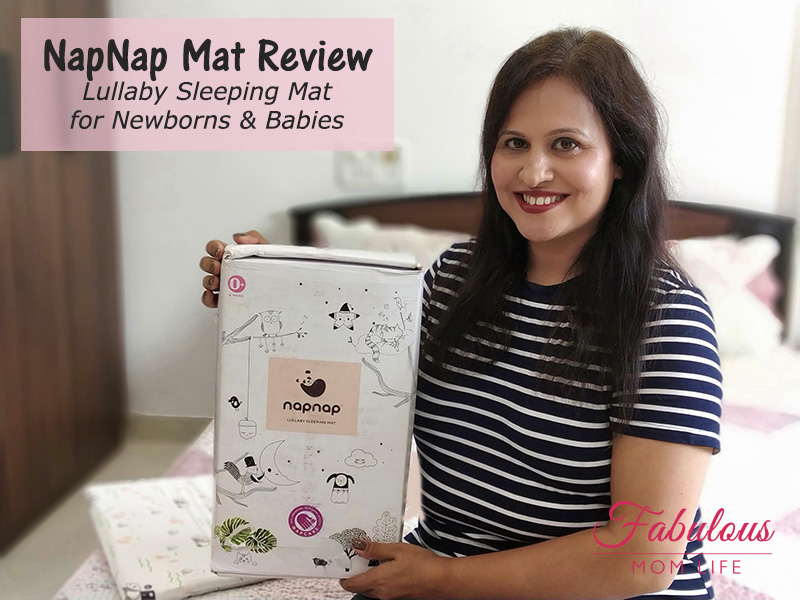 Newborn Sleep Challenges
After 9 months of pregnancy and the laborious process of childbirth, the new mom has one more challenge to face – putting the newborn to sleep. I remember how my babies would only love to sleep in my lap or on my shoulder. They would wake up as soon as I put them down. This can become very exhausting for new moms!
But if you try to think of it from the baby's point of view – the newborn only feels comfortable in the mother's lap because that is the only thing he or she recognizes! The womb and the breathing of the mother are the sounds the baby knows and feels comfortable with. What else, but being close to the mother will make him rest in peace.
Now we all know how important it is for both, the baby and the new mother to be well rested. To address this issue, NapNap Mat has come up with a brilliant solution. This mat recreates a mother's womb with its gentle vibrations! Let's take a look at the features of the NapNap Lullaby Sleeping Mat and what I experienced.
NapNap Mat – First Look
The excitement begins when this pretty package arrives!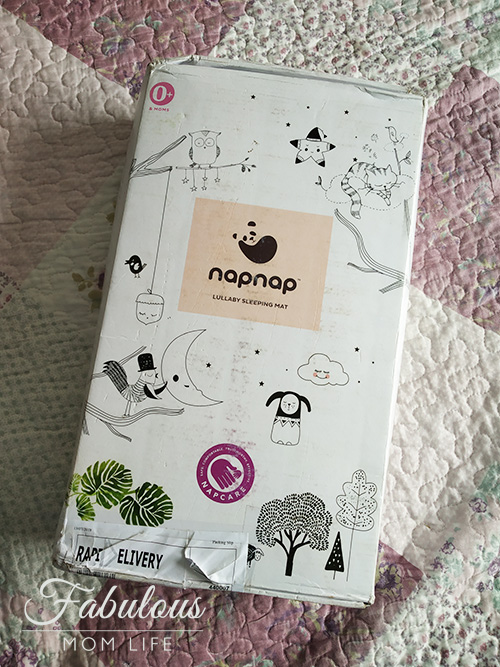 And this is what comes out – a fabric bag (yes, I have openly proclaimed my love for all things that come packaged in a fabric bag several times in this blog lol!) containing the mat itself, some accessories, a user's manual and a warranty card.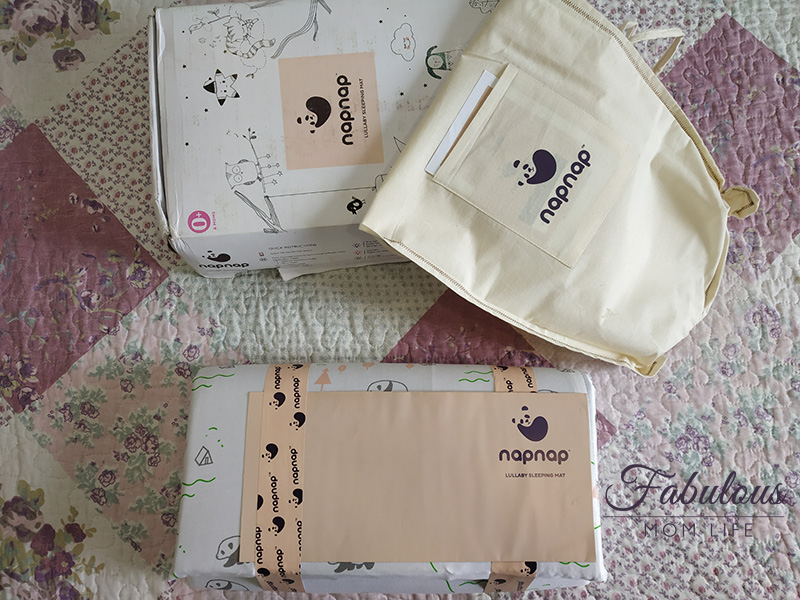 Each NapNap Mat comes with a heartfelt letter to the new mom. You will get a glimpse of the letter in the video posted in the next section.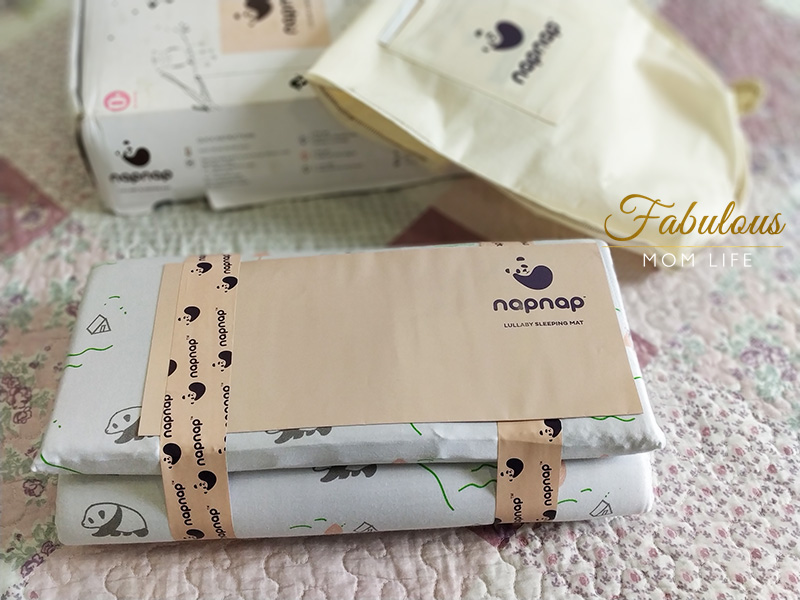 Along with the mat comes a USB cable to charge it.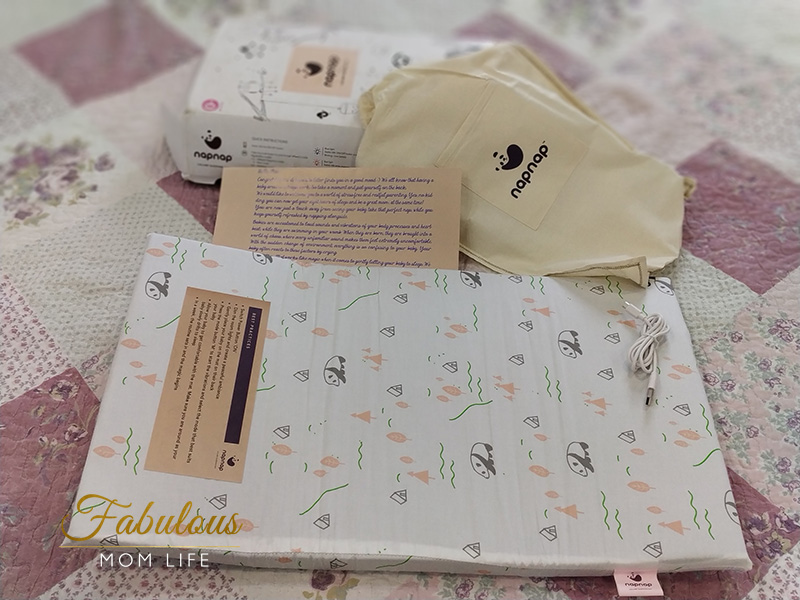 See those little markers on the top left of the mat? (bottom left in the picture below). They are the simple operations for the mat. More on that in the next section.
How the NapNap Mat Works
First up, let me show you how this wonderful new invention works. Check out my video below as I show you how to use and operate the mat, the different modes, how to easily charge it etc.
NapNap Mat Review
And now let's come to the most important part – does it work? That's where the real review of New Mommy Sumithra comes in. She used the mat for a week and here's what she had to say:
"My baby used to sleep for hours together on my shoulders or lap. But when I put him down, he hardly sleeps. I find it very difficult to handle him all alone at home and my household work and taking care of my other child had become very challenging.
As soon as the NapNap Mat arrived, I was excited that something would help me now. My baby sleeps quite well now. I put him on the low vibration mode which is for newborns and he sleeps comfortably for hours together and even I get some time to sleep now. Thanks NapNap Mat!"
Sumithra recently carried along the portable NapNap Mat for a short vacation and it proved to be really useful. She was actually able to enjoy and spend quality time with her family as her baby was comfortable and happy because of the mat. It also made it easier for her to breastfeed as the baby stays much more relaxed.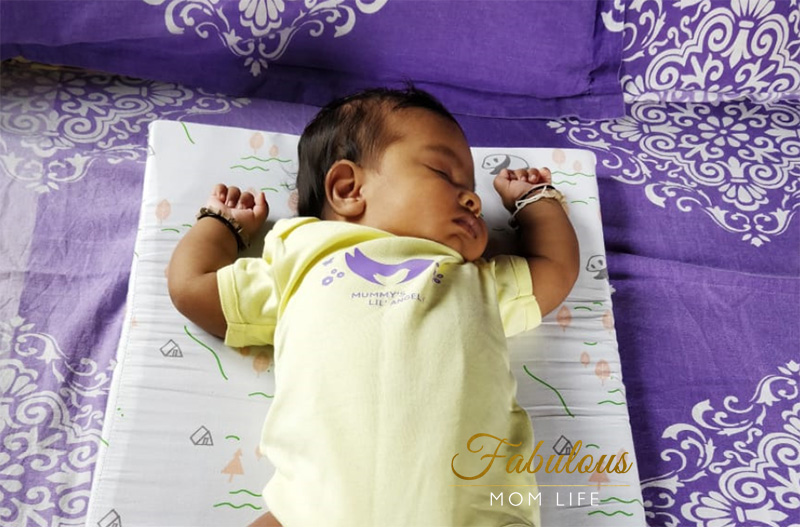 Sumithra, an urban mommy, has two children to care for and lives in a nuclear family. After her husband leaves for work, she has to manage things all by herself. That includes household responsibilities and taking care of her older child. I can imagine how difficult it must get when the baby simply doesn't want to be put down. In fact, I can completely relate to this myself. NapNap Mat is a boon for all new moms in her situation and I only wish they had come up this a couple of years ago for me!
NapNap Mat – What I Liked Best
But I am really happy for all you new moms out there. You are going to love this product. And here are my top reasons why:
Innovative Concept – This mat is an excellent example of the use of technology for Smart Parenting. A vibrating mat that recreates a mother's womb to reassure and out the baby to sound sleep is a really innovative concept.
Portable – The NapNap Mat is extremely portable. You can carry it along with you on outdoor trips to the park, picnics and on vacations. It can be conveniently used during travel in flights and trains. The battery can be easily recharged and once fully charged, can last upto 10 days.
Soft Fabric – The fabric used for the outer cover of the mat is premium Egyptian cotton that feels super nice to touch and is very comfortable for the baby. The mattress inside is flat and firm that improves baby's posture.
Easy to Clean – The interiors of the mat are waterproof so you can simply wipe it clean with a moist cloth/wet wipes. The outer cover is completely washable.
Easy to Use – The battery of the mat can be charged as easily as a mobile phone. And the operation is not complicated. Just switch it on and choose the mode and you are all set.
Can be Used on Any Surface – The mat can be used on a Crib, Stroller, Bassinet, Bedding/ other flat surfaces, Car seat, Pram and even a Sling
The Mom's Special Vibration Mode – The fourth mode in the mat is specially for moms! Both Moms-to-be and new moms alike can use it to relieve their aching legs and back. That is a very thoughtful feature!
Completely Safe – The NapNap Mat is completely free of any radiation, is non-toxic and cordless. It is a safest way to use modern technology for your babies.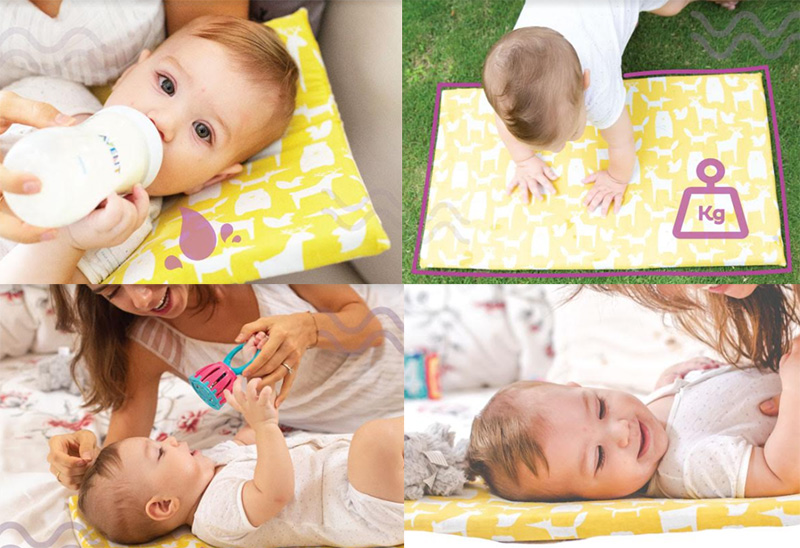 If you are a modern new mom or a mommy-to-be, the NapNap Mat will surely make your life easier. I am also putting it on my list of really useful gift ideas for a New Mom or for a Baby Shower. This really innovative use of technology to make our lives easier gets a thumbs up from me!
Shop Online
You can shop for NapNap Mat online from:
And don't forget to use the code LATANAP10 to get 10% off when you shop directly from their website!