Your baby's skin is so fresh and soft, but it tends to dehydrate quickly, which is why it requires gentle but effective care. After telling you about my lovely experience with their diaper rash cream, today I want to review the Himalaya Baby Lotion for you all through my own experience with it.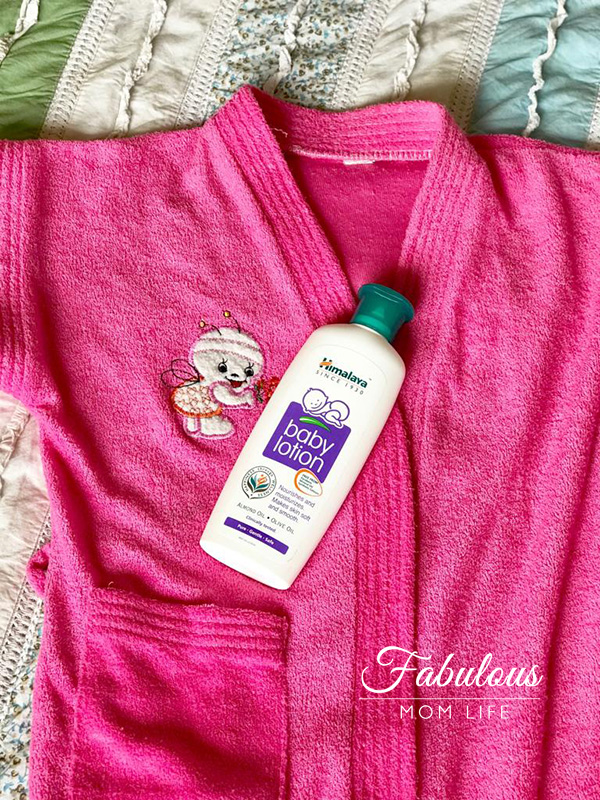 Baby Skin Care
Every baby has different skincare needs, but as long as your baby does not have any extreme skin condition, most of them only require gentle nourishment. Massaging in a good baby lotion after their bath is a good habit to practice. Not only does it moisturize the baby's skin and replenish all the oils lost during the bathing process, it also inculcates in the baby an early habit of skin care. As your child grows up, they will always remember these steps and never forget to hydrate their skin which is essential for life-long good skin.
Other than bath times, you might also need to apply baby lotion after time spent outdoors. Sometimes, after being outside for a while, you might notice dryness or redness on the baby's cheeks. A little baby lotion is all that you need to make it go away.
Himalaya Baby Lotion Review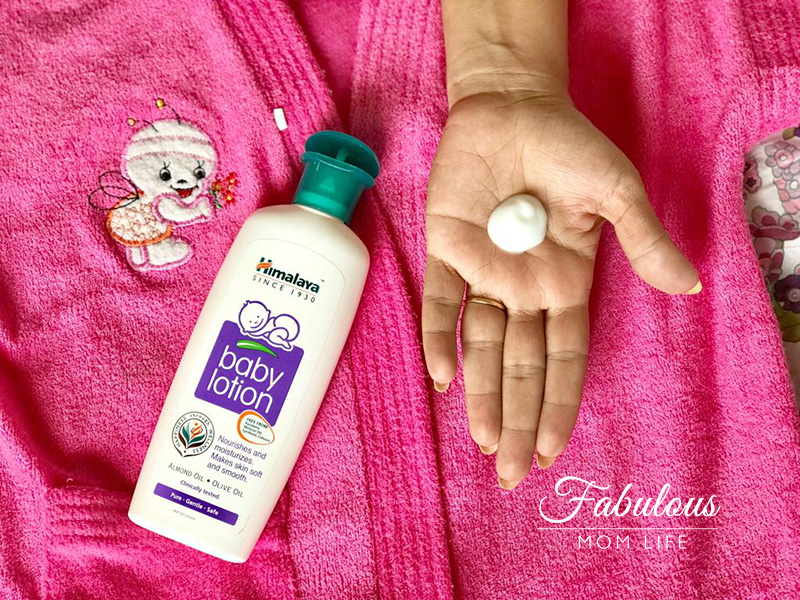 Himalaya Herbals Baby Lotion is a gentle baby lotion formulated specially for the baby skin. The mild formula contains nourishing oils and is clinically tested for its purity and safety. I like to use it for all 3 of my children and even myself, at times!
Some of the star ingredients of Himalaya Baby Lotion are:
Olive Oil
Almond Oil
Yashtimadhu (Licorice)
Country Mallow (Bala)
Together, the blend of these ingredients restores moisture in baby's skin and improve the texture of the skin. Some things that I have based my Himalaya Baby Lotion review upon, are:
It's texture is perfect – not too thick, nor too flowy.
It is lightweight enough for our usually hot weather
It gets absorbed into the skin instantly
It is completely non-greasy
It moisturizes adequately during dry/cold days also
The mild formula has never caused even the slightest irritation ever
It smoothes dry elbows and knees extremely well
Smells very nice and natural – not in the least synthetic.
The Himalaya Baby Lotion is also free from:
Parabens
Mineral Oil
Synthetic colors
My Thoughts
Ever since I fell in love with their baby massage oil, I have always been open to trying Himalaya Baby Care products. The lotion lives up my expectations. It feels like a perfect mix of lotion and cream and takes care of all the daily hydrating and moisturizing needs of my children. I have been using it since they were babies and continue to use them for 3 and 8 year olds. It is my go-to product to apply on daily scratches and mild rashes that are a common occurrence with active kids like mine. I also like it's effect on rough knees which I think, need extra skin care as the children grow from babies to toddlers and kids. The skin on their knees and elbows changes considerably from their baby skin and needs more rigorous hydration.
The safe and effective ingredients give me peace of mind of making the correct choice for my kids. Have you used Himalaya baby lotion for your newborn / babies / toddlers / children? Do let me know your thoughts in the comments.