I walked you through my Diwali decor last year. This year, my toddler gave me time to make considerable stuff in the kitchen so I thought I'd share! For all you time-crunched moms, here are some of my quick and easy Diwali recipes. All are not quick, I agree. But they are definitely easy and if you have some help, can be managed without a lot of fuss.
Easy Diwali Recipes
Whether I have a whole lot of time or no time at all, I am always up for quick and easy recipes. I'd rather use the remaining time and energy in decorating, dressing up and enjoying with the kids than slaving in the kitchen forever lol. So, every year I make a different set of sweet and savory snacks for the Diwali season.
Now, I know there are plenty of superb Indian food bloggers and websites who will give you a plethora of easy Diwali recipes. And most of you are already pros in making Diwali snacks. So, I am not going into too many details for each recipe. Just giving you an idea of the process and the ingredients I use. You can find innumerable recipes on the internet if you are looking for minute details.
If you have a question though, feel free to ask!
Sweet and Savory Diwali Snacks from My Kitchen
My recipes are a mix of hand-me-downs, internet research and trial-and-error. The kids help in with whatever they can. They end up breaking most of the laddoos when trying to form them but they enjoy the process anyway! They did make their 'Oreo Balls' that we made for Grandparent's Day though. And even helped with stuff like shelling pistachios and keeping their little sister busy!
Here's our assortment from this Diwali.
Microwave Milkmaid Peda

My kids love this homemade peda made in a jiffy! I use a step by step recipe by Dassana Amit of Veg Recipes of India but my microwave time varies. So, use her recipe but use your judgement to decide when the peda mixture is ready.
Also, I garnish my pedas with chopped almonds and pistachios (kids do the garnishing). Also, the peda might seem sticky even after cooling down. But you will find it perfect the next day.
Namkeen Saloni or Namakpare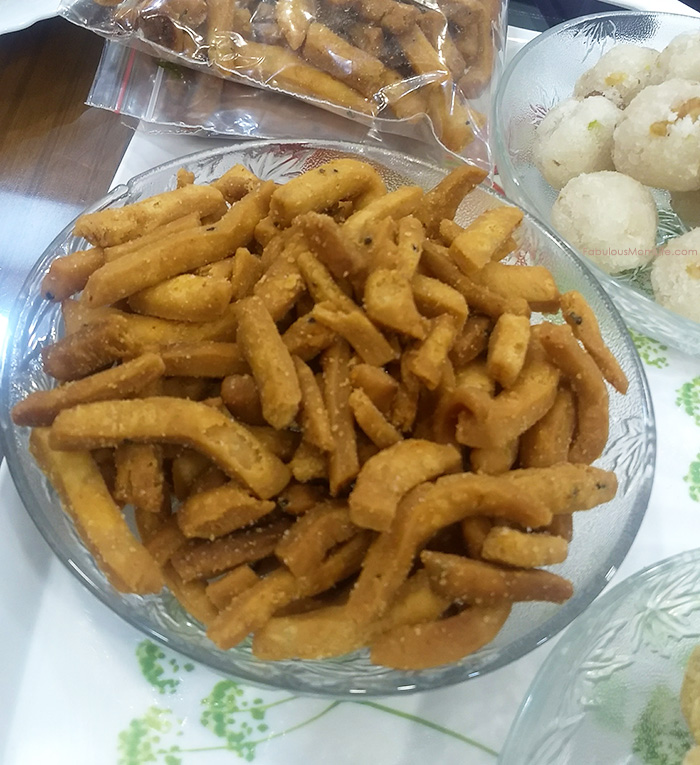 Borrowed from my favorite aunt, this savory recipe is a welcome relief from all the Diwali sweets. To make these, I use about 1 cup of ghee (oil, for other occasions or if you wan't the saloni to be too rich) and rub it in 1/2 kg maida or flour. Add salt and kalonji (nigella seeds) to the mixture and use a little water to knead into a hard dough. Roll out, cut into into diamonds or any shape. I cut them a little long just like my Mami does.
Deep fry in hot oil. When all the salonis are ready, mix some kala namak (rock salt) and red chili powder and sprinkle over the salonis along with a tablespoon of hot oil from the pan. Mix immediately to coat all the saloni with this masala.
Gur Pare (Jaggery Coated Diamond Cuts)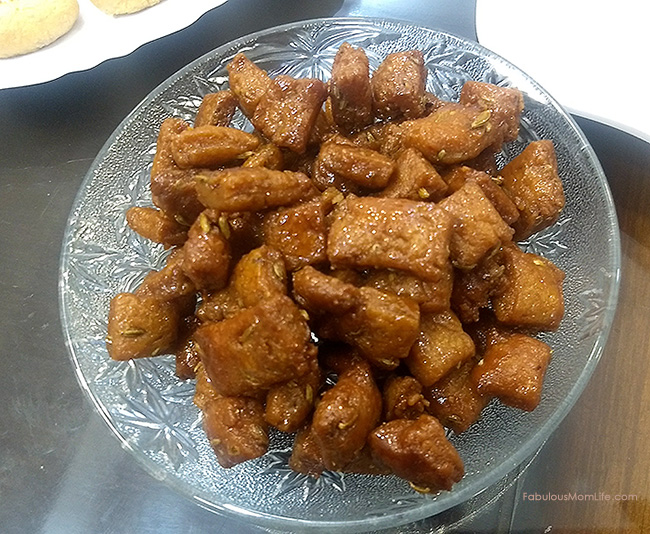 I am good at making Shakkarpare that uses sugar and this was my first time making anything with jaggery. But they ended up fine so I am going to be making more of them. My husband loves them!
Both Shakka para and Gur Para can be made in two ways. You can either add sugar or jaggery to the dough itself. Or coat them in syrup later. My husband wanted the non-coated version but I end up coating it. You will see why!
For 2 cups of flour (I use 1.5 cups maida and 1/2 cup wheat flour), rub in 1/2 cup ghee to make a crumb like mixture. Add fennel seeds (the thick variety of saunf) to the flour. I was following the recipe from Nisha Madhulika (with my variation of saunf instead of sesame seeds) but the gur pare turned out to be too mildly sweet. I dissolved 1/2 cup jaggery in 1/2 cup water to make a syrup with which I kneaded the flour. Next time, I might add more jaggery to make the un-coated version.
Well, with the not-so-sweet gur paras on hand, I decided to make a coating syrup. I dissolved 1/2 cup jaggery in 1 cup water and boiled it (stirring continuously) until it was reduced to half. I switched off the flame and immediately added the prepared gur paras and mixed well to coat each one. They turned out to be extremely delicious!
Kids' Special – Oreo Laddoo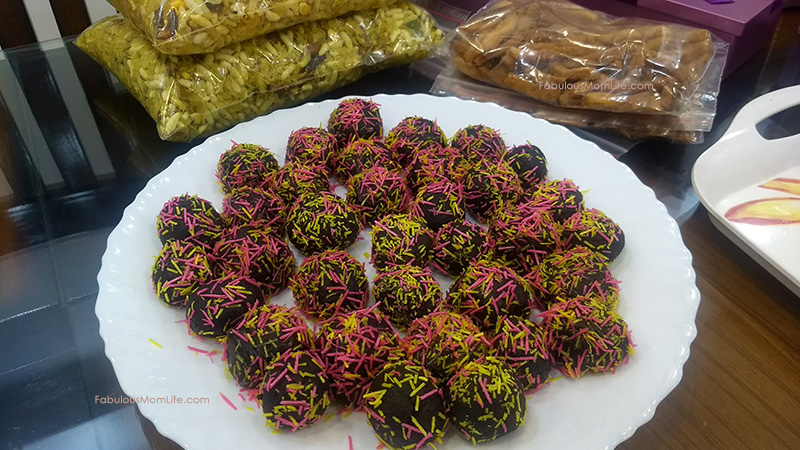 Our Oreo balls were renamed to Oreo Laddoos for the occasion! This recipe was given to us by my friend. Her lovely daughter brought it for us and we were all pleasantly surprised to receive a handmade gift from such a young guest! My daughter lost no time in asking for the recipe and insisted on making them herself. It is a big hit in the family and the kids' Mausaji is a big fan!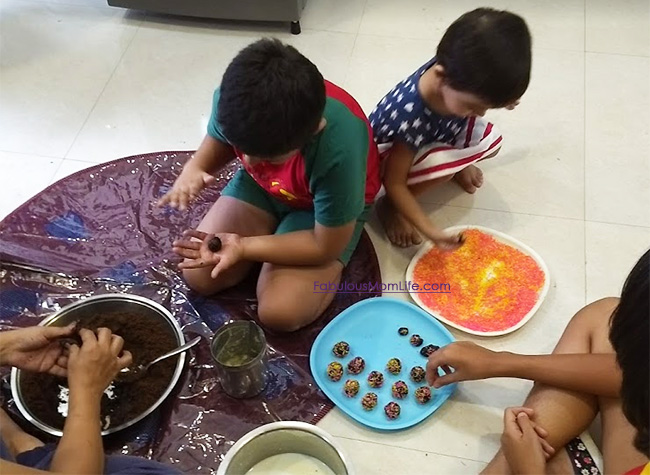 We followed the same Oreo Balls recipe but dressed it up further with sprinkles. Since we made the recipe in bulk 96 packets of Oreo this time), I helped mix the milk cream with the crushed cookies. The kids did the rest. Even the littlest one wanted to make the balls and roll them in sprinkles. Only hers looked more like pebbles! And she ate each of her 'pebbles' before I could get a picture of them. But you can see one in the picture above – the smallest one and the one she is coating.
Poha Chiwda or Mixture
We made two separate Poha chiwda for this Diwali – my kid and family friendly version and 'hot' version for the chili lovers in the family!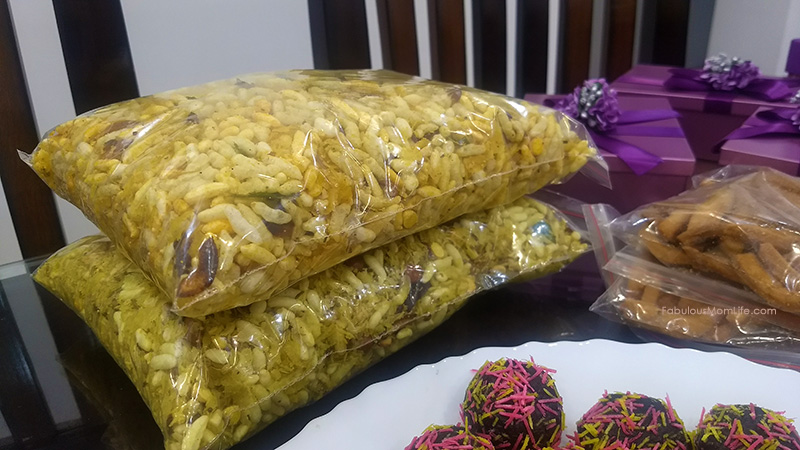 The spicy, hot version, I let my cook handle. I told her to have a free reign and make it just like she makes it at her home. But she ended up borrowing many of my ingredients when she saw my preparations lol!
And here is my my crunchy, milder version passed on to me by my mother. We all love this version and my MIL is very fond of it too.
For 1 kg of poha (thin), I use 250 grams each of daaliya, peanuts, sev (fine, nylon sev), sliced onions and murmura (puffed rice) and 100 grams each of dried coconut, cashew nuts and raisins. I roast the poha and keep it aside. Then I deep fry all the other ingredients and keep aside. Finally, I prepare the tadka by adding green chillies, curry leaves, corriander seeds (khadi dhaniya), fennel seeds (saunf), cumin (jeera), chili powder and haldi in about 1/2 a cup of oil.
I turn this tadka over the roasted poha and mix all the fried ingredients until everything comes together into a yellow color mixture. I do this in a large pot or on newspapers spread over my kitchen platform. Once the mixture cools down, I fill it up in airtight jars.
For gifting, I use ziplock bags.
Rawa and Besan Laddoo
An easy and temping laddoo recipe is the Rawa Besan laddoo. It is a very forgiving recipe and you cannot fail very badly at making it. We added a little shredded coconut to it also which gave them a lighter color.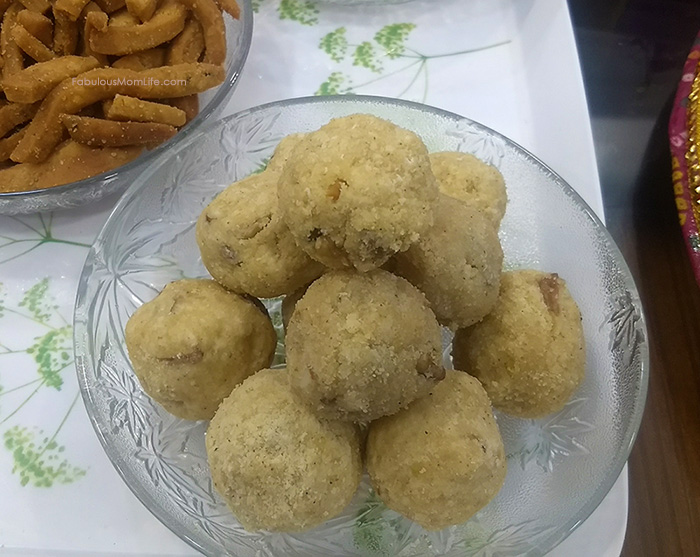 For half a kilo of rawa or sooji (semolina), I use 250 grams of besan (gram flour). I roast both using about 1 cup ghee and keep aside. Then I make a sugar syrup with 4 cups of sugar and 2 cups of water. Don't make the syrup too thick or the laddoos will become very hard.
Add chopped nuts (I used walnut, cashews, pistachios and almonds) and dried fruits (I used raisins) to the roasted flours. Now add the syrup in small quantities to a small batch of flour to start forming the laddoos. You will need to bind them twice like besan laddoos.
Coconut Laddoos
We were left with some syrup from the Rawa laddoos so we decided to make some coconut laddoos also.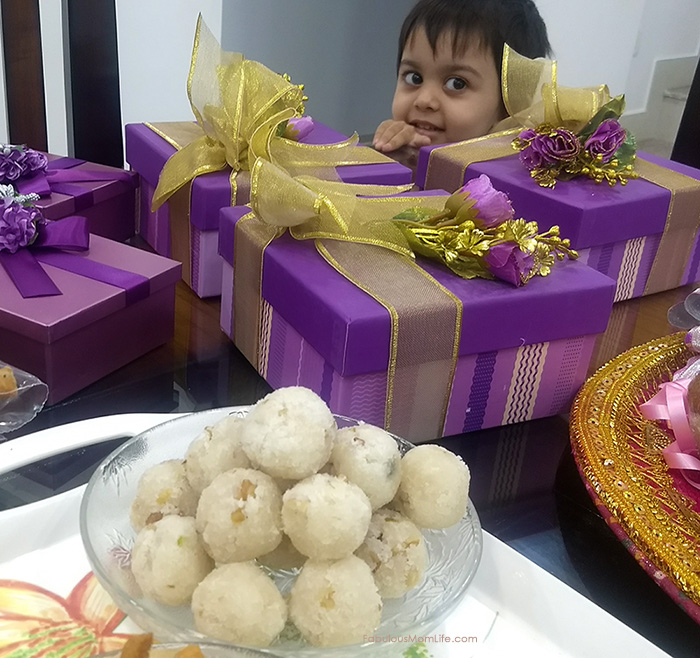 I just tossed in the leftover chopped nut and dried fruits from Rawa laddoos into some shredded coconut (nariyal kis). Then, using the syrup from the previous recipe, I made balls from this mixture also. Let dry 🙂
Baked Goodies & Chocolates
I always give a mix of homemade and store-brought as Diwali gifts. This year, instead of traditional Khoya mithai, we made boxes using the above snacks and some muffins and chocolates.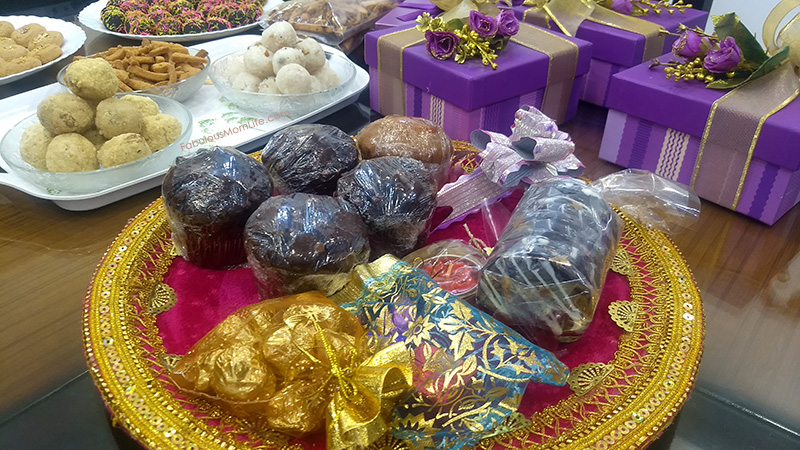 Diwali Gift Boxes
I did purple boxes this year. They were medium sized so I couldn't fit all the varieties in one box.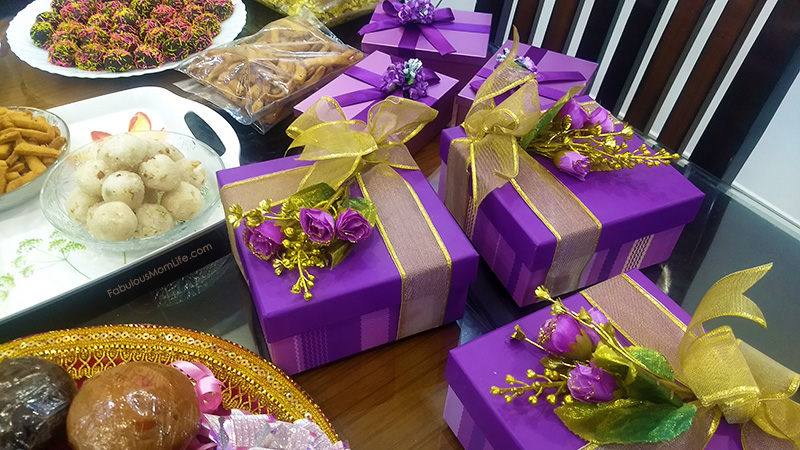 The kids helped pack the laddoos, pedas and Oreo balls in foil cups. I packed the Chiwda, Gur para and Saloni in press lock packets. We placed these in one box. In the other, we placed a couple of muffins, a couple of chocolate covered biscuits and some chocolates and a foil cup with Oreo laddoos.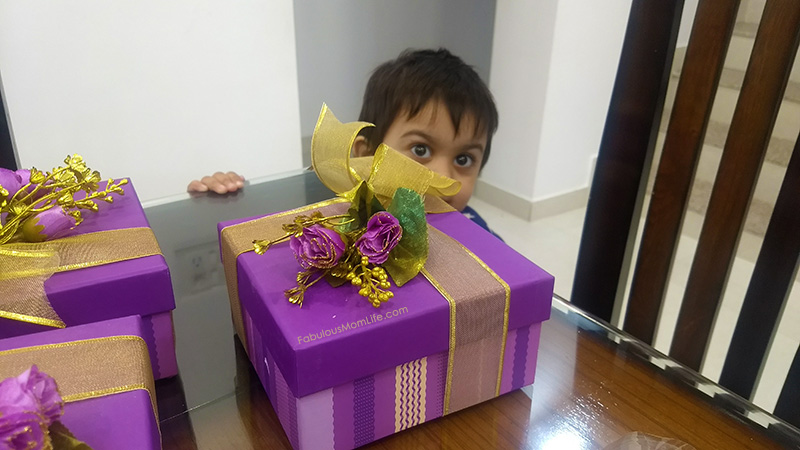 There you have it! My quick and easy Diwali recipes and a calorie laden Diwali from my kitchen 🙂
What did you make/buy/gift for Diwali?