I was perhaps one of the least affected persons when PM Modi announced the demonetization move one fateful night. I live a pretty 'cashless' lifestyle and was naive enough to think that this decision would not affect me too much. But as days went by, I realized how much currency we deal with, in spite of shopping online and paying by cards. As the days passed without any relief, we also had to take some desperate measures. Here is a glimpse into our struggles with the currency crunch due to the demonetization INR 500 and INR 1000 notes.
ATMs Closed
When the world spending a sleepless night about the INR 1000 and INR 500 notes in their houses, I was wondering how I would get through the day without withdrawing from the ATMs. The ATMs were to remain closed for the next day. For about a few years now, I am into a habit of withdrawing only the daily amount required, everyday from the ATM. I was mentally making a note of the most important things I would need for the next day – Petrol, Veggies etc. Until then, the real extent of it all had not hit me.
Planning Online Shopping Better
As the INR 100 notes in my purse started disappearing, I tried to plan my grocery shopping better. I use delivery services like Grofers and Big Basket for my grocery shopping. But many times, they do not have everything that I want. So, I stop by to pick that thing myself from a local store. I tried to minimize such instances and make a proper list so I would not forget anything. Everything must be paid for online! Our eating out at Food trucks and paani-poori wallahs stopped completely.
Impending Travel
What I thought was a little hardship for a couple of days, was now exploding at full force. The queues at the ATMs lengthened and we ruled out the possibility of going to the bank at all after seeing the crowds. Not that we had anything to deposit anyways. I save up cash gifts, but not for very long periods. As soon as I have a few thousands, I buy something. So no 'cash stash' to deal with.
But what was making us panic a little was our impending travel to Mumbai. I had never imagined traveling without cash. You have to have cash in your hand, for emergencies during travel, right? So, we started to line up at the ATMs every day to withdraw cash. Unfortunately, one of our ATM cards went out of action at this fateful moment! My ATM card got damaged and I was unable to use it at an ATM machine. I immediately applied for a new one, but that takes a couple of weeks at least. So, we were left with only Fabulous Daddy's card to withdraw from. Our cash woes seemed to be unending!
A Cash Stash Discovered
While packing for the trip one day, my eyes suddenly stopped on these:
No, we do not call them 'Gullak' or 'Coin Box' or 'Money Box' in our home. That is my kids' 'Ferrari Fund'! Actually, the name of the fund changes every year depending what my kids are into, at that moment. But at this point of time, it was the Ferrari fund. My kids have been diligently putting in, all their cash gifts from their Nani, Masi, Dadi and other relatives in them.
I will never be able to fully express the mixed range of emotions I went through. I was relieved at the thought of discovering them well in time. What if I had thought about them after it was too late? I was happy at the thought of a stash of INR 100 notes in them. Yes, that's the most popular currency Indian kids receive. And I was feeling a little like a 'black money' hoarder (and there is no white money in the world like this one!) when I thought of all the INR 500 and 1000 notes that I had helped the kids, push inside. Now, I finally knew what went through the minds of all those who had a currency stash, when the demonetization announcement was made. I was able to act so cool, simply because I did not remember I had any!
New Issues to Take Care Of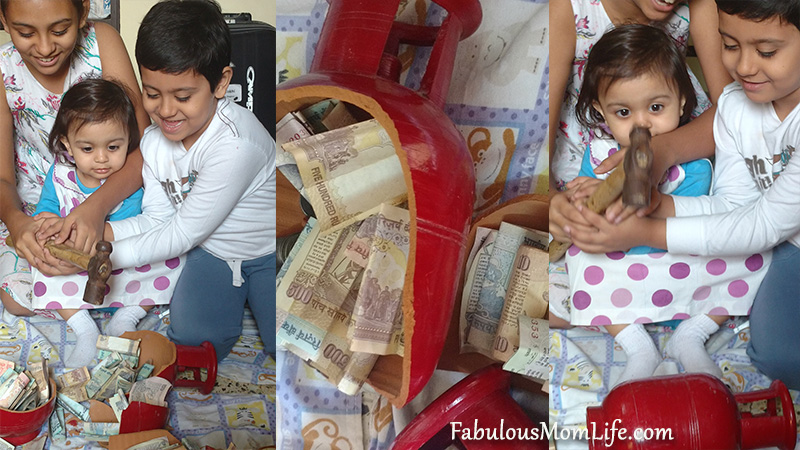 The kids were not as sorrowful as I was, when breaking open their lovely clay 'gullaks'. I was very emotional thinking about all those times when their grandma and aunts had lovingly given them each note. I also knew that they putting the same amount in their PPF or other accounts would still not feel the same. It was their money after all!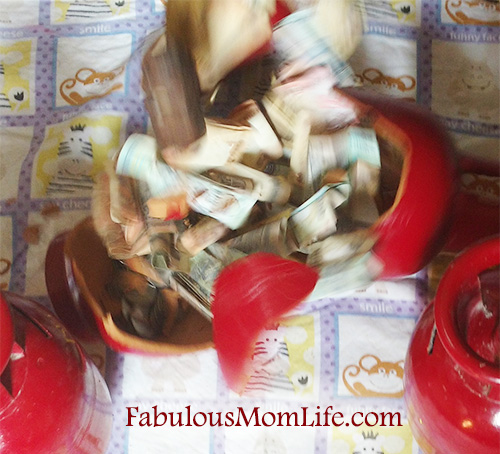 The kids were happy to do the honours of breaking open the coin boxes with a hammer. Actually using the hammer, and with full force too, was the high point of the day for them!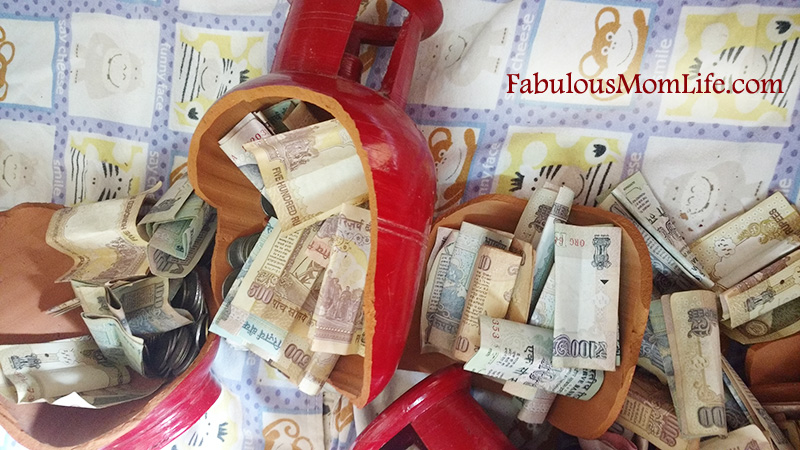 The 'breaking open' ceremony brought a set of mixed emotions. It meant we had a ready stash available to carry on our Mumbai trip. But it also gave us nightmares about the long queues at the banks. We decided to deal with it after we came back. Things must surely have eased a little by then, we thought.
House Maids
The next expenditure in line was paying the maids, car wash wallah, 'istri' wallah etc. We had not even paid the 'Diwali Baksheesh' to our watchmen and guards at our office building yet. Completely unwilling to part with the newly found stash of INR 100 notes, we tried to find other ways. The baby's 'maalish wali' was willing to take a cheque (great!!!) and our 'istri' wallah was willing to take INR 500 notes. We were glad to have reduced the payable amount to some extent. As for the rest, we finally had to part with a whole bunch of the precious INR 100 notes to make all the payments.
Traveling Cashless
As our date of travel came near, we transferred money to our 'Ola' and 'Uber' accounts to we would not have to pay for taxis in Mumbai. We had paid for our air tickets, accommodation and amusement park tickets in advance. In Mumbai, we only shopped at, and ate at, establishments that accepted a card. More than once, when the kids were too tired to eat dinner at a restaurant, we used a food delivery service to order food. We made all payments online. Except for buying tickets at the Mumbai Museum, buying food inside Kidzania, paying for photos taken at Gateway of India, eating at Raju's Sandwich and shopping at Fashion Street, we did not spend any cash at all. In fact, we came back with cash left in our wallets! So, it is actually possible without a whole of cash, I discovered 🙂
Other 'Cash Crunch' Stories That Made Us Feel Better
When we saw the queues in Mumbai, we realized we were facing only a quarter of the troubles than Mumbai residents. Queues in my town were almost one third the size. Things continued to the same way even when we left Mumbai.
The WhatsApp jokes on women hoarding 'black money' made me emotional, to say the least. Almost all my aunts, my mother and my mother-in-law belonged to this group. Their purely 'white' money was dear to them as most of it came as loving gifts from their fathers and brothers. Many of these women do not have an income of their own and this was the only money they could really call 'their own'. Alas, they had to bring it all out and deposit into bank accounts.
My friends from all over the country discussed ways to cope up with the currency crunch. Some had housemaids to pay to, others in smaller towns had a lack of ATMs. There were some who were traveling with cash when it happened. All their cash was suddenly rendered usless, and they had to abandon their travel and come back home to get their currency exchanged.
The Dilemma of Foreign Nationals
Worst was the case of my husband's cousin who is Australian. She was visiting Mumbai with a social work tour group from a college she heads. It was her that we went to meet with, in Mumbai. The entire group landed in India only to realize that there money is all frozen. Their debit cards would not work. There were lines at ATMs and not all of them had credit cards. Nobody would exchange their currency for them either.
Using the credit cards that one or two of them had, they paid for the food and tour bus for the entire duration. And finally, when they did manage to exchange their currency, they got a very unreasonable exchange rate. I was so short on cash myself that I was unable to help her. Besides, the costs of a large tour group are of big proportions. Each meal would cost INR 8000 to 10,000.
All these instances made feel that I was better off, with my little concerns. The kids were understanding throughout the process and we did enjoy a less-material and simpler lifestyle in some aspects. In others, the debit card and online payment systems kept us company and we never knew the difference 🙂