There are children's books that get read dozens and even hundreds of times – and books that end up unopened, unloved and unread. The problem is that good books and not-so-good books all LOOK the same. So how can you tell a potentially great book from all the others? After going through some often-red and some barely read ones, here are my tips on how to choose children's books.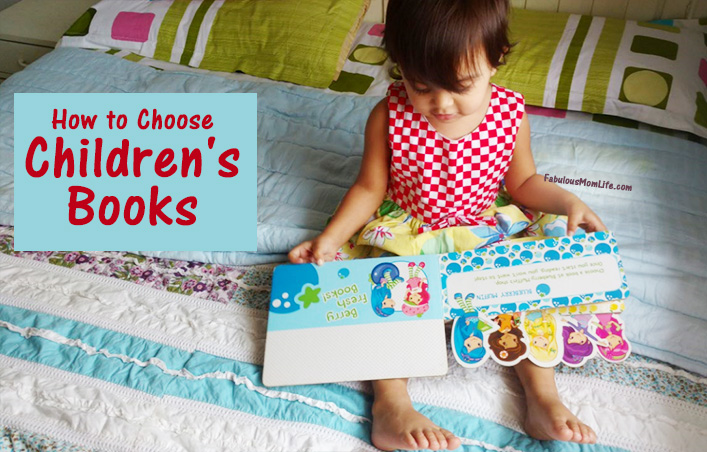 Look for Great Authors
Many of the best-loved children's authors are quite well known. Some of our family favorites are:
Enid Blyton
Beatrix Potter
Robert Munsch
Paulette Bourgeois
E.B. White
Paul Zelinsky
J.K. Rowling
Ruskin Bond
Dr. Seuss
Rudyard Kipling
Jeff Kinney
Carolyne Keene
While it's always possible that a new book by a totally unknown or a fairly new writer may become a favorite for your child, chances are that the masters of kid-book writing will create a book that has a better chance of being loved. When in doubt, always choose a trusted and renowned author.
I am planning to introduce my pre-teen to St. Clare's and Malory Towers series by Enid Blyton. I was crazy about these boarding school books during my school life! And my Nancy Drew and Hardy Boys collection is about to be read all over again – more than 2 decades later!
Check the name of the publisher
While us grown-ups can enjoy a good story regardless of the publication quality, the same is not true for kids. A quality children's book requires a good author, fine and readable text, excellent illustrations, as well as editorial and production people to make sure the finished book is just about perfect. The process is expensive and time-consuming, so it's unlikely any of the "bargains" you see on tables at the bookstore have undergone this consideration.
Even the most loved and popular tales for children end up looking unattractive when not presented appropriately. And the language and grammar is also sometimes off-key in these books which can harm your child's language skills rather than enhancing it. My kids have ended up pointing out spelling mistakes and poking fun at some of the incorrectly detailed graphics in some such books they received.
Go with your child's previous picks
Kids often go on reading binges – everything about the LEGO boy, all the 'Pepper' books, all the Ann Martin babysitter-club books, all the Wishing Chair. Series books may not always be great books, but they can often be the right books for your child at the time. There is nothing better than being able to be constantly lost in another lost. No disappointment of the book ending. There is the next one to continue your imaginary journey with!
My toddler is loving the 'Pepper' series and 'Peppa Pig' library and she wants to read every book about her favorite characters 'Strawberry Shortcake' and 'Minnie Mouse'. My boy wants to read all the Lego and Superhero books available. My 12 year old reads Dork Diary series and Nancy Drews faster than I can write one blog post lol.
Beware of Bargains
I feel that Parents and grandparents often waste money on "bargain" books for kids. You see these books stacked high at the discount department store and sometimes for sale at a grocery store also. But is a "bargain" book really a bargain? Or is it like the cheap dress that looked so good on the mannequin but never fit quite right or lost color in the first wash? In my experience, the only source of real bargains in kids' books is at a book club or exchange or when you are buying a pre-owned book.
Seek Age-appropriate literature
Ultimately, it is your child who is the judge of his or her "great" book, and be prepared for these judgments to change over the years. A "great book" for a 4 year old boy  won't work as well for an 8 year old girl. And each child has their own aptitude. They will take their own time to move the next level of reading.
There is also a difference between 'reading to the kids' and 'letting kids read on their own'. Your child might love the 'Princess Stories' you read out to them but it could be very difficult for them to read on their own. In fct, what I read to my daughter when she was 3 or 4, she was able to read on her own at the age of 8! A book that's wonderful to read aloud, such as Charlotte's Web, is too tough for most kids to read on their own until they're 10 or 11. Books for beginning readers in Grades 1 and 2 have all sorts of support to make them easy to read, which is why an "early reader" series is probably best for independent reading at this stage. I will write more about this in a separate post.
Pop Up Books
The world of pop-up books enchants everyone. From toddler to teens, I have pop-up books for each of my kids. But don't make the mistake of thinking all poo-up books are good. Just like other books, pop-up books also nee a fair amount of imagination and of course – good text. Some pop-up books are merely crudely-made 3D versions of the pictures. While we jumped with joy upon seeing such a book, our children have seen much more advanced technology. Look for pop-up books whose pop-ups serve a purpose to enhance the content of the book. I will share my kids' favorite interactive books very soon to give you some ideas.
Give it the "Random Pages" test
The old adage "You can't judge a book by its cover" is often true. I have bought some books with delicious looking covers that turned out to be a waste of money. That's why I recommend the "Random Pages" test . When you are considering buying a book at the store, don't just see the cover and read the excerpt on the back cover. Open a few random pages (away from each other – 40, 81 and 176 for e.g.) and read one or two paragraphs out loud. Do the words ring true? Is the dialogue real? Do the illustrations capture your interest? The cover of a book will entice you to buy with its colorful art, glowing blurb and pasted award stickers, but a few random pages will show you what the real book is like — and whether it's worth the cost.
Keep Several Sources
Don't just stick to one store or one website when looking for books for kids. Check out review sites like Goodreads. Read reviews on Amazon and Flipkart. Keep an eye on interesting titles when traveling, especially abroad. I have picked up some absolutely amazing children's books when traveling and never saw those titles in India. I also like to browse second-hand book shops or markets and eBay is a favorite place to find out of print books. Don't limit yourself to Ebay or Amazon India only. Search on the International portals. You will find many sellers willing to ship to India.