Continuing from Part 1, where I shared some tips on the basics of planning a birthday party. In this final part, I will share some tips on food, activities and thoughtful return gifts for a first birthday party.
 6. Food and Refreshments
First Birthdays normally have a mix of guests of all ages since your baby is too young to have his/her own friends invited. Your menu for the party should also be a mix that will cater to different age groups. Have something for the other parents and your friends and family along with general party favorites for older kids. Snacks like pizzas, burgers and hotdogs are eternal favorites. And for the birthday boy/girl and other babies, have easy and simple baby food turned into finger food items. Cupcakes are also loved by all children and are considered a must for kids parties these days.
The Birthday Cake is the high point of every birthday and a 1st Birthday is no different. You can either get the cake made on your theme or in the shape of "1" or use your baby's photo to create a customized cake. I like to use cake toppers that can be saved and used later as toys that are also memories of the party. Take your baby's high chair and bib along and don't hold him back if he wants to have his cake on his own. Have a special cupcake for him! It's his day after all! But if you don't want the icing mess during the party, you can choose to do this earlier at home as a traditional 'cake smash' that is now becoming popular in India.
7. Party Activities and Entertainment
Deciding upon party activities for a 1st birthday is a tricky affair. The guests are too varied in ages and likes to choose a game or activity that will please everyone. And there are very few activities that babies can participate in or even understand what's going on. A better option is to provide for some entertainment. You could hire a person dressed up as a cartoon character or set up a photo booth providing instant photos of kids in front of a 3D set or a giant cartoon cutout for example. A 'Lucky Dip' is also a great idea. Keep assorted little gifts in a large box and let each kid pull out something from it. They get to keep whatever they pull out, of course.
Also, first birthday parties have a large number of guests. I prefer to leave organized games for future birthday parties when the kids are a little grown up and there is a smaller set of guests to entertain. For first birthdays, I have opted for different entertainment options on different occasions. Here are some ideas:
Free play area for the kids (hired bouncy, indoor slides and swings etc.)
A Bingo or Tambola game for all kids and even grown-ups
A guessing game for grown-ups along the lines of Baby Shower games
A microphone in your hand and some sheets of paper to distribute to the guests is all you need to host a game at a large gathering. It will be fun for the grown ups to engage in the party and they will always remember it.
8. Return Gifts or Party Favors
Kids love to receive gifts and even though you will be having kids of different ages attending your party, you can still find good party favors that are liked by kids of all ages. Things like personalized towels, pencils and bags can be used by toddlers as well as grown up kids. If you can, you may also choose to buy different favors for different age groups. You can divide your young guests into babies to toddlers, kids and teens.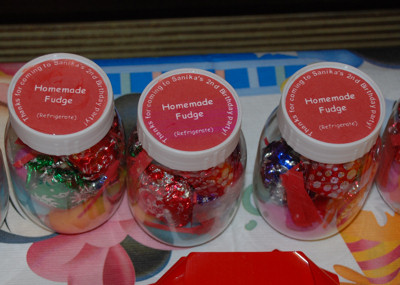 And since there will be a lot of parents and grown ups at a 1st birthday party, do think of a party favor for them. Doting grandparents, aunts and uncles can be gifted photo keepsakes. Here are some of my ideas that were very much welcome, for return gifts for grown-ups and grandparents.
Personalized Keepsake Teddy Bears for Grandparents
Live Plants
Homemade Fudge or other items in Jars
Candles
I will put up a separate post with all these ideas shortly in this series. The entire point of these ideas is to involve the grown up guests also. In all your future parties, you will be having younger guests and different types of return gifts and games to worry about. Make the grown-ups feel special about attending a first birthday party 🙂
Some More Useful Tips:
1. Your baby would love to have Mamma and Papa all to himself and the best gift you can give him is by giving him a lot of time (if possible, take the day off from work). Take care of most tasks earlier so that you have a lot of time on your hands for your baby on his or her 1st birthday.
2. Make sure that there is no unnecessary excitement for the baby before the party and he takes his usual naps and meals on time. Remember, babies can sense your excitement!
3. If at any point of time during the party, you feel that your baby needs rest, excuse yourself or hand over the baby to any other close relative (whom your baby is also close to) or baby sitter and take him to a different room to rest and rejuvenate.
4. If your baby has a baby sitter who is invited to the party, make sure to add some special touches to the party favors you give her. You could also pack some of the cake in a disposable box and send it for her family. Remember, she must be as excited as you are about your baby turning one and now is the right time to show your gratitude for the bond that she shares with your baby. My 'maalish waali' is more like a nanny to my kids and has always had a special place in all their major birthday parties.
5. If the party is hosted at a place away from your home, pack baby's supplies, disposable diapers, an extra change of clothes (yours too) should the baby spill something on his clothes (or yours), baby wipes and a crib set if he needs to take rest.
6. Your baby might get over excited after the party ends and might not calm down easily. Carry him in your arms and soothe him by talking to him in a low voice or singing to him away from any other noise. Gradually, he will fall asleep and wake up refreshed the next morning.
7. Involve the baby when opening gifts the next morning. He might be more interested in the colorful wrapping paper than the gifts but it will all be a part of his 1st birthday fun!
8. Take photos and shoot this memorable day on film if possible. Your baby might not understand what's going on around him but will love to look at the photos and video for years to come and think about what a great celebration his 1st Birthday Party had been!