Every birthday girl or boy would love to be made to feel special on their very special day. And what could be better than surrounding them with something that they have a passion for, on their birthday? In short, choosing a 'theme' for your kids' birthday certainly makes the party more special, mostly because the theme is built around something or someone your child likes. Hosting a Theme party simply means that your party will have a common element going through all the aspects of a party.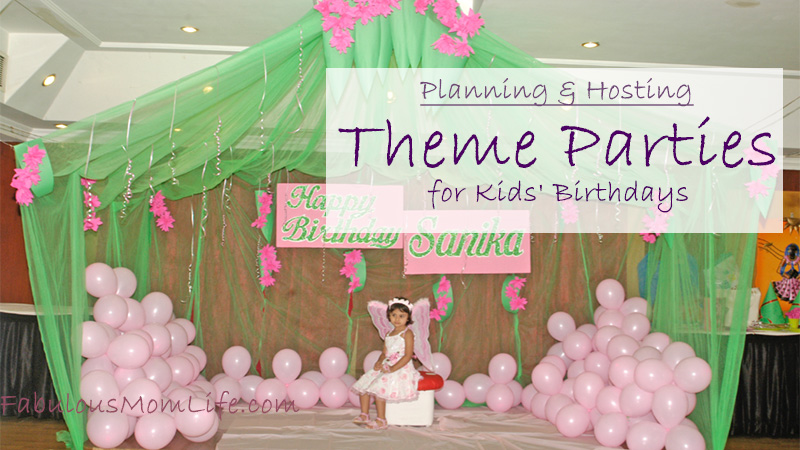 More details, creative ideas and a lot of useful tips below from many birthday parties that I have hosted for my children, will help you understand what theme parties are and how you can host a memorable party yourself, no matter what your budget.
Choosing a Theme
People always ask me how I come up with birthday party ideas. Look to your child for inspiration. A child upto the age of 3 might have a fascination for a certain object or motif like a butterfly, a favorite toy, flowers, animals like dogs, ducks etc. Kids a little older will most probably have a favorite cartoon character like Dora, Spongebob, Bob the Builder, Powerpuff Girls, Disney Princesses etc. Some kids will love going for themes that bring their dreams and fantasies come alive. Like a boy would love a nautical or pirate or a car racing theme whereas a girl might like a Princess or a Fairy or a Spa theme party. Or away from stereotypes, boys would love a cooking themed party and a girl loves cars and vehicles as much!
Themes can also be built around a certain color or design. Like Pink, Rainbow or a fancy Polka Dot theme party. You can also plan a birthday around a culture or some place like a Mexican, Hawaiian or an African theme. A favorite book or toy can also form the base of a theme party. Another idea is an interest-based party. From sports to dance, there can be numerous ideas for a themed celebration.
Always make sure you choose a theme that the birthday child agrees to and feels enthusiastic about, rather than the one you find exciting to do. Like I have been pestering my son to have a Pirate party for 4 years now!!! But he is simply not interested. So I rest my case even though I am wild to host one. Perhaps my rogue of a little daughter will want one some day!
Implementing the Theme
Now, for the actual party details. From the invitations to the return gifts, make your theme flow through every aspect of the party.
Invitations
Now that you have decided upon the theme, look for creative ways to incorporate the theme into party elements. Start with the invitations. Use motifs that will convey the theme right away to your guests. Beach slippers or an umbrella and ball in sand for a beach theme party, a carousel for a Circus themed party and an invitation in the shape of a glass slipper for a Cinderella theme party will all get your theme started weeks before the actual party. Make the invitation more creative by using verses and rhyming lines to inform your guests about the party and the theme. You can also ask the guests to come dressed as someone or something or simply wear themed outfits.
Decorating
Going by your budget, try to transform your space into what your theme requires. Bring in potted plants if you need to give the room a 'garden' look or use colored paper to create wavy motifs for a beach or sailor theme party. Balloons are a must for every birthday party. Buy them in colors that match your theme. Bring red balloons and use a black marker pen to make dots on them for a 'LadyBug' theme party. Stick with the same colors for streamers.
If your budget allows, create or get a decorator to make 2D or 3D sets. Or a digitally printed backdrop. For e.g. a castle for a Princess or a Cinderella party, a Pirate ship for a Pirate party etc. If you are good at it, you may also try making some using thermocoal sheets.
Things like cute little houses from a cartoon show can be cut and painted at home. 'Blow Up' decorations are also available these days which can be used for adding a special touch to your decorations or for creating an impact at the entrance.
Food and Table Setting
It is not necessary to always buy a pack of table cloth and paper plates specially printed for a theme. Besides, there are only a limited number of themes for which printed party supplies are available. Choose waterproof table cloth in a color that matches your theme. Same for the plates, mugs and paper napkins. Make each place setting more creative by adding some theme elements. For e.g. some shells and plastic starfish scattered on the table for a beach themed party.
Choosing the food makes an interesting topic. Kids do not really care about whether you are serving Mexican food for a 'Fiesta' party or Hawaiian cuisine for an 'Aloha' party. They usually love to have their eternal favorites. But they would love it if the food is presented and named in a way that makes them incorporated into the theme. Simply re-naming some items creatively will make a difference. Plain Strawberry Shake can become 'Royal Pink Passion Punch'for a Princess Party and cupcakes decorated with fine sprinkles can become 'Fairy Dust Sprinkled Cupcakes' for a Fairy party. Cheese balls can become 'Cannon Balls' for a Pirate party. Some of the food can be made creative using cookie cutters and other ways to shape them into themed motifs. Yet another way is to color some food items using food coloring or adding ingredients that will add color.
Cupcakes are easily the best way to implement any theme. Cupcakes can be decorated in any desired way that adds to the theme. We have lots of cupcake decorating ideas for themed birthday ideas here. The Cake is of, course the focal point of any birthday party and you should put all your creative ideas into turning it into a themed cake for your kids birthday party. Cake pans of all shapes and sizes are available and so are an assortment of candies and sprinkles to adorn your cake. You can try your hand in the kitchen or get one professionally baked by a neighbourhood baker.
Party Activities
Party Games and Crafts follow the same rule as food above. Turn any game or craft into a themed activity by substituting the props used and prizes given with props that match your theme. Change the names of the games to make them fit into your theme. For e.g., you can play Musical Chairs by substituting the chairs with little toadstools (wooden stools covered with red and white polka dotted cloth) and name it 'Musical Toadstools'. There can also be numerous versions of the 'Pin the _____ on the _____' by using a picture of a certain cartoon character or animal according to your theme.
Party Crafts can be made fun by using themed craft supplies or creating things that relate to your theme. For e.g. embellished flip-flops for a beach party or fairy wings for a Fairy party. Party crafts can also double up as favors later. An entire party theme can revolve around a major activity like making pizza, dancing, drawing or decorating cupcakes.
Entertainers can be hired to make the party lively. Entertainers come dressed as cartoon characters, fairies, hippies etc. and also organize games and music etc.
Favors and Game Prizes
Following the theme here is also quite easy. You can choose to buy branded products for several cartoon characters or think about the underlying theme or concept of the party to choose favors. By figuring out the underlying theme or concept, I mean that every party has certain concepts to follow like a beach, a castle, outdoors, sports, gardens etc. Even a cartoon character is associated with a specific place where he lives or works. Like garden digging tools in mini claypots for any garden based party, floral shaped chocolates and candies for a flower themed party and little pails filled with assorted goodies having a beach motif for a Hawaiian party, you can carry your theme through the party favors easily.
You can also get personalized gifts made from work at home moms. Things like towels and bags with your desired motif or cartoon character will be a great thing to give as favors or as prizes for the party games.
If you are unable to find anything suitable according to your theme, you can buy generic, useful return gifts and wrap them in a themed package!
Theme parties might seem a little intimidating on first thoughts, but they really make your task easier because you need to channelise your thinking in one direction instead of groping for ideas and choosing from the vast number of party supplies available everywhere. Far from being a hassle, planning Theme parties is a lot of fun and you will always have the satisfaction of knowing that you gave your child a memorable birthday!