As much as we love the lovely rakhis available in the market, the DIY bug doesn't leave me! Although I have put most part of crafting on the backburner until I really have leisure time to pursue them, I still like to take up easy, no-fuss projects. This time, I got the kids to make some easy-peasy reuseable DIY Rakhis.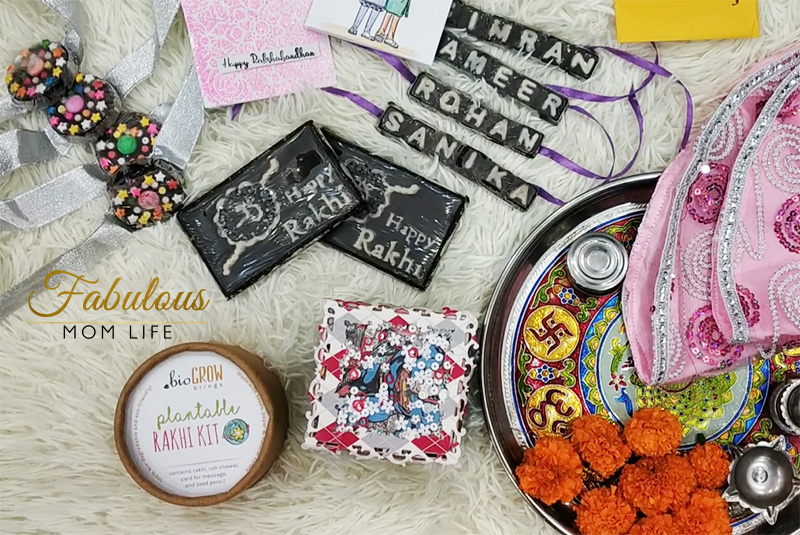 A Different Raksha Bandhan in my Home
Raksha Bandhan is more of a 'rakhi and gift exchange' affair in my home. All siblings tie rakhi to each other and vow to stand for each other (as opposed to the tradition of sisters tying a rakhi to brothers and brothers promising to protect them). The kids also tie a rakhi to their Dad since he doesn't have a sister to send him one and it is fun to have a rakhi on your wrist! And this time we have the kids' cousin join us for rakhi too. So we needed plenty of rakhis! Since my kids love to cover my refrigerator with magnets, I came up with the idea of using magnets to make rakhis which could later be re-used.
We also found some unique rakhis online that were also eco-friendly and added those to our celebration too. Check out the DIY superhero and cartoon rakhis the kids made on their own. They are followed by the eco-friendly plantable rakhis and the chocolate rakhis we purchased.
DIY Superhero Rakhis for Kids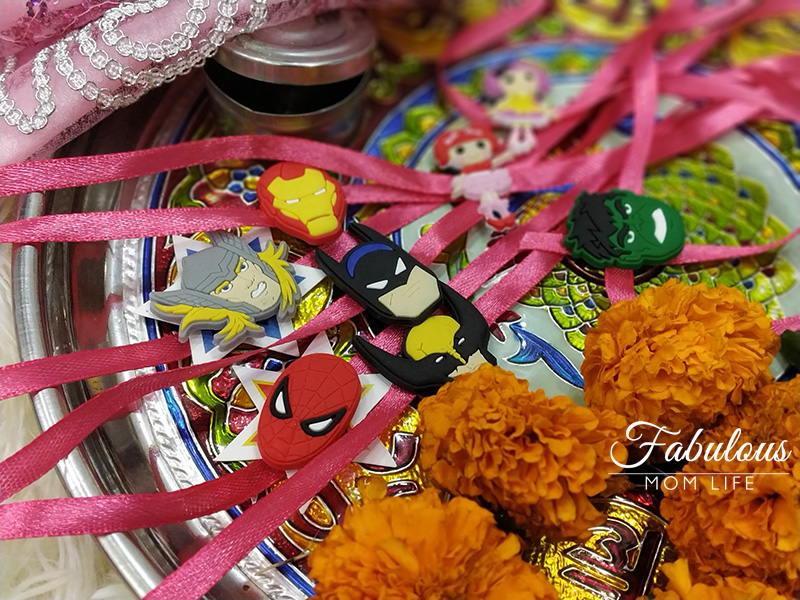 I found a set of superhero magnets at a craft store that I had purchased some time ago. You can use any magnets to make these.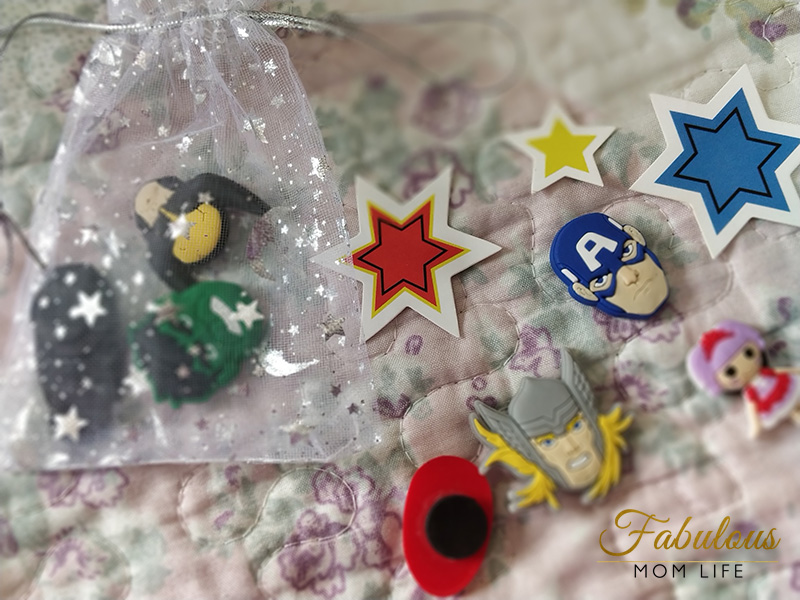 All you need is:
Small Magnets
Satin Ribbon
Glue (Fevikwik)
card stock shapes (optional) – like the star shapes we used in 2 of the rakhis
We tried using craft glue at first.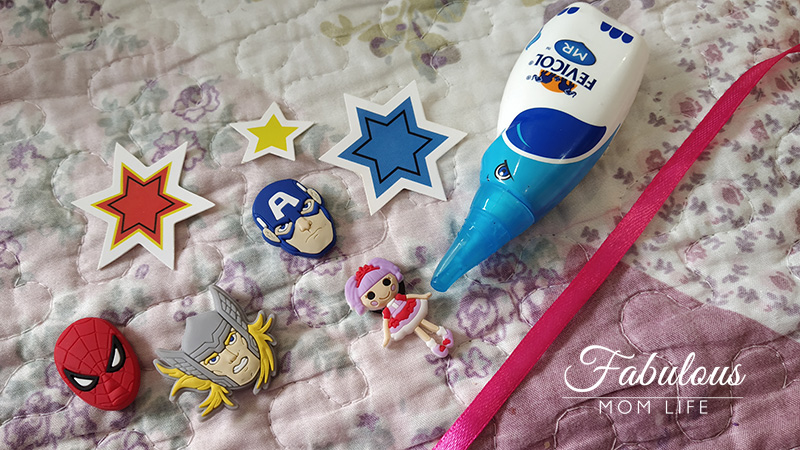 But it simply wouldn't hold. So we used Fevikwik. I helped with the gluing part since we used that product (and still ended gluing my fingers together lol….Read till the end to find out what to do when you end up fusing your fingers together!)
Since both the girls, who love superheroes, but were not too keen on wearing them as Rakhis, we got cute little doll magnets for them. All 3 sat down and made them for each other and for their cousin who was to join them later. It took only a few seconds for each magnet to stick. It was a lovely Raksha Bandhan craft project for them.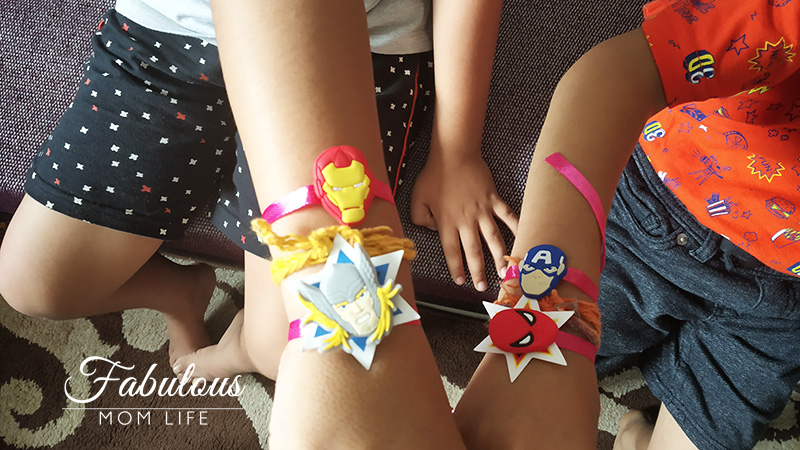 We took it one step ahead by adding another 'Superhero' feature to our Raksha Bandhan celebrations. Coming up in the next post!
Eco-Friendly 'Plantable' Rakhi
I happened to find a lovely Rakhi idea – a plantable rakhi kit! I thought it would be perfect for Big Sis.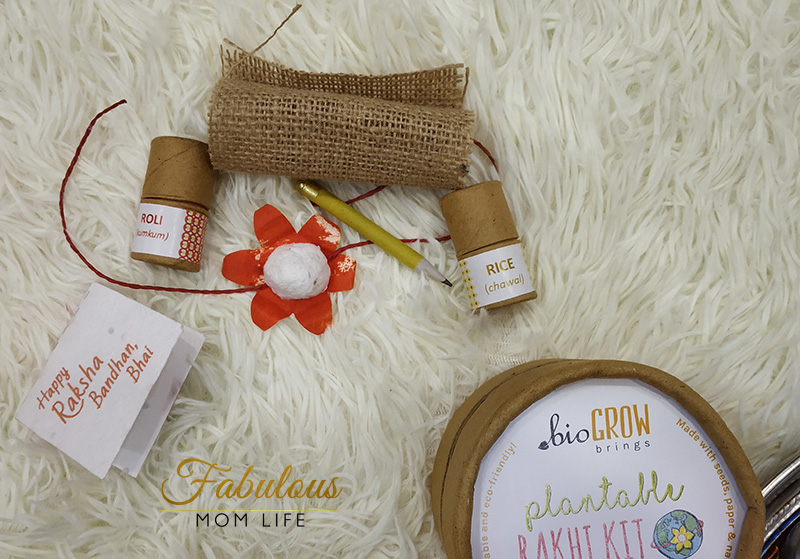 It contained a set of handmade paper rakhi with seeds in it, a plantable pencil and roli-chandan all on bio-degradable packaging. What a lovely concept!
Chocolate Rakhis – Personalized too!
And finally – we also had the sweetest surprise towards the end – chocolate rakhis.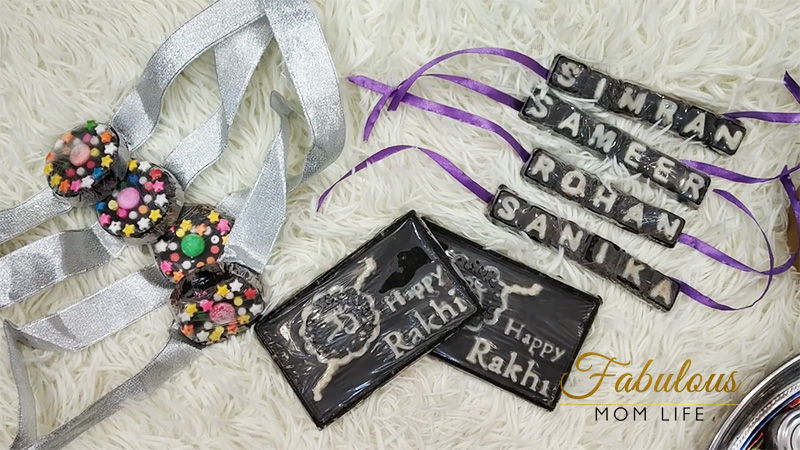 I found a seller on an FB group called Shop High who was selling these. The round shaped rakhis are so pretty! But when I saw the personalized name rakhis, I couldn't make up my mind. So I ended up buying both – and a couple of those chocolate bars with the Happy Rakshabandhan messages.
The chocolate used was semi-sweet or what we call Dark Chocolate in India. They came wrapped in cling-wrap. The rakhis could maintain their shape even at room temperature and have been perfect even after a month.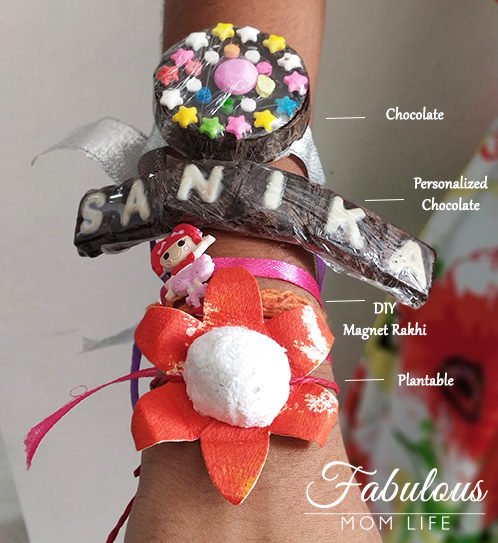 And there you have it! The kids didn't want to remove the rakhis for the longest time. They loved the completely covered wrists (arms!) and grown-ups were reminded of the XXL sized rakhis we used to have in our childhood lol!
I even put to rest my love for elaborate gift-wrapping and went the green way using newspaper for wrapping the gifts that the siblings exchange.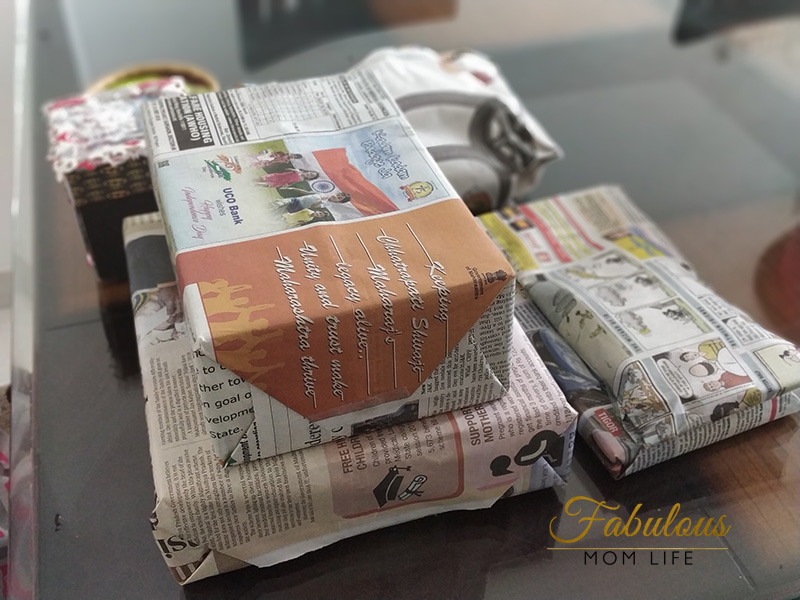 No plastic or even metal used this time around. The soft rubber magnets are now on the fridge holding school circulars securely, the chocolates have been eaten and the seeds planted :). The memories remain!
And finally…I haven't forgotten! If you ever get your fingers glued when using Fevikwik, pour (not apply) PLENTY OF nailpolish remover on the glue and let it stand for a minute or two. Don't rush to wipe it off. It takes time to work. Finally, wipe off with cotton.