What do you think of when thinking of gift ideas for kids? Toys, books – and chocolates, of course! This year, I am making a chocolate wreath to surprise the kids on Children's Day. Sharing my step by step instructions and ideas for this special gift idea.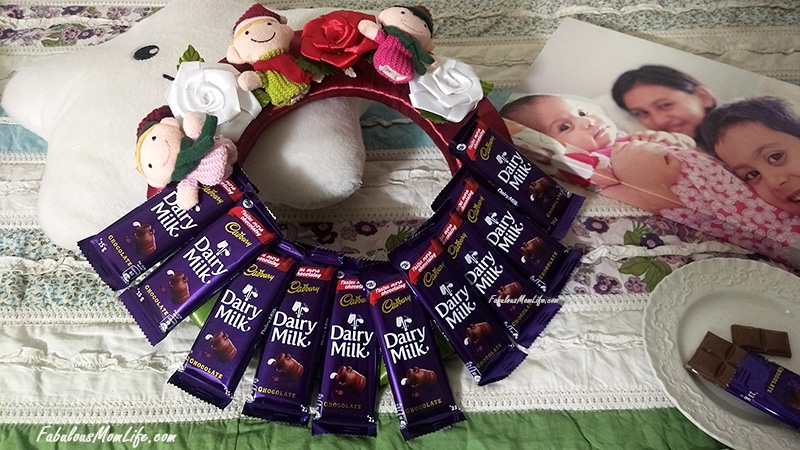 Coming from Mom, Chocolates are a Surprise!
Even though I am a chocoholic myself, I am somehow always rationing when it comes to chocolate. But like I have mentioned in my previous post on not restricting certain foods in children, I believe in giving them everything in moderation. And yet, I reserve chocolate gifts for Christmas mostly. I don't think my children will ever suspect me of planning a chocolate gift for them other than Christmas. So this one is going to be a surprise!
Choosing Chocolates
There are plenty to choose from! But Cadbury is the preferred brand for our family. We love the Swiss style of chocolate making. In fact, when my kids eat American or British chocolates, they find them a little too sweet. My son even commented once about how 'Indian' chocolates are better than American ones lol. And then I explained to him that these are actually Swiss. And ever since then, he wants me to take him to Switzerland aboard the 'Chocolate Train'.
After seeing the latest TV ad, I immediately settled on Dairy Milk. It pleases everyone – even grandma and grandpa. And it comes i the perfect size for my project. Even though the gift is meant for the kids, they are surely expected to share it with everyone! We do have some preferences within Dairy Milk. Daddy loves 'Fruit& Nut', I like the plain one (nothing but pure chocolate!), Grandma likes 'Silk', the kids like – well whatever they can lay their hands on! But I wanted a uniform look for the wreath so I went in for the classic one.
Dairy Milk Wreath
A Gift wreath made of Dairy Milk bars is perfect for any child (or adult!) with a sweet tooth. The wreath base has been wrapped with green ribbon and the chocolates and silk roses are attached with double sided tape.
To Make the Wreath, you will need:
Wreath base – straw, cardboard or thermocol
Dairy Milk Bars
Ribbon to cover the wreath base
Artificial flowers, small toys or other embellishments
How to:
Cover the base with ribbon and leave plenty of ribbon at the end to hang the wreath.
Use double sided tape to stick the chocolates on to the ribbon covered wreath, leaving some space for embellishing it. The space left for decoration should either be at the top or the bottom.
Add in some silk flowers, a bow or anything else that you fancy. I bought these finger puppets for my little one as she loves the 'Daddy Finger' song. I used the three siblings from that set 🙂
Hang the wreath on the door or any place that the children are sure to notice first thing when they wake up on Children's Day!
And there you have it. An easy way to present chocolates in a creative manner. It's Children's Day after all! Time to stop being our strict selves, loosen up and enjoy the day by becoming a child ourselves! Happy Children's Day everyone!
P.S. Even Dairy Milk TV ads are legendary! Do you remember the Cricket one? Where the cricketer hits a six and his girlfriend jumps through the security? Who can even forget that!!! This new one is also very cute. Have you checked it out yet?