A very interesting class project came up for my son last week – नानी को पत्र. They are to visit the General Post Office today on a class trip and post their letters to their Nani i.e. Maternal Grandmother. So last week was spent preparing for and writing a letter to grandma. As all moms would know, nothing involving kids happens without a few noteworthy experiences. And I have more than a few to recount!
The Classic Indian Postcard
When was the last time you used – or even saw – an Indian postcard? I haven't in ages, I will admit! But I do have vivid memories. The arrival of the postcard was such an exciting event. As opposed to the more detailed Inland letter (that required a certain amount of skill to fold, paste and even cut open!), the postcard always brought quick and to-the-point news. I remember one ill-fated postcard that carried a black border around it. It was instantly recognized by my mom as carrying the news of a demise. The postcard wasn't brought inside the house. It stayed in a wall niche in our verandah.
Many more such images flashed before my eyes when I read in my son's school circular that he was to write a letter on a 'postcard'. And then began the HUNT! Well, it's easy to find a postcard. Buy one at the post office. But it was evening by the time I came to know of the project. The weekend was upon us and I was also going to be traveling during the week.
I remembered seeing postcards and inland letters being sold at stationery shops a few years ago. So I hunted every shop in the neighborhood to find one. Alas! I was told that the practice has been discontinued and the only place to get a postcard was the post office.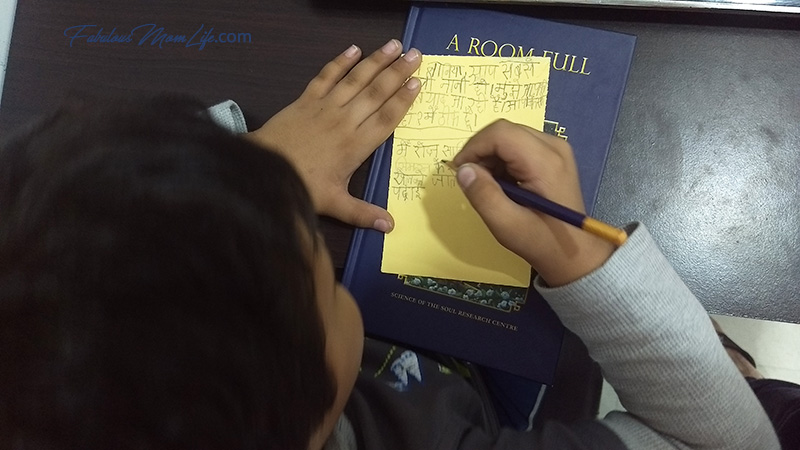 Keeping it a Secret from Grandma
Unlike most other children in my son's class, his grandmother i.e. my mother, lives in the same town. That doesn't dampen his spirits to send her a letter at all. But we had to keep it a surprise. But like I said, nothing happens as planned in my household. In my desperation for get a postcard, I called the person who is always there to help me – my brother i.e. the kids' beloved uncle. He set out at once to complete the mission for his beloved nephew and in his excitement, told Grandma that Sammy needed a postcard for a school project.
Grandma found a topic to discuss and called me up. Before I could say 'Hello', my son chimed in from behind, "Don't tell Naniya (is what they call their Nani) that the letter is to be for her!"
Now my son has a lot of superhuman abilities. But keeping his volume down is simply not his thing. He has never been able to do it since he first howled (Crying is for humans, you see) when he was pulled out of me. If I had a penny for every time I told him to keep his voice down, I would be VERY rich by now.
So Nani clearly heard and we both had a good laugh. There was nothing much that could be done other than laugh it off! Before I had the postcards in my hand, the 'big secret' was already out in the open. And anyways, I am sure this is going to be a treasured keepsake!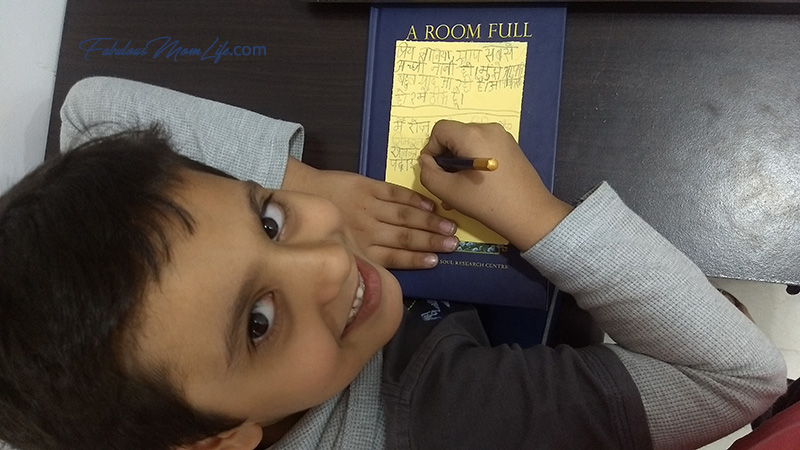 A Letter to Grandma – in Hindi!
What Maths is to my daughter, Hindi is to my son! His weakness lies in Hindi writing – speed, handwriting, vocabulary – everything. He knows Hindi and Urdu words like कायनात and लापता due to his Japanese-to-Hindi dubbed cartoon serials, but making them learn word meanings like श्रम, परिक्रम and आशा = उम्मीद  is an impossible task for mamma!
At first, my son refused to write it on his own. He wanted me or his sister to write it for him. The reason wasn't his lack on interest to write. It was actually low self esteem due to his Hindi handwriting. After constantly hearing from everyone (including me at times) that his handwriting needed a lot of improvement, he was doubtful whether grandma would be able to understand his writing at all.
But this was the time to make amends and help him boost his self esteem. I told him I would help through it all but he had to write it himself. Once his mind was made up, it was an easy task. He did not need much assistance and although his handwriting does need a lot of working upon it, it is legible enough to be read by everyone.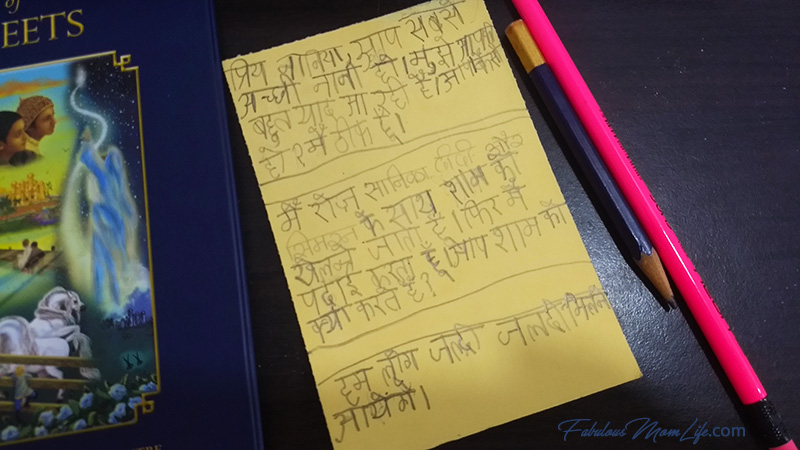 So, we completed the letter and my son was smiling like the cat who caught the mouse, after all the praises! he was able to write it all and on un-ruled paper too! And I was pleased too. Now he dare not make an excuse of not being able to write Hindi! Fun projects like these are such a great way to encourage writing 🙂
A postcard is the perfect size for a child to write a letter. The space ends before they lose interest LOL! And we also had space for some precious artwork at the back!
Today, he has gone off with his precious letter on a class trip to the GPO. नानी has already been counting days. What an exciting experience for the kids! Especially, kids of these modern, digital times – to enjoy the pleasures of drafting, writing and posting a letter 🙂