Many parents, including myself, want their child to learn a musical instrument. The music keyboard is undoubtedly the ideal musical instrument that many parents choose. But how exactly does playing the keyboard help your child? Not that you need a reason beyond the lovely notes playing in your ears, but here are some of the major reasons that will make you want to buy your child his or her first keyboard right now.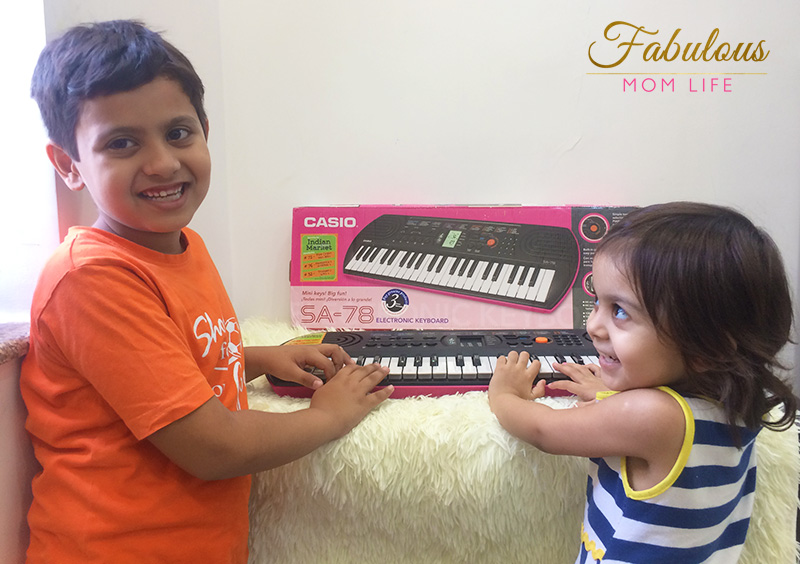 Music In Your Child's Life
"Music is a piece of Art that goes in the Ears, straight to the Heart"
Growing up reading Jane Austen and watching movies set in 18th century England, it is a surprise I did not myself learn the Piano or Keyboard. But imagine my joy when my eldest turned out to be musically inclined. Buying her a Casio keyboard gave me even more pleasure. There is nothing more relaxing than melting your stress away in melodies of Beethoven and Mozart played by those little fingers. For that reason alone, I think our keyboard was one of the best investments as I made – for my children as well as my family.
Benefits of Playing Keyboard for Children
But there is a whole lot more for your children in playing the keyboard than just the joys of music. If the benefits of playing a musical instrument outlined by the renowned Shankar Mahadevan are too vague for you, let me line up these amazing benefits of playing the keyboard.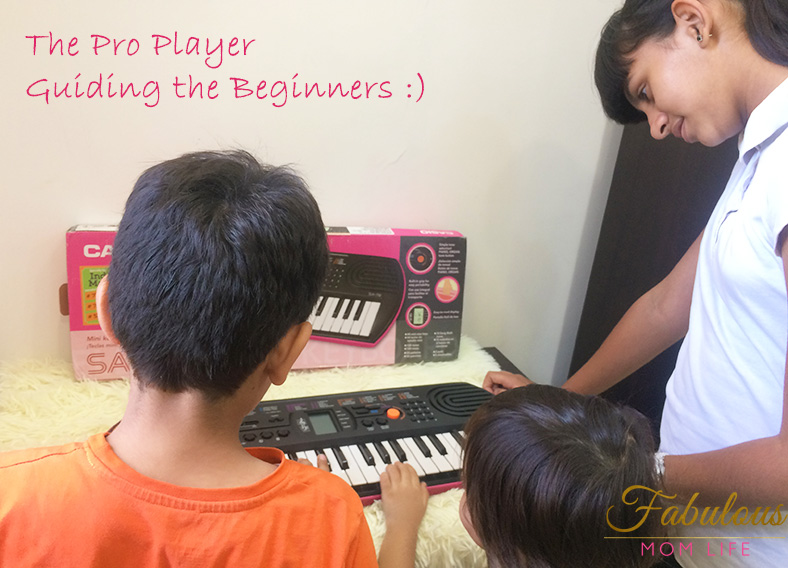 A positive impact on school results
In general, children who take keyboard lessons in a music school or with a particular teacher have better results at school . This is because the keyboard is not only an activity of leisure or an extremely "practical" activity but is an uncommon blend of both. Playing the keyboard has a playful side which is essential to awaken the interest of the child, and also tests the intellectual skills at the same time. Studies have shown that kids who learn to play instruments such as the Piano or the Keyboard perform 30% better at spatial recognition tests. Spatial recognition is directly linked to abstract reasoning.So more it is developed, the more likely it is that the child will obtain better results in mathematics or science.
Strengthen self-esteem
Playing an instrument, especially the keyboard is rewarding for the child . By learning to play the keyboard, your child will be able to play songs that will fill him with pride. It is also important to encourage your child throughout his learning, to congratulate him when a step has been taken, when a new piece has been learned or when an exercise is properly performed. These encouragements will motivate your child to continue on his path and build confidence in him.
Listening Skills
A child who plays the keyboard will acquire more listening skills than other children. To progress at the keyboard, you have to work and be attentive to lessons. Even if playing the keyboard is a leisure activity, it is required that the child learn the keyboard notes. A young child who learns to play the keyboard before going to school will be more disciplined and have better listening skills as he has already learnt to listen.
Set Goals in Life
One of the keys to the "success" of an individual, or at least to his or her personal and professional development, lies in his or her ability to set goals and achieve them. This is how life acquires meaning. Playing the keyboard promotes, this state of mind in children because it is all about learning to play a relatively difficult instrument and learning a particular piece that your child enjoys.
To set goals is also to be able to impose on oneself discipline of work and perseverance in the effort . Keyboard playing helps forge a capacity for motivation and effort that will serve your child throughout his life. In short, playing the keyboard is nothing but somewhat an apprenticeship to life.
Become Confident and Popular
Haven't you noticed that children who play a particular musical instrument very well are often popular among their peers? It certainly worked with my shy preteen. She is now called upon to play the keyboard at so many events at school and at fun parties. The cool and 'sought after' labels that have come to attach themselves with her, have helped in developing her personality even more. Being able to play a melody on the keyboard gives children a certain 'edge'. People are always appreciative of music and this appreciation does wonders for them!
Which Keyboard is Perfect for Your Child?
A beginner keyboard enthusiast needs a good instrument. Think about it. If you wanted your child to play cricket to perfection, would you send your child out on the field in a pair of flip-flops, or would you make sure your child had a good pair of shoes? Shoes, of course! On the other hand, does your child need a professional-quality Rs 10,000 worth of cricket kit right on the first day itself? No, he doesn't!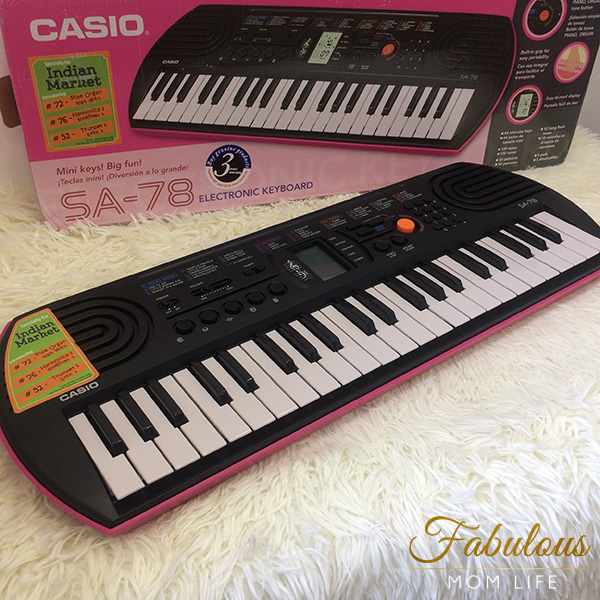 The point I am trying to make here is that you can start small – but do not compromise on the quality. As a parent, you want to make sure your child has a good experience while learning to play the keyboard, but you're probably not ready to go out and buy the most expensive option out there. That's fine. But do not buy the cheap musical toys that the market is flooded with, not if you really want to give you child the real keyboard playing experience.
Mini Keyboards are a great way to start. Casio is my chosen brand and that is where I will share my recommendations from. The Casio Mini Keyboard is an ideal way to kick-start the learning process. It doesn't require a dedicated place for set up (although I recommend you devote a particular place, just for habit's sake). It is neither too expensive nor too difficult to master. With 100 tines and 50 rhythms built in, the 49 key electronic keyboard will give your child the perfect start with the keyboard.
Later, if your child shows a promising talent, upgrade to a full size keyboard like the CTK 2500 that we went for, which is of a portable size. Once you cross that threshold too, you can move on to a full size, professional, piano style keyboard.
My advice – start young! Start as early as possible and let them grow up with music being a part of their lives always. A music keyboard should be a part of your child's bedroom and daily routine forever 🙂