Looking for an easy art idea for toddlers? Kids of ages 2, 3, 4 and 5 years will especially love this easy thumb printing idea. Although my older kids (7 and 12) and myself, want to join in badly. It is so much fun! Here is how to create strawberries and blueberries using thumb prints.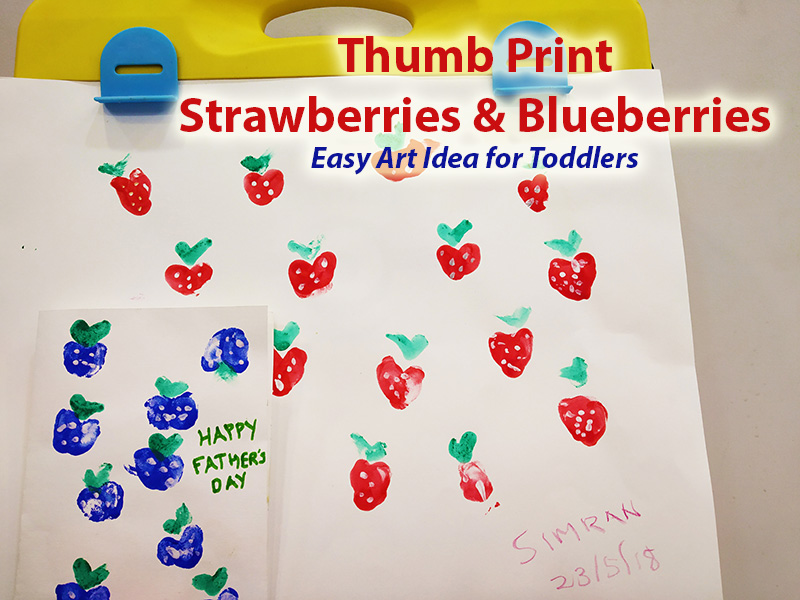 Paints, in any form, stimulate a child's senses. Thumb or finger printing, adds to it a touch and feel and also strengthens hands and fingers. If your child does not, at this age care about painting being emotionally soothing, he or she will certainly agree that it is fun!
After letting her indulge with mindless painting (it has it's own joys!) and drawing away on her own, I stopped short in front of my prized white wall one day:
Ok…I love white, and you know I have a white house. I have 3 kids so this is inevitable, especially during the toddler years. But the sight of this (and the 45 minutes of cleaning up with my 'secret recipe' for cleaning pen marks from walls), made me decide that Lil Sis needed some structured Art lessons.
So we took out our easel the next day and sat down to create the prettiest summertime art!
Thumb Print Strawberry Art Idea for Toddlers
Thumb print and finger print strawberries are very easy to create.
Step 1
Make 'hearts' using two thumb prints in red color. See video above for how exactly to make hearts. You can make two overlapping thumb prints in opposite vertical directions. Or just move the thumb in the same place to create the heart. Both techniques are shown in the video.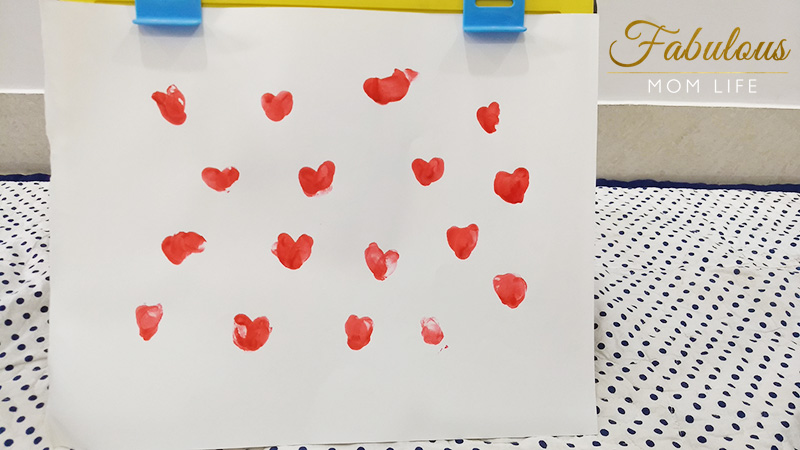 These will be the berries, of course.
LET DRY BEFORE STEP 2
Step 2
Create a 'V' shape using index finger with green color, above the strawberries.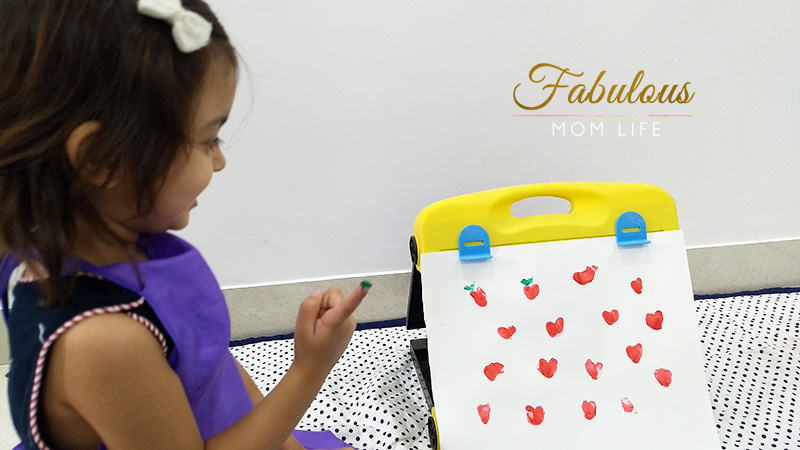 These will be the leaves.
LET DRY COMPLETELY BEFORE STEP 3
Step 3
Add white dots using a paint brush.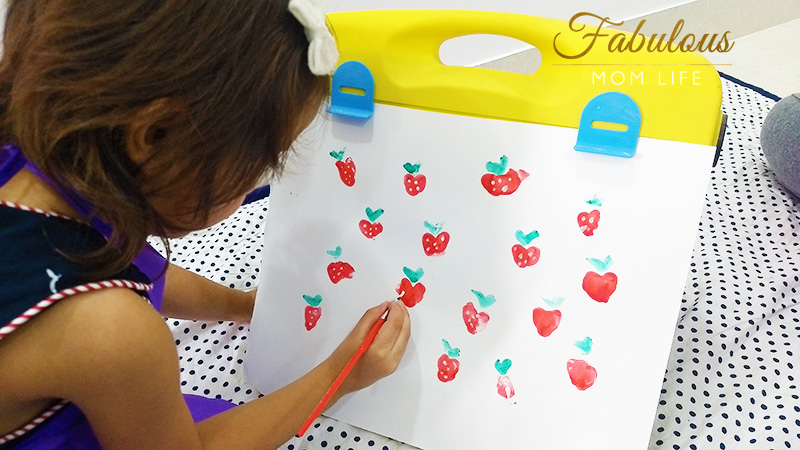 I was initially hesitant to let Lil Sis do this on her own. I was holding her hand but she brushed me aside. And to my surprise, she could easily manage it! Sometimes we just need to let go, stand aside and watch – Lesson learned for the 200th time lol!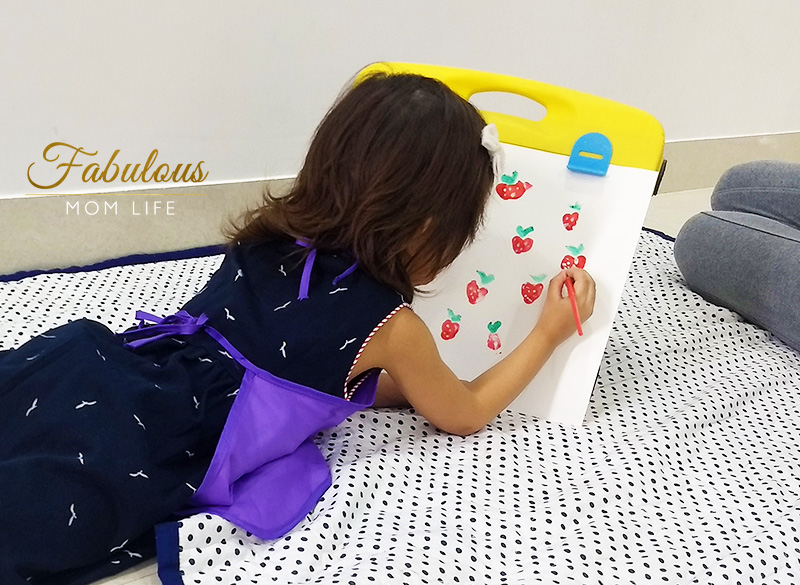 Voila! You're done! Make sure to let it dry completely. If you are a toddler mom, you will know why this step is essential 🙂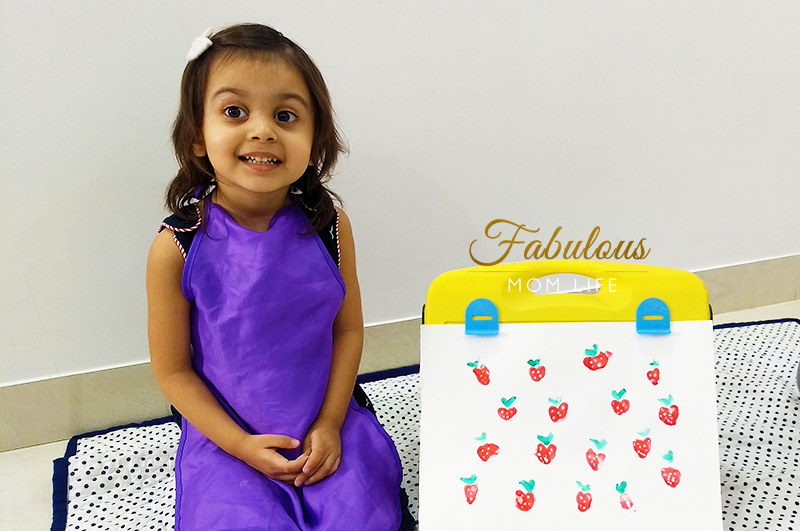 Thumb Print Blueberries Father's Day Card- Easy Art Idea for Toddlers
Exactly along the lines of strawberries, we made blueberries for our Father's Day card.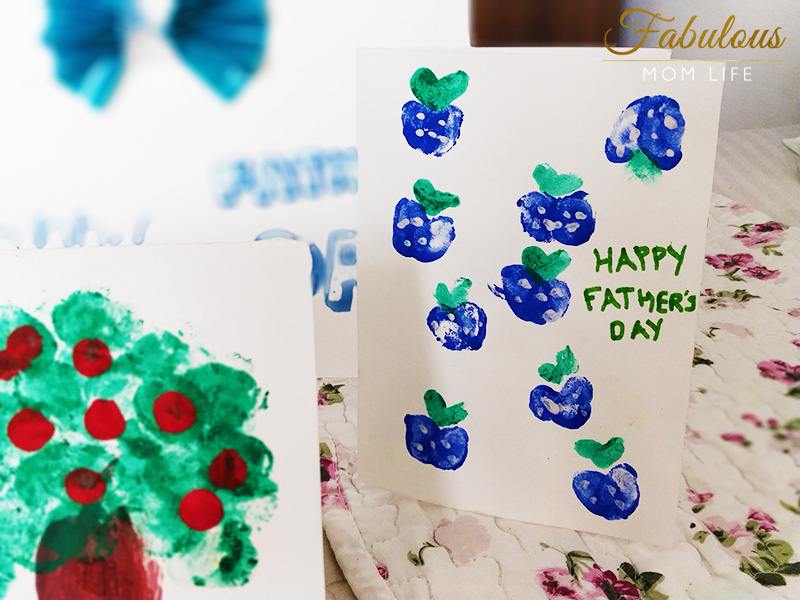 One blueberry turned upside down lol! All these imperfections – the blurred dots, shapes that turn out to be anything but hearts – it is these that actually make these Toddler Art sessions memorable and adorable. The beauty in these imperfections can never be rivaled by the most perfect piece of Art.
And all this while, Lil Big Bro was busy making his Finger Print Apple Tree card for Father's Day (sharing instructions soon) and Big Sis was practicing her Watercolor Roses.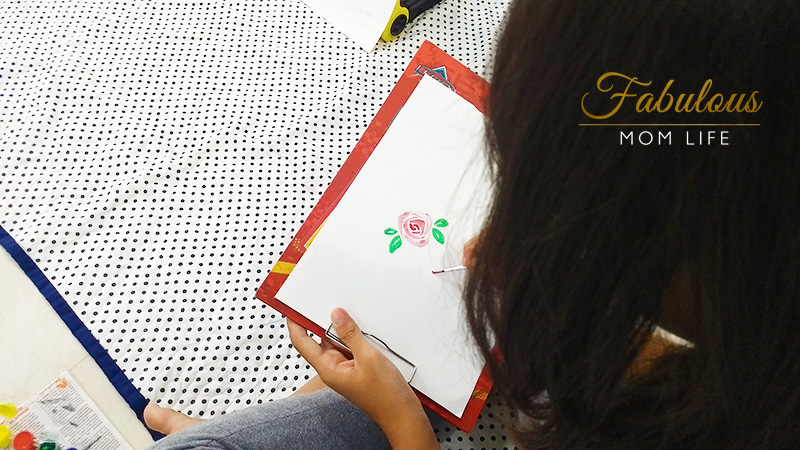 P.S.
My 'Secret Recipe' for cleaning pen marks off the wall!
Ummm….it's toothpaste!!! Rub toothpaste on the pen writing using a clean cloth. All the best 🙂