When they are outdoors, they are catching Pokemons on Pokemon Go. When inside the house, they are battling out with there army of Pokemons and the different colored Pokeballs that I still confuse the names of. And Pokemon is the first thing they will watch on TV! Such die-hard fandom needs to be rewarded! Tangerine Made it so easy to gift my kids a Pokemon themed room makeover with their vibrant, high quality bedsheet.
Pokemon Themed Kids Room Decor
Your little Pokemon fans will love this! I just updated the kids room with the cutest Pokemon decor and the focal point was this super soft 300 thread count cotton bedsheet from Tangerine. A vibrant, high quality bedsheet is a no-fuss, instant way to add color and fun to your kids bedrooms.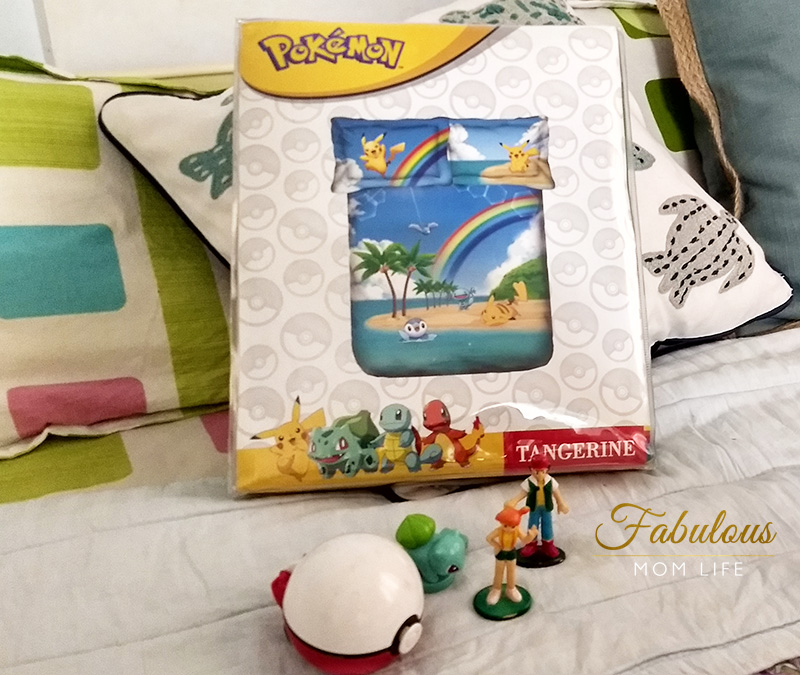 The room was instantly updated with a bright and cheerful beach scene featuring a few Pokemon including the most famous – and Lil Sis's favorite – Pikachu. What a welcome sight it makes to walk into their room now 🙂
Here are some more shots 🙂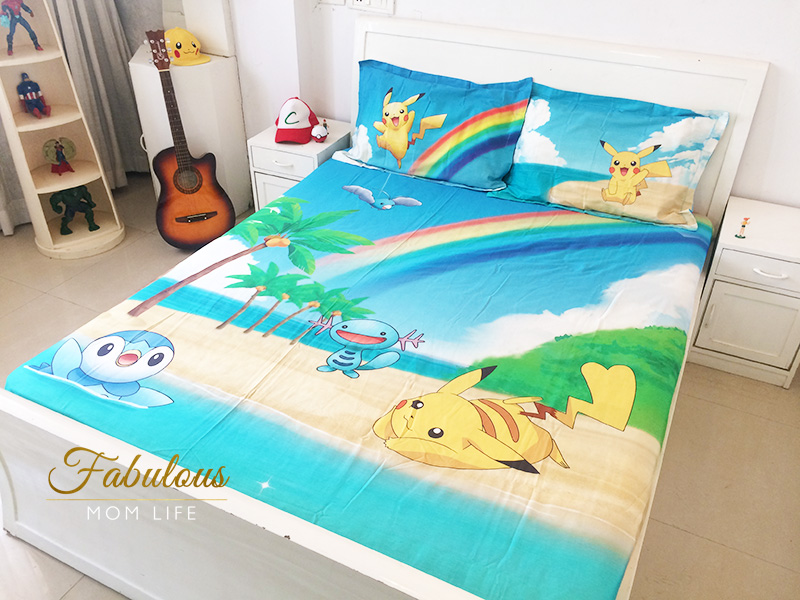 Big Sis, the original and first fan of Pokemon in our family, replaced the photos and lamp on the night stand / bedside tables with his Ash Ketchum and Pikachu caps and it looked really sweet! Lil Big Bro placed is Pokeballs alongside them to complete the decor.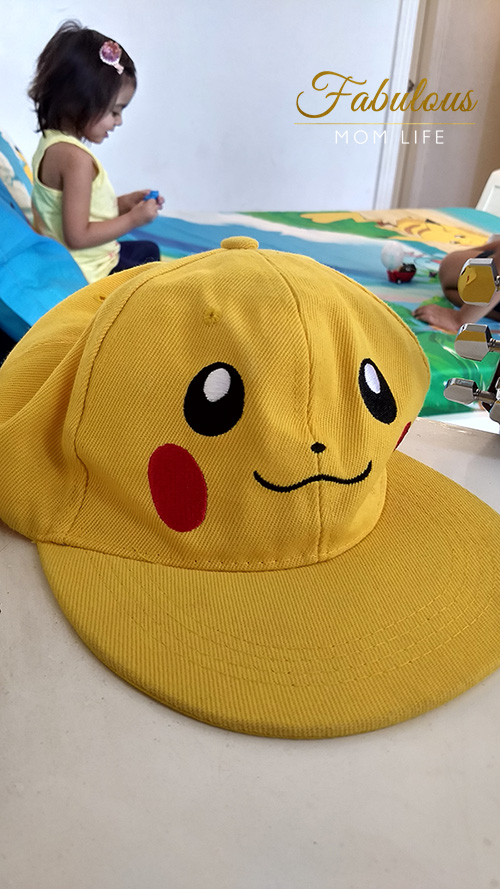 Yesterday was particularly hot and the kids were indoors most of the afternoon. As I would have guessed, I walked into the room to find a Pokemon battle going on.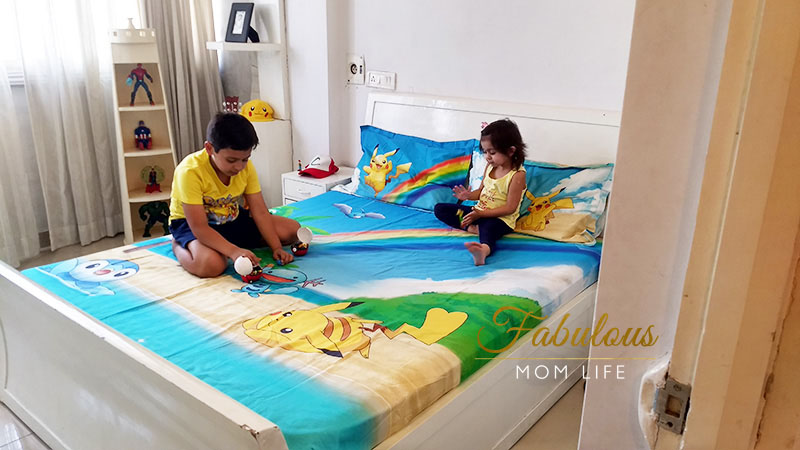 We have a huge collection of Pokemon figures from the time I planned and hosted a Pokemon themed birthday party for my boy.
Tangerine Bedsheets Review
The kids, of course, loved seeing their favorite characters in perfect detail. But as a Mom and an experienced shopper, I had other concerns. However, I am happy to announce that I loved the Tangerine bedsheet in every way. It is completely #MommyApproved.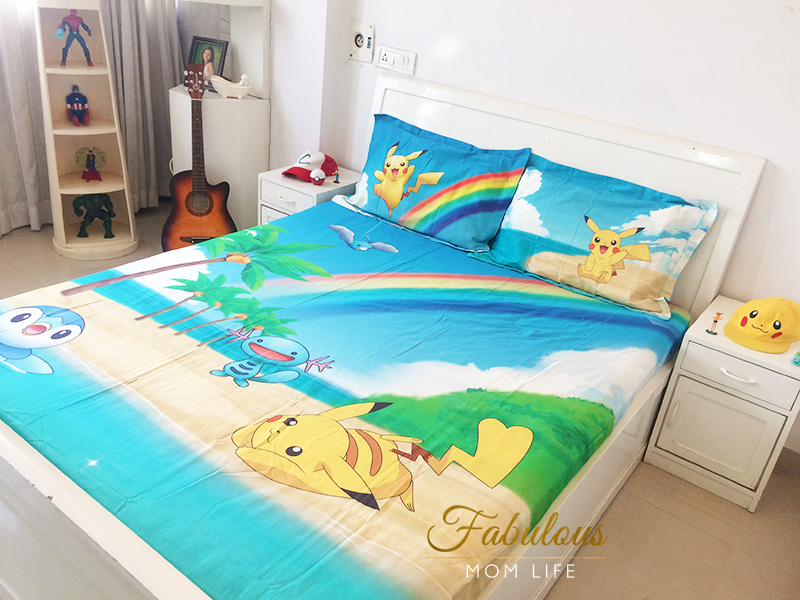 I also did not buy too many character bedsheets even though kids love them, mainly because the fabric was never very good and they made my decor look a little 'cheap', maybe? But I finally found a brand that makes Character bedsheets in the quality that I am used to.
Here's what I loved most about it:
1. High Thread Count
Thread count is a very important factor in deciding the comfort factor and quality of a bed sheet. The more the thread count, the softer the sheet, more durable and the more it will soften over time. As a general rule, always opt for bed sheets with a thread count of more than 200. The Tangerine Pokemon Bedsheet has a thread count of 300.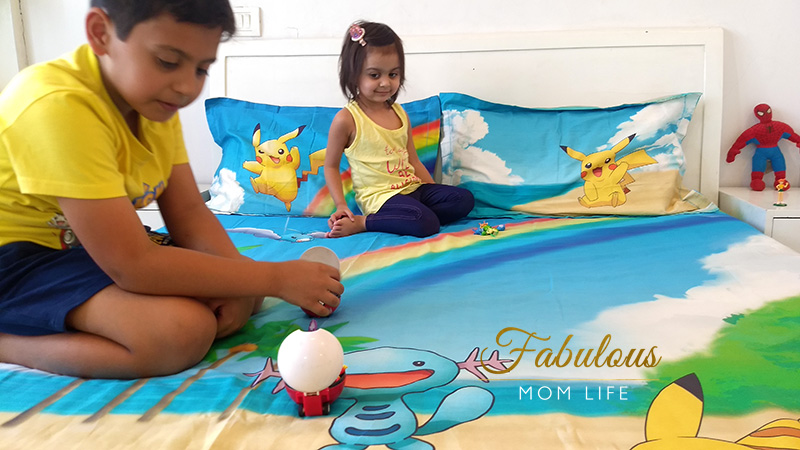 2. High Quality
Often, we find similar looking bed sheets with bright characters for a fraction of the cost. I am sure your experience knows that such traps are to be avoided. Those bed sheets are coarse and lose quality, shape and color in a couple o washes only. They also 'let down' your decor a bit. At least I feel so. I am very choosy about what comes into my home. This bedsheet, as is visible from the pictures itself, is really high quality. The print is made to perfection, the colors are vibrant and the bedsheet is very soft to touch – even without a pre-wash!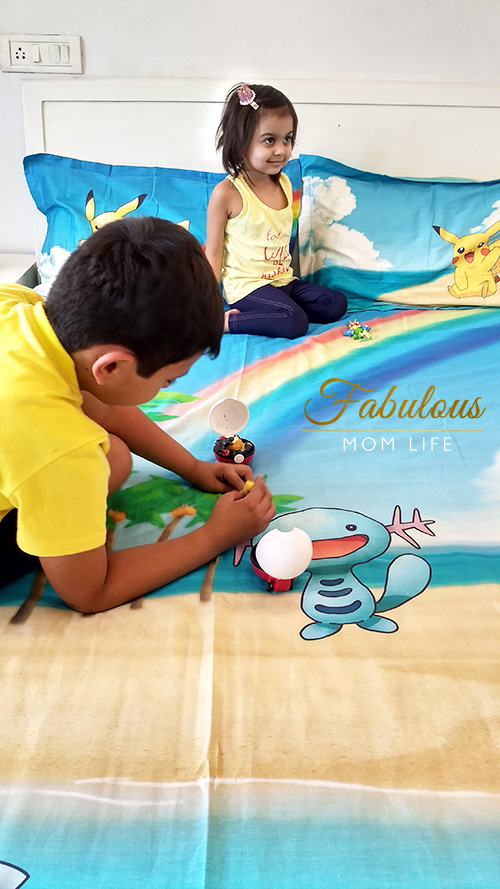 3. Super King Size
We have huge pillows and good sized beds. Regular bedsheets that barely tuck inside the mattresses are a big no-no for me. They keep coming off with the kids jumping on and off all day. Even their pillow cases are small. Tangerine bedsheets are very generously sized – 108 inch x 108 inches. Plenty of fabric left to tuck in securely even in king sized beds with box spring mattresses. And the pillow cases can fit in huge memory foam pillows also!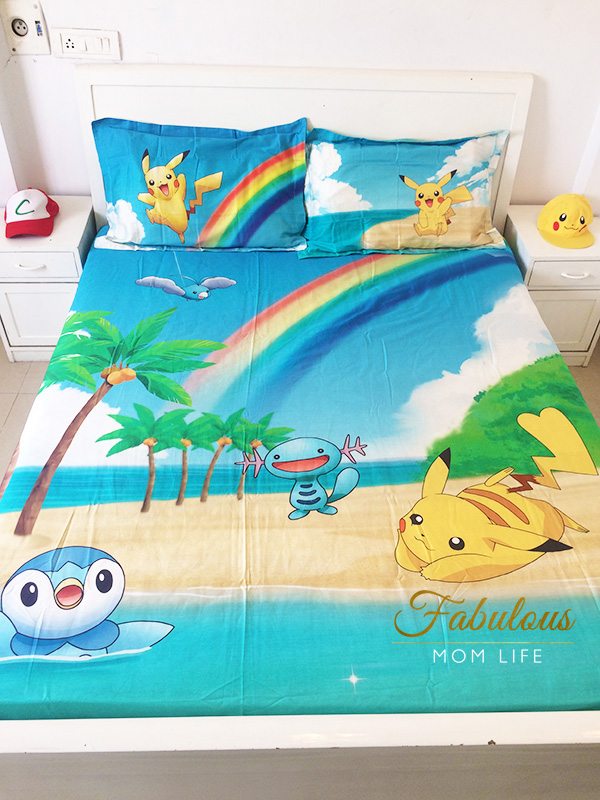 4. Licensed Graphics
The simple reason that the character graphics are so impressive and high quality is that they are properly licensed. All Pokemon images on Tangerine Bed Sheets are duly licensed products from Dream Theatre. I can't tell you how much I appreciate this! I have been in the IT industry long enough to appreciate proper licensing and permitted use of intellectual property like images and content.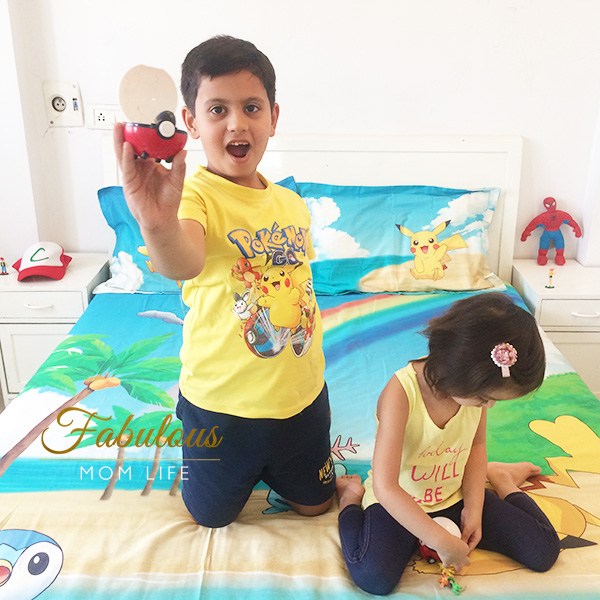 If your children love to dream away every night with their favorite cartoon characters, check out this bedsheet.
If you find them a little too busy, Tangerine also have many other beautiful patterns to choose from, for every bedroom. Here are some more from my wishlist:
Love this one!
This is my son's dream bed, but he does not have a single bed:
Love the Indian motifs in this one:
Shop Now On: