Our Father's Day moments were too precious to be left forgotten in a hard drive. I had to have one of those precious Dad-Son moments on the wall! I chose my favorite online photo printing service Photojaanic. I discovered them long ago when looking for a good price of a photo frame and use them regularly for getting my photos printed.
Sharing my experience with the process, and shots of the new addition to Lil Big Bro's desk 🙂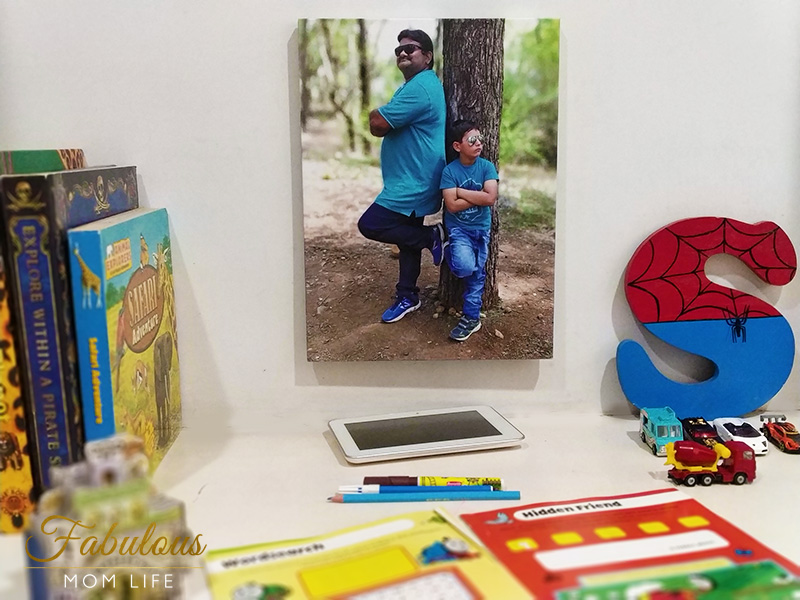 That Picture!
If you remember my Father's Day post, it was a fun, fun day at the park with Daddy and Lil Big Bro twinning in their jeans. In another attempt to capture these wonderful days on camera, we got a series of beautiful clicks.
Finally the man behind the camera was in the frame  – and with none other than his spitting image! The two men in my life looked so dashing and handsome in this pic that I simply had to have it framed!
Mounted Photo Prints – Photojaanic Review
Photojaanic has endless options for you to choose from. I have always been partial to gallery-wrapped mounted prints and went for it.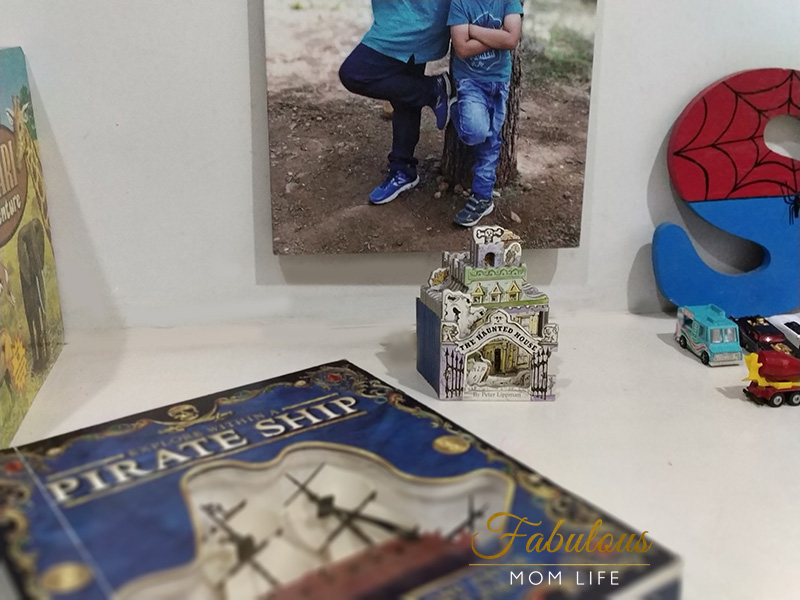 The picture I chose to get printed and framed was of Portrait orientation (vertical) so I chose the 11 x 14 Portrait variant. Photojaanic has a very easy interface to upload your picture and customize the look according to your tastes.
They have a lovely selection of borders to choose from, depending upon what goes best with your photo. I opted for no borders and stretched the picture to the edges. There are a bunch of image editing options to help you add filters or make the photo bright. I used none of the features as I wanted the natural light in the photo preserved.
I also skipped the border and went with my favorite – gallery wrap. In Gallery wrap, a part of the picture is stretched to cover the sides. See above and below pics. It looks very pretty but is only suitable for photos that have plenty of background area surrounding the main subject. You don't want to chop off the main subject in the picture!
It took 10 minutes to upload my pic, make my choices and place an order. My mounted print was prepared and shipped within 24 hours and reached me within 2 days of shipping. It was all super quick!
We Love the Print!
At first, I thought I will hang it on the wall with other photos and artwork, especially the recent mother -daughter charcoal sketch. But then I decided to decorate my son's desk with it for a while. So I hung it above his little, messy work station 🙂 He loved the surprise when he came home from school and wants the photo there permanently! I am leaving it there until he wants something else there. I will then move it to the family photos wall.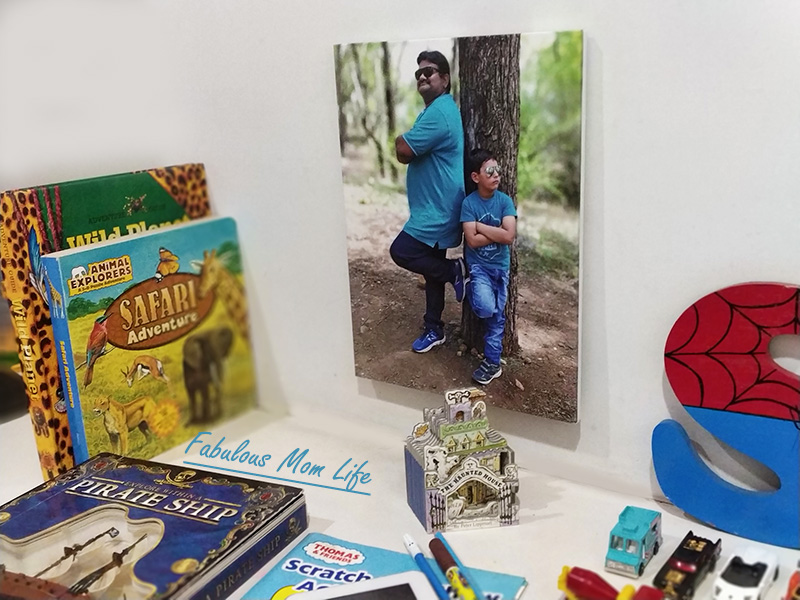 The print itself is beautiful and it was joy to see our favorite click transferred beautifully on canvas by Photojaanic. It has been printed on premium glossy paper and coated with a water resistant silk finish. It has a wall mount hook attached at the back that we used to easily display it on the wall.
It looks lovely, doesn't it! Before they grow up quickly and fly my nest, I want to have as many memories of their childhood as possible. And there is nothing I would love than these memories displayed on the walls of our abode 🙂