Despite having multiple mentions in the Vedas and a prominent section in the Ayurveda, sex continues to remain a topic to avoid discussing publicly. But no one can demean the importance of a healthy sex life between a husband and a wife. So we choose our closest of friends to discuss our concerns. Today, I am taking our relationship one step closer by inviting you into my close friend circle to discuss some vital issues and the need for a sexual wellness supplement.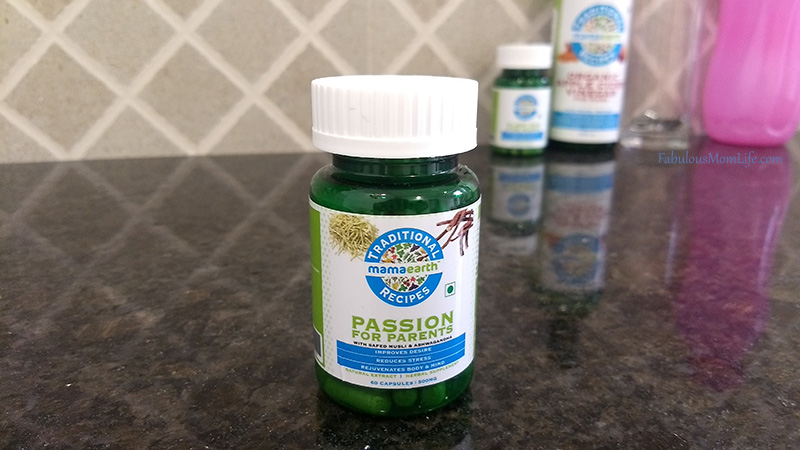 A couple of weeks ago, when Mama Earth launched their Traditional Recipes range and asked me to choose a few products to review, I took some time to decide. I was just getting started with my own holistic wellness goals. Weight loss and increased energy was topmost in my mind. But something that I was neglecting was my sexual wellness. The first step to righting a wrong is to admit it. So, I took a deep breath and resolved to improve my sex life also. My first step – choosing the Mama Earth sexual wellness supplement called 'Passion for Parents'.
Why Do I Need a Sexual Wellness Supplement?
Sex can be a source of conflict, and couples can find themselves fighting mostly over how often they get intimate. Many couples find themselves drifting apart sexually, especially after having kids. You might be in a rut, doing the same things every time you make love. Or maybe resentments from other areas of the relationship are affecting your connection in the bedroom. Major relationship strains that can take an especially serious toll on your sex life are work and kids.
Like most parent couples out there, we are an exhausted couple who are madly in love with each other, but never have the time or even the inclination to display our affection. Unlike most couples, we address this issue and tell each other that we want to work on improving the situation. The simple fact is that you can't look to your spouse to fix the things that are wrong in your life. If you don't feel like getting intimate because you are not exactly feeling elated, then you have to take charge and take responsibility for making yourself happy. When you are busy and excited by your own life, the small things that used to anger or disappoint you about your spouse or situation in life, will lessen. To battle sheer exhaustion and the typical mommy and homemaker stress, I gave the sexual wellness supplement a wholehearted try to revitalize my sex life and stay physically and emotionally connected as a couple.
Your Sex life is Important!
It sometimes seems like a miracle that my relationship with my husband has survived 3 kids! The needs of children, especially young ones, take so much energy from parents. And I am not even talking about the duration of pregnancy and life with a newborn. Sex gets thrown out of the window during these phases! But even at the end of an average busy day, it can become difficult to have any energy left over for your spouse. But it's important to turn towards your partner for love and nurturing so that you can be good parents too. If you deprive your couple relationship for too long, you risk drifting apart and affecting your kids' lives in the bargain.
Sexual wellness is also important for your own health! Women enjoy it as much as men do and it is a necessity. A little help in revitalizing your life will help you enjoy and reap the benefits instead of treating it as a chore or something done just out of duty or responsibility.
How Does it Help Mama?
The Mama Earth Sexual Wellness supplement (I love that they have named it 'Passion for Parents') is a mix of popular Indian herbs that come together to enhance your mood, relieve your stress and increase your sexual health. It just helps makes you 'feel good' and in the right mood for some couple time.
Here are some key features I think you might like about it:
100% Natural Extract
Herbal Supplement
100% Vegetarian
Contains Ashwagandha to increase sexual desire and satisfaction
Contains Shilajit to prevent fatigue and boost sexual performance
Shatavari relieves stress, balances the flow of hormones and helps you enjoy the sensations even better
Safed Musli promotes sexual desire for women and endurance for men
Shudha Kuchla increases physical energy and endurance
It is designed for both men and women
All herbs listed are known in Ayurveda for their ability to give you a better sexual experience. They are in capsule form and very easy to take as a blend. Your husband will be happy to join you and like my mine, will never let you forget your daily dose!
To All Moms Who Can Relate
Don't just passively let your relationship deteriorate or let each other drift apart in response to the inevitable strains you are experiencing. If your sex life has fallen by the wayside, find some time, some will, and some energy to rekindle it. Whether you opt for sexual wellness supplements, reschedule your time or take extra efforts to improve your sex life, DO IT! It is important for your own physical and mental health and that of the man you love with all your heart and who is going to be there when no one else does.