Do you know the biggest reason why women don't talk about their postpartum depression? Because they think it is shameful to admit that they are having mixed feelings about being a mom, instead of feeling blessed after having a baby!Makes sense, doesn't it? You went through a blissful pregnancy waiting to feel drenched in love at the sight of your baby. But when the baby arrives, you think you probably made a mistake. None of that love seems to be in sight. No, you are not a bad mom! You are battling depression – a serious disease! And finally, there is help for Indian moms to deal effectively with postpartum depression.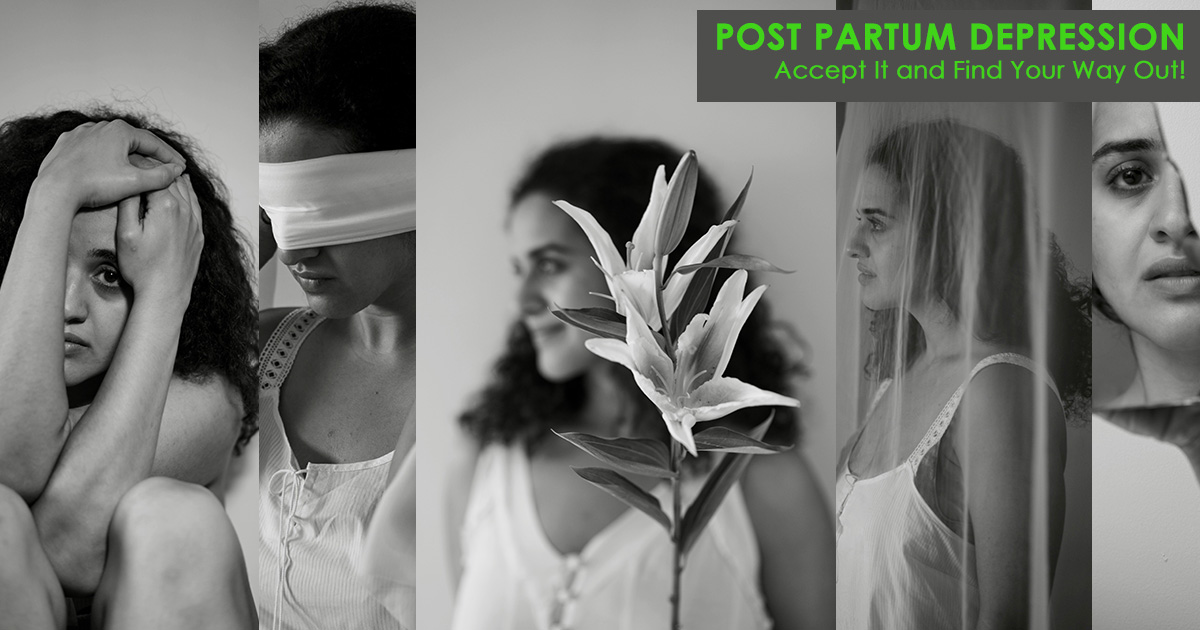 Accept PPD
Accepting that you have PPD (Postpartum Depression) is the first step towards recovery. Unable to come out of the stage of denial, a young mom Sneha lost her life to PPD. In a resolve to not let any other mom feel so helpless, Trijog – Know Your Mind and Insaniyat have come together to launch 'Sneha – A Ray of Hope', a campaign towards recognizing Postpartum Depression in India.
Coming out from the dark early stages of PPD namely Denial, Anger, Bargaining and Depression, with proper help, new moms can make their way to Acceptance and Recovery. Social taboos and norms in India make it even more difficult for moms to open up about their feelings. Finding an ear to communicate your innermost thoughts and fears is the first step towards battling depression.
You Are Not Alone
The mom next door might keep mum about her situation making you believe that something is wrong with you. But that is not true at all. 2 out of 10 Indian women are at the risk of depression. Like in every other situation, Indian women have mastered the art of keeping mum about postpartum depression also. But from celebrity moms worldwide to Indian celebs like Mandira Bedi, these star moms had the courage to confess and confront their postpartum depression.. Their only motive behind doing this is to lessen the stigma associated with it.
Symptoms of Postpartum Depression to Look Out For
PPD can be confused with Baby Blues but the two are very different. I had a case of baby blues and it took me a while to figure out that this wasn't the dreaded PPD. Hormonal changes after childbirth, increased stress and lack of sleep lead to baby blues in up to 80% of women. It is a temporary condition and lasts from a few hours to 15 days. In most cases, the symptoms fade on their own without intervention.
Postpartum depression, on the other hand, is a serious illness. Look out for these symptoms:
a deep sadness with no apparent reason;
permanent exhaustion or trouble sleeping at all (sleeping too much or not enough)
feelings of devaluation or excessive guilt, feeling like a bad mother, having trouble connecting with your baby
a feeling of irritability and refusal of your baby
extreme anxiety, especially with regard to the well-being of your child
inability to properly care for your child
disinterest in, or lack of enjoyment of, activities
a change in appetite ;
the feeling that things will never improve
Can occur anytime within the first year after childbirth
Since treatment is most effective when postpartum depression is detected early, do not hesitate to seek support immediately. Read more about the 6 stages of PPD and find effective solutions to battle it at http://trijog.com/ppdepression.html
Not Just Moms
This might be news to you, but new dads are also at risk of depression. And in most cases, they are likely to suffer from PPD if the mom is already suffering from it. As the mom recovers, the father plays an important part in caring for both the mother and the baby. They might also need help and should not delay in getting a consultation if they notice any symptoms.
PPD can affect not only your own health and life. but your attachment towards your baby. As a result of which, the baby's cognitive, social and emotional development. Do not let PPD be the silent killer of your life's joys. As Jyotiba Patil, Co Founder of Insaniyat puts it, "Having PPD doesn't make you a bad mother. Working towards recovery makes you a responsible mother and that is what we want to convey through our campaign. Seeking help for Mental Wellness is important and we strive towards reducing the stigma attached to it".
Mental health matters, people matter, you matter. Reach out and make your way out of this condition!