The benefits of Omega3 and DHA keep making rounds on our social media feeds. More than half of the time, us moms do not pay attention because a majority of Indians are vegetarian. Naturally occurring in Fish Oil, we turn a blind eye to the importance of Omega3. But not anymore! Moms, pledge along with me to take care of yourself and stop neglecting your health. With Mamaearth bringing to you an all vegetarian plant-based DHA supplement, there is no excuse left. I have started with my daily intake of Mamaearth DHA supplement and would love to share with you all some crucial facts.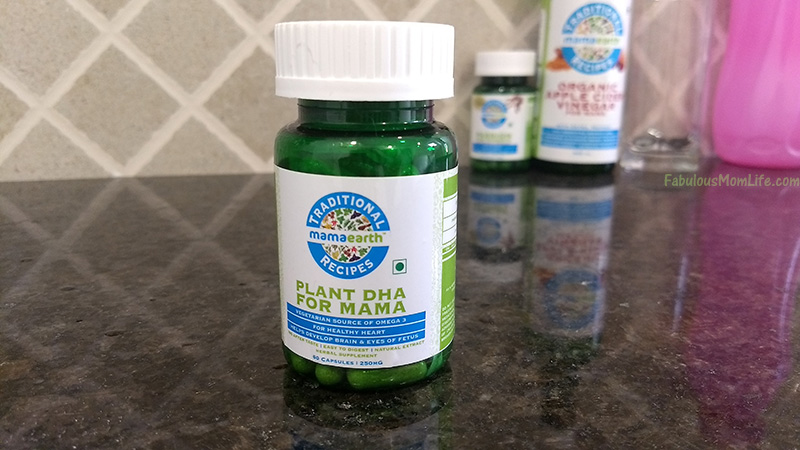 What is Omega3 and DHA? And Why do I Need a Supplement?
The names Omega3 and DHA might sound like some stuff science and nutrition buffs keep talking about. But it is very simple. For a long time we have been told that Fats are bad for our health. Recently, there has been more awareness about not all fats being bad. In fact, some fats are good and essential for our health. That's it. Omega 3 is a fatty acid (mostly containing 2 fatty acids EPA and DHA) that is of utmost importance to our bodies. And our body cannot generate it! We need to rely on external sources.
Fish oil is an excellent resource of DHA, which leads to many vegetarians and even non-vegetarians who are in not particularly fond of the after-taste skipping it. Mamaearth DHA Supplement, which I have included in my daily routine, is plant-based and completely vegetarian. It is a part of their new range of Wellness products for Moms.
Why is DHA important for Moms?
You might be tempted to skip reading this and jump to something for interesting on my blog! But trust me, you want to read this. Because your children and your family deserve a healthy mother. And you are worth every attention to your health.
You can read about a lot of benefits of Omega3 and DHA in particular online. But I will try to be very precise. Here is why you need DHA:
Omega3 helps with easing of menstrual pain
It increases fertility in women who are trying to get pregnant
Helps strengthen your nails and hair and prevent hair loss
Helps avoid postpartum depression in pregnant women
Improves baby's (fetus) brain, eyesight and immune system if pregnant women consume it
Breastfeeding moms can pass the above benefits to their child through breast milk also
Reduces risk of premature birth by up to 50% if pregnant women are regular in their intake
Helps avoid stress and boost immunity in exhausted moms
Middle aged women benefit from it during menopause as it helps combat Osteoporosis and Hot flashes
DHA helps lift your mood.
It keeps your joints well lubricated as you age
Clarifies your blood and reduces acne
Improves your eyesight and maintains it as you age
Omega3 intake can lower rate of cancer and tumors.
Women over 40, who are more susceptible to heart diseases can reduce the risk with regular intake.
Helps increase and retain memory
Plant-based Mamaearth DHA Supplement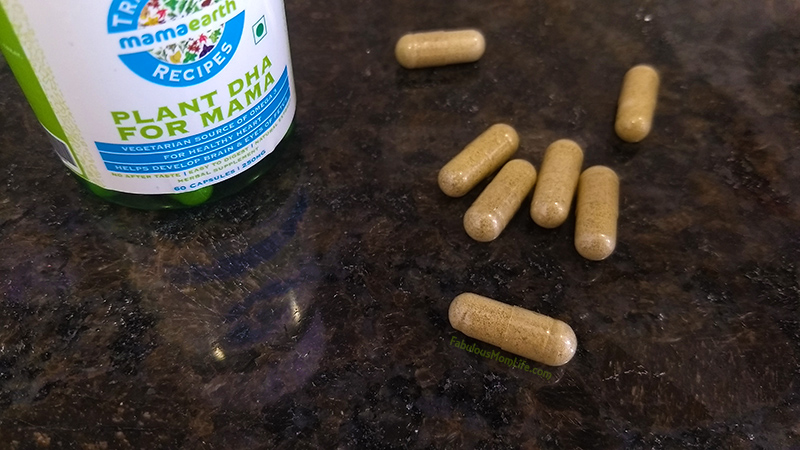 I have been a satisfied customer of Mamaearth from their beauty products to their Apple Cider Vinegar which is also a part of my morning routine. They gave me another excuse to love them when they came up plant-based DHA. Extracted from plant Algae, it is completely vegetarian and like all their products, complete natural. A recommended usage of 2 capsules a day is mentioned but you can always contact your physician or gynecologist if you have any doubts. The container has 30 capsules and you can buy one for INR 699.
Get Started with Omega-3 DHA Supplement Now
I cannot stress upon how importance it is to build your intake of DHA. Whether you are pregnant, a new mom or neither of the two, all women need DHA. It is not a magic pill that will clean all your sins of an unhealthy lifestyle. But if you are really concerned about your health, commit to make some lifestyle changes and supplement with the Mamaearth DHA supplement. A vegetarian lifestyle is good for health, especially as we age. The plant-based DHA will complement it perfectly and keep you in great health!