Apple Cider Vinegar has been on my kitchen shelf for cooking purposes. When I recently started hearing about it's benefits for health and fat loss, I suddenly started seeing it in a new light. And my detox efforts with it saw the light of the day when my favorite and trusted brand came up with ACV with some extra love for moms! You will read in my Mama Earth Apple Cider Vinegar Review how they have made it extra good by adding some more super healthy ingredients!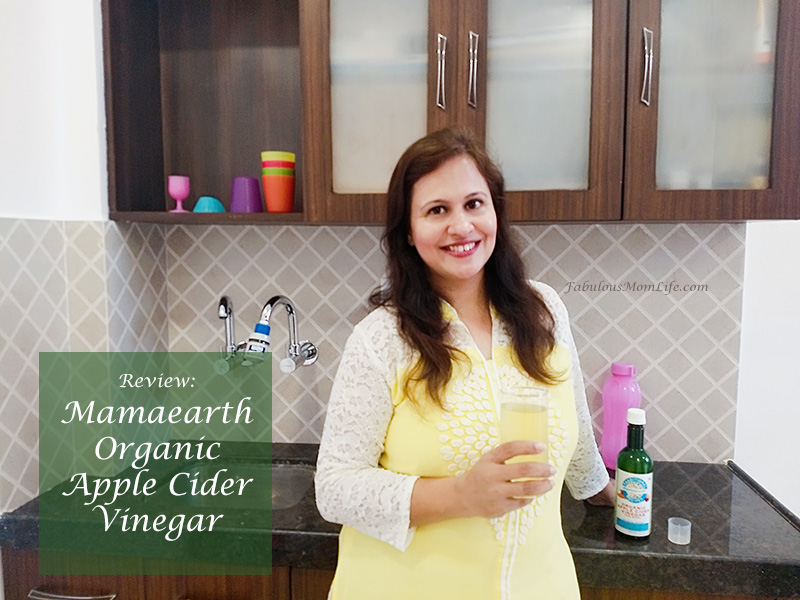 Why Apple Cider Vinegar is a Wonder product
Apple Cider Vinegar is a wonderful product! It works wonders for your body from the inside, from the outside (hair and skin), helps detox and lose weight, and is also super useful for household uses. Right now, I am particularly interested it it's detoxing and weight loss properties.
Apple cider vinegar is made from fermented apples and contains many nutrients, including bio flavonoids, calcium, phosphorus, iron, potassium, magnesium and vitamin A, B, C and E.
Most slimming products are 'rumored' to help lose weight, but apple vinegar has actually been scientifically proven as being effective for weight loss. Japanese scientists have shown that acetic acid helps promote fat burning and prevents fat storage.  Apple vinegar can also detoxify the body. This means that harmful substances like nicotine, alcohol, xenoestrogens (detergents, air pollution, cosmetics, etc.), bacterial toxins and chemicals from drugs and drugs leave the body more efficient.
New Beginnings with Mama Earth Organic Apple Cider Vinegar
Now there are plenty of brands selling Apple Cider Vinegar in all price ranges. But I couldn't be more excited that Mama Earth launched their wellness products for moms. I have tried and loved the Mama earth face mask and other beauty products. I was impressed that they keep their products all organic and free of toxins. And the launch of their wellness products has practically coincided with my own resolve to put my wellness on the top of my list from now on!
In keeping with their reputation of coming up with high-quality and time-saving products, the Mama Earth Organic Apple Cider Vinegar is more than just ACV. It has another super ingredient – Manuka Honey! Beginning your morning with Apple Cider Vinegar and Honey has a great many benefits. Mama Earth helps save my time by combining Apple Cider Vinegar and Manuka Honey. And there's more – It also includes turmeric and ginger root! These two are my TOP ingredients for boosting immunity in kids too. Come winter and I start giving them turmeric milk. Name any ailment and turmeric is my go-to ingredient. And ginger is my fav home remedy for anything to do with the throat!
Final Thoughts
Every now and then, my half-hearted weight loss and wellness efforts have included different morning routines. Some days, I had warm honey water. At others, after reading Shilpa Shetty's book on nutrition, I started drinking turmeric dissolved in water to boost my immunity. A sick momma is simply not done, after all! But finally, thanks to Mama Earth, I now have a perfect morning routine of Apple Cider Vinegar + Manuka Honey + Turmeric + Ginger Root. That takes care of my detox, weight loss as well as immunity boosting endeavors in one go. It helps to make a smart product choice, doesn't it!
It is easy to use. Just dissolve 10 ml in a glass of water and consume on an empty stomach. That's it. Four different healthy morning routines in one swift move!
Needless to say, I am totally recommending the Mama Earth Apple Cider Vinegar for all you moms out there! Let's start taking care of ourselves! I am super happy that a brand who cares for moms decide to come up with wellness products created with their special needs in mind. Stay tuned for my review of other products from their #traditionalrecipes range 🙂