For every single time that we complain about not getting an international product easily in India, we should celebrate the fact that India is the best place to find hot-selling discontinued products that are not available elsewhere. So, 2 years after its launch, when the Sam's Picks kit of Real Techniques makeup brushes is not to be found elsewhere, we are able to find it easily on popular online retailers like Myntra and Amazon.in. Here is my review of the kit.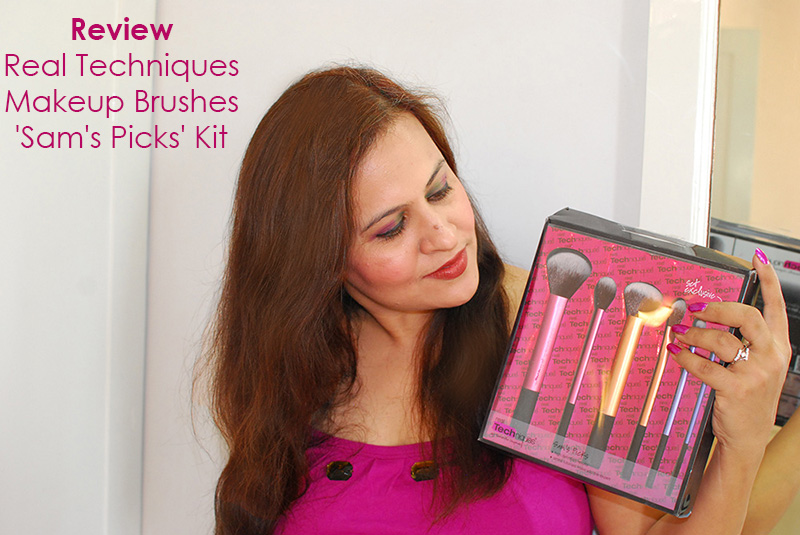 Real Techniques are your best bet for professional quality makeup brushes at affordable prices and every makeup lover knows that. Makeup artist Samantha Chapman of Pixiwoo is the brains behind the concept of affordable pro makeup brushes that goes the name of Real Techniques. In a special limited edition set of 5 essential (and 1 exclusive) makeup brushes named Sam's Picks, you can get the best of them all.
The brushes not only look fabulous with the two-toned styling in metallic pink, orange and purple but the exclusive brush is a real asset. Here's what you get in the kit.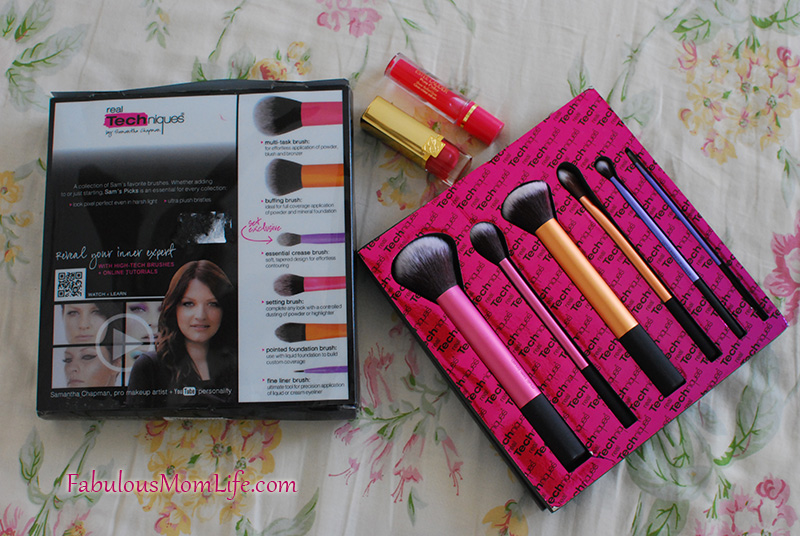 1. Multi-task Brush
This is specified for use with powder, blush or bronzer and it does an absolutely great job. The large brush with its soft bristles gives you a very natural blushed look.
2. Buffing Brush
This is for full coverage of powder or mineral foundation. Since I use liquid foundation, I am yet to test this but from what I hear from other beauty and makeup bloggers, it gives a very good, natural coverage. I plan to use mineral foundation soon and will update this space when I do.
3. Setting Brush
This is intended for "controlled dusting of powder or highlighter". I find it very useful to apply concealer or highlighter on the contours and it is also the perfect size to quickly apply eye shadow when you are in a hurry!
4. Pointed Foundation Brush
This is especially effective for use with liquid foundation and concealer/corrector when you are aiming for coverage at a particular area. It works very well when used to apply corrector using one side and then blend it with the other side.
5. Fine Liner Brush
This is a lovely, hyper-sharp and precise liner brush that will give you excellent results with gel eyeliners. It is even better than the brush that comes along with the gel eye liners.
6. Essential Crease Brush (exclusive to the set)
And the best part of the set – the exclusive essential crease brush. All other brushes in the set are either available separately or as a part of other sets. But this one is only available with this set and it worth it. If you love eye makeup, you will love this brush. It is perfect for precise eye shadow application in the hollow of the eyelid and blends it beautifully with the edges all the while feeling very soft on the skin. You will have to use it for yourself to understand how soft it can feel in comparison to other eye shadow brushes. It is the perfect size and does not bleed your eye makeup to the brow bone. My favorite part of the set!
Summing it Up
To sum it up, this kit might be of limited use to you if you already own some of these brushes separately or with other sets. You might also find some of the proposed uses limiting in nature but you can always find your own uses for each brush since you know what works best for you. However, if you do not own any of these brushes and are looking for excellent and precise applicators, then this set is perfect for you. Real techniques makeup brushes are known for their quality and affordability and this set is a must have for all makeup lovers.
Price: I bought my set for Rs. 1750 from Myntra which I thought was a swell deal, but you can now get them for Rs. 1100 from Amazon. It just keeps getting better, doesn't it?