Building a maternity wardrobe is always a challenge. You want this most beautiful and important part of your life to be styled to perfection. But you are also in between sizes and don't want to spend too much on what you will be wearing for only a few months or at most, a couple of years but with a forever changing body shape.
Well, if you want to spend only a few carefully selected maternity styles, make sure you have 1-2 most comfortable maternity jeans or leggings and a few numbers of comfortable and stylish Nursing Tops. Classic colors like black are of course preferable because of their versatility. And I will share today with you, the most versatile, functional and stylish nursing top that will be your best investment in your maternity closet. In fact, it comes in 2 styles and you must have both of these.
Maternity Tops by Mommy Cuddle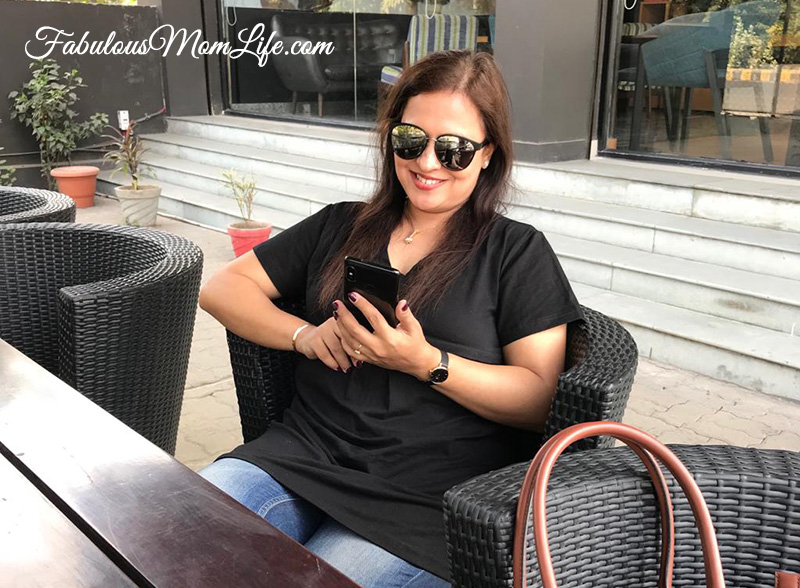 The classic black top is a perfect choice for pregnancy and breastfeeding phase! Not only do they dress you slim, they can also be paired with a number of other separates and accessories and can be dressed up or down with layers. These two styles from Mommy Cuddle maternity tops will be perfect for going to work, going out or going to a birthday party even. Featuring a V-neck and a round neck, both tops are chic and make breastfeeding a breeze. Available in a free size, both tops will take you from the later stages of pregnancy through your nursing stages in style.
V-Neck Mommy Cuddle Nursing Top
The V-Neck maternity top by Mommy Cuddle is very feminine and makes you look slim. Pairing it with classic jeans will give you a lovely appearance and there is no dearth of accessories to amp up your look with! The classic cut of this maternity top will make every silhouette look slimmer.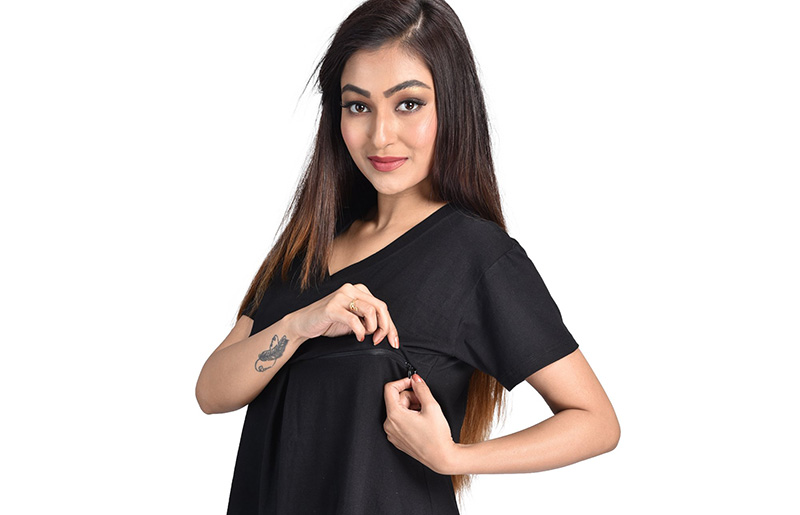 The little horizontal overlap under the bust conceals a zipper that makes breastfeeding convenient. The top is made of cotton and spandex fabric which ensures quality retention and comfort during every stage of pregnancy and until well after birth.
Round Neck Nursing Top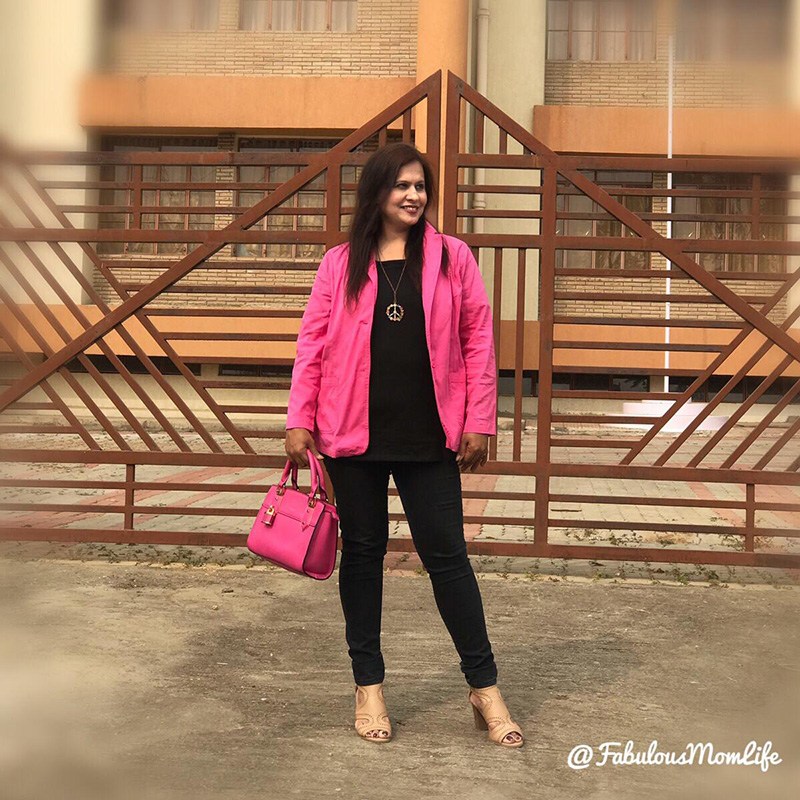 With the same fabric, ease and style quotient of the V-neck top, the round neck is the perfect top to dress up by adding a cover like a jacket or a blazer or even a scarf. This top follows a different style to make it breastfeeding friendly – a double layer concealed inside the bust area.
This makes the front look like a regular top without any horizontal stitches. And this in turn, makes the top perfect to layer upon and accessorize with long necklaces. Nobody will even realize it is a nursing top and you will look fashionably chic throughout.
Mommy Cuddle Nursing Tops – My Thoughts
Affordable Mommy Fashion
Figure-flattering silhouettes
Versatile color and style
Easy, discreet Breastfeeding access
Mommy Cuddle is a brand that has always come up with thoughtful products to make mommyhood easier. They were the first ones to address the issue of preemies and the difficult stage of the first few months after childbirth with their kangaroo style nursing top for newborns. I have loved both the nursing tops from Mommy Cuddle for their lightweight, breathable and stretchy fabric that is incredibly soft to skin.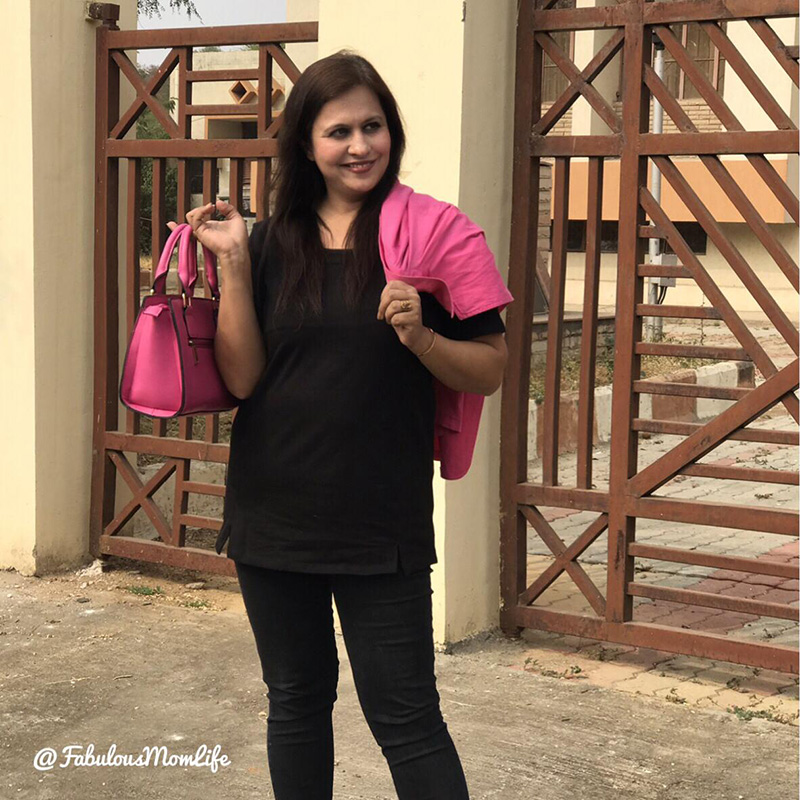 Both have very easy and discreet access for breastfeeding. The comfort fit will take you from pregnancy to postpartum without the need for buying separate clothes. I have worn both of them for hours together and never once had to fuss about them. You can completely live in them! They are exactly that level of comfortable that you would want during your nursing days.
But as a style-conscious mommy, I have to admit that what made me a fan was their classic style, figure-flattering cuts and the versatility to be dressed up and down with accessories. I think these two tops, in black of all colors, will give all new mommies a super chic look at any time -whether you wear it to work or when going out. I am highly recommending these nursing tops all new Indian mommies and mommies-to-be. Check them out. You won't regret this purchase.
Mommy Cuddle Website – Free Shipping, Free Exchange, Easy Returns, COD
Amazon India – V-neck Nursing Top, Round Neck Nursing Top