Having a Baby is the most amazing experience a woman can have, so why not flaunt it in style? Showers have hit the town and all you fabulous mommies-to-be out there must've started grinding their wardrobes to pick out something that won't make you look huge and will also perfectly gel with the rains outside.
I had no clue that something called 'maternity fashion' exists during my first pregnancy. I borrowed my sister's huge salwar kameezes to get through the latter part of it! My first brush with 'nursing clothes' was also when my darling hubby bought me an outfit from his overseas trip to help me beat the postpartum blues. But I was quite an expert on the subject by my second and a pro at it during my third! All 3 of my pregnancies took me through monsoon and I made sure the rains did not dampen my spirit by adding a little more lipstick…lol! Here are some of my favorite tips, outfit ideas and inspirations from other mommy bloggers to help you look your best in monsoon during your pregnancy.
Planning Your Outfits
Clothing is already such a hassle during pregnancy. Monsoon makes it even more difficult with the humid weather. And rightly so! This is the time when our body reacts the most with each mood swing; and for this reason alone, you should always go for whatever makes you happy. Look for pieces that are in keeping with the season, go well with your pregnancy bod and which provide a comfy as well as trendy look.
My first and best piece of maternity clothing was a maternity jeans! It lasted me for two pregnancies and was worth every penny spent on it. I followed it with a maternity capri as well. And finally, leggings and jeggings are a boon for pregnancy fashion. Look for one that has a super comfortable waist and can accommodate your growing belly.
But if you do not wish to splurge on one, you could pick your favourite 'Boyfriend Jean' (God bless the trend!) with a cool tee. I even borrowed a lot of my husband's tees towards the end! But if you are buying new tees or tops, take my advice and go for nursing tops only. They will last you throughout pregnancy and even the breastfeeding stage. If you don't find any that you like, just chill and shop for whatever you like. You can always convert it to nursing wear by adding belly bands or cutting open a camisole at the breasts, to wear inside. (I just made slits in 2 camisoles and used them as the inner layer when breastfeeding in my regular tops).
For breezy evenings and vacations, you lovelies may choose a gown or a maxi dress as well which is much, much more easy going and will also save you from looking large. You can either go for a colorful Nursing Gown or pick a Chiffon Gown with floral prints to add more splashes to the outside drops.
Always layer your clothes during monsoon! I loved my bright pink jacket for layering. It lifted my spirits and helped during mood swings. Scarves and stoles are also perfect for chilly monsoon days. The habit of carrying a cover with you will also help you during the breastfeeding stage to keep you prepared when you need to feed on the go or in a public space.
Any pick from the above will go just right on any other rainy day without compromising your love for fashion! After all as someone has stated, "Life's too short to wear boring Clothes".
What Goes Inside
Other than the camisole tip mentioned above, I made sure that any new bras I was buying were nursing bras only. There are so many lovely ones available now that you won't be able to make your first purchase. They are perfect for your enlarging breasts and make breastfeeding after delivery a breeze. For panties and briefs, you have a choice. While boy shorts are very comfortable, they are only available with a 'below the bump' fit. I somehow loved the support that 'over the bump' panties gave and bought a pack of 3.
If your bottom underwear is not over the belly, you can also make up for it by wearing a belly belt in your last trimester to give a grip and comfort to your bump in this wet whether.
That Right Shoe!
After the OOTD thing is sorted, the question arises for the muddy whether footwear. The walkways being wet & grubby and the moms-to-be needing to be more cautious, you need shoes that are safe to walk and yet maintain the charm of the outfit. Slippery chappals or heels are a big No-No in pregnancy! They can create backaches and prove harmful as well.
So my favorite picks for footwear which is safe yet elegant are:
Shoes: Sneakers or Running shoes with a good grip. Fitness apparel and shoes are so fashion forward that you are going to be spoilt with choices.
 'Boots': Whether you go out in pants or in dresses and gowns, flat or low heeled Boots will never disappoint you! Choose from ankle, knee or calf length to make them water and mud repellent while you are out.
Crocs have come a long way from being the preferred monsoon footwear for ages up to 8! They are now available in really lovely styles for women. Go for the one with straps so that your grip is maintained. The non slippery soles from both inside and outside will let you even dance on the wet floor!
Wedges: If you absolutely hate flats, go for low height wedges. They are just perfect for maternity!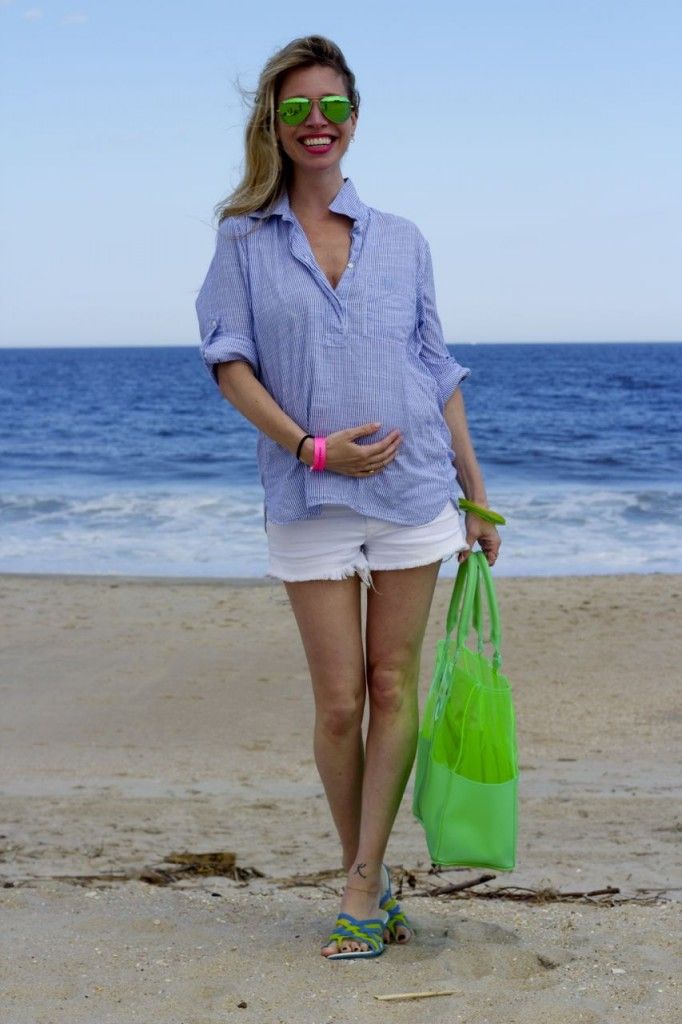 Someone rightly said that, "Give a woman the right shoes, and she can conquer the world". Now, "MOMS" we know are even superior creations!!
Fortunately for you all, maternity fashion is huge now in India. You can find maternity fashion at many online portals now. That wasn't the case a few years back. And I still have fond memories of finding my first 'Mama and Bebe' maternity jeans and a nursing top online at Shoppers Stop at a heavy discount! Now, their online sales have expanded, they have a dedicated maternity department and they carry almost all maternity essentials in one place. So you will not even need to step out to shop for them. Try such online stores for a more style savvy rain experience in your memorable maternity days!