Ellora caught my attention right away at the Fashionista Exhibition. The style savvy owner of Ellora – Pahul – was looking chic in her own creation and showed me some lovely fusion party wear outfits that blew me away. And my favorite pick from her label is here – a beautiful, regal number in rich wine shade.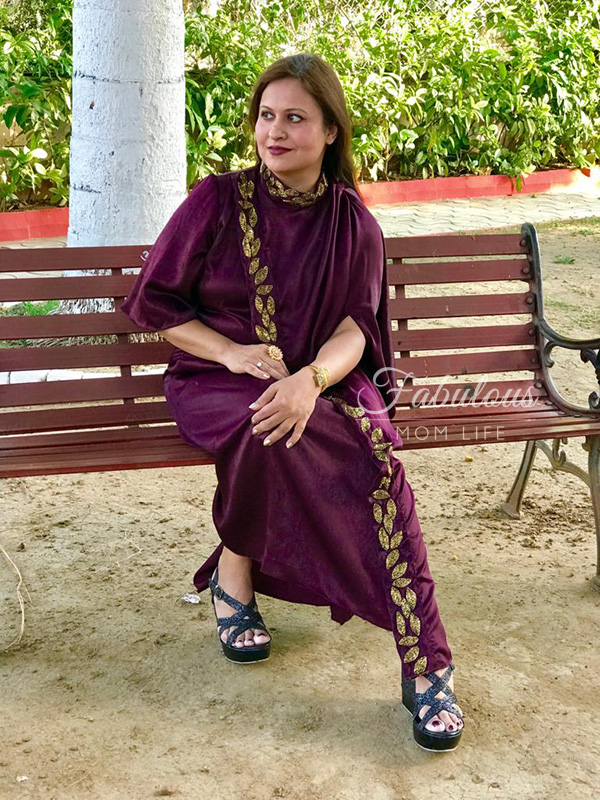 There are many, many reasons to love this Fusion, Indowestern dress – the first one being that it makes you look Fabulous! The color and the styling is sure to flatter every complexion and shape.
Figure Flattering Drapes
The first thing to fall in love with this dress, is the beautiful drapes that are strategically placed to hide all your flaws. Perfect fashion choice for Indian moms to step out in confidence.

Instead of hugging every curve, the stylish gathers and drapes of this dress skim all the curves and give a lovely Grecian look. Flowy drapes cover the area below the belly and also over one shoulder making the dress style itself very beautifully around your figure. The asymmetrical hemline gives it a very glamorous look.
Embellished with Handwork
What lends this dress the perfect party touch is the embellishment.

The exquisitely done Cutdana handwork (embroidery with glass beads that are cut in angles to reflect light) runs around the high neck and then vertically along the length of the dress. The gold beads compliment the wine color beautifully.
Rich Sandwash Silk Fabric
Both the color and the material of the fabric make this Indo-western dress the perfect choice for cocktail and evening parties.

The rich looking sandwash fabric not only has a lovely glaze but is also perfect for holding together the pleats, gathers and the drapes. The decadent plum wine color makes sure that my outfit turns many heads!
Fuss-free Design

The elegant drapes might make it look daunting to put together but in actuality, you just need to slip the dress over your shoulders and you are done! I only accessorized it minimally with a handcuff, a cocktail ring and shimmery high heels. Takes about 5 minutes to put together the outfit!
Where to Order
Ellora is a private label and you can follow them on Instagram to check out more of their designs. To place your orders or to know more details, send a DM directly. You can also find their stall when the Fashionista Exhibitions take place in your city 🙂