All in a day's work! Wore a casual and comfy jeans+tee outfit in the day and paired it with my new tan bag and boots. Then spent the late evening watching Netflix India (yay!) after the kids went to bed.
Casual Everyday Mommy Outfit Spiced Up with New Bag and Boots
Netflix is in India! Isn't it great! While I love Indian food, Indian fashion, Indian way of life – Indian telly shows are something I cannot relate to and cannot enjoy them either. I am happy to have more options other than YouTube now. Well, I signed up for the trial membership immediately and spent all my commuting time browsing on the Netflix App my options for what to watch with my husband later in the evening.
My outfit for the day, although a casual mommy look, got me some compliments so I thought I will share some pics. It wasn't a big deal to put together. Resources at the end of the post.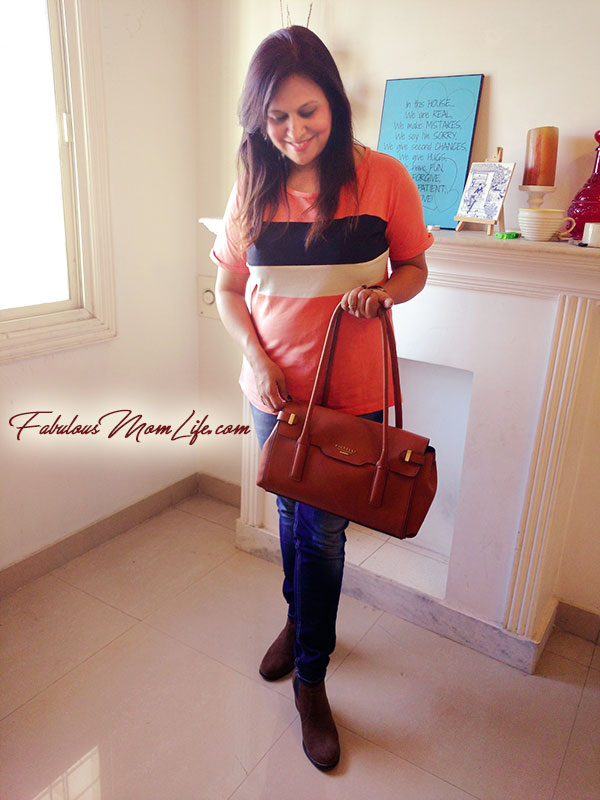 I love my new tan bag from Fiorelli! It is a lovely foldover style and perfectly sized for me. It also goes great with my favorite jeans and even my boots. The boots were a mistake yesterday, though. I thought I would only be in the car mostly. But I had to walk quite a bit unexpectedly and my feet hurt by the time I was back. Had I known I would have to run about the town, I would have stuck to my sneakers. The two together did spice up my everyday outfit, though!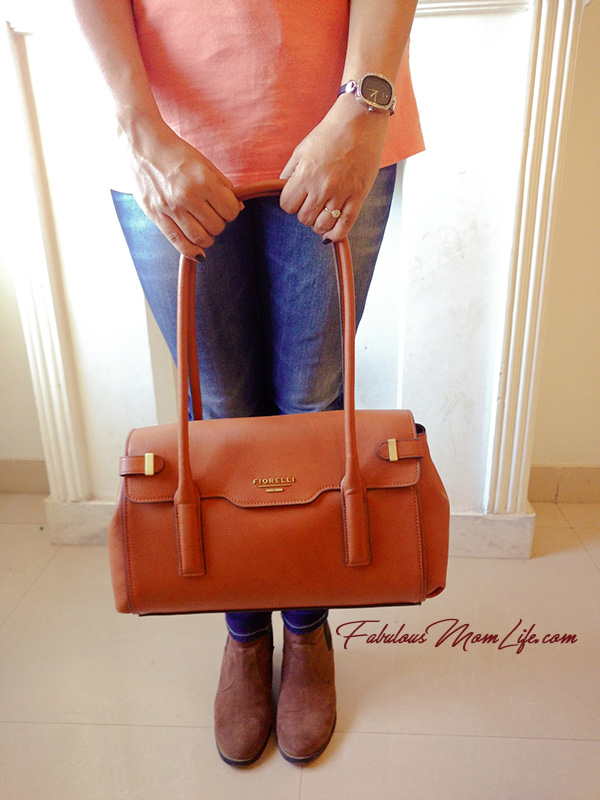 Back home, we put the kids to bed and finally experienced Netflix India! We began by watching the most popular 'Netflix exclusive' series 'Narcos'. It was an engaging as 'Homeland' and I cannot wait to watch the next episode today.
Netflix is Addictive!
In the meanwhile, I cannot stop browsing Netflix. Some shows I have never watched and cannot wait to watch with my husband because our interests are almost similar when it comes to TV entertainment and movies. Others like 'House of Cards', I want to watch from the first episode. Some of the shows on my 'to watch' list are:
The Crown
Stories by Rabindranath Tagore
Russell Peters
Haraamkhor Movie
Madaari Movie
Santa Clarita Diet
Dhanak Movie
Gossip Girl (every single episode…again!)
Outlander
My kids are also going to be thrilled! Many US cartoon shows are available. And for all ages too! Ever After High is the first one my eldest daughter is going to watch, I can tell you right away. But I can't wait to see her reaction when I show her:
My Babysitter's a Vampire
Sinbad
Middle School – The Worst Years of My Life (Lol…I will check that one myself before showing it to her!)
A Series of Unfortunate Events
Richie Rich
Project Mc2
Barbie
Lego Friends
Odd Squad
There's much for my younger two from Strawberry Shortcake to Sonic Boom and Storybots. I can tell you right now that our summer vacation entertainment is pretty much sorted out.
Screen Casting
I use my Google ChromeCast to stream the live videos on to my TV screen. It is something I do for YouTube also. I think it is a great device and idea and I don't know what we would have done without it!
Outfit Details
Top – Style Quotient
Jeans – Roadster by Myntra
Boots – H&M
Bag – Fiorelli
Almost exactly similar boots are available from Hush Puppies: