With growing age, my focus has shifted to anti-aging beauty routines. Although I haven't been the most diligent person in taking care of my skin always, the biggest mistake I regret making is not realizing the importance of sun protection. With my newfound wisdom, I realize that sun can cause the biggest damage to skin. Now, sunscreens and sunblocks are a part of my daily routines (indoors or going out) as well as my handbag essential. Sharing with you today my new find in this TBC by Nature Sunblock Spray Review.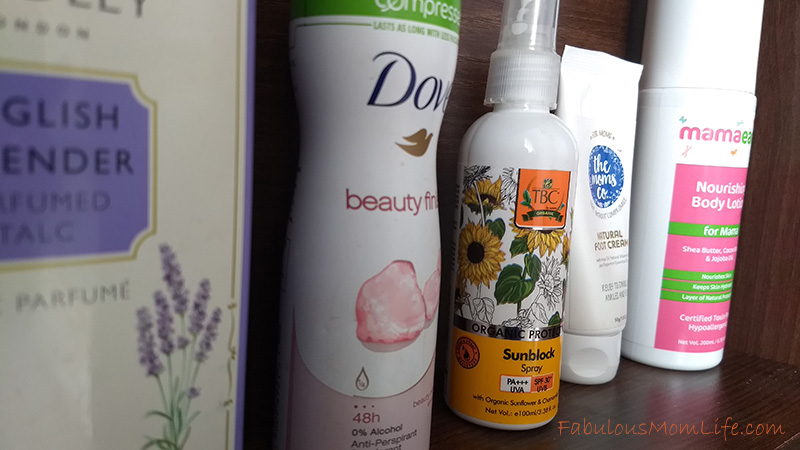 Another shift in my focus on anti-aging skin care has been switching to natural products. When in college, I picked up the best looking product from the cosmetic catalogs we used to browse through. Now, I look beyond the packaging and read the labels. My vanity and bathroom shelves are currently stocked with toxin free products from the likes of Mama Earth and The Moms Co. The latest addition to them is the organic sunblock spray from TBC by Nature. The nature-friendly guys at TBC sent me the 100 ml SPF 30 spray bottle to review and there is a lot to love about it!
If you follow me on Facebook or Instagram. you must already have caught a glimpse of it.
TBC by Nature Sunblock Spray Review
Other than the fact that it is organic, I also loved the spray form of it. It is so much easier to apply and spread on skin. I will point out one by one exactly what I loved, coupled with its best features.
Provides chemical free, organic sun protection
Neither makes my skin dry – or oily, like many other sunscreens do
Does not leave white patches on the skin and blends extremely easily
The spray feature is handy and much easier than rubbing in creams.
Contains hydration properties in addition to sun protection.
Contains organic oils like sunflower, chamomile, avocado, jojoba etc. which further help premature aging
Free from artificial fragrance
Contains no animal products
Priced lower than other brands – INR 249 for 100 ml!
Excellent UVA and UVB protection
Brand is registered with GMA i.e. Good Manufacturing Practices board. Something to smile about 🙂
Being light, oil free and free of chemicals, it is perfect for sensitive skin too.
Free of silicon, LLP and parabens.
Makes for the perfect base for makeup.
Proudly MADE IN INDIA!
Final Thoughts
There is nothing lacking in this sunblock spray. It has actually provided a solution to my prior sun protection issues. Most sunscreens and sun blocks that I have used earlier either make my skin look oily or are so dry that they leave white patches on the skin instead of blending in. The TBC by Nature Sunblock spray blends in without a trace without leaving my skin too dry or too oily. You can actually start your makeup routine with it. All the natural and organic ingredients are such a plus!
Shop Online
You can shop for TBC products online at Amazon.in and other retailers. While checking out their sun protection range, also check out the other amazing stuff they have. Their facial kits are very popular.
For specials and new launches stay connected with them on Twitter and Instagram.