Having clean, flawless skin as you age is serious business—just look at the multitude of products lining the shelves at your favorite beauty store. With the wide variety of cleansers, toners, skin-firming lotions, pore reducers and anti-wrinkle creams, I easily get confused. To address your skin care needs, a few cosmetic companies like Mitchell USA have developed the perfect collections to take care of all your anti aging skincare needs. Today, I share you with you a peek into the wonderful world of Lotus Bio-Repair anti aging products in my Mitchell USA Review.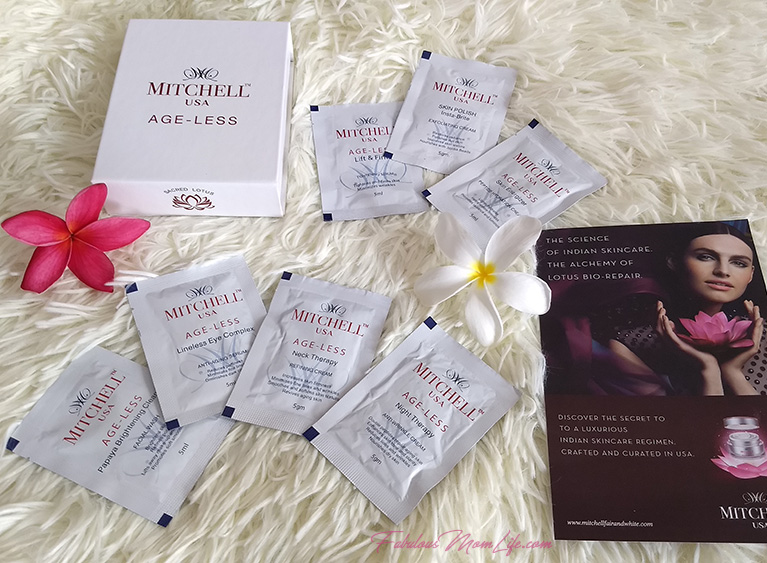 BIO-REPAIR Formula – The Power of Sacred Indian Lotus
Over the past couple weeks, I have been trying out every single one of the products by leading skincare brand – Mitchell USA. It has entered my life at a perfect time. I have been putting in extra efforts to take care of my skin especially after turning 35. What I loved most is that the brand uses the science of Indian skincare and crafts them into high-performance cosmeceuticals in USA.
The first thing to attract me towards these luxurious line of products was the mention of 'Lotus'! The skin care line promises the traditional Indian skincare regimen. Our sacred Lotus symbolizes purity and longevity. And not just during poojas and rituals. Scientists have discovered the 1800 year old age-defying powers of lotus seed extract which is a key element of the AGE-LESS line by Mitchell USA.
AGE-LESS Skincare Line by Mitchell USA
If you are looking for skincare designed for your 30 and beyond skin, you will certainly want to check out Mitchell USA's AGE-LESS line. Here is a brief description of each of their products and my thoughts on each one of them.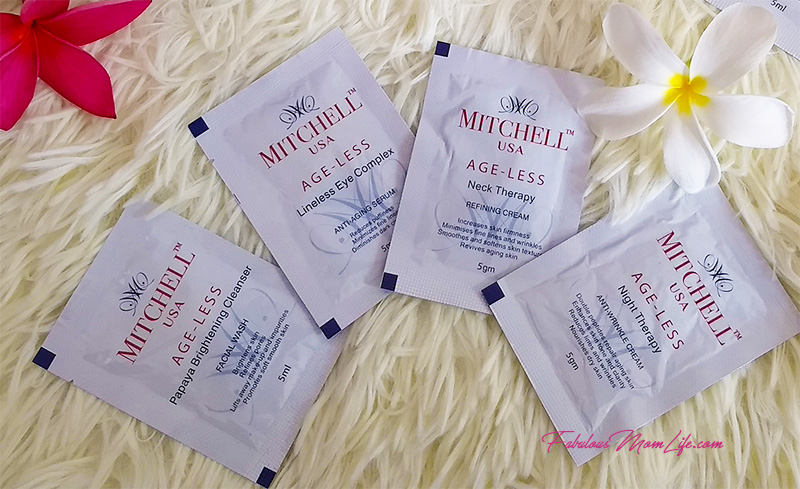 Papaya Brightening Cleanser
Very gentle cleanser that also brightens as it cleanses. Perfect for makeup removal and any time face wash. Contains some wonder ingredients like Amaranth protein, pomegranate, ginger etc along with papaya and lotus seed extract.
My Experience: The cleanser actually brightens the face instantly after each wash.
Lineless Eye Complex
Eye serum to minimize tiny lines and wrinkles around the eyes, reduce puffiness, dark circles and improve circulation.
My Experience: A wonderfully nourishing serum! My under eye area feels much more hydrated but (disclaimer) I have also already been using another under eye serum for a while now so I am unsure who is bringing the results. The list of ingredients does include Hyaluronate that is known to lift skin naturally!
Neck Therapy
The neck needs special anti-aging care! It is the quickest to give in to wrinkles. I was happy to see a product specifically designed for the neck area. It makes the Ageless products line perfectly comprehensive! The cream helps fight wrinkles and firms the skin of the neck.
My Experience: A regular use of the cream before sleeping at night has shown very good results. The neck skin feels much more soft.
Night Therapy
An anti wrinkle cream to repair aging skin, reduce lines and wrinkles and clarify it.
My Experience: Works like a charm and is at par with some of my favorite anti-wrinkle serums. I will need a full sized bottle to report my actual results though!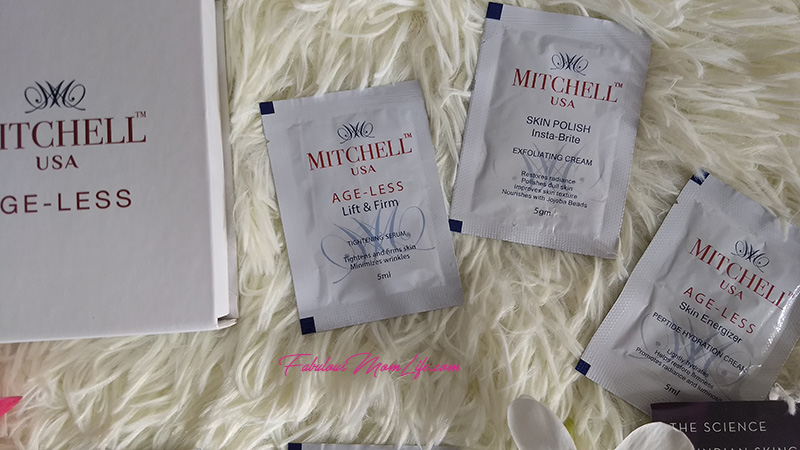 Lift & Firm
Skin tightening serum with instant lift botanical complex.
My Experience: I have been traveling like crazy this past week. And this Lift & Firm serum works like magic. I used it on tired skin before applying makeup. And even re-applied after a flight or a long day.
Skin Polish
Exfoliating cream with nourishing jojoba beads that restores radiance and polishes dull skin.
My Experience: MY FAVORITE PRODUCT! Did I tell you I am a big fan of Skin Polishers? Especially those that work instantly? Well, this one is exactly the kind I like. It reminds me of a favorite British skin polish I used to use that hasn't been available to me for quite a few years now. I believe I have found my replacement!
Skin Energizer
A peptide hydration cream that hydrates and brightens the skin instantly.
My Experience: This has been my follow-up cream after serums and the combination of products has worked beautifully. The entire line is created to work together for perfect results.
Mitchell USA Review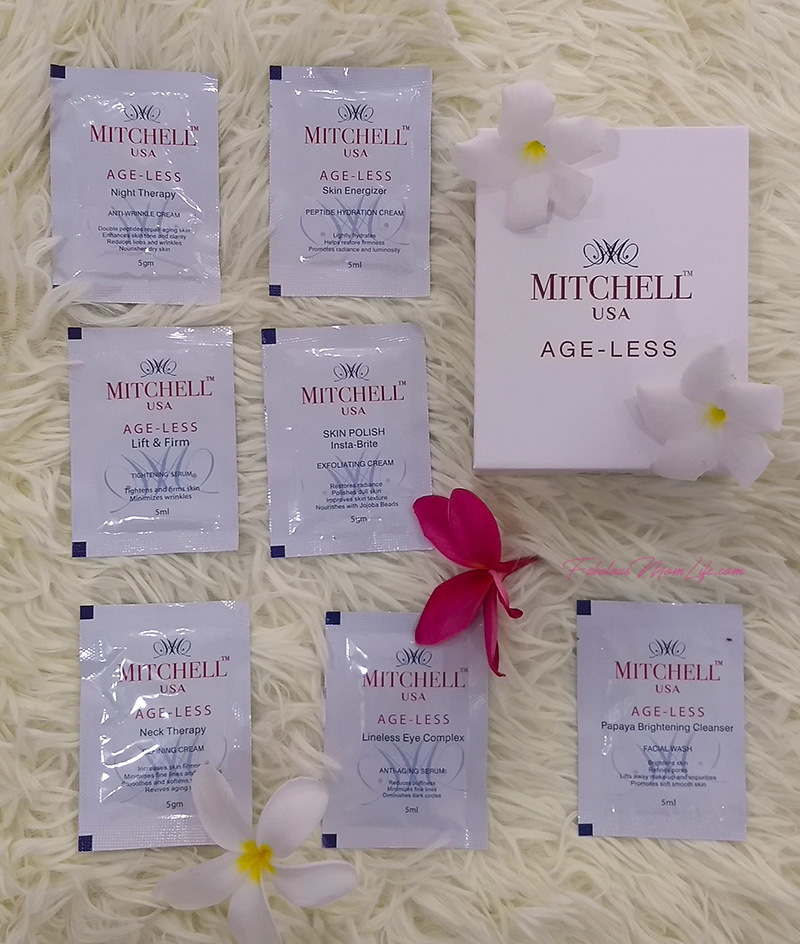 When it comes to our skin, it seems there's always something to take care of! In our teens we battle the pimples. With 20s come the dark circles that are our reward for late nights. In our 30s, we lament the first signs of fine lines and wrinkles and the dimming of our youthful glow. In our 40s, those wrinkles are firmly entrenched and we notice age spots in places we never thought possible. But the news is not all bad. It is possible to look great, no matter what our skin says. Brands like Mitchell USA are coming up with dedicated skincare lines to fight aging.
I am happy they decided to launch in India. Their products are all performance oriented and most of them show INSTANT results. The fact that they decided to look deep into Indian beauty secrets gets them extra points from me. The use of lotus seed extract along with other Indian beauty essentials like papaya, ginger, aloe, pomegranate, soybean, yam, ginseng etc. in a cutting-edge technology environment in the USA is a brilliant idea. Each product is also high on hydrating and nourishing ingredients which is exactly what the skin needs at my age.
All in all, extremely happy to find such a comprehensive skincare range aimed at anti-aging 🙂