Not so long ago, Indian moms fell in love with Mamaearth products for their babies. We had a quite a few moms telling us that Mamaearth products were their favorites when it came to choosing the best baby bath wash in India. Now, Mamaearth has launched a whole new range of toxin-free beauty and skin care products just for moms. I was sent some of their lovely products for a review and here is what I have to say.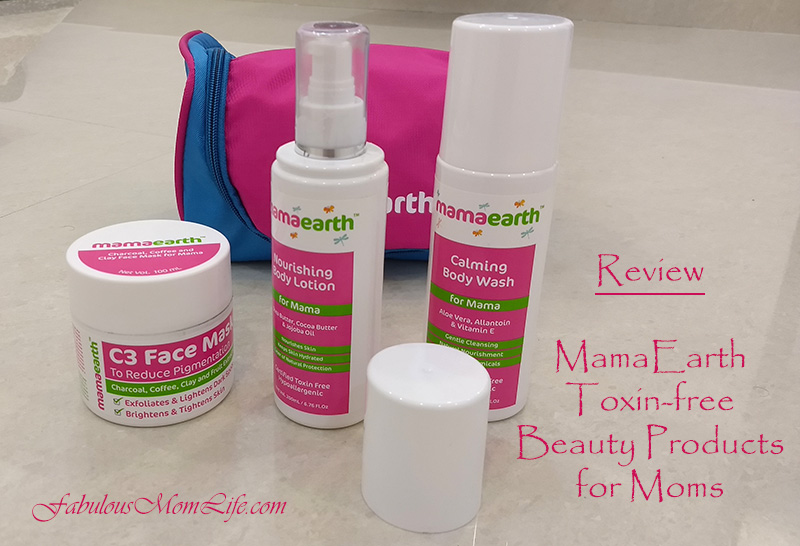 Moms are forever careful about choosing beauty and skin care products for themselves because of their close proximity to their baby at all times. I remember how I skipped coloring my hair for a quite some for the fear that my baby would end up with chemicals in her system. Does your baby put your hair in her mouth too? I am sure they do. All 3 of mine did! Back to Mamaearth, they have come up with a lovely range of products that are completely free of harmful chemicals. Each product lives up to the reputation that they have build by being Asia's 1st 'MadeSafe' certified brand.
I share 3 of these beautiful products and my honest thoughts on them with you today. The rest of the Mama range, you can look up at their website MamaEarth.in.
What I Loved About Mamaearth Products:
No Parabens
Free of Sulfates
Free from Mineral Oil even!
No Synthetic fragrances
All products are dermatologically tested in Europe
All products use 'MdeSafe' certified ingredients
No toxins
Cruelty Free
Non GMO compliant
Organic Powder used
A lot to take in, is it? Rest assured that I have been through every label on the products and they are 100% natural and nourishing.
Mamaearth Product Review
Let us move on to the actual products now. I was sent the 'Premium Mama Kit' that contained thse Mamaearth Beauty & Skincare products:
C3 Face Mask
Calming Body Wash
Nourishing Body Lotion
All these in a lovely toiletry kit bag. I will share more about each product one by one.
C3 Face Mask by Mamaearth
Charcoal beauty products are all the rage and I swear by them! Mamaearth has this fabulous formula where they bring together the three best Cs – Charcoal, Coffee and Clay!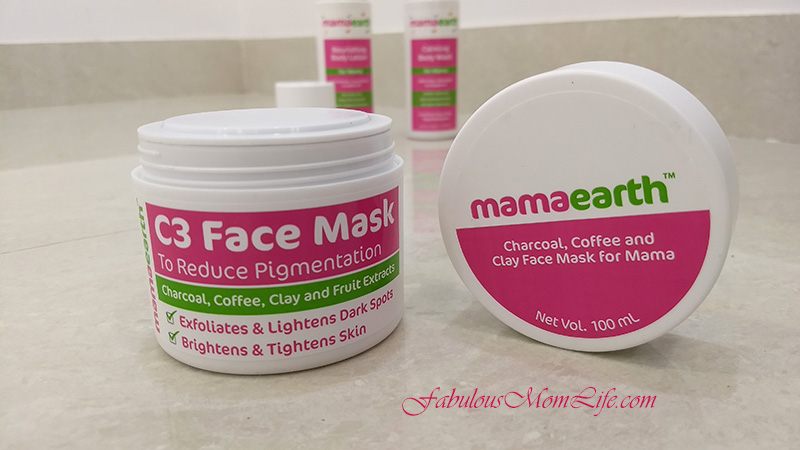 The Mamaearth C3 Face Mask is not exactly a mask. It is a wash-off face pack loaded with fruit extracts and minerals along with the 3 Cs that stimulate blood circulation and reduce pigmentation.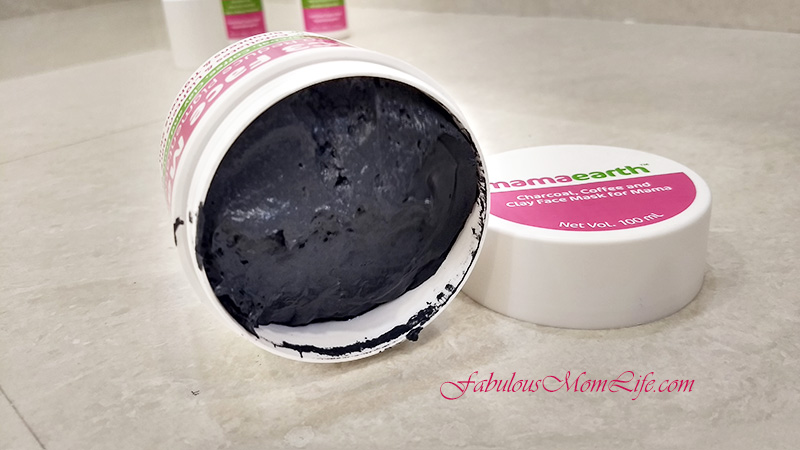 My Observation: It gives you an instant glow! My husband said 'Light Bulb effect' as soon as I walked out after washing off the pack. You must have seen some of the effects if you follow my Insta stories! So I give it full points, of course 🙂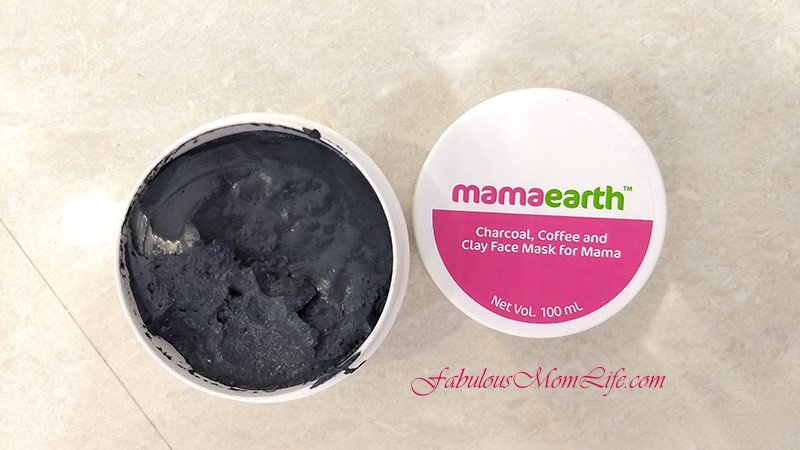 Mamaearth Calming Bodywash
I have long back ditched soaps and only use liquid washes and gels. My first impression of the Mamaearth body wash was that it is beautifully packaged.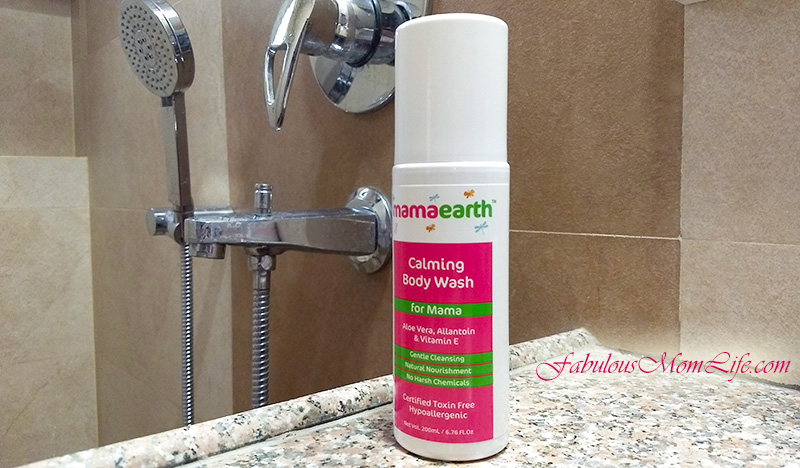 Now, it is tricky to review beauty products because there are so many of them that are good. I started off wondering what exactly I would have to say about it since I haven't really had any problem with any body wash I have ever used. But after I used it, I realized that I do have something unique to say.
My Observation: The calming body wash is very gentle on the skin and had a mild and pleasing fragrance. The Aloe Vera and Vitamin E contents made sure my dry skin held up well after use. I think this was also due the presence of their 'Secret Mama's Love Oil' that my skin did not dry out.
Now, once I was done using it, I felt very strongly about one factor. It is going to be difficult for me to go back to using the top Indian brand name body washes again. There is decidedly something 'chemical' about their smell and feel. It took me a shower with Mamaearth Calming body wash to realize the difference. You will right away sense (and love) that clean, fresh feeling of using an all-natural, chemical-free body wash.
Mamaearth Nourishing Body Lotion
The Nourishing body lotion by Mamaearth is enriched with some products that I swear by, for my dry skin – Shea butter and cocoa butter.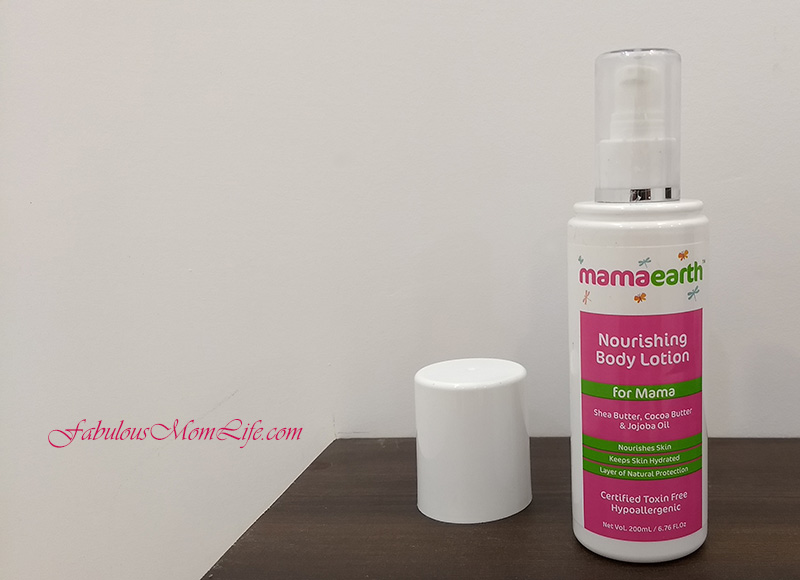 The body lotion is light, spreads very well and gets absorbed very quickly into the skin. The skin instantly feels nourished. It has several other lovely ingredients like jojoba oil, olive oil, wheatgerm oil and calendula extract.
My Observation: The lotion, although lightweight, works wonders for my dry skin. The difference is instantly visible. I am not exactly in love with the fragrance, though. I prefer the fragrance of the body wash much, much more. And I also faced some difficulties from the pump dispenser being stiff. Perhaps it is a one-off thing and not all bottles will have this complaint. The product itself is fabulous.
Final Thoughts on Mamaearth Products
Reading the labels of Mamaearth products for moms is a gratifying experience in itself. You see names of ingredients that you know and trust. Try doing that with other products and you are sure to feel that you are using nothing but chemicals mixed with cleansers and artificial fragrances on your skin. I love that they are bringing to India products specially formulated for moms who want no unsafe chemicals anywhere near their babies, even if it is caused by their own skincare products. Go on and give it a try! You will love Mamaearth!