That moment when you are seriously looking for help with your postpartum hair fall concern, and a trusted brand comes up with an entire set of products specifically to address your issue! That is exactly what happened with me :). Check out my Mamaearth Anti Hair Fall Kit Review as I share with you each and every product in the kit and my experience so far.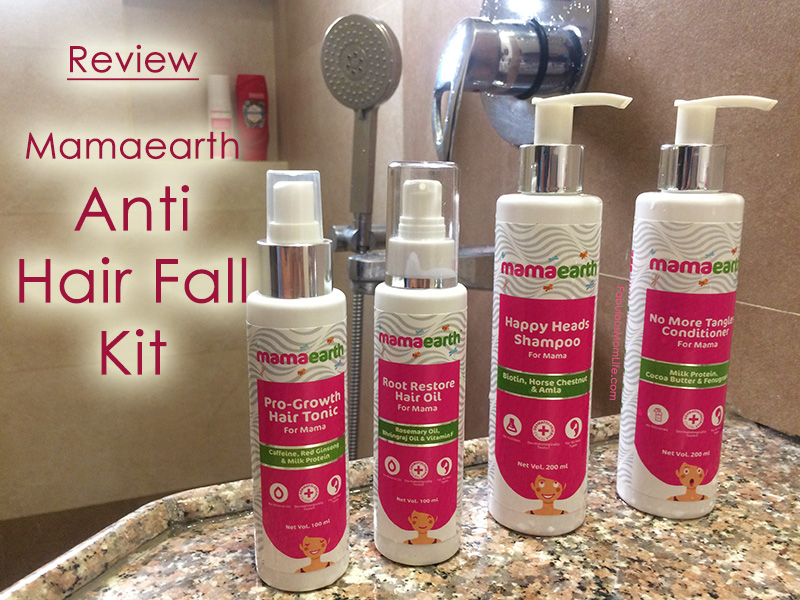 6 Weeks Challenge
The Anti Hair Fall Kit by Mamaearth has a 6 week challenge. However, I have only used the products for a week and a half now. The products are available for purchase now and I wanted to share my first hand experience so you can try them along.
As always, the products have a host of beneficial ingredients and are free of chemicals. So you need not really think twice before trying them out. All my experiences with their beauty and wellness products have been great. So, even before I complete 6 weeks with their products, I am sharing the first look and feel of the product with you today.
—-Results After 6 Weeks Updated at the End of the Post—-
Mamaearth Anti Hair Fall Kit Review
Mamaearth Anti Hair Fall Kit works in 4 steps. It has 4 products, all of which work together to fight hair fall. If you haven't already seen my unboxing video, here it is again:
Here is the first look of the attractive kit!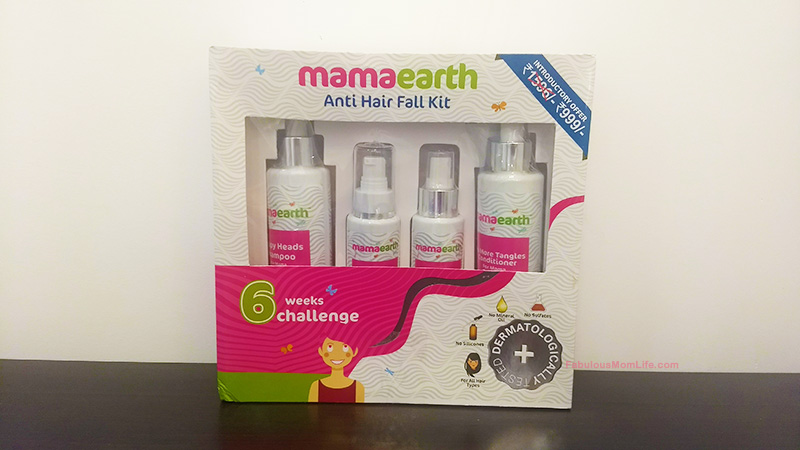 And in case you missed it, the best part of it again: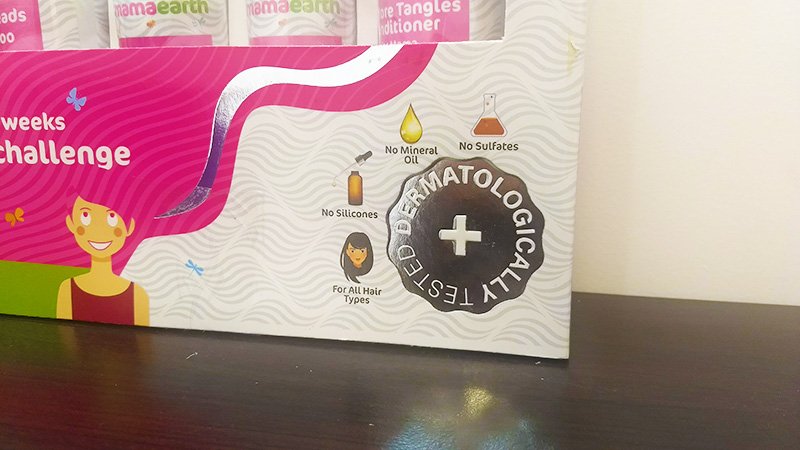 And here is the back of the kit – with details of the 4 step procedure.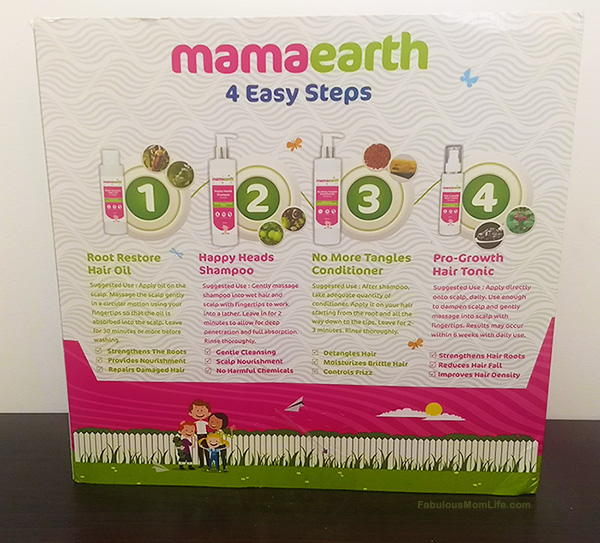 The Mamaearth Anti Hair Fall Kit contains:
Root Restore Hair Oil
Happy Heads Shampoo
No More Tangles Conditioner
Pro-Growth Hair Tonic
Here is how they look when just out of the box: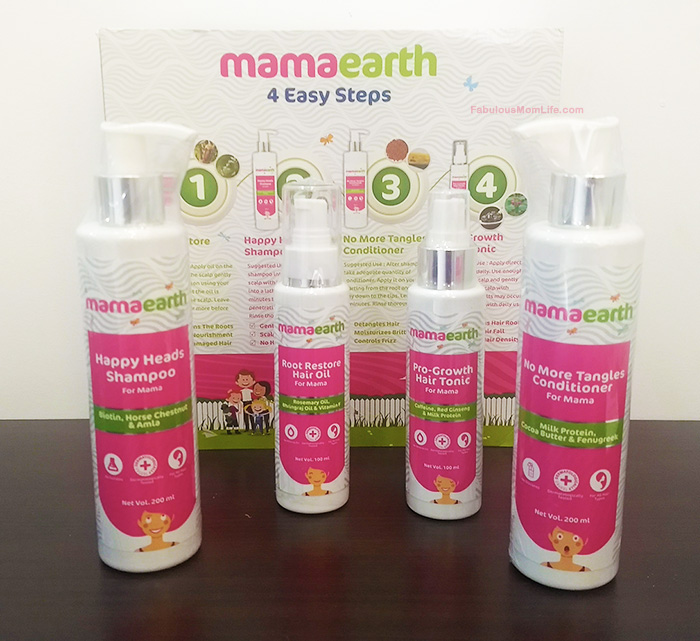 Let's take a look at each product and how it works against hair fall. Each product is followed by a link to purchase it individually. But don't buy yet! Scroll to the end for the special introductory price on the entire kit 🙂
Mamaearth Root Restore Hair Oil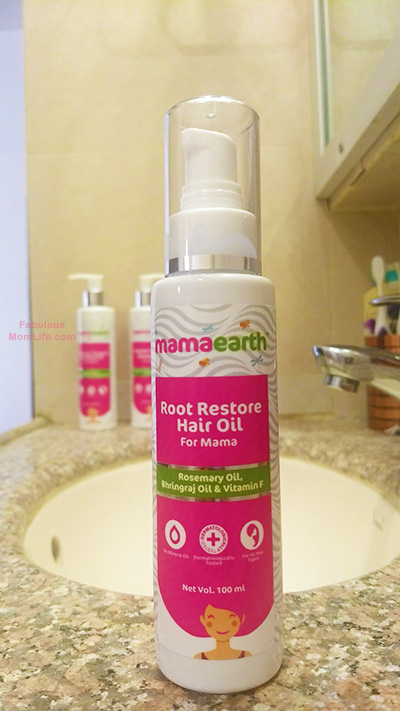 The first step of the treatment is the hair oil – a really wonderful product indeed with a blend of 10 herbal oils to strengthen the roots. Th one oil that does not go into it is mineral oil! The hair oil is free of phthalates, dyes, parabens and SLS.
I massage it into my hair 30 minutes before shampooing. I did away with the spray nozzle though.
Mamaearth Happy Heads Shampoo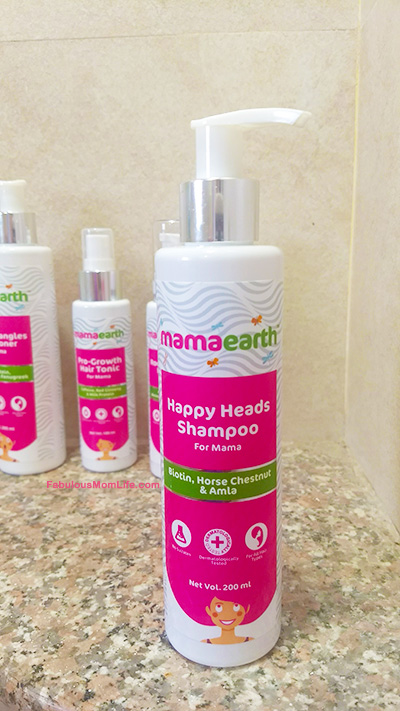 The 2nd step is the shampoo. Now, after being recommended a sulphate-free shampoo, I have been on the lookout for them. I even found a couple. But I noticed that sulphate-free shampoos do not lather much and it takes a lot of shampoo to clean your hair properly – especially if you have oiled it. But no such problems with the Happy Heads Shampoo! The shampoo is sulphate-free and foams really well! 
One thing to keep in mind is that you need to leave in the shampoo for 2 minutes before rinsing it off. Just like you leave the conditioner for a couple of minutes.
No More Tangles Conditioner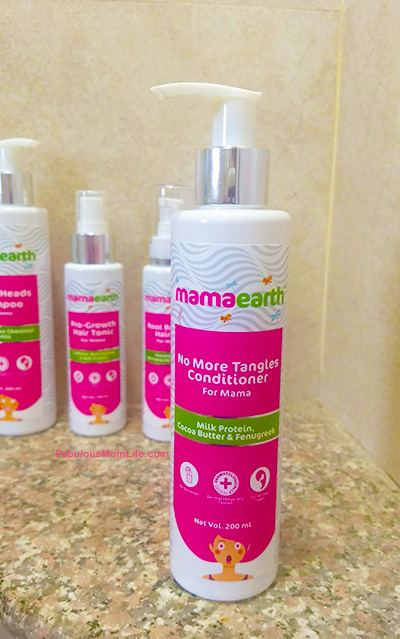 The 3rd step is naturally the conditioner. The No More Tangles conditioner contains milk protein and cocoa butter and is free of silicones. Now the conditioner does not give me hair as soft as my previous conditioners did. But I am going to stick to it because what I was using earlier has obviously not helped with my hair. The chemical rich conditioners may give an instantly smooth feel but I have done too much research on the subject now to go back to them. I will reserve them for the occasional salon blow dry.
The shampoo does give frizz free hair and contains Vitamin B5 to strengthen hair follicles.
Mamaearth Pro-Growth Hair Tonic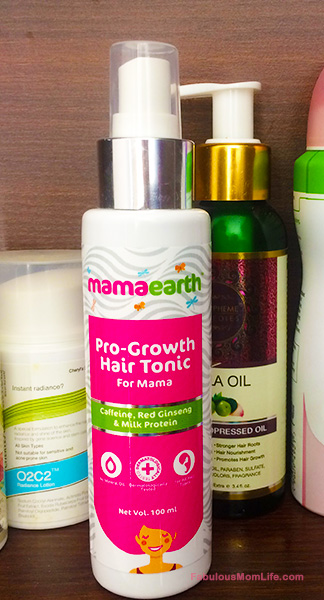 Step 4 that completes the 4-step hair fall treatment kit is the hair tonic with Korean Red Ginseng. It comes in a spray bottle and can be sprayed directly on the scalp. Massage with your finger tips and leave in. The directions on the bottle say that you can use it every day for best results. I have, however, used it only after every shampoo.
It is also a great idea to use the tonic before every blow dry!
Help With Postpartum Hair Fall
Increase in hair fall is a big concern for moms. True to their mission, Mamaearth has once again delivered a great set of products made thoughtfully for moms. The entire kit with the Hair Tonic included, is available for a special introductory price of INR 999!
After my hair fall consultation, I have realized that controlling and reducing hair fall is possible through a balance of correct hair products, lifestyle and diet. My Mamaearth Anti Hair Fall Kit review is clear enough on the fact that they take care of the correct hair products part. Switching to good hair products that are free of harmful chemicals is the first step towards taking care of your crowning glory 🙂
Results After 6 Weeks of Use
After regularly using the Mama Earth anti hair fall kit for more than 6 weeks, my results are not very encouraging. While I continue to use the hair oil and the tonic, the shampoo and the conditioner itself were not helpful for my hair type I guess. I noticed an increase in hair fall as opposed to a decrease. I am sorry to say that the results were not at all what I expected.
I had to share an honest opinion because no matter how perfect the ingredients used were, they failed to work for me.