I am sharing today my new beauty routine which is working wonders! The past few weeks have been blissful trying out products from the 100% chemical-free brand – Ang-Tatva. As beautiful as it's name, each product was specially formulated to suit my skin type and it's needs. Sundays have become at-home spa days for me with Ang-Tatva and I will be sharing the exact products and my routine with you 🙂
So we bumped into an old friend the other day at the mall and he gave some compliments about 'looking just the same as college days' etc. I brushed it away and then a comment appeared on my FB from yet another college friend. Pretty much the same sentiments. Now, I was partly on cloud nine and partly suspicious. I asked my husband why everyone around me was bluffing when my weight was certainly not the same as college days lol! Well, he asked me to go look in the mirror and check the glow on my skin!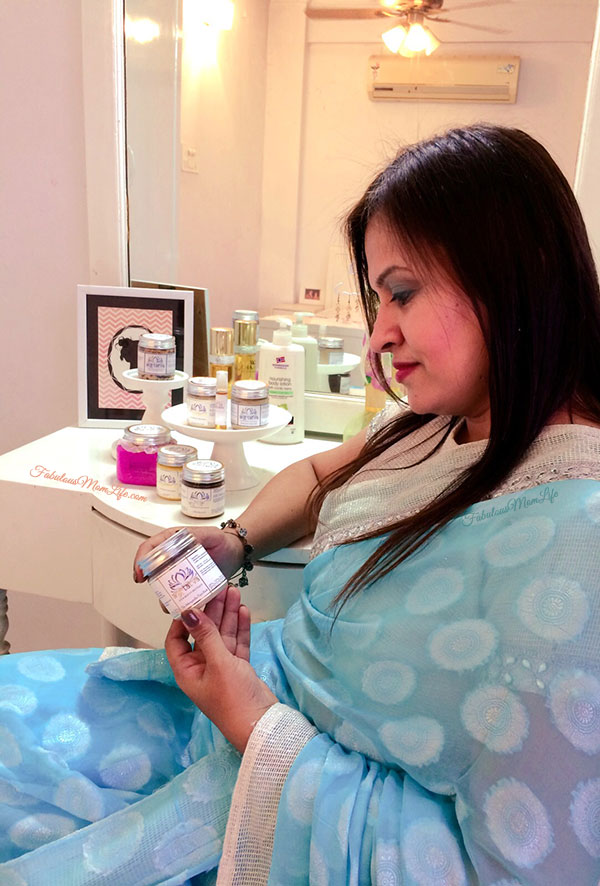 Now, my husband would find me beautiful even when I am sitting groggy-faced with a bedhead but this time he wasn't lying. My skincare efforts have been bringing great results and I have never had better looking skin during any other winters! And my only recent change in my beauty routine for the past 3-4 weeks has been using Ang-Tatva products.
Ang-Tatva Products
A little about the brand first. Ang-Tatva products are 100% natural and completely free from chemicals. The quality of each ingredient is visible in the results. Every product is and excellently prepared formulation. But what is best about their products is that you can ask them to customize each product exactly for your needs! Depending upon your skin and hair type and problems, the products will be formulated to help you get the best out of them. Before sending me these products, Misha Jain of Ang-Tatva asked me about my skin and hair type, age and beauty concerns.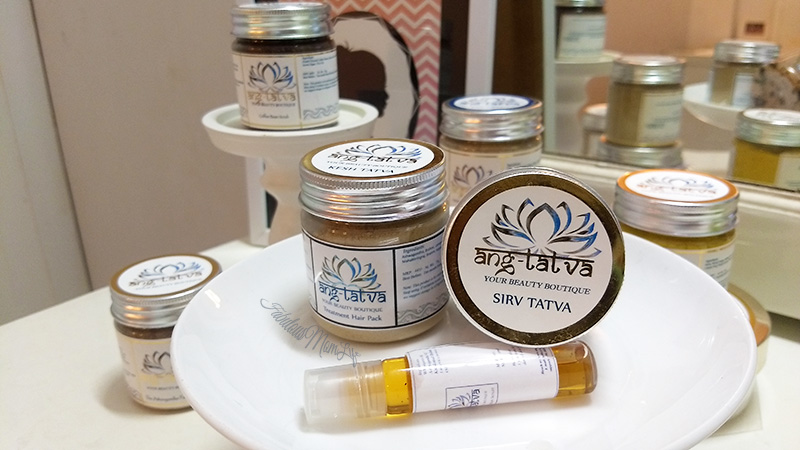 Based on the ancient Indian Ayurvedic beauty rituals, Ang-Tatva has beauty blends as exotic as the brand name. The products are divided into equally exotically (and aptly) named categories like Sirv Tatva (the bath and body range), Kaya Tatva (beauty, face packs), Kesh Tatva (hair care) etc.
Ang-Tatva Beauty, Skin and Hair Products Review
I have been solely using these products only for the past few weeks with the exception of a hair oil and all the results mentioned are a result of it. I will share each product that I have used and how I liked it. Also, I have shared my exact beauty routine at the end. At the end of this post, you will also find my personal favorites from the range.
Ang Tatva Treatment Hair Pack
This hair pack from their 'Kesh Tatva' everything your grandma ever told you to apply on your hair! It contains amla, methi, coconut milk, brahmi, mahabhrigraj, kapoor, ashwagandha and many more magic ingredients. I use it mixed with curd.
My hair feels instantly softer, smoother and has a lot more volume after using this one. Superb product. Highly recommended for anyone with fine hair like mine that need some conditioning and care.
Ang-Tatva Scrub Off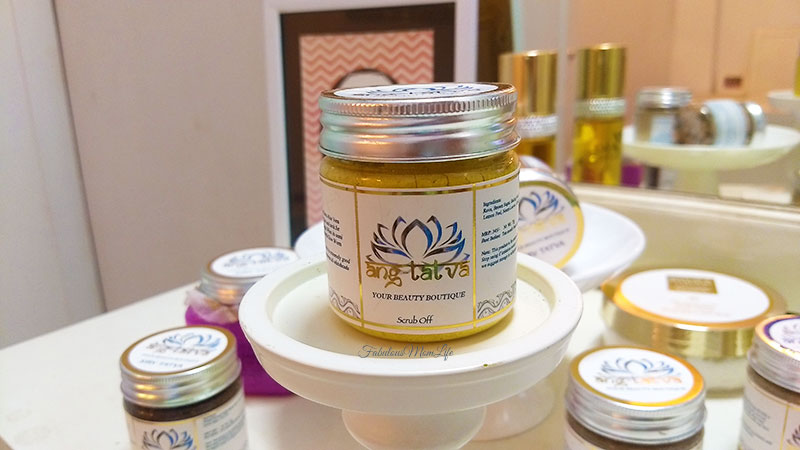 I was so sure this one contained turmeric and would leave my skin yellow (turmeric packs always do!) but it ha become one of my beloved products from Ang-Tatva. Along with Haridra turmeric (that did not stain my skin AT ALL), this scrub contains rawa, brown sugar, orange peel, aloe, lemon, neem, kesar, methi and many more herbs.
The perfect scrub ever. It is not at all abrasive for the skin like many more scrubs are. It is applied like a face pack and gently massaged off. Followed with one of the packs, it brings an instant glow to the face.
Ashwagandha Face Mask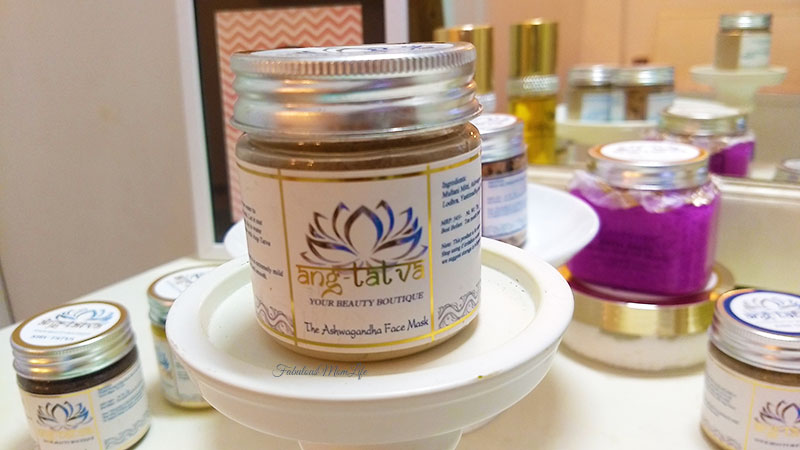 Mild enough for regular use, the Ang-Tatva Ashwagandha Face Mask contains fuller's earth, ratan jyot, raktchandan and many more essential herbs. An extremely brightening and smoothing face mask from my experience!
The Glow Worm Mask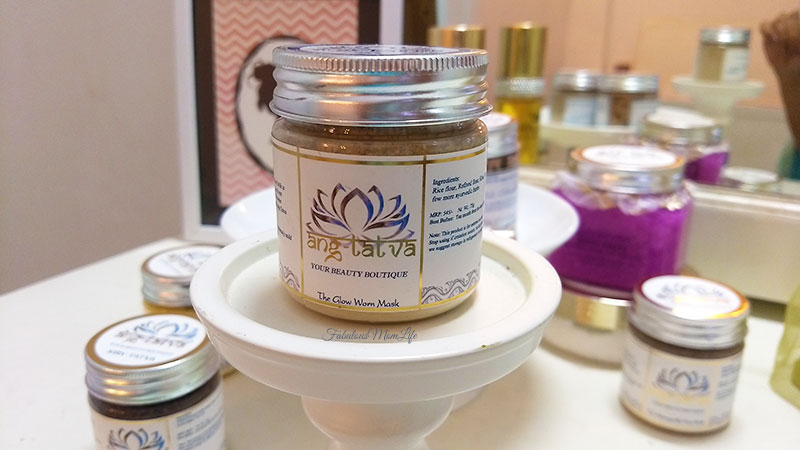 "Mamma, it will turn you into a glow worm!", cried my son. And little sister wondered why it is called a glow worm mask when there is no mask (like her tiger and panda masks) in the shape of a glow worm lol!
Well, to their relief, I wasn't transformed into a glow worm. But this magical face mask has become my favorite of all Ang-Tatva products. If instant radiance is what you are after, do give this a try!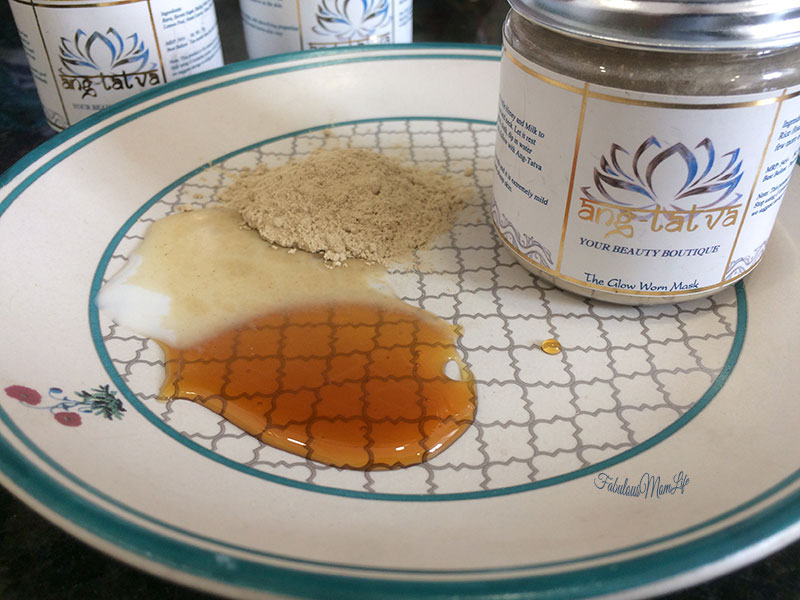 I make a paste with honey and milk. The ingredients list rice flour, khus and kesar among others. I don't which one creates the magic, but this pack is a sureshot winner for me!
Ang-Tatva Hand and Foot Soak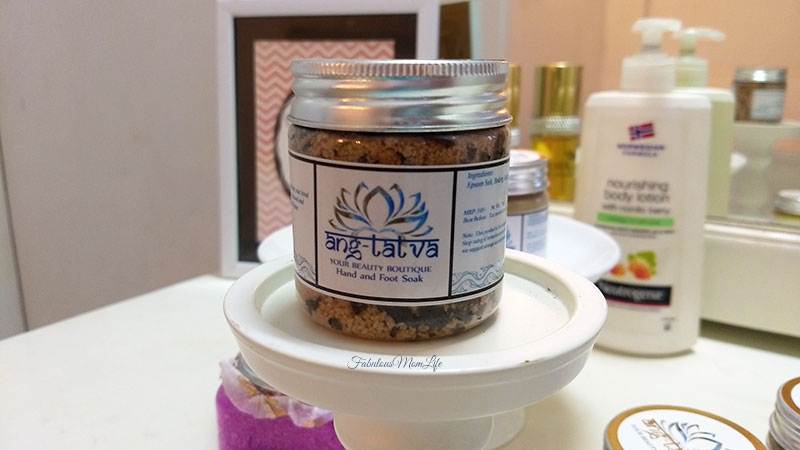 I cannot stress the importance of a hand and foot soak in the life of a mom. Moms tend to ignore their hands – and even more, their feet. The face gets some time somehow but the loving hands that take care of our children and our tired feet are often brushed aside citing lack of time.
It's time to change this mommies! I am in love with this divinely fragrant scrub and soak from Ang-Tatva. A mixture of rose petals and lemon peel with bath salts and soap crystals is so relaxing for tired feet. Baking soda helps soften the feet and the heels and repairs cracks too. You should definitely put this one on your wish list 🙂
Coffee Bean Body Scrub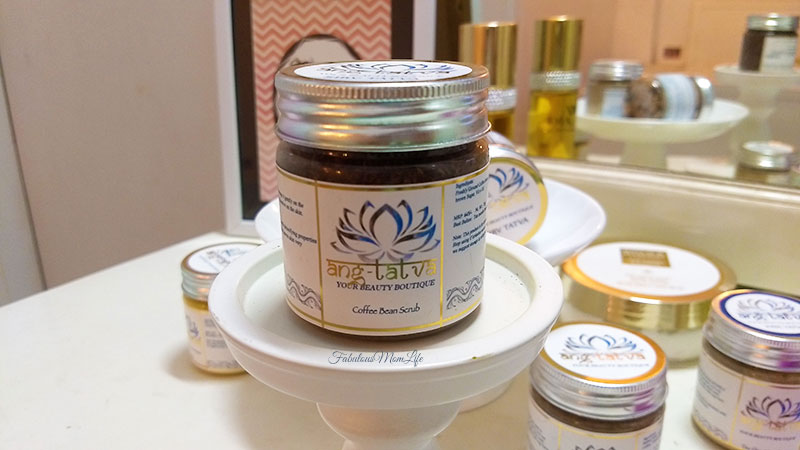 Freshly Ground Coffee Beans – yes, that is the main ingredient of this scrub! I am a coffee lover and love my coffee in every possible way. Coffee is also known to fight cellulite so this scrub is a winner in many ways. And you know what is special about this scrub? Most of the ingredients dissolve in water on their own as you scrub it on moist skin!
A lovely and pure product with salts, coconut, coconut oil and brown sugar.
Ang-Tatva Lavender Bath Salts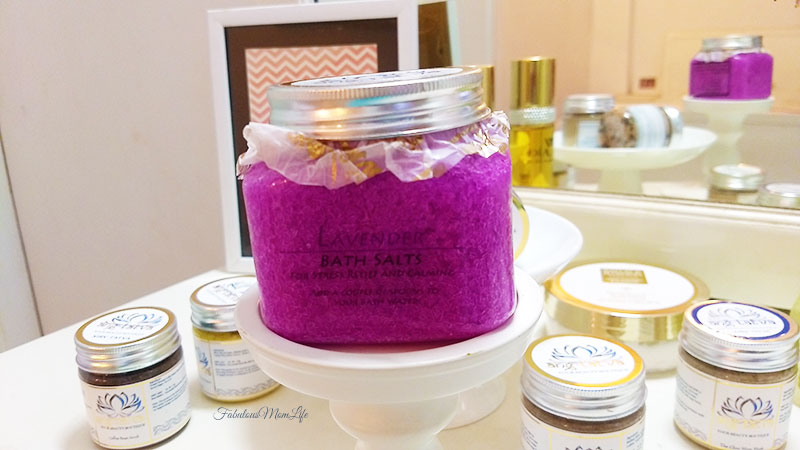 Nothing completes a spa experience better than bath salts – Lavender bath salts nonetheless! I add a handful to my bath tub for a stress-relieving and calming experience post my beauty rituals.
Ang Tatva manages to make these bath salts absolutely chemical free and moisturizing by adding nourishing oils and some essential oils to pink Himalayan salt crystals. A heavenly experience indeed!
De-Pigmentation Serum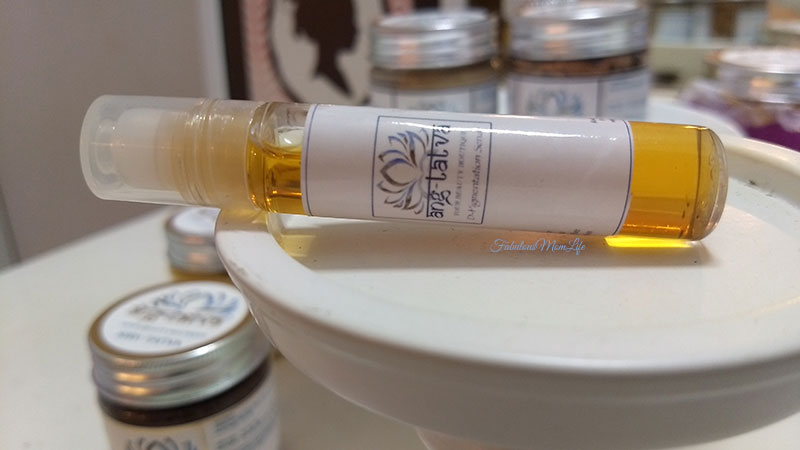 Pigmentation is a major cause of concern as skin ages. I had mentioned anti-aging as an important beauty concern when contacted by Ang-Tatva about customizing the products for me. And they suggested the use of this de-pigmentation serum.
It has definitely been a useful addition to my bedtime rituals. It infuses the skin with Vitamins through a bland of super oils like Kumkumadi Tailam. I apply it on clean skin every night before going to bed. The roll-on applicator very convenient and the serum completes my skincare routine.
Final Thoughts
I had always heard that anything that comes in a bottle – has to have preservatives in it. So when I heard that some Ang-Tatva products were not listed on Nykaa because of a shorter shelf life, I was actually elated! This means the brand was not using any chemicals and preservatives at all. This is one brand that gets full marks on my checklist:
Less Number of Ingredients is Good – PASS
It is Best if You Know the Ingredients By Name – PASS
Preservative Free – PASS
Chemical Free – PASS
Most brands I used before this would probably fail at the first two tests itself. The huge list of chemical names helps no one – at least not your skin. It is not possible for giant corporations to formulate something fresh and deliver it to you. Their science and research is excellent, but only local and homegrown can give you the best quality stuff, delivered fresh and active for you to use. Ang-Tatva is one such Indian brand that is choosing to focus on their quality and not dilute the results with chemicals and preservatives.
Try them! You are sure to find your loves in there 🙂
My Spa Day Beauty Routine
As promised, here is how I am spending a couple of hours every Sunday.
1. Mix hair pack with curd and apply.
If it was only as simple as that!
Ask Daddy to take care of the kids, especially little sis, for the next two hours.
Mix hair pack with curd and apply. It needs to stay for 45 mins.
Start filling the bath tub. Add bath salts under running water.
Mix scrub off with curd and apply. Leave it on for 15 mins.
While waiting, prepare the face pack with honey and milk.
Massage off the scrub and apply the face pack. Leave it for 15 mins.
Soak hand and feet using the Hand & Foot Soak for 15 mins.
Remove face pack and get into the shower for rinsing off the hair pack.
Shampoo and Condition. Leave the conditioner on while you apply body scrub.
Apply coffee body scrub and massage well for a few minutes.
Rinse everything off, including coditioner and soak in the Lavender bath salts bath water for as long as you can spare!
At night, complete with the de-pigmentation serum 🙂
Happy Sundays!!
Shop Online
Ang-Tatva products are available at our favorite beauty store Nykaa.
You might not find each of the above mentioned products there because all of them are freshly created and do not contain any preservatives. Thus, depending upon the ingredients, the shelf life of some of them is restricted to a few months. It is like your mom or grandma prepared them fresh for you to use. I like this concept very much. To get them fresh and customized, you can also shop directly from their website – http://www.angtatva.com/
At their website, you get to fill up a form if you need to customize your products before ordering!