I had a fun time exploring the aisles of an exclusive exhibition for moms who are just like me and love to shop for their kids! The 'Pinwheel Project' was buzzing with coolest finds for kids and mommies were shopping away with fervor. Some lovely and creative shops caught my eye and I am sharing them with you today. Walk along with me to explore the exhibition 🙂
Blue Sea Banquets in Worli, Mumbai was turned into a buzzing bazaar on August 5. Four Mompreneurs Nidhi Karnavat Chopra,​ ​Shouger Merchant Doshi​, ​​Aditi Kapur​ and​ ​Ragini Vakil​ came together to dream up this shopping extravaganza and turn it into a reality.
From moms-to-be to new moms to big kids, there was plenty for everyone to indulge in. Here are some interesting treasures I found.
Kids Fashion Brands in India
There were more brands than you can count, but here are some that stood out immediately!
Petit Royal
Petit Royal is a multi-designer store just for kids! Their store is close to Palladium Mall if you are looking for some chic stuff for your 'little Aristocrat'!
Kids Collection by Swapnil Shinde
Have your Mommy & Me moment in red carpet style. Leading Indian fashion designer Swapnil Shinde has come up with miniature versions of his red carpet designs for little fashionistas!
Little KM by Krishna Mehta
Diarageous by Ambica Mohta – Kids Jewelry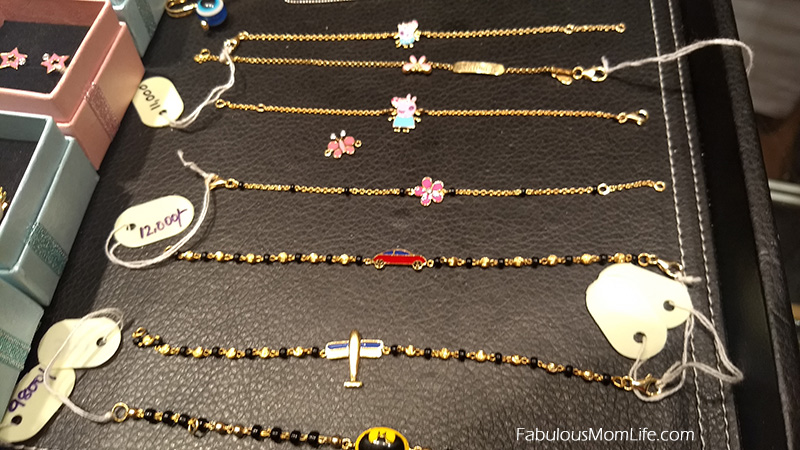 Fine jewelry designer Ambica Mohta had something special in store for kids for the oncoming festive season – fine jewelry for the little ones featuring their favorite cartoon characters and pretty motifs.
Gift Ideas for Kids
From games to decor for kids rooms, I came back with so many ideas for kids gifting from the Pinwheel Project!
Pop Goes the Art
Pop Goes the Art by Nidhi Karnavat Chopra, one of the organizers of Pinwheel Project, specializes in quirky, custom decor for kids rooms. The Cars Initial Frame above is a favorite of mine!
Purple Hathi
I originally thought Purple Hathi is all about stationery, but I was in for a surprise! Shirali Merchant specializes in the cutest gift ideas and room decor for kids.
From wall clocks and table mats to custom wall paintings and gift boxes, there is lots to discover here!
Birthdays and Celebrations
Cocoa Panda
You didn't think I would leave without checking out a party store, right? The crazy-theme-party-lady (a title bestowed on me by my husband) was drawn to the prettiest looking stall – Cocoa Panda! I was immediately in Birthday party heaven!
Cocoa Panda specializes in creating the most delectable dessert tables for birthday parties. That means they will take care of your themed cake, cupcakes, cake pops, personalized candy bars, favor boxes and everything in between. They even rent out pretty cupcake stands etc for parties. Mumbai Moms, check them out!
Educational Toys and Classes
It wasn't all material love at the Pinwheel Project expo! There were a lot of cutting edge, educational tools to choose for children of all ages.
Skillmatics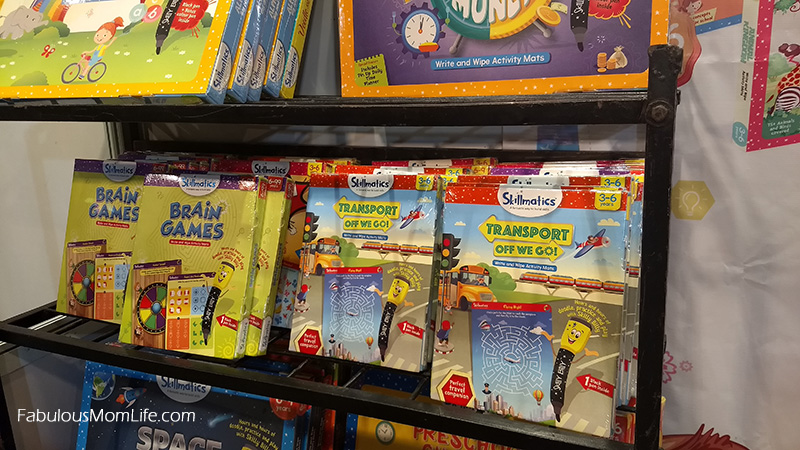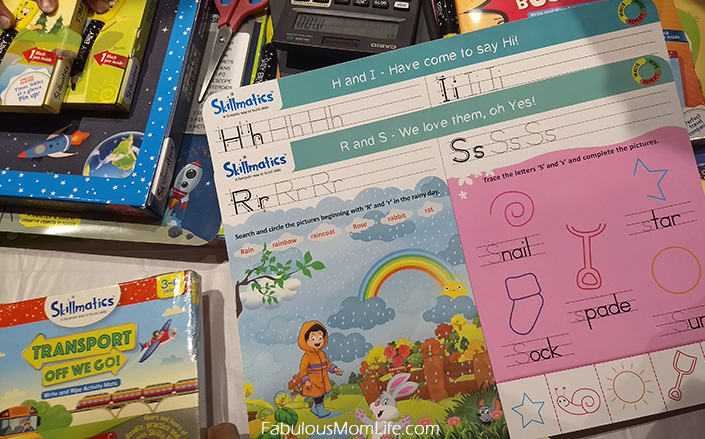 Skillmatics has packs and packs of learning tools for kids that look like they are real fun!
Curiosity Club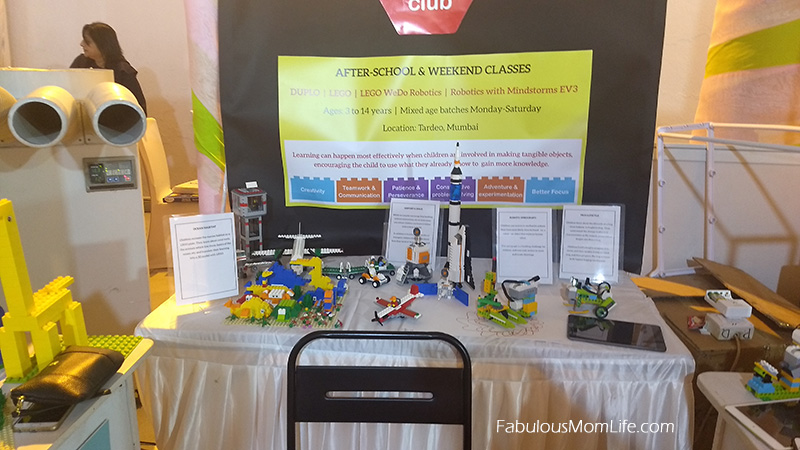 If you are looking for a really good afterschool programme for your kids in Mumbai, I highly recommend Curiosity Club! Through LEGO bricks, they encourage kids to build, create and understand concepts of science and maths. Depending upon their age, the kids can make simple creations like the Lifecycle of a Butterfly shown below or more advanced Robotics!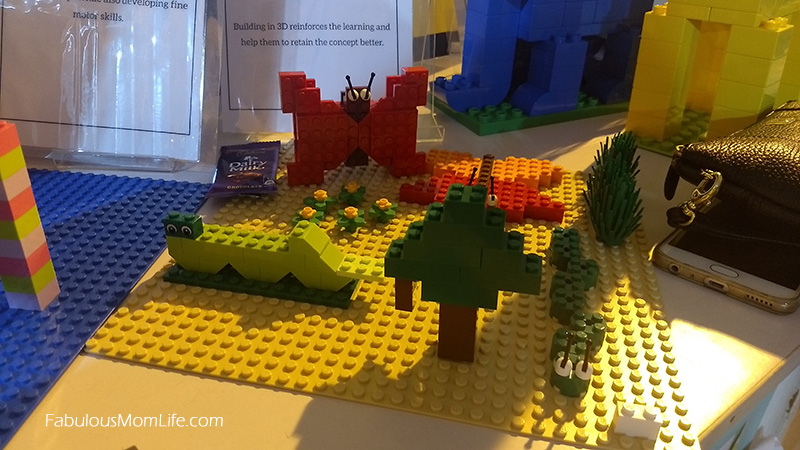 Brown Box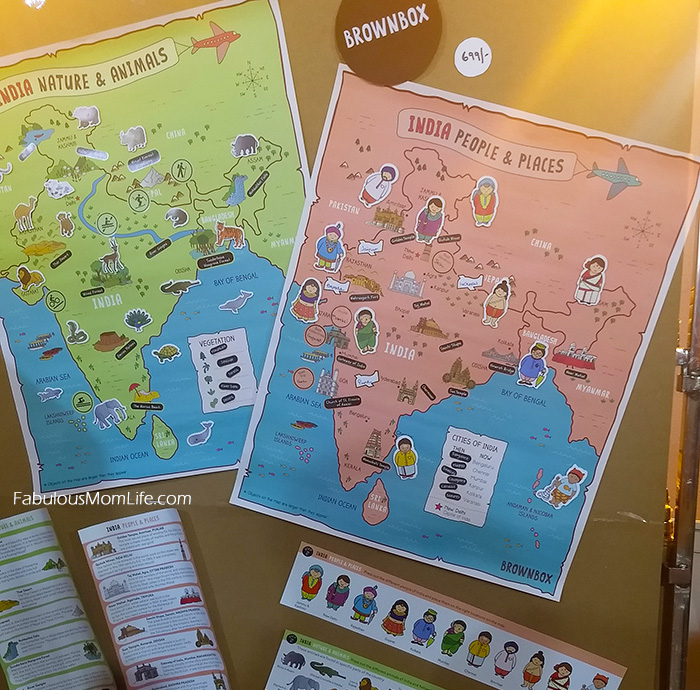 Maps can be so much more fun! I loved the interactive kids maps by BrownBox.
Kids and Maternity Photography
The Looking Glass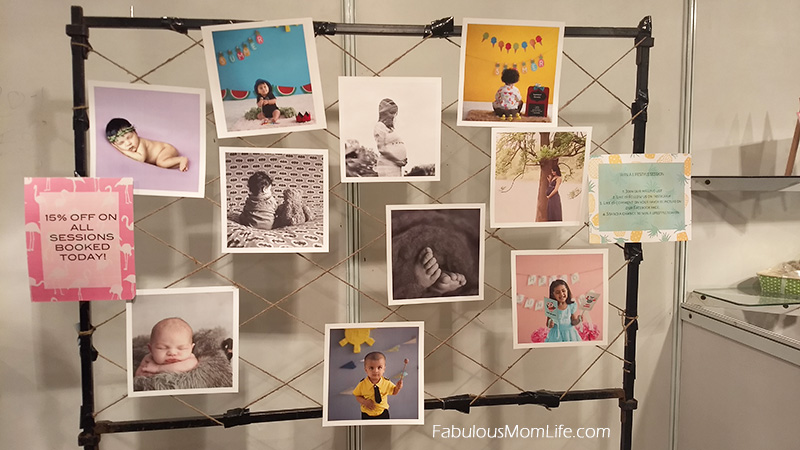 Styled or Candid, I absolutely loved the beautiful shots by The Looking Glass photography by Sanya Sundar. Their album layouts were also very creative and some of the maternity shoots had me drooling!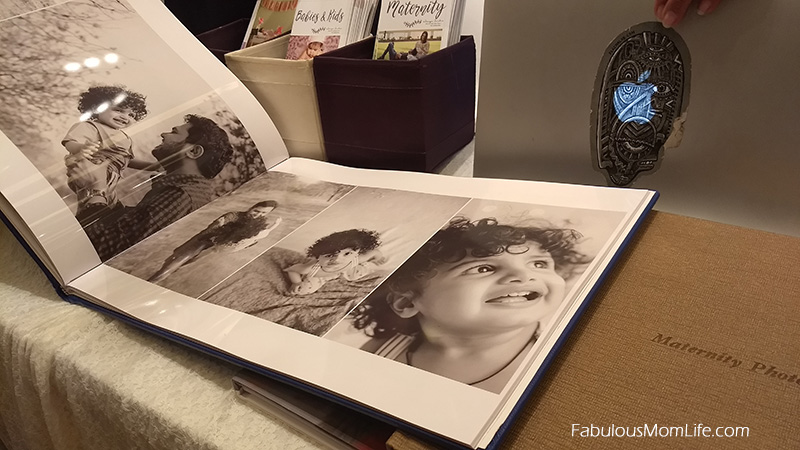 To be very honest, I could not reach the end of the exhibition…lol! I ran out of time and the place was choc-a-block with shopaholic moms like you and me. And I had to head to the celebrity panel discussion as well….
Celebrity Moms Panel Discussion
The panel discussion at Pinwheel Project was also extremely enlightening and was a great touch to the entire event. Celebrity ​Chef and ​mother​​ Amrita Raichand, Ritika Vardhan​ the Founder of Jungle Gym and Jungle Play, ​Deepshika Deshmukh​, Producer of the movie 'Sarabjeet' and ​Mansi Zaveri,​​​ ​owner of Kids​ ​Stop​ P​ress spoke about different aspects of parenting​. The discussion was moderated by ​Nisha Jamwal. who is really excellent at it, if I must say! All the celebs looked fabulous and had some really insightful things to talk about. I will be sharing their thoughts on some topics that were discussed, in a separate post.