Raksha Bandhan is a beloved festival in my home and I love the shopping it involves. Once the task of choosing the most unique rakhis is done with, I begin to look for gifts. I am not only in-charge of shopping for gifts my children, but also for my husband's sisters and cousins. All year round, I am on a lookout for the best rakhi gift ideas for sisters. Here is a roundup of my favorite gift ideas for your sisters-in-law, whether the are older or younger to you, and whether or not they are married. There is a perfect gift idea for every sister here!
Rakhi Gift Ideas for Younger Sister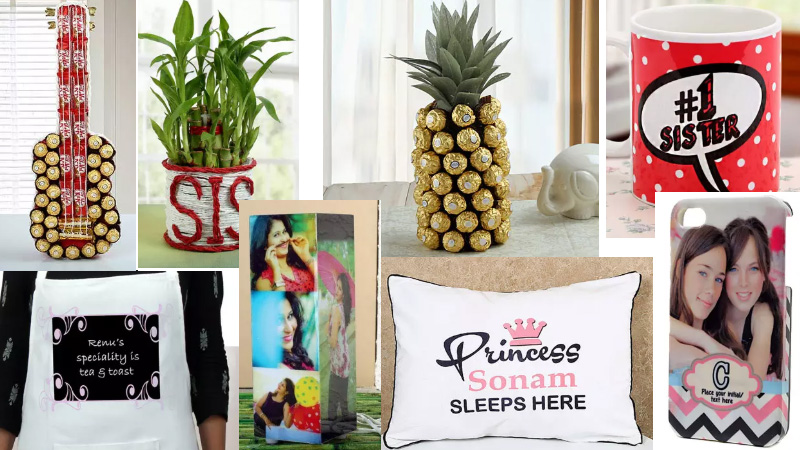 Youngsters love gifts with a fun element! All those funky, personalized stuff that you see, is loved by them. Some gifts that have been loved by sisters of ages 14 to 22 are:
Personalized Name Cushions
Photo Cushions
Chocolate Bouquets (Hostel students love this especially)
Cake and Chocolate Hampers (another favorite with Hostel students)
Mugs
Personalized Aprons for Cooking and Baking enthusiasts
Funky or Personalized Mobile Phone Cases
Natural/Mild Beauty Products
Personalized key Chain
Stoles or Wraps
Sling Bags
Personalized Lamps
You can check out an online gift portal like FNP for these. You can get them sent directly to your sister's home, hostel or office address. Ferns and Petals has many more Rakhi gifts for sisters that you can check out, in addition to these.
Rakhi Gift Ideas for Elder Sister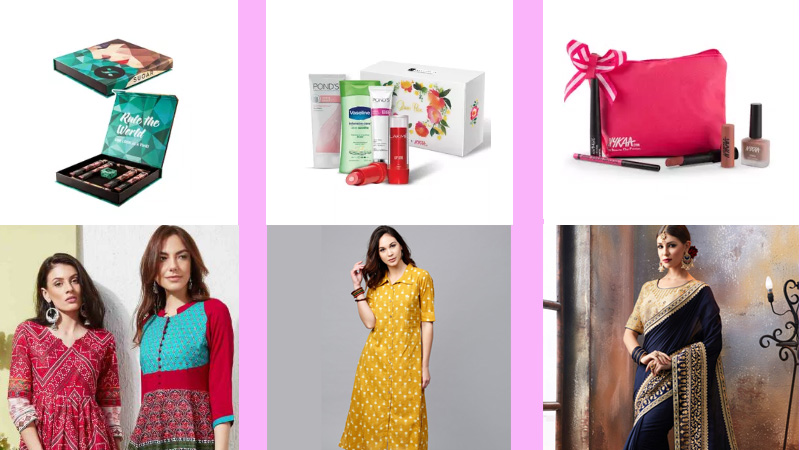 For women of ages over 22, I personally love to shop. And that's because it is almost like shopping for myself! There have been countless number of times when I bought two of the same thing because I loved it for myself too. Or when my heart broke when gift wrapping what I purchased lol! Anyways, here are some of my favorite gift ideas for married sister or older siblings.
Apparel
Makeup
Handbags
Evening Clutches
Wallets
Earrings (every woman has a favorite style – studs, jhumkis, danglers etc.)
Perfumes
Skincare Hampers
Gift Vouchers (when mailing or emailing gifts)
Jewelry (Real or Fashion)
I usually avoid gifting household stuff. Rakhi gifts, I personally feel, should be for personal pampering. You can never go wrong with makeup. I like to buy Makeup Kits online from dedicated beauty stores like Nykaa instead of single items. Kits make much more prettier gifts. I also prefer beauty and skincare hampers as opposed to one-off items.
One of my own bhabhi sends me a Kurti every year and I have come to look forward to it! If you are sure of the size, then Womens Apparel makes a great gift. Topwear like tops, kurtis and tunics make great gifts. Sarees are an evergreen option. I stick to Myntra for most of my clothes shopping as I have mentioned before.
Fashion Accessories for All Ages
Another thing that works for sisters of any age is accessories. What I do is, I head to Amazon's Women Accessories section and take a lot at their suggestions for trending items. They are mainly featured on the landing page. It is a great way to find out which shape is in vogue for eyewear or which fashion brand has launched a new line of bags.
Depending upon the tastes of the gift recipient, you could pick from:
Sunglasses (From classic to modern shapes and colors)
Watches (Classic brands to funky low priced choices for college ages)
Smart Watches for Technology Loving Sisters
Shoes (only if you are 100% sure of size)
Beach Bags (when you know they have a beach vacation planned)
Scarves and Stoles
Bracelets – Fashion or Personalized
Pendants
Rings
Cute College or Tuition Backpacks
Unique Handmade Gift Ideas for Sisters
There is also a huge trend of handmade gifts being sold on portals like Facebook and Instagram. Creative women are selling handcrafted items that are sure to stand out and be cherished. If you have a crafty mind yourself, you can even make something yourself!
Some handmade rakhi gift ideas for sisters that I like are:
Explosion Boxes filled with photos and memories
Personalized photo albums of Bro-Sis memories
Hand painted and personalized Jewelry Boxes
Handmade Beauty and Skincare products
Personalized, Handmade Chocolates
Hand-painted one-of-a-kind Sarees and Dupattas
Handmade Jewelry
Crochet Fashion Items
Handmade Sketch
Online Rakhi gift portals like Ferns N Petals and Amazon India allow you to gift wrap and add a gift note if sending directly. If you are packaging and sending them personally like I do, you can add hand-written notes scribbled inside Best Wishes Greeting Cards or perhaps you might want to add a full-fledged letter 🙂
If your Rakhi gift recipients are less than 12 years of age, check out my list of Rakhi gift ideas for brothers and sisters.