Piccolo Toys has brought to India a lovely range of safe, non-toxic wooden toys perfect for toddlers and kids. Their pastel wooden building blocks have become an integral part of Lil Sis's play time. Check out our play time fun, a review of Piccolo's pastel blocks and my top reasons why a set of building blocks is a must have for all toddlers and preschoolers!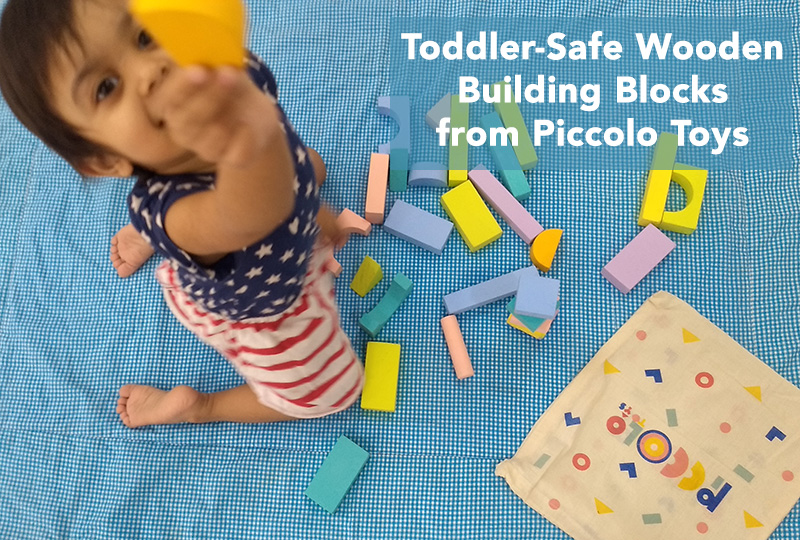 Toddlers need a lot of play time! Play time away from TV or phone screens that is. They don't go to school yet and aren't grown up enough to go play with their friends. Toys are the best ways of keeping them happily engaged. But choosing toys for toddlers is not exactly the most easy task. The toys need to safe and also engaging. We are super happy with our pastel building blocks set from Piccolo Toys. The 64 piece set is the perfect companion for an active toddler. Check them out for more safe and non-toxic play stuff.
A Set of Building Blocks is a Must
My mother's strongest memory of me as a toddler is that I used to quietly play for hours with my blocks! That is really how engaging blocks are. The classic toy has undergone many changes with passing times. But let me tell you this very important fact – Do not complicate the simple toys of little kids! Little ones do not need blocks with pictures made of every side. It only confuses them and causes lack of concentration. Buy a simple set of blocks and let the kids do what they are meant to do with blocks – CONSTRUCT.
A set of classic blocks helps your child in numerous ways besides entertaining them in the perfect way:
1. Enhances your child's imagination and creativity leading to cognitive, academic, linguistic and social growth
2. Improves hand-eye coordination
3. Helps learn primary and secondary colors and shapes
4. Helps make them aware of the connection between visual and spacial dimensions
5. Helps improve their problem solving skills!
6. Creating new designs aids in their thought and reasoning process
7. Inspires confidence when they complete their structures and motivates them to try new projects.
8. Forces them to apply their brain instead of using technology
9. Introduces them to science, experimenting and learning about how things are created
10. Helps develop math skills like counting, subtracting, geometry and the application of math in daily life. The children know, for example, that 3 squares makes a shorter building while 6 would make a larger one. Or a rectangle will make a longer base or that two semi-circles can be joined to make a circle.
Pastel Wooden Building Blocks from Piccolo Toys
While it is true that any set of blocks will help your children with the above skills, you cannot overlook the importance of giving your children safe toys to play with. Plastic is everywhere around us and while it is impossible to escape it entirely, there are a number of things that can be replaced with better and high quality options. Piccolo Toys gives you a wonderful option for the perfect set of building blocks for your toddler.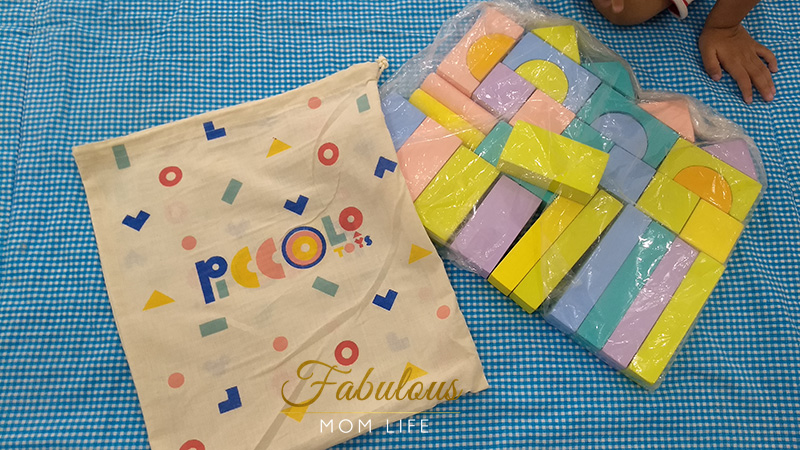 My only concern was whether to select the bright building blocks in primary colors or the pastel ones. Everything else, from safety to perfection, Piccolo Toys has taken care of. Here's what I loved about them:
1. Piccolo building blocks are made out of wood as opposed to plastic. And the wood is locally sourced top quality wood.
2. The blocks are made to last! We have been playing with them almost every single day for the last few months. The blocks, and their paint, is intact. I am beginning to believe that we might have an heirloom here!
3. The blocks use non toxic and lead free colors. It is completely safe to let toddlers play with them.
4. The blocks are simple, classic and elegant. Like I said before, I prefer keeping baby toys uncomplicated. No unnecessary details and designs. Just classic, building blocks made for children to 'create' with.
5. I loved that they have an option for pastel blocks. I know kids love bold and primary colors. But this set is a welcome change from all else that we have in bright colors. The colors and the finish is very calming for a quiet afternoon's play and not too dull to not attract the kids. My baby loves them as much I do!
6. The blocks have an excellent finishing. They are completely free of any rough edges and are color fast. The shapes are made perfectly and the surfaces are very smooth. The build quality is excellent.
7. In case you did not notice, the blocks come with their own cloth bag! Post-play cleanup is a breeze. My 3 year old picks up all the blocks and places them inside the bag after play time. Easy for her to do so and very convenient for Momma who is forever organizing the toys!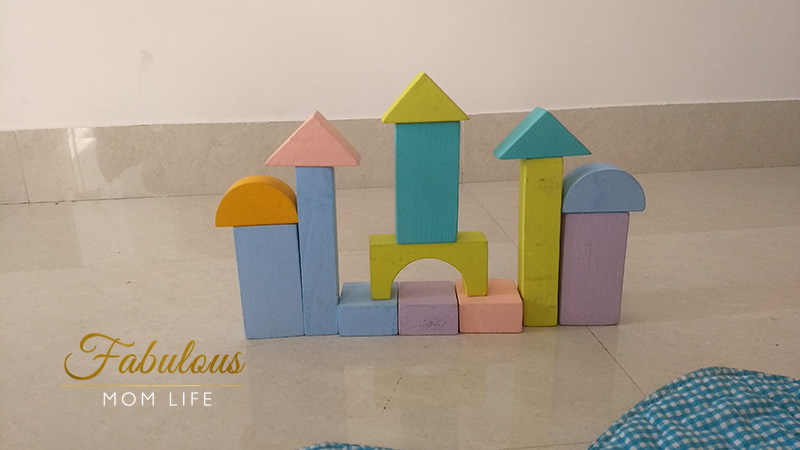 I am sure I have encouraged you to get a set of building blocks for your children at the earliest! Just keep in mind the materials used, quality of construction and the fact that they are colorfast since you never know when toddlers decide to put anything in their mouth. Piccolo Toys makes the perfect set if you are planning to buy. Do check them out. They are also available on Amazon India.