Kids' toys make for an important shopping decision for moms. And when in the world of plastic and hugely unsafe toys, you hear about a brand promising 'eco friendly' and 'non toxic' toys, we immediately take notice! Shumee toys is one such brand in India who is changing the toy market. In my Shumee toys review, I will share how the brand is not only improving the quality of our kids' play things, but also how much higher their engagement level is.
Shumee is a path-breaking toy brand in India that is taking us back to our roots. The brand has given Indian kids a non-toxic alternative to toys that will take you back to your own childhood. Back when life was simpler and games did the job of fueling your creativity – the age of wooden toys. I had seen their products on FirstCry.com a while back when I was looking for non-plastic toys. Their bright-colored toys looked very attractive!
When Shumee first contacted me, my thoughts flew to my own wooden toys. I was wondering what kind of toys Shumee had in store for my 'Gen-Y' kids. I was blown away by the range! They have combined the best of old and new. I asked Meeta, the founder of this creative toy brand, to hand-pick some toys for my kids. And I really couldn't have chosen better! Each toy has kept my kids engaged for HOURS TOGETHER! I will share more details about each toy along with pictures.
Shumee Musical Animal Truck – Shape Sorter + Xylophone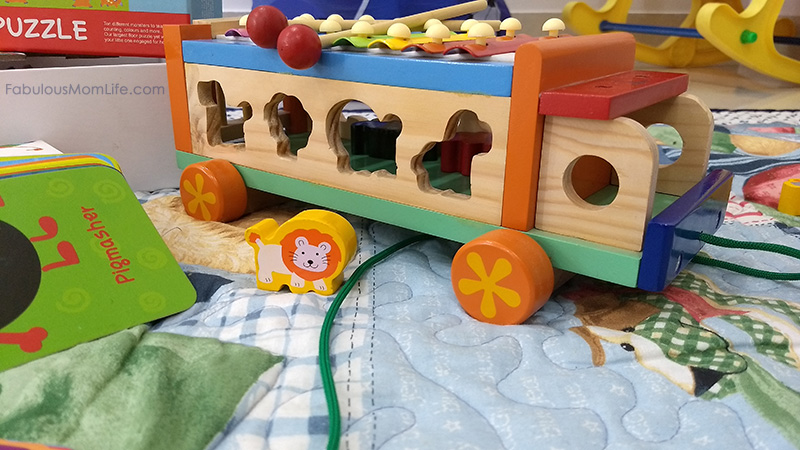 Let's start with my 2 year old's current favorite – A pull along truck, a shape sorter and a xylophone all rolled into one! I am a techie and a bloggy mom and it is impossible for my kids to not learn to stay glued to the screen like their mama does. I constantly come up with activities to keep them engaged otherwise and end up reducing my own screen time (read work time) to a great extent.
Now, my kids have plenty of toys. But somehow, this youngest one doesn't seem to engage in them on her own. When her siblings are at school, she is not much interested in toys. That has dramatically changed since the day we received the Shumee Musical Animal Truck. I am not exaggerating one single word here! YouTube was forgotten for hours and she keeps busy doing several things with her 'truck'.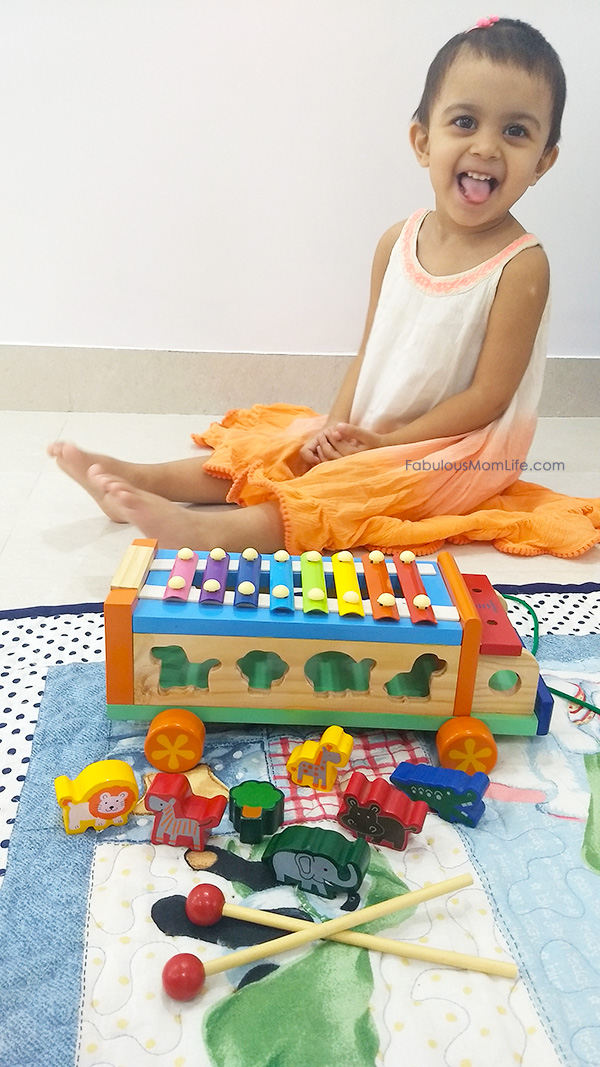 Xylophone
The first attraction was the xylophone built at the top of the truck. I had been looking for a xylophone for the kids and this selection by Meeta was very welcome. The kids couldn't stop playing it with the cute little wooden sticks.
I even posted on Instagram the 'caught on camera' moment where Simi was not letting her brother, who was equally mesmerised with it, play with her new toy!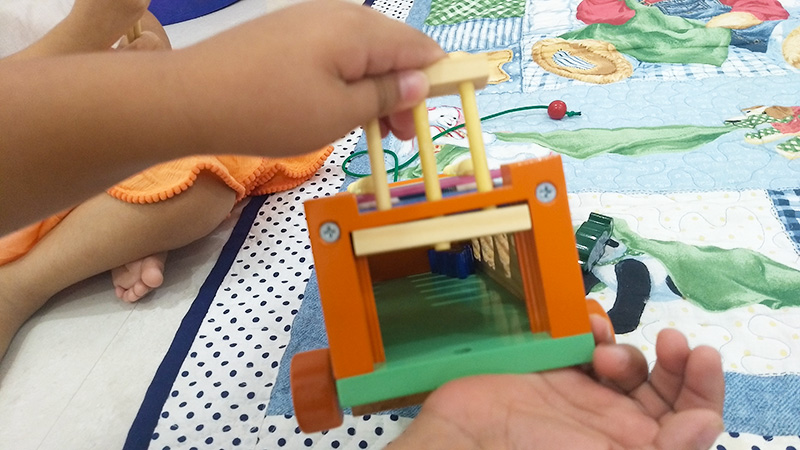 But it does not stop at the xylophone. The truck is also a shape sorter. The colorful wooden animals and trees have to be pushed into the truck by recognizing the correct shape. The little truck has a gate at the back which opens up to store all toys. It took a few hours for all the little toys and animals from her doll house to also end up in the truck!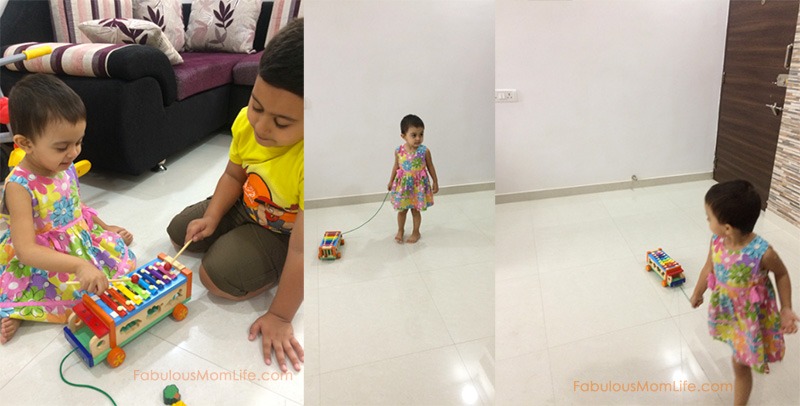 This is also my daughter's favorite pull along toy. The pull along 'turtle' and 'duck' are too childish for her now. She loves carting things around in her 'truck'. The last I saw, all the 'doggies' were getting a ride on the truck 🙂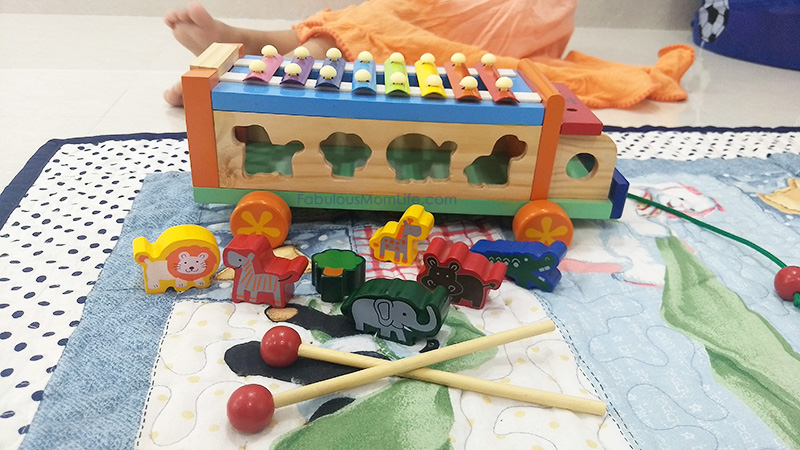 If you are wondering if my Shumee Toy review is made up about how my daughter plays with the truck, let me explain that this is indeed the first time she has found a toy so engaging that she can play for quite some time on her own. Of course, I am elated and of course, I am sure you understand…lol.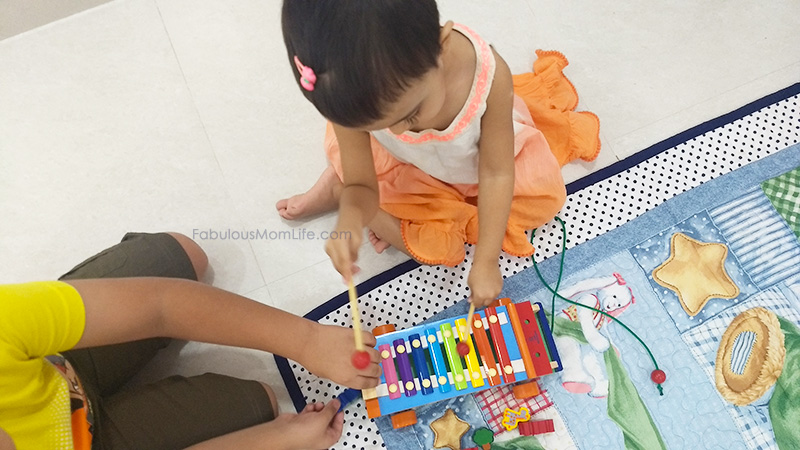 On to the other fabulous toys now!
Monster Floor Puzzle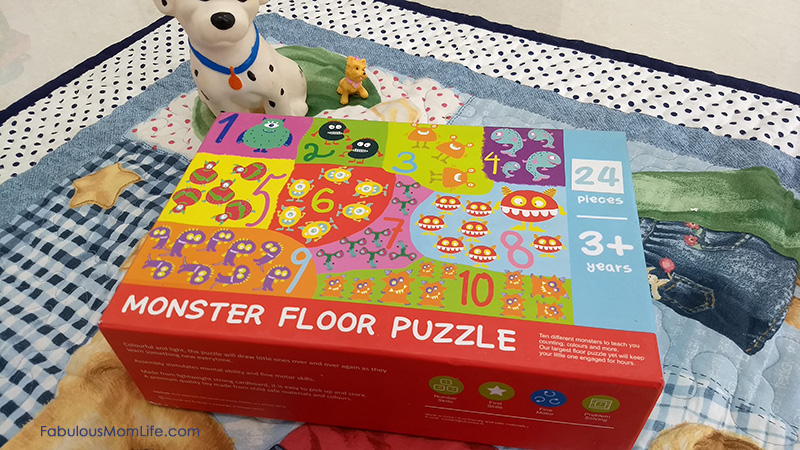 At first, my little man was in danger of his sister not wanting to share this one too. But she soon realized that she could do more things with the box than it's contents. So she left it to her older siblings to enjoy putting the giant jigsaw puzzle together.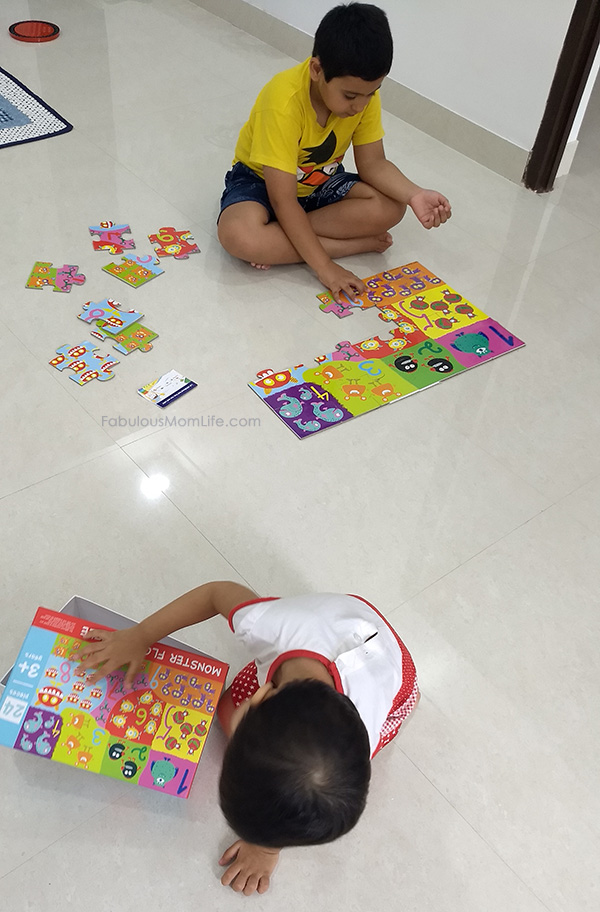 The floor puzzle is really unique. It engages the child's brain to recognize different colors and numbers. To put together the jigsaw, your child will need to push their brain for basic reasoning skills.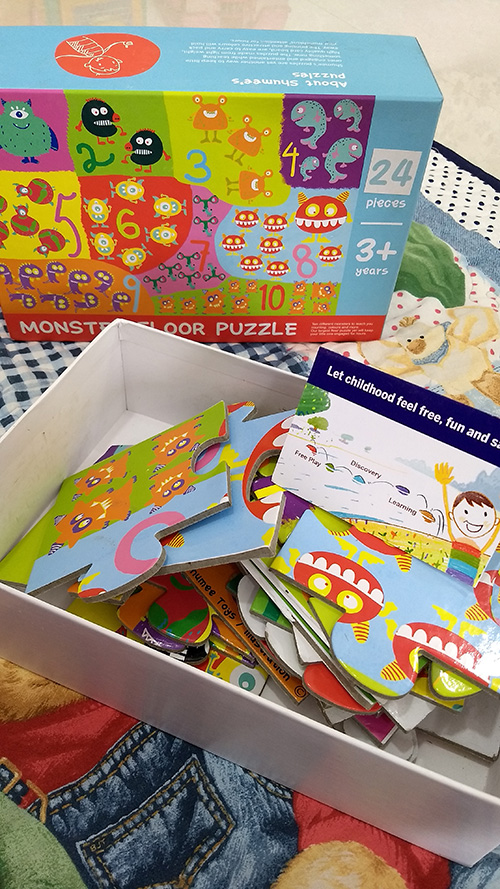 Find the matching monsters and you will solve the puzzle quicker.
It is a really fun way to learn some numbers.
The monsters are all so cute! My kids think each monster is doing a 'dance step' and they do all those steps after the puzzle is solved. Leave the children to their wild imaginations!!!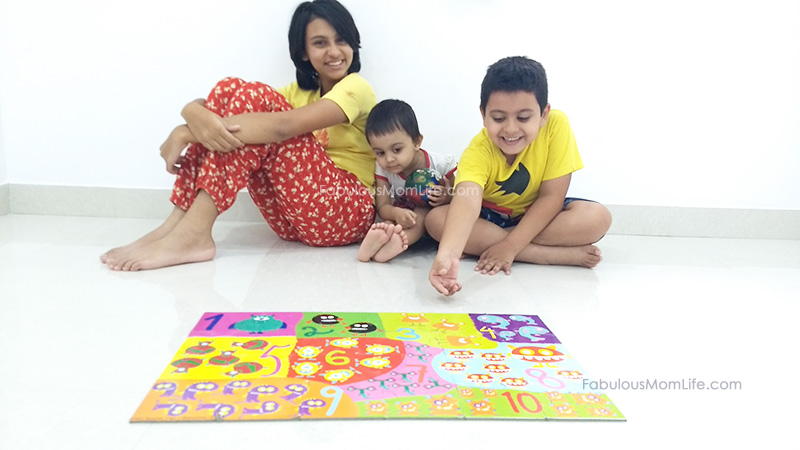 Monster Snap Cards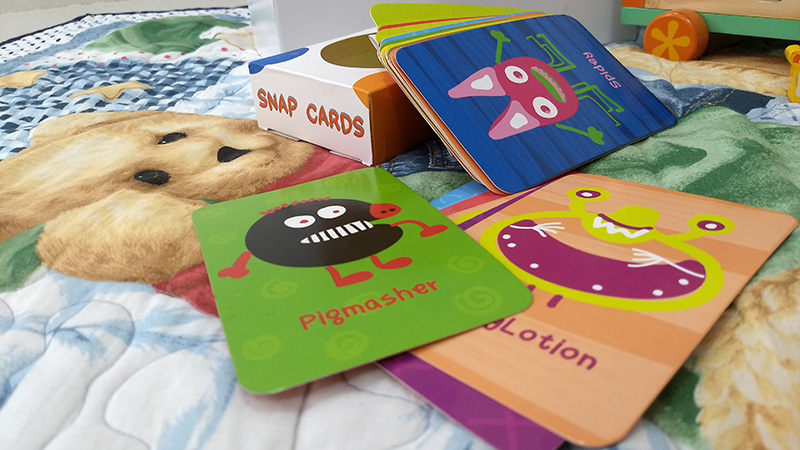 Just as we had fallen in love with the cute monsters on the floor puzzle, our Monster Snap cards arrived in the mail. The kids were thrilled to see that the cards had the same monsters on them as the floor puzzle. They recognized them immediately. And what's more, the cards carried the names of each type of monster! The card game was forgotten and the kids got busy saying the name of each monster aloud. They have some really cute and silly names.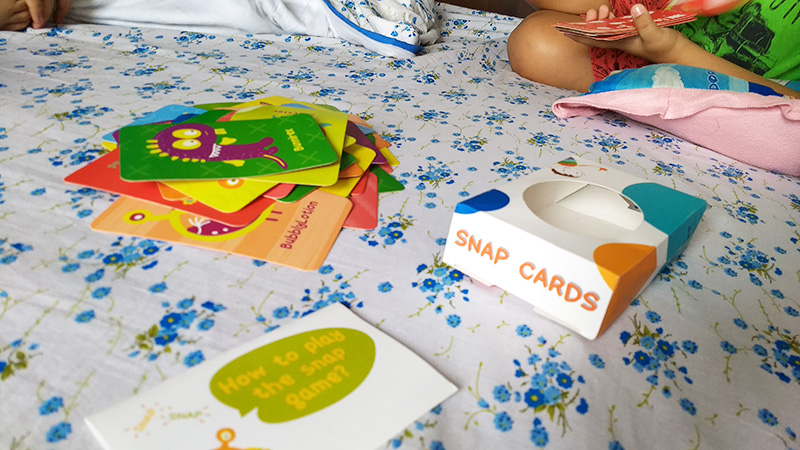 Then, on a lazy Saturday morning, we all sat down to play with the cards. We use the cards to play lots of easy 'card games'. They are like kiddie versions of playing cards. In the process of collecting all the monsters, the kids (and I) ended up learning the names of most of the monsters by heart. Now, we know PigSmasher, OvalBud, Fizzu, BubblyLotion and many others and refer to them all day long!
Shumee Toys Review – What I Loved Most
This lovely collaboration with Shumee gave me the opportunity to introduce my kids to simple, wholesome fun. I am amazed at how engaging my kids found all the toys to be and pleased to make a safer choice for them. Here are some things I really loved about Shumee Toys:
1. No Batteries Required – If you are a mom, you will know why this one tops the list!
2. Eco-friendly – Made of wood or paper
3. Good Quality, Sturdy and Long Lasting – especially the wooden ones!
4. Paints used are lead-free
5. Finally, something that is not made of plastic
6. Keeps kids engrossed for hours
7. Brings back the simple joys of life
8. Versatile toy design – one toy can be used in so many ways. Hats off to the toy concept designers!
9. Make learning very enjoyable and fun.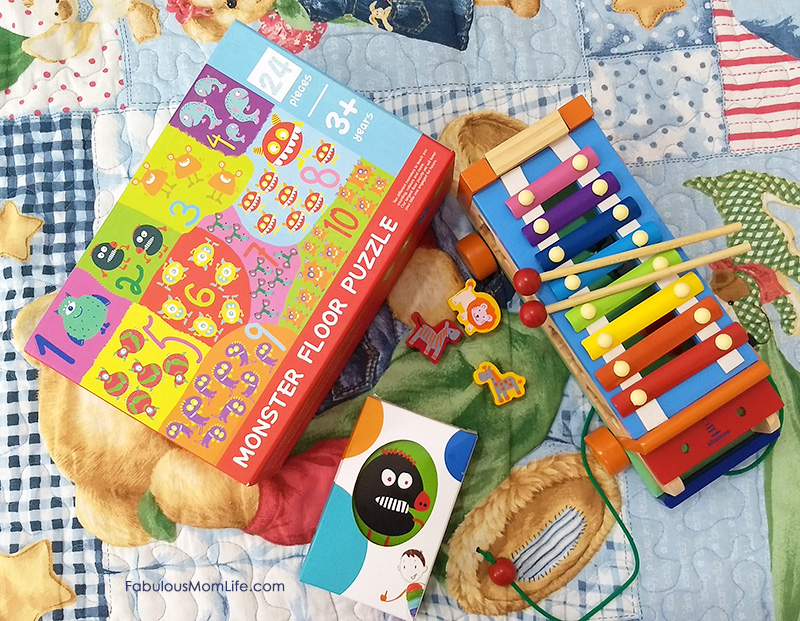 From babies to toddlers to kids, Shumee has something for everyone. From natural wood to fabric, they use a variety of eco-friendly materials to make their products. Check out their website and you are sure to find that exclusive gift for your child that will make lasting memories and induce a lot of creative free play!
They are also available on FirstCry.com and Amazon.in – two of my favorite places to shop!