Summers are here and the fun and play need to be complimented with extra care and comfort for the sweaty outdoor sessions. An extra dose of powder to keep fresh and a good diaper rash cream for the sweaty hours in diapers are on every mom's list for the coming months. And you have even more choice now that The Moms Co has launched their baby care range. Read all about their Talc free baby powder and the natural diaper rash cream to make an informed choice before you order anything else.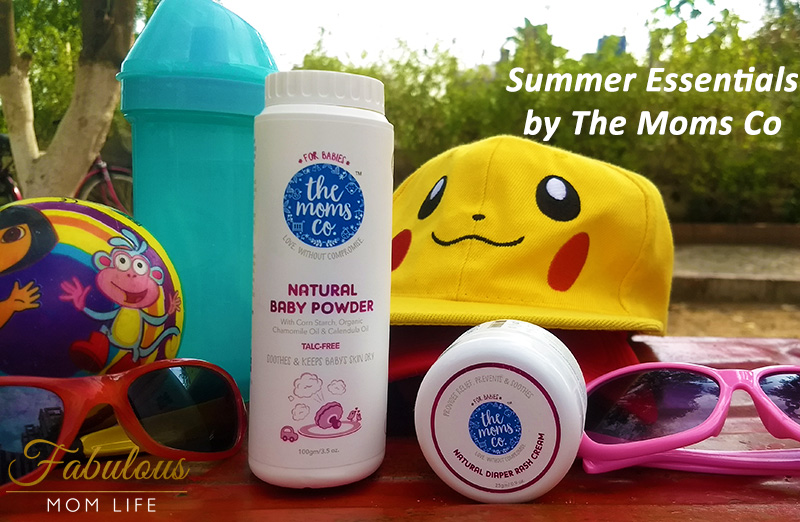 Fun Time in the Summer Sun
Since the last day of their exams, I see my older two only sparingly. They pretty much come home to eat, bathe and sleep. Other than that, they are blissfully occupied with their respective 'gangs' running about, cycling or kicking the football. Their red faces, when they finally decide to stop by, are happy, flushed and sweaty – all the more flushed because of the sheer joy and excitement of the physical exertion.
Lil Sis, not wanting to miss out on this excitement, insists on being taken outdoors much more than usual. She rides her own trike, watches Big Sis play badminton and gets a chance to try her hand at it, takes her turn on every swing, slide and her favorite 'round about' that she can see. Picking up leaves, playing in the sand and rolling on the grass lawn are other favorite pastimes when outdoors.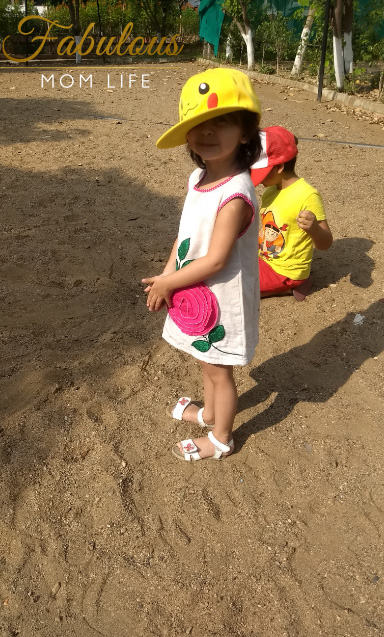 And through all of this, I make sure they are in the shade, remind them to wear caps, make sure they are hydrated all the time – and give them a generous douse with The Moms Co Baby Powder before they leave! The Natural Diaper Rash cream by The Moms Co is also a wonderful choice for the rashes that babies catch due to perspiration inside their diapers. I will explain why, as I describe each of the two Diaper Care Bundle products in detail.
Talc Free Baby Powder by The Moms Co
Talcum powder, more commonly known as 'talc', was once very fashionable for drying the baby's bottom and making them smell good after diaper changes. Today, the use of talc powder is not recommended since it has been discovered that talc can cause respiratory problems and much worse. After the news broke, many Moms, including myself, were shocked to read the ingredients of their favorite baby powders. Some containers were thrown away intact – mine included! Since then, the quest for an all-natural alternative without anything close to 'talc' was on my mind. I finally have the answer: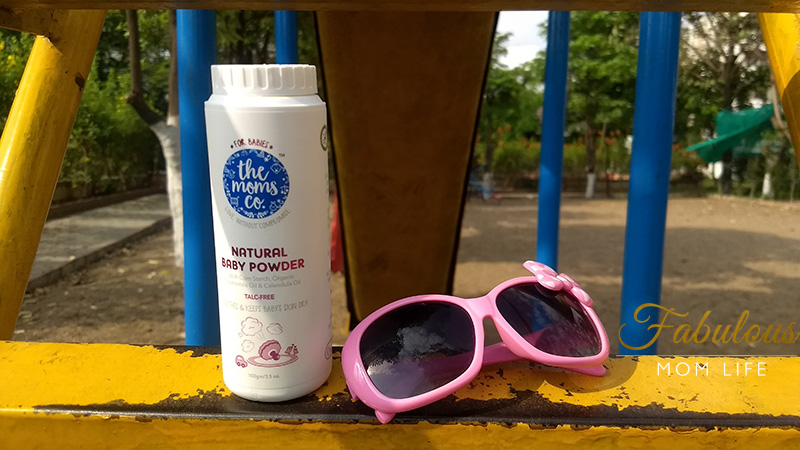 Created without the use of the harmful talc, The Moms Co Natural Baby Powder uses corn starch instead, and includes oils like Organic Chamomile, Calendula, and Jojoba to soothe and moisturize. The Talc Free Baby Powder has a lovely texture due to the corn starch present in it.
Kids Love Its Smell!
And the children cannot stop saying how beautiful it smells which I have to agree with. It is easily the sweetest smelling of all baby powders available. And I am not alone! A quick exchange of thought with some other Moms who follow the blog gave me the same answer. Swati C. tried it and her first reaction was the same – "My daughter loves its smell. Will be trying more products from Moms Co soon". And here's what the first impressions of Sumi's daughter were- "Amma, this smells like Ice Cream.. I just love it".
What I Loved Most
What I loved most was that thanks to its softening action, it protects the skin against redness and irritation and soothes the itching. It calms down the heat rashes very quickly. It can also be used to absorb excess perspiration from the feet. When dusting powder on my youngest two, I always pat the puff on their feet also, before they go into shoes or sandals. You can use it on any body part to rule away overheating in the sun, as long as you keep it away from the eyes, nose and mouth. The fact that it is talc free, coupled with the benefits of every single ingredient that goes in, makes this a very good choice.
The Moms Co Natural Diaper Rash Cream
Your precious little baby with those perfect little buttocks – and then one fine day, small red dots appear on the soft baby skin and cause a lot of irritation! Multiple that several times over during the Summers. The 'Little Baby Bum' (as we call them after one of our favorite YouTube channels) are usually 'locked up' in a diaper all day long – a humid environment. Substances from the urine and faeces can start to irritate, especially in the Indian summers when we all sweat considerably more.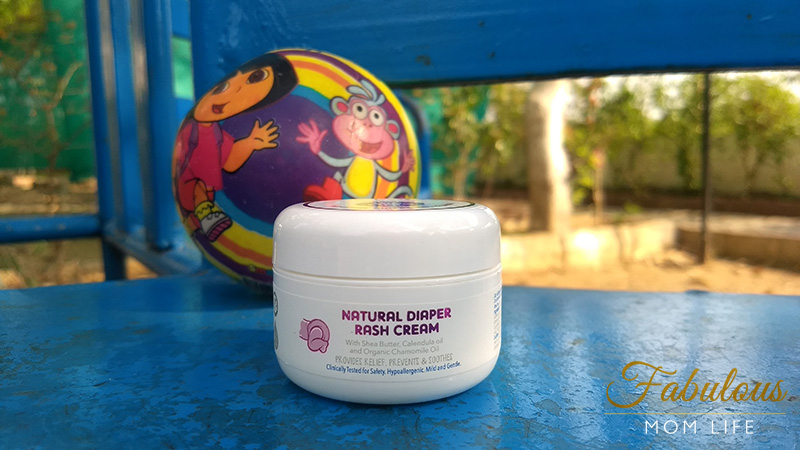 Summer Sweat
I recommend using cloth diapers exclusively during summer and rains, but long hours outdoors do require the use of disposables, I agree. And diaper rash becomes inevitable – more so with disposable diapers, but also when using cloth diapers.
Tip: If you are using cloth diapers and still facing a lot of diaper rash, take a look at your detergent. It might be the culprit.
What I Loved Most
There are many ways of treating diaper rash, but I only recommend what is 100% natural. The Moms Co Natural Diaper Rash Cream is a perfume-free zinc ointment for diaper rash or irritation in the soft bottom cheeks and is made from natural ingredients. I have had a positive experience with it's speed of working. In almost an hour, the diaper rash soothes down considerably. You can safely and effectively use it for everyday bottom care. The Organic Chamomile Oil, Hydrolized Oat Protein and Calendula Oil in it help to restore the skin by creating a barrier from the moisture and other irritants in disposable diapers. Just apply it thickly at every diaper change and you will usually see the result immediately at the next change. A very effective product!
Summer Fun Begins With The Moms Co
To make summers carefree, safe and comfortable, it is always a good idea to take your precautions first. Children are not always forthright in telling you that they feel uncomfortable. You have to read the signs and be prepared to avoid the worst. I will be sharing more products from The Moms Co to make the best of summer, but the Natural Talc Free Baby Powder and Natural Diaper Rash Cream are a great place to begin 🙂
The Moms Co has a policy of 'Nature In, Toxins Out'. All their products are, and will remain:
✓ Safe For Babies from 0 months and Up
✓ Made with Natural and USDA-Certified Organic Actives.
✓ Clinically tested to be Tear-Free, Hypoallergenic, Mild and Gentle
✓ Certified Toxin Free and Made Safe by Safe Cosmetics Australia
✓ Australia Allergy Certified
All Products Available at:
Until April 30th, use code
LATA
to get a 10% off, above all existing discounts when you shop directly from The Moms Co website for products worth over INR 500!