Summer vacations are in full swing and the kids are all indoors all day. So how about a fun contest FOR THE KIDS and BY THE KIDS? Yes, my kids have insisted that we hold a Art Contest for all the kids whose mommies follow Fabulous Mom Life. And I think it is a great idea! The Virtual Karwa Chauth party was a big success. Let's do something for the kids this time. Check out all the details and send in your kids' artwork soon!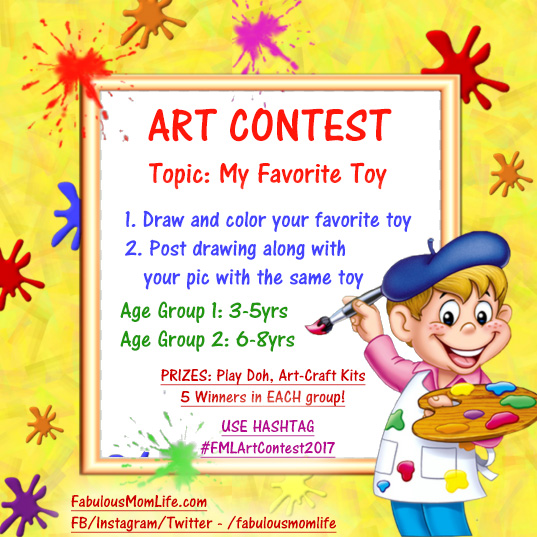 TOPIC
The topic for your drawing is: My Favorite Toy
Choose any favorite toy of yours and try to draw and color it as accurately as possible. I will be asking you to submit two pictures – one of the drawing and one of you (the child) with the toy, so we know all the drawings are genuine. Sorry to have to do this, but you know there is a lot of plagiarism online these days. It is just that I don't want anyone to claim anybody else's drawing as their own.
AGE GROUP
Kids of the ages 3 years to 8 years can participate. All artwork will be judged in 2 separate categories:
3 to 5 years
6 to 8 years
Older kids, we will plan something else next time!
HASHTAG
When you post your entries on Instagram, Twitter or Facebook, please use the Hashtag #FMLArtContest2017 so I do not miss any entry. You can also tag me @FabulousMomLife so I am immediately notified of your entries.
CONTEST CLOSED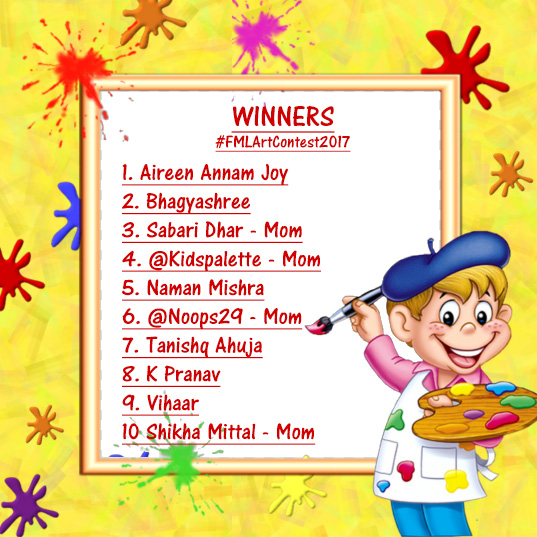 All participants win free eBooks! Please download your favorites from this curated collection of free ebooks for kids that I have for you 🙂
HOW TO ENTER
Here's how to send in your entry:
Take a good picture of your child's drawing – preferably in natural day light so the artwork is clearly visible.
Post your drawing on your Instagram, Twitter or Facebook account
When describing, please use the hashtag #FMLArtContest2017
Add your child's age to the description
Tag me in the photo – @fabulousmomlife
Now, post another picture – of the child with the toy. Again use the above mentioned tags.
If you are not comfortable posting on social media, you can email both the pictures to me at fabulousmomlife@gmail.com with the email subject – Summer 2017 Art Contest
Last Date: Sunday, 4th June 2017
Note: If you are not comfortable posting your child's face, you can make him or her sit in a way that the face is not visible – or blur the face. It is fine, as long as we can see the child with the same toy 🙂
JUDGE
My in-house artist, my eldest daughter will judge all the entries. You can see some of her artwork at https://www.instagram.com/misssugarsparkle
I will guide her, of course and we will also be helped my son who will oversee the entries of Group 1.
PRIZES
The prizes have been hand-picked by my kids. There are many Play-Doh kits, Art and Craft Kits etc. to grab. Prizes will be sent according to age of the winner. Keep following me on social media for a detailed look into all the prizes. There will be a total of 10 Winners – 5 from each group.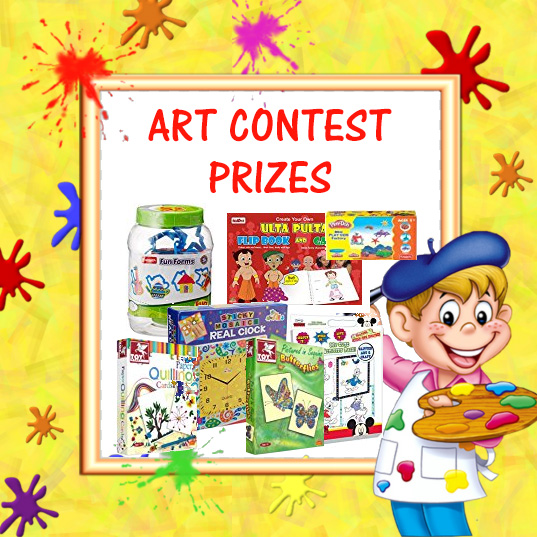 Note: Prizes can only be sent to an Indian address.