A lot is discussed about the effects of a C-section delivery on a mom. But very little is known about how the delivery affects C-Section babies. It affects them more than you could ever imagine! I am not trying to scare you – I have been though it myself! But if a C-section is inevitable, it is better to be prepared. Read on to find out what our precious little babies miss out on and how mommies can make it up to them.
When the baby needs to be delivered through a C-section because you have not 'opened up' enough, it gives the baby a feeling of helplessness and trauma. It could manifest into claustrophobia later!
When the natural process of vaginal birth is interrupted, the sudden removal from mother's womb causes a lot of confusion and quite a bit of shock for the wee little baby.
Passage through your canal during a vaginal birth massages the baby which is essential for her respiratory system and all other limbs. C-section babies miss out on this completely! My son still has respiratory problems.
C-Section babies are deprived of their mother's touch immediately after being delivered. This is the only person they have known and they feel lost with everybody else's touch.
How to Make it Up To Them?
Colic disorders, indigestion, trauma, social reluctance and many other problems later in life can point back to the abrupt way a baby is brought of mom's womb through a C-section. But a mother is always the most special person for any baby – whether born vaginally or through a C-section. Her patience, love, care and her soothing touch can calm down, relax and reassure the baby that all is well!
Soothing Massage Tips for C-Section Babies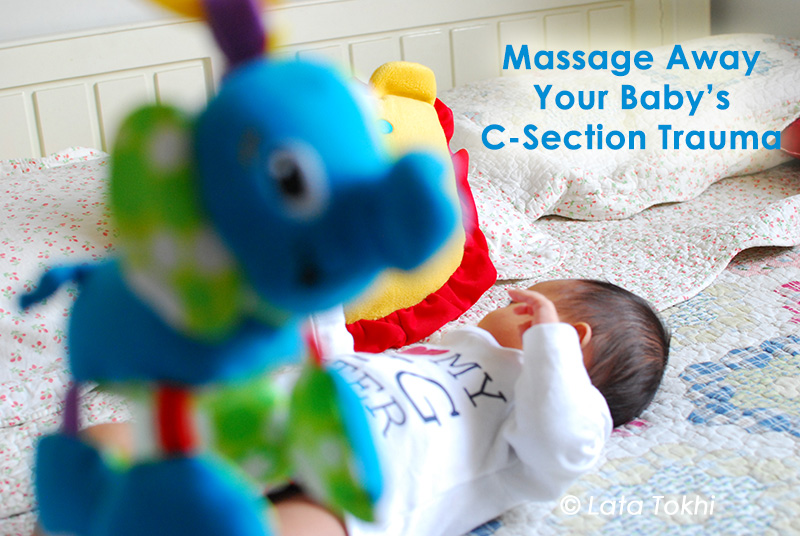 A massage is the best way to bond with your baby as soon as you recover from your C-section surgery. Quite time with your baby and gentle. rhythmic touches to the newborn body will soon establish that mom-baby connect that the baby missed.
I have mentioned in detail my tips and method that I have used to give all 3 of my C-section babies, a loving massage. Do make it a point to read all of them:
11 Massage Tips That Helped Me Nourish and Strengthen My C-Section Baby
The MAGICAL POWER OF A MOTHER'S TOUCH is not a myth! You can use it effectively to make it up for the birth time trauma. Think of it as the first step towards giving your C-section baby a happy and healthy life 🙂