Well, in some cases – NO! Now before you jump on me for being a dictatorial parent, hear me out. My experiences from parenting newborns to pre-teens has taught me one thing – Never say never! You never know what life is going to bring next. On whether parents should let kids choose their friends, I actually stood in disagreement for a feature in Child Magazine by my dear friend Shubhreet who also blogs at Raisking Karma.
Here is a glimpse of the Child Magazine article where my opinions were featured. It was a debate where parents voiced their opinions in favor of, and in disagreement of, several parenting scenarios. I was quoted on the whether we should let kids choose their friends.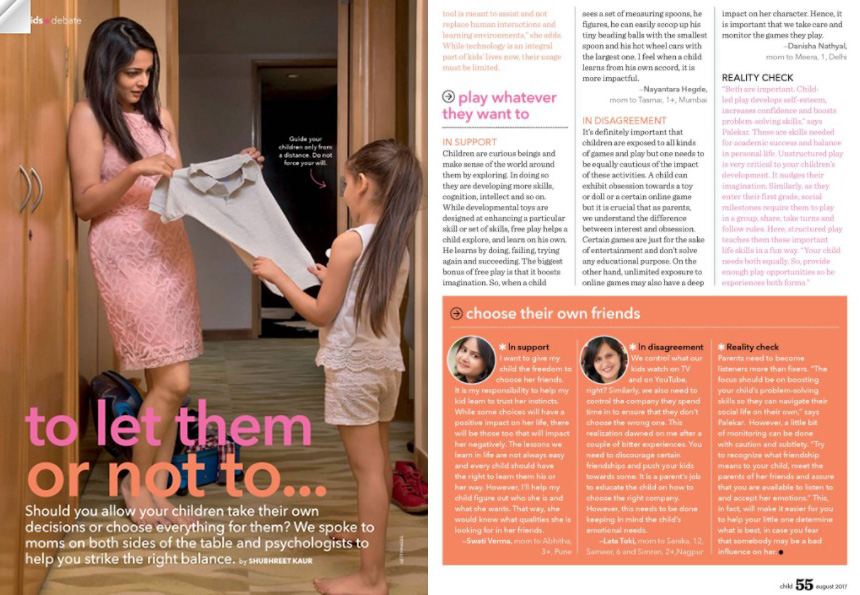 On Letting Kids Choose Their Friends
Now elaborating my point further, let me tell you that parenting styles and needs change with the ages and moods of your child. The little toddler who gladdens your heart by announcing their first friend (and giving you 20 minutes of me time while they play with the new friend) turns into a hormonal teen before you figure out how to correctly spell A-D-O-L-E-S-C-E-N-C-E! You need to hunt them down when they go off with friends and as a parent, you are worried about the worst most of the time. Plainly speaking, it is your job as a parent to ensure they take the right decisions here. These little adults are not young enough to take orders from you, but neither are they old enough to be left alone to take life's important decisions on their own.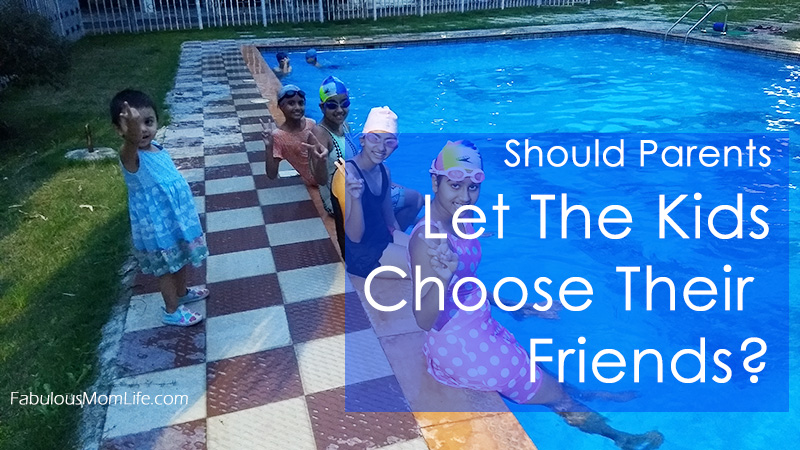 A Need to Exercise Caution and Control
You cannot just teach your child to walk and leave it at that. You also need to teach them where to walk. Just like we need to control what our kids watch on TV and on YouTube, we also need to control the company they spend time in. My concern shifted from helping my kids make friends to ensuring that they don't make the wrong ones when my daughter hit adolescence.
After a couple of bitter experiences, I realized I needed to step in and discourage certain friendships. Friends are not bad, but each individual comes from a different environment and it is the parent's job to educate their child how to choose them. In doing so, you might need to cautiously 'push' them towards, or make sure they are surrounded by, certain type of people. It is impossible to force your child to like someone, but you can help expose them to different possibilities. In most cases, they do not realize they they might enjoy the company of someone new. You have to show them that there are other possibilities too!
And trust me, when your child ditches meaningless conversations on your phone and WhatsApp and discovers the joy of creative pursuits and outdoor sports with like-minded friends, you know you were right in that 'push'.
Dictatorial vs Authoritative Parenting
Helping them choose their friends now will lay the ground rules for when they fly the nest and help them resist the temptation of bad habits. This is far from being dictatorial parenting. It is the basis of authoritative parenting if done in the right way by continuously addressing and respecting the child's emotional needs throughout the process.
A relaxed version of Authoritative parenting is what I like to call my parenting style. I am an easy mom and not too demanding of my kids, but I do ensure that some ground rules are always followed. In keeping with my style, I gently pushed my daughter towards a different set of people. I even explained the entire process to her – but much later – when she was busy and happy with her new set.