My kids and I are crazy about this thing called 'Augmented Reality'. It all began with Pokemon Go! I loved how we would spot the Pokemon in our own surroundings. And now we have a new favorite to sing praises of. And this time, it combines a lot of learning with some surreal experiences. Check out why we are in love with Shifu Space, the mind-blowing educational augmented reality game for kids in India by Shifu Games.
Educational Augmented Reality Game
Are you looking for a really unique gift for your kids? Well, it doesn't get any more unique than this. Shifu games combine the best of educational board games and interactive apps. In fact, they use Augmented Reality to bring the world in your children's hands! Sounds complicated? Check out my review of Shifu Space to know what I am talking about.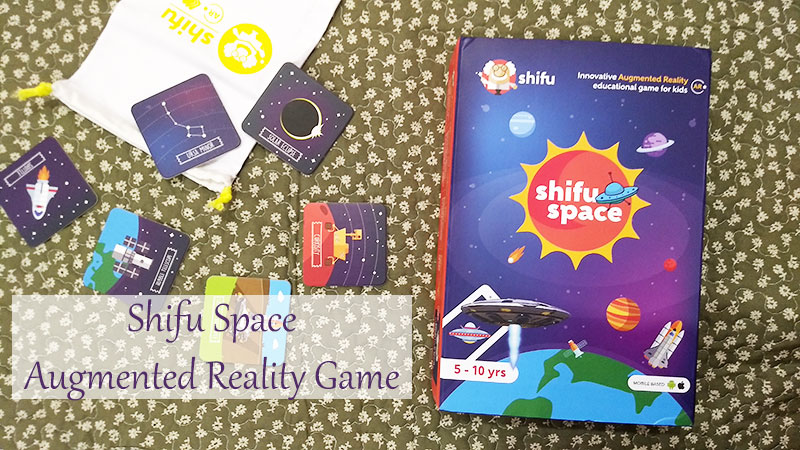 Mobile Based Space Game
When Shifu contacted me and I browsed through their website, I was at a loss for a moment. All their games are so interesting and I have kids of all ages here in my house. Which ones to choose for? The 'Wildlife' and 'Travel' games looked tempting. But then I saw Shifu Space and made an almost instant decision. It would be perfect for two older kids to explore together and learn more about the cosmic world. They already have books on planets and some 'reality' learning would do them both good.
And so our Shifu Space arrived and we were all excited, not really knowing what was in store for us.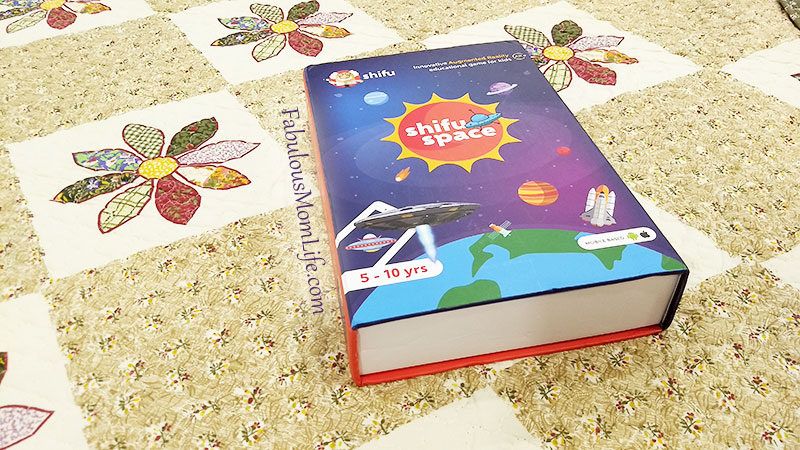 Here's what we found inside the box – doesn't look like much does it? Space themed cards, a stand to prop your tab or phone on – and a cloth bag to store it all in once the kids have managed to spill them all out of the box.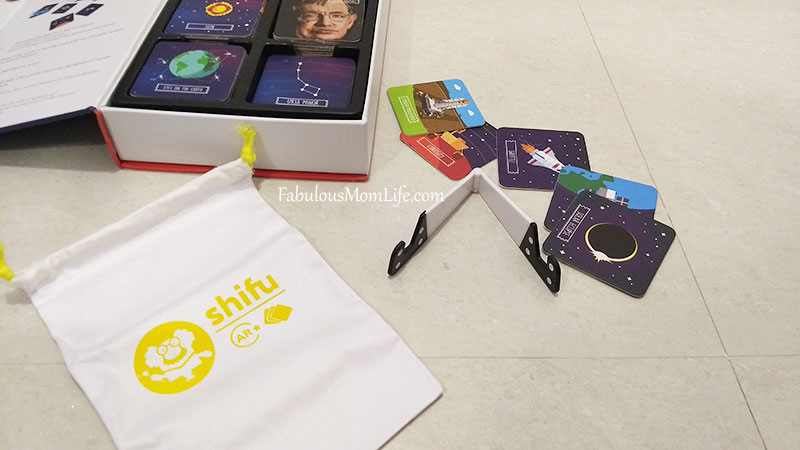 But the box contained something else too – the bit that gives it an extra edge – see that scanning code below? It helps you unlock the Shifu App that goes along with the rest of the stuff you see.
And so we downloaded the app and then began the installation and one time setup. It would have been really taxing for the kids to wait for the app to setup but they were entertained by the bits of information on the setup screen.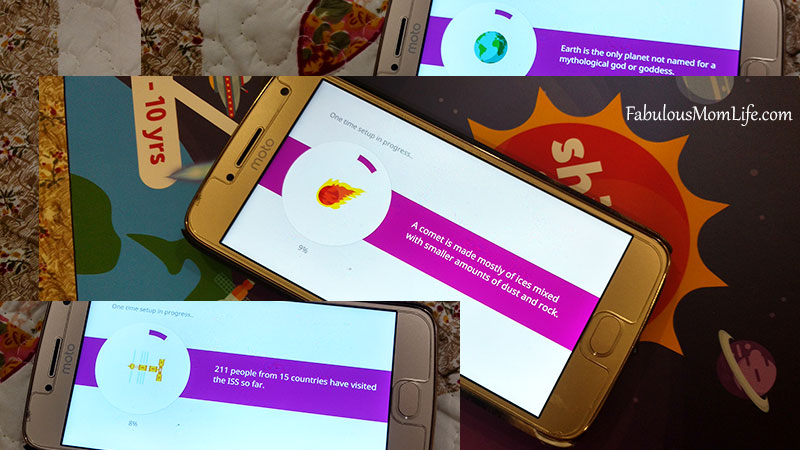 And then begins the fun!
Space Objects in Your Room!
You start by opening the app and propping your tab or phone on the stand provided in the box. You will see your own room/surroundings on it – like a camera. Now, choose a card,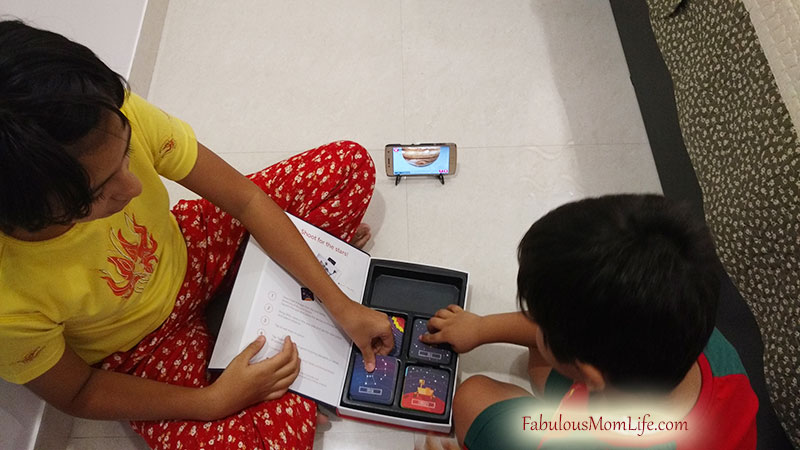 and place it behind the phone screen.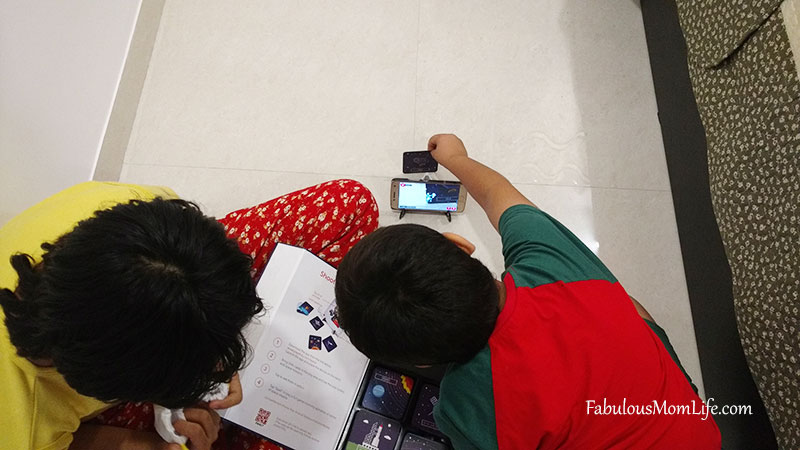 Boom! it comes alive on your screen within your surroundings!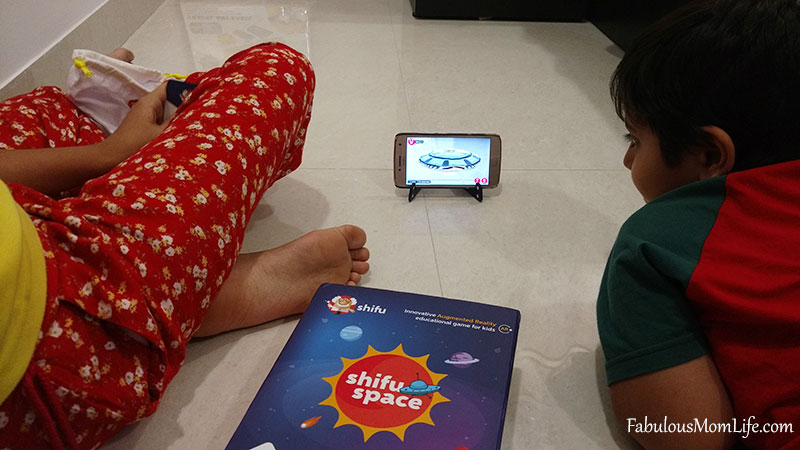 And no, you don't just watch the space objects come alive on your floor. You can do a lot more. See those buttons there? You can learn how to spell and pronounce each object. You can learn more about each object. And…
you can even rotate or enlarge each object! The game is completely interactive.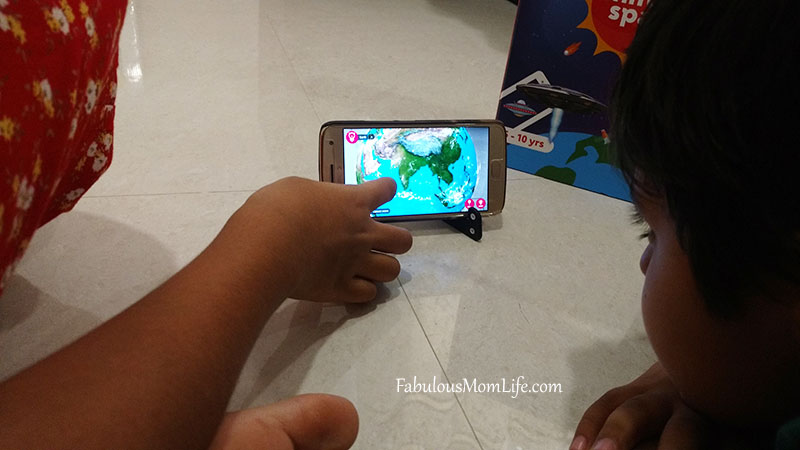 And the game, like I mentioned, works on Augmented reality. So just like you see your Pokemon on your car dashboard – you see the planets here on whatever scene is in front of the phone. So that 'Ursa Minor' is on little sissie's leg now!
This was enough to give fuel to my kids' imagination! Soon, we had aliens walking over the teaups, 'black holes' on the walls and what not. Here's a glimpse into the craziness that ensued.
Final Thoughts
Shifu Space is 'edutainment' in the real sense of the word! The kids were soon mouthing names of planets and constellations while having fun 'projecting' them on to the walls in the mobile app. This is a really unique concept and nothing like I have ever seen before. I think this is a must have for all kids and a super awesome gift idea as well. Kids will love the experience of augmented reality in their game. One of the most engaging indoor activities for this summer vacation!
Shop Online for Shifu
This innovative Educational Augmented Reality Game is available for INR 749 ( box of 60 cards) and INR 299 (box of 20 cards) including access to the Shifu app which works with the cards.
You can shop for it online in India and internationally at the following websites:
For sales and specials, do follow them on:
Instagram – @playshifu
Twitter – @PlayShifu