Choosing the right bath and body products for our precious babies has always been challenging. It might sound cliche, but 'Natural' is the answer to making the right choice. Moms (including myself) and moms-to-be fell in love with the safe and chemical-free skin care products by The Moms Co. And now all moms have even more reason to rejoice. The Moms Co has launched their baby care range! And their promise remains the same – Love Without Compromise. Come along as I share my thoughts on their bath and body care for babies. I will be reviewing today their Natural Baby Shampoo, Wash and Body Lotion.
Paraben and Phthalate Free Baby Products
Up until a decade ago, moms continued to bathe their children in parabens and phthalates because the information about their dangers was not widespread. Thanks to efforts on educating parents about the dangers of chemicals in baby products, we now know what to avoid.
Growing up, I might have had my share of chemicals on my skin. But after I became a mother, I constantly look for ways to reduce the skin on toxins and harmful substances on my baby's skin. I am sure you do to. And this is exactly what led another mother to actually come up with a brand that was safe for her own babies as well as all the other precious tots out there. Malika Sadani came up with the idea of safe baby care products when she was unable to find any for her own children. Thus, The Moms Co was born and Indian parents received a homegrown brand that met the highest international safety standards.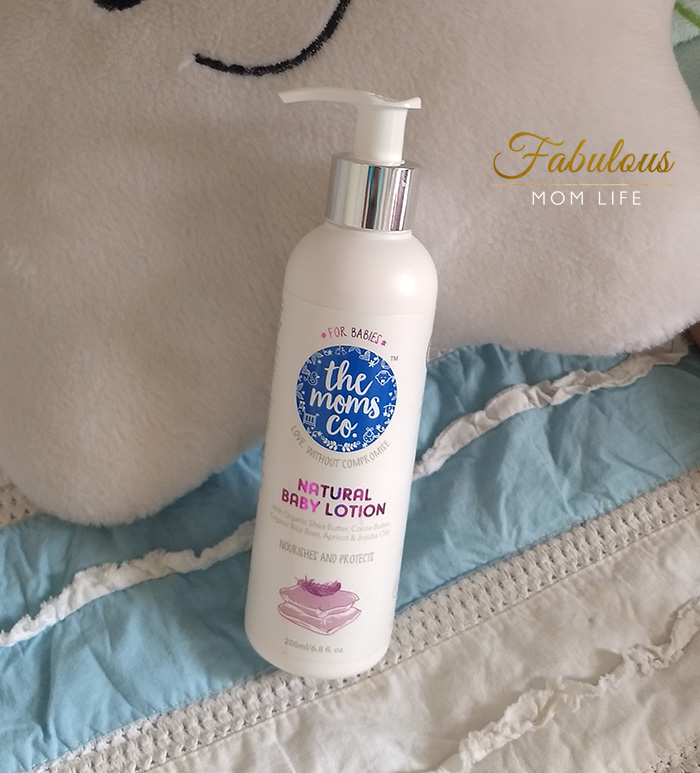 All of the products from The Moms Co Baby Care Range
✓ Made with Natural and USDA-Certified Organic Ingredients
✓ Safe For: Baby from 0 months 
✓ Clinically tested to be Tear-Free, Hypoallergenic, Mild and Gentle
✓ Certified Toxin Free and Made Safe by Safe Cosmetics Australia
Suitcase Gift Box
Everything to care for your baby's delicate skin and hair comes packaged in a beautiful suitcase style box. Perfect for gifting to a new baby or a would be mom. If you haven't yet, check out my Unboxing Box of the beautiful Pandora's box 🙂
Although I will be reviewing only the baby shampoo, baby wash and baby lotion today, you can check out all the baby care products from The Moms Co. They are available separately, in smaller bundles and combos and of course, in this lovely suitcase hamper that I am in love with. The suitcase contains all that a new mom will need for her baby and even includes nipple butter for mommy herself! And all this for less than INR 2000!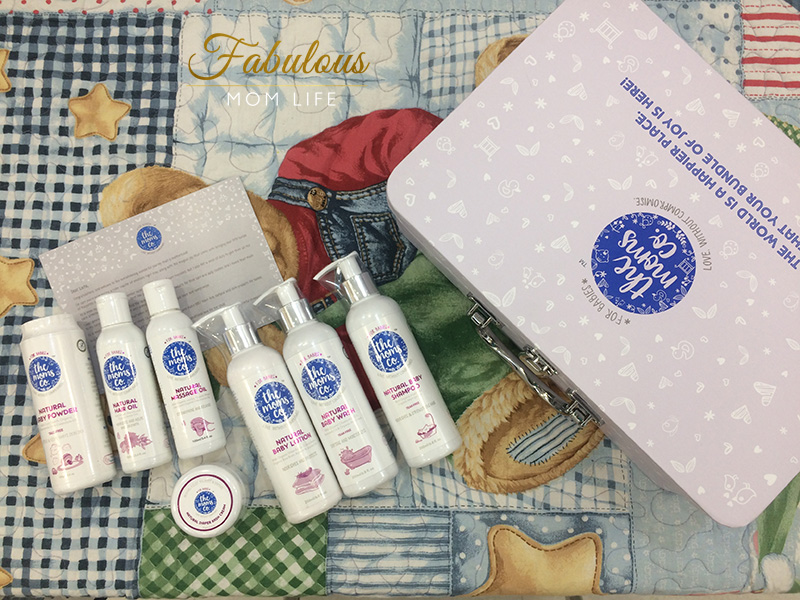 Now that you have checked out the lovely box, let us take a look at what my thoughts are, after using the products for a few weeks.
The Moms Co Natural Baby Shampoo and Natural Baby Wash – Our New Bath Routine
Available bundled together as the Natural Tear-Free Cleaning Bundle for Baby, the Natural Baby Shampoo and Natural Baby Wash are made with gentle, coconut based cleansers that agree with my baby's sensitive skin.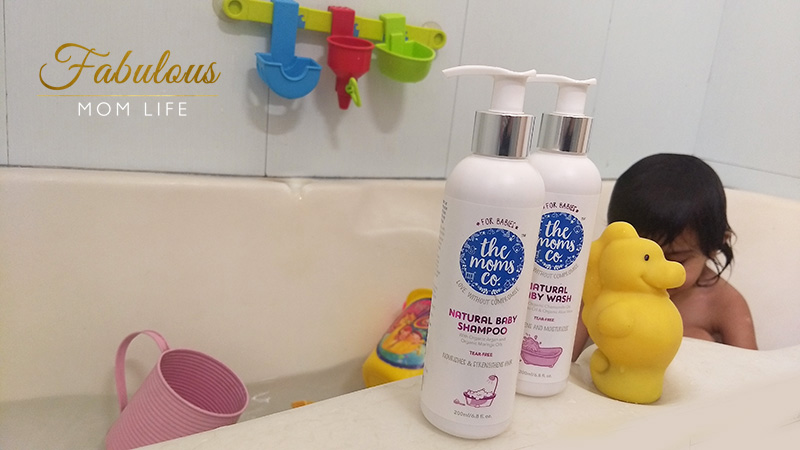 Mild and gentle, both the shampoo and baby wash contain Argan oil for nourishment along with many other beneficial oils. The shampoo also contains pro vitamin B5 for hair growth and is a great choice for moms who are anxiously waiting for more hair growth. The baby wash contains Aloe Vera that does not let the skin dry after the bath.
The products are completely natural and keep out:
Sulphates (SLS, SLES)
Parabens
Mineral Oil
Synthetic Fragrances
DEA/TEA
Other potentially harmful chemicals.
If you have used the Natural Body Wash for Mama and the Protein Shampoo, you will be reminded of them. The baby range is like a mini version of their Mama range – only gentler and milder. Both cleansers are thin, clear, lather well and leave behind a very naturally fresh fragrance of the nourishing oils that they contain.
Natural Baby Lotion – Perfect After-bath Skin Care
"My Son Liked It Best Because It Smells The Best"
– is what my son has specifically asked me to write in the review :). yes, the amazing Shea butter smell is heavenly! And now that the expert's opinion has been delivered, I will go ahead with my own review.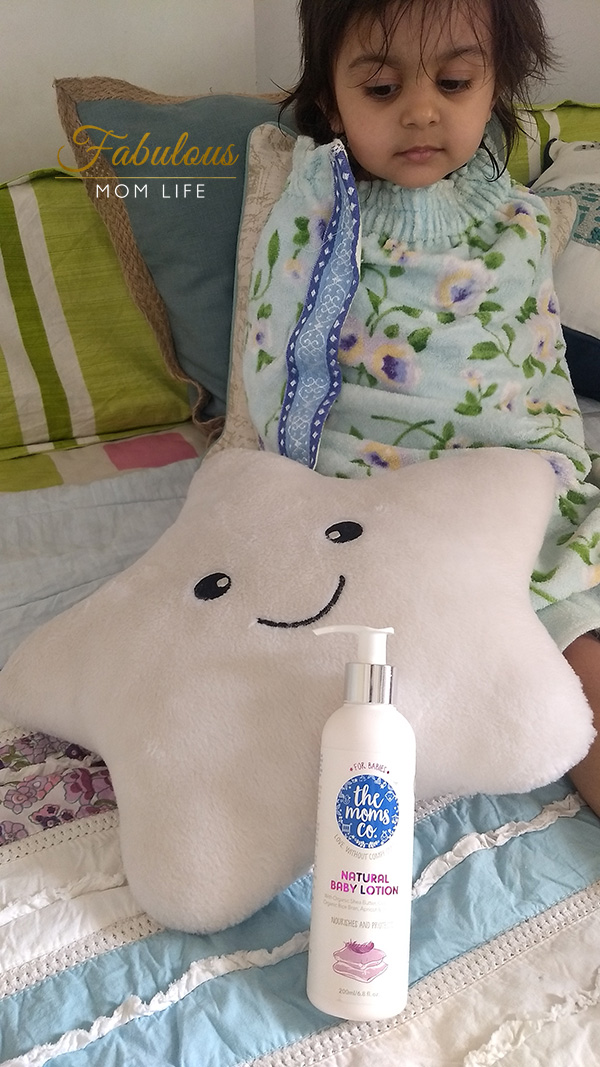 Baby lotion is an integral part of our post-bath routine and I officially declare The Moms Co Natural Baby Lotion the best baby lotion in India. Yes, I am rating it above all my past favorites. You might need Palmer's or Aveeno (cream) if the winters leave your baby's skin extremely dry, but if your baby's skin condition is not extreme, you will never want to use any other baby lotion ever.
Let me explain why. Other than the fact that the lotion is certified organic and toxin free, the lotion is extremely hydrating and moisturizing. It contains both Shea butter and cocoa butter, which made Palmer's my favourite. There is also an abundance of organic oils like jojoba, apricot oil, avocado oil, rice bran oil etc to protect and hydrate. After bath, a small amount of The Moms Co Natural Baby Lotion is all that is needed to replenish the moisture on my baby's skin. The moisture is locked for hours together.
Must try – heavily recommended by me!
Sulphate free Baby Skin and Hair Care in India
Whether you are looking for safe and natural baby care products for your baby or the perfect gift for a baby shower or a new baby, The Moms Co baby range makes a great choice.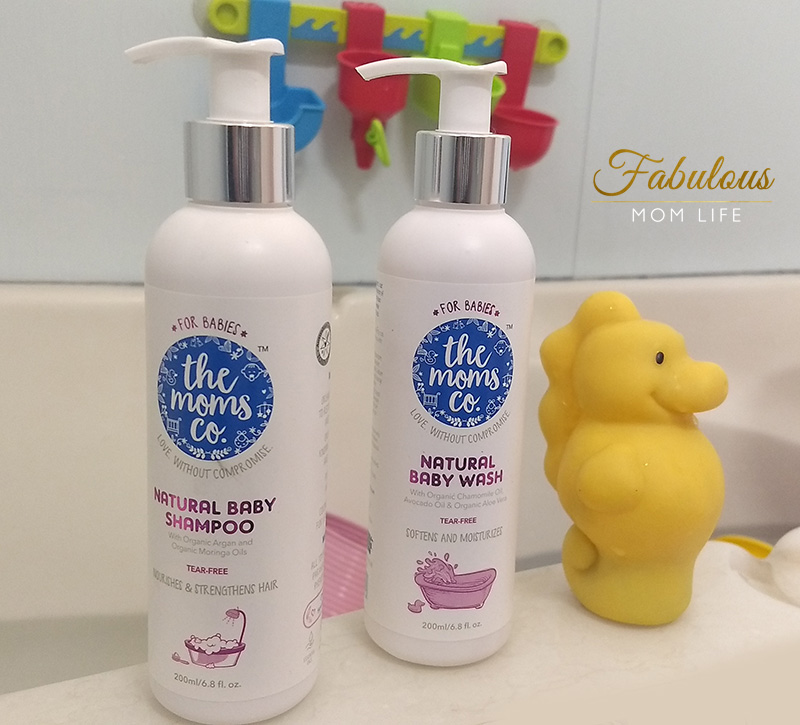 From talc free baby powder and SLS free cleansers to relaxing, chemical free baby massage oil, every single product has been created with a lot of thought and care. The low shelf life of each product itself is proof that the brand strives to keep chemicals and preservatives out. The Moms Co has filled up a big void in the Indian baby care products market. We now have a trustworthy, home grown, organic, high quality baby care brand to choose for our precious little ones. Moms, you definitely want to check this one out!
All Products Available at:
Until April 30th, use code
LATA
to get a 10% off, above all existing discounts when you shop directly from The Moms Co website for products worth over INR 500!