Respect is very important for me in my life. It is essential for me to give and receive respect from everyone who I truly care about. That includes my husband and my kids. And that forms the basis of my parenting mantra – Respect the individuality of your child.
Parenting Mantras
Parenting is a tough job all right! Just like everything else that we do, our parenting styles are also different. What works for me might not work for you. But it always helps to read other parents' opinions and ideas and find inspiration from them. So along with a number of other fabulous moms, I am sharing my parenting mantra with you all.
You can visit all these moms and know about their parenting mantras every single day. It was lovely reading Ragini's parenting mantra yesterday at her blog O Gujariya (my favorite song and movie!). And now it's time for my own 🙂
Do Not Compare Your Children
In the various stages of growing up, my children have taught me a lot. And this in turn, has shaped up my parenting mantra. Effective parenting can shape the character of your child but it cannot change their personality. They are born with their own personalities.
My first born was a superlative child and we loved her for it. Then we had our second and he was born with a distinct personality. Nothing and no one could make him do something he did not feel like (even if it was sitting in the classroom lol!). We learnt to love him the way he is but gradually realized that he had some other 'super powers'. He had a keen sense of understanding and is also spiritually inclined right from birth. Then came the third who made us feel like we did not know one ounce of parenting! We are still finding our way with this one. And while all this was happening, the first one reached her adolescence – full of so many mood swings that we almost couldn't find our little girl in this little lady.
But the bottom line is that each child is different and very special in their own way. Their individual personalities and even the different stages of life are going to make them even more unpredictable. Respect them for who they are and love them unconditionally for being their own selves.
Some Parenting Rules I Have Made for Myself
Based on my resolve to not judge my children, and love and respect their individual personalities, here are some tips I follow.
1. Your children need to know at all times that they are loved. Love and respect them just like the way you would like to be loved and respected regardless of who and what you are.
2. If a personality trait of your kids is new to you and you do not know how to cope with it, take the help of Google, books and experts to arm yourself with research. Your kids are worth that time and effort.
3. Discuss this with your partner so you are on the same page and do not send confusing signals to the children.
4. Take an effort to understand your child's personality. Every person is born with a different temperament. This includes moods, activity levels, sensitivity, tolerance, distractability and emotional intensity. It is important to modify your parenting style to fit your child's temperament.
5. Ask for advice from those who have been there. Do not write off other parents as not knowing your situation. There are many who will identify with you. Especially your own parents. Do not hesitate to ask for their advice.
6. Accept your child's development and progress, as well as their shortcomings according to the standards of the world. Stay away from the race and let your child dance to their own rhythm. This does not mean not trying to help them do the best in every field. But it does mean not forcing them to perform to someone else's standards.
7. Relax and have a sense of humor. Many things go wrong all the time when it comes to kids. You can either scream yourself hoarse over it or let it go with a laugh. The situation won't change but your child will warm up to you instead of being afraid to open up to you.
8. You have every right to feel super proud when your children shine at something. But when they lose or do not perform according to expectations – that is when your children need you the most. Reiterating what I said in the first point, children need to know that they are loved at all times, more so when the world is not exactly praising them.
9. Last but not the least, our children need all of the above at all times – even when they grow up. It is easier to accept a child's personality and individuality when they are still cute and young. There are bound to be conflicts as they grow up and have a life of their own. But trust me, just like I cannot do without my parents' love and support even now, they will need you at every step in their lives as long as you live. So, continue to love without judging them even when they are adults.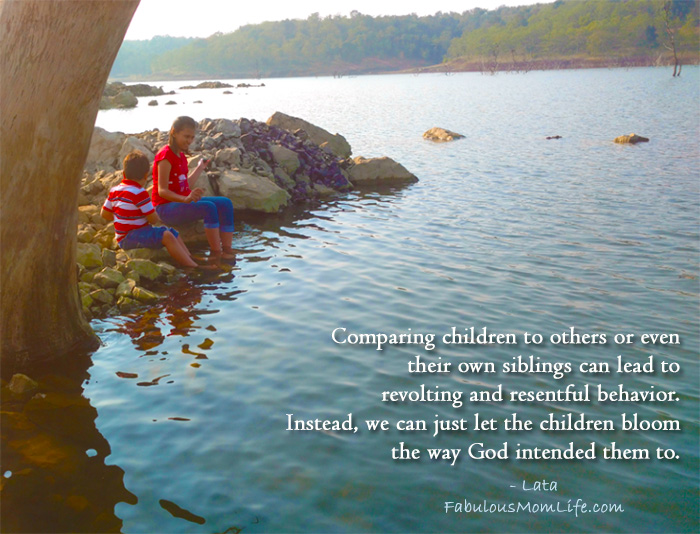 In a Nutshell
Comparing children to others or even their own siblings can lead to revolting and resentful behavior. Instead, we can just let the children bloom the way God intended them to. Like Aamir Khan says in 'Taare Zameen Par', "har ungli ko kheench kar lambi karney main lage hue hain sub" (We want to stretch each finger to elongate it instead of admiring their different lengths). Instead, let's remember that "Khayal karna bahut zaroori hai" (It is very important to 'care') and that "Har bachche ki apni khoobi hoti hai, apni kaabiliyat hoti hai, apni chahat hoti hai" (Every child has their own talent, their own abilities and their own passions). 'Happy' and 'Healthy' are the only two things I wish for and expect from, my children. Everything else, I will educate and equip them to find for themselves and in their own time and way.
This is what makes the basis of my parenting and keeps is going for all of us in my family. The blog train moves on to Sneha at Blog Sikka tomorrow. Do stop by to read what parenting insights she has to share. And do share your own parenting mantras with me in the comments 🙂