Libero diapers had not caught my attention until they started showing the ads with cute, chubby babies disco dancing on TV. The commercial was a hit with my baby and I had to give them a try. Until then, I was using cloth diapers during the day, Pampers Premium Care for nights and Pampers Baby Dry for going out etc. Did the trial pack of Libero bring any permanent changes to my future diaper shopping? Let's find out by comparing Libero Diaper Pants with the popular Pampers Baby Dry diaper pants.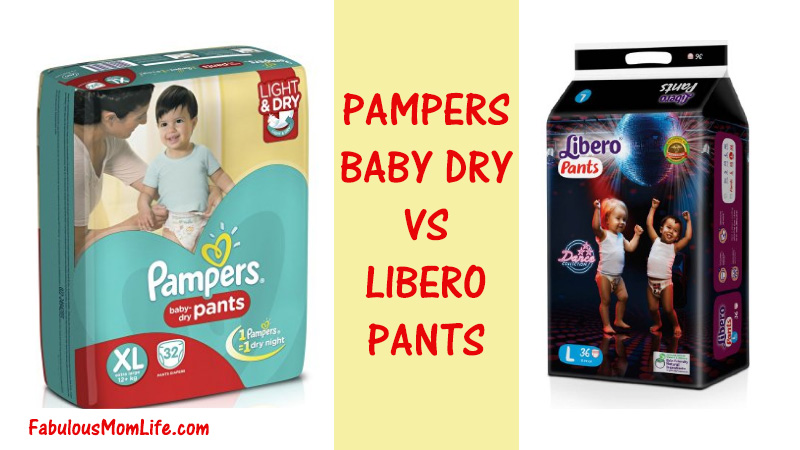 Dryness/Absorbency
Libero pants have hands down, much better absorbency than Pampers Baby Dry. Even the Libero diapers (non pant style) have very good absorbency, but I am partial to pant style diapers. With the exception of Bambo Nature, I am yet to find a traditional diaper that has a comfortable fit. But if we talk strictly about keeping the baby dry, all Libero pants do the job well.
Softness
Before I used Libero, I liked Pampers Baby Dry for their softness. Pampers Premium Care was pretty expensive back then and I only used for nights (their softness is unbeatable). But ever since I tried Libero, I have been forming the impression that Libero pants are actually very premium quality diapers minus the price tag. Their softness is only next to Pampers Premium Care. They are easily better than Pampers Baby Dry when it comes to softness and comfort.
Fit
Both Libero Pants and Pampers Baby Dry have an excellent fit and are very comfortable for the baby.
Price
Usually, the better, the costlier. But Libero pants are an exception. Aside from being better in absorption capacity and softness, they are priced lower than Pampers Baby Dry!
MRP:
Pampers Baby Dry Pants – INR 565 (XL – Pack of 32) = INR 17.65/diaper
Libero Pants – INR 549 (XL – Pack of 36) = INR 15.25/diaper 
Discounted Price on Amazon:
Pampers Baby Dry Pants – INR 424 (XL – Pack of 32) = INR 13.25/diaper (Amazon.in)
Libero Pants – INR 460 (XL – Pack of 36) = INR 12.77/diaper (Amazon.in)
Verdict
I haven't purchased Pampers Baby Dry Pants for a few months now. They were first replaced by Pampers Premium Care as my night time diapers and now by Libero as my going-out diapers. On warmer nights, I can actually use Libero throughout the night if I run short of Pampers Premium. The trial pack of Libero pants that I purchased originally has turned into a monthly purchase of a larger pack. And my baby runs to her Libero pack every time they show the Disco baby commercial on TV! The Dance edition diaper pants are very cute!