I was recently sent the KidloLand app for review and I cannot say enough number of good things about it! Since day 1, it became an instant favorite of my youngest one and even big bro and sis cannot control their curiosity about it. The app is a genius idea with every single rhyme and activity being interactive. Kids have so much to do within the app that it holds their attention span for very long. Read on for a full review and get a chance to win a 3 month subscription to this creative, engaging and educational app.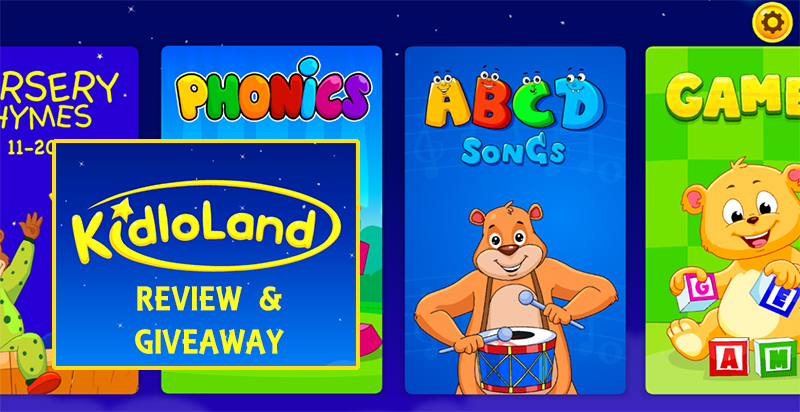 That I use phone apps to keep my kids busy and my sanity intact, is no secret. I am a self-confessed 'techie' mom but even those say they are 'non-techies' also resort to using their phones to keeping kids busy. In the car, at the Doctor's and even at home when you need to get some work done. But little ones are so easily bored! It is very difficult to hold their attention for long. However, things are very different with KidloLand.
My 18 mo old is hooked!
Yes…that's how old my littlest is and she is completely crazy about this app. And it is not difficult to figure out why. The app has some very good graphics and animations. These things are not difficult to find on YouTube and in free apps. But KidloLand's USP is the interactive user interface. I will explain about it in a minute.
Along with the very engaging activities, the app is also super easy to navigate. Within a week, my 18 month old is navigating through it with easy. You should see her swipe left and right like a pro! If a toddler can do it, preschoolers are certainly not going to have any problems using the app.
Creative and Engaging
And now we come to my absolutely favorite part about this app – the Interactive Nursery Rhymes! KidloLand has a lot of activities for kids, but the nursery rhymes are simply spectacular. Every single rhyme is beautifully animated as well as interactive. So, 'Old Mac Donald's' comes alive with a touch of your child's finger. The animals do tricks when touched, hidden surprises come out. The mouse in 'Hickory Dickory Dock' dances to music in it's 'Rat Villa' and 'Little Miss Muffet' screams out and drops her curds and whey when you touch the spider to bring it close to her! A touch can switch on and switch off lights in every house shown in the rhymes, birds fly out and monkeys jump out of trees. There are endless surprises hidden in the colorful cartoon scenes for your kids to discover. And the kids keep going at them for so long, they begin to memorize the rhymes on their own!
Caution: You might want to take the phone from your kids' hands and hunt for the surprise elements yourself! I do it all the time!
A Plethora of Fun Activities
It's been a couple of weeks since installing KidloLand and we have only managed to scratch the surface. There is so much content packed into this app! There are, of course, the classic nursery rhymes I mentioned above. Then, there is an entire section devoted to 'Old Mac Donald' songs which has variations of Jungle and Circus in place of 'Farm'. More lovely songs in the 'Christmas' section. Again, every song is interactive – you never know what a touch of your finger will do!
Other than songs, there are plenty of Games and Activities for kids of ages 1 to 5. They are easy enough to master for little hands and focus on developing core skills like sorting, alphabet recognition, shapes, colors, matching, problem solving etc. There are also separate sections for Dino themed songs and activities, Vehicle theme, Fruits theme etc. Early Learning has never been so much fun!
I am always on a lookout for new and interesting apps for kids and I say this honestly. I am yet to see an app as engaging as this one. It is a BIG hit with my toddler and completely 'mommyapproved' :). And turns out I am not alone. Other mommies seem equally pleased with it, in their reviews.
You can download the App from:  Android (Google Play Store) – iPhone (iTunes) – Amazon Appstore
Giveaway
GIVEAWAY ENDED!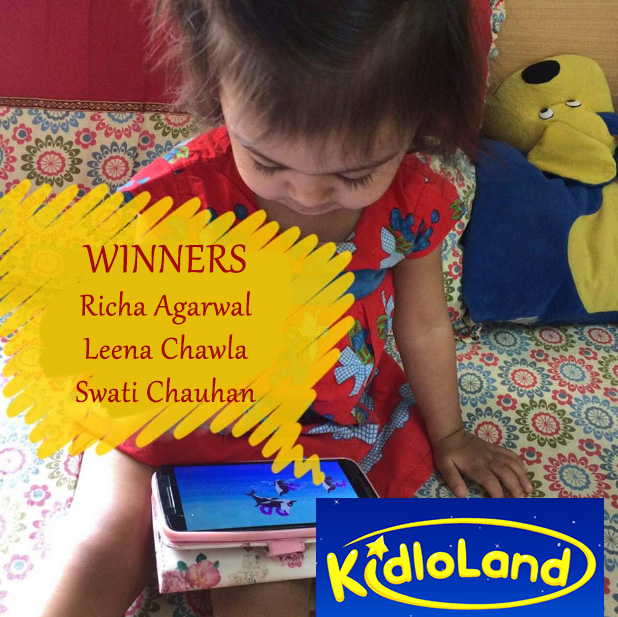 And here's your chance to win a 3 month subscription to the KidloLand app. Moms of kids aged 1 to 5 years of age can participate in the giveaway. Three winners will be picked!
CONTEST OPEN WORLDWIDE
To Participate:
1. Follow FabulousMomLife on
Instagram
,
Facebook
or
Twitter
 (You can follow on any one if you do not have accounts on all of them)
2. Follow KidloLand on
Instagram
,
Facebook
or
Twitter
  (You can follow on any one if you do not have accounts on all of them)
3. Comment below to let me know you have completed all steps!
For Additional Entries:
Download the KidloLand App. The trial version is equally engaging but has limited content. If you win, you can upgrade it to paid! Here are the download links. Android (Google Play Store) – iPhone (iTunes) – Amazon
Share this Post on Your Social Media – Or Repost, Retweet or Share on FB, Twitter or Instagram.
Subscribe to my blog by filling up your email in the form on the sidebar. This keeps you notified of my new posts + giveaways and is a great way to stay in touch!
Leave a comment on any of my last 10 blog posts (other than this post – only comments made during the period of the contest will be valid as long as the basic participation requirements are fulfilled).
Rules:
Contest begins from Thursday, October 20th to Wednesday, October 26th.
The prize is an app and not a physical product. You will receive a code for the paid version of the app for 3 months.
Please make your social media accounts public so they can be verified.