Its 3 a.m. and you awake to the sound of your toddler's screams. You bolt out of bed and find him in a pool of sweat, shaking and sobbing. While not all nightmares produce these effects on your child most symptoms are, at the very least, unsettling. I have had my share of my children's nightmares and one thing I can tell you with certainty is that they need to be addressed. Do not dismiss them. A little care and some tips will help kids come out of this phase.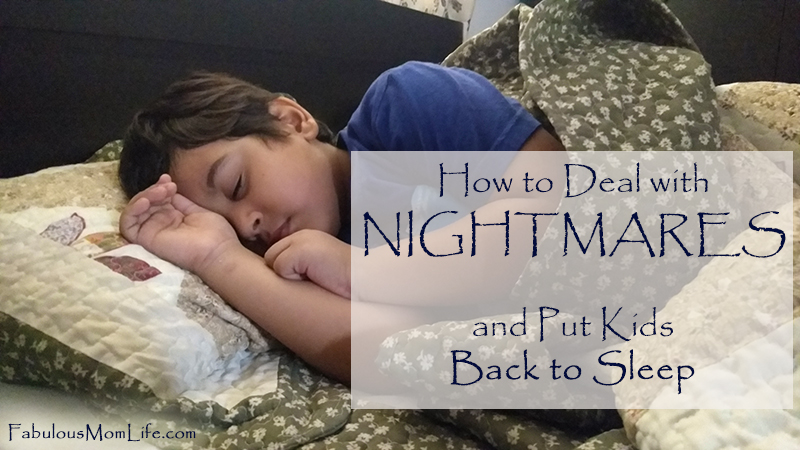 Research shows that on average, children can have more nightmares than adults because their minds are in developmental stages. Everything in their surroundings can become a trigger. This can include moving to a new house (we are experiencing that right now), separation anxiety, problems that occur at school, watching scary movies (happens all the time) or reading frightening books (been there!).
Some Tips to Deal with Nightmares and Put Kids Back to Sleep
DO: Acknowledge your child's feelings of fear. Let him know you understand he had a scary dream, but that it was not real.
DON'T: Pretend to kill the monsters under the bed or in the closet. Doing this reaffirms the child's beliefs that the monsters exist and are in his room.
DO: Listen calmly to everything your child has to say about it. Let him take his time to relate what he just went through.
DON'T: Rush him or rubbish his experience by saying that it was nothing. Worst yet, don't laugh at him for having a nightmare.
DO: Maintain a consistent sleeping environment for the child. If your child typically sleeps with a nightlight on or the door ajar, keep it that way. A familiar environment is the best place for a child to put himself back to sleep. If you have recently moved house, give the kids some time to adjust and be kind and understanding during the process.
DON'T: Get into the habit of allowing your child to sleep in your bed. This can quickly become a pattern and the child will have difficulty trying to put himself back to sleep. You can stay with him or her until they fall asleep again but leave after that.
DO: Comfort your child, sit by him for a while (usually no longer than half an hour) and let him know that you are in the next room if he needs you.
DON'T: Ignore your child and hope he will fall back to sleep. The dream is real to him, so its important for a parent to respond to his concerns, but don't give in to his pleas to sleep in your bed and disrupt his sleeping pattern. It is important for them to stick to their pattern or you will be facing a new problem shortly afterwards.
If This Doesn't Work…
If a child has nightmares every night, none of the above tips are working even after a couple of weeks and you are concerned, contact the child's pediatrician who can provide an objective view on what could be triggering the troublesome dreams. Then you can work towards eliminating the causes.